This article identifies and reviews the top 5 best ad blocker apps for iPhone. Briefly speaking, the ad blocker is software specifically developed to remove advertisements from the web pages you visit. Once you have an ad blocker, it monitors and looks at the site that you are loading. If it finds any scripts or requests related to ads, the app will block them immediately. That can improve your internet experience and speed up the page response.

AD Blocker for iPhone
Part 1: Top 5 Ad Blockers for iPhone
Top 1: AdGuard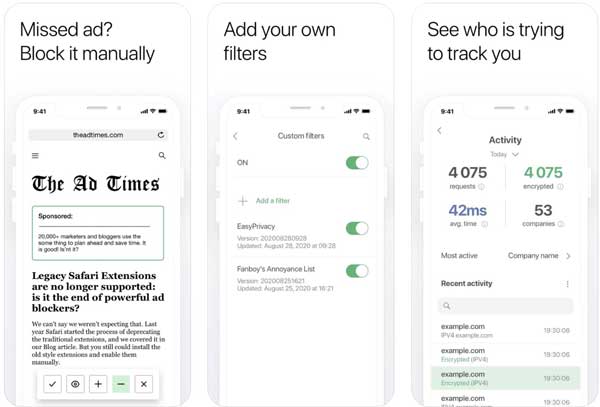 AdGuard is a free ad blocker for iPhones and iPad. As an efficient ad blocker, it not only removes annoying ads but also protects your privacy. It can be downloaded from App Store if your iPhone runs iOS 11.2 and later.
PROS

Block all kinds of ads.
Come with advanced tracking protection.
Accelerate webpage loading speed.
Reduce traffic consumption effectively.
CONS

The custom filters require a premium upgrade.
The subscription is expensive.
Top 2: AdLock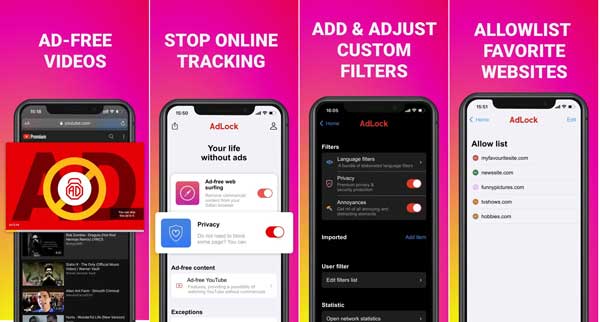 AdLock is one of the best ad blockers for iPhones running iOS 11 and later. With this app, you can get a safe and ad-free experience in your mobile web browsers. According to the research, it stops all the ads on websites.
PROS

Block pop-ups and banners.
Available to both video and audio ads.
Remove anti-adblocker detections.
Protect your online behaviors.
CONS

It requires setup.
Sometimes, it constantly restarts.
Top 3: AdBlock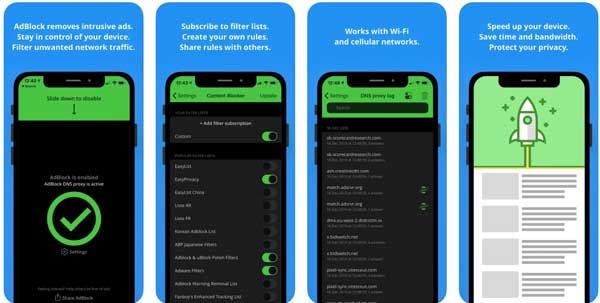 AdBlock is a great way to block ad tracking on your iPhone. Although you have to pay $1.99 to purchase on App Store, it is cost-effective. It can run on iOS 12.0 or later. This ad blocker is available for 99% of annoying pop-ups and video ads.
PROS

Integrate a local DNS proxy service.
Include a Safari Content Blocker.
Block mobile trackers on iPhones.
Automatically update filters.
CONS

This is no free version or free trial.
Some features require updating to iOS 14.7.
Top 4: Total Adblock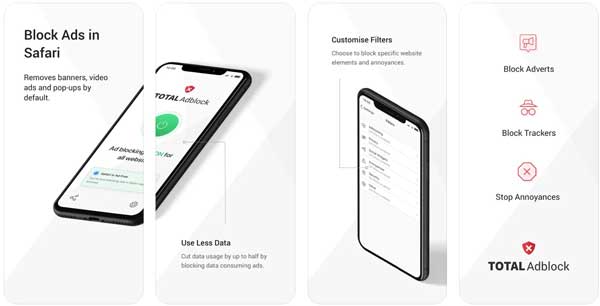 Total Adblock is another ad blocker app for iPhones and iPad. It blocks annoying ads in Safari and enables you to get a cleaner web experience. Bear in mind that this app is free to download from App Store, but you have to sign up for a paid account to enjoy full features.
PROS

Block ads in Safari.
Stop web ads with a custom filter.
Remove trackers from social media.
Clean cookies and more.
CONS

It cannot block all ads.
The custom support is poor.
Top 5: Wipr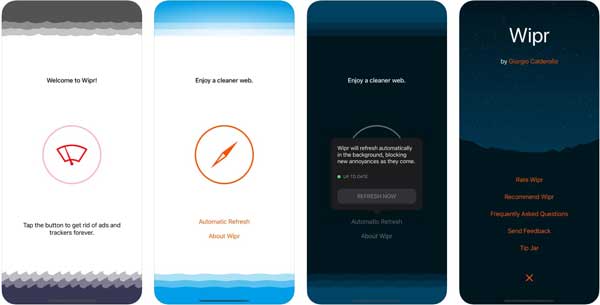 Wipr is another paid ad blocker for iPhones and iPad. Compared to other ad blockers, it works on more kinds of ads and trackers including cryptocurrency miners, cookies, and other annoyances.
PROS

Help webpages load faster.
Prevent countless trackers.
Come with Content Blocking Extensions.
Update the blocklist regularly.
CONS

It is only available in English.
It may grey out your screen occasionally.
Part 2: How to Block Ads on iPhone
Apple has introduced an ad blocker on iPhones. It means that you have two ways to block ad tracking on your iPhone, the built-in ad blocker and a third-party ad blocker app, such as AdGuard.
Way 1: How to Block Ads on iPhone with Built-in Ad Blocker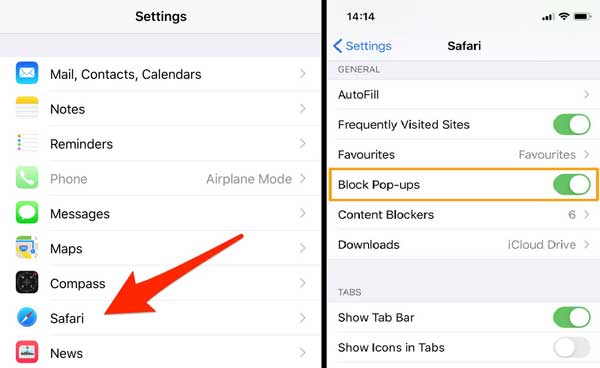 Step 1Open the Settings app from your home screen.
Step 2Scroll down and tap the Safari option.
Step 3Toggle on the Block Pop-ups and enable the built-in ad blocker on iPhone.
Way 2: How to Turn on Ad Blocker on iPhone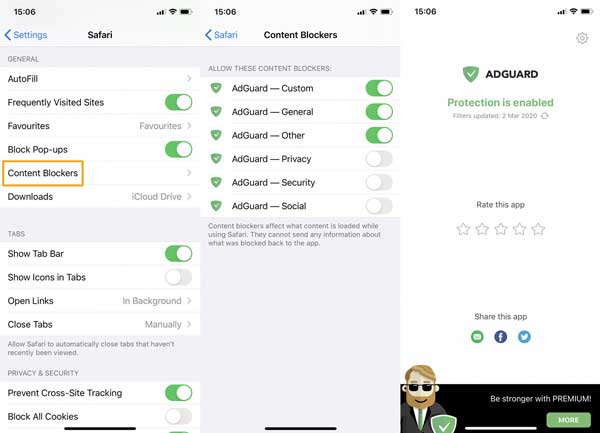 Step 1If you have installed a third-party ad blocker on your iPhone, run the Settings app.
Step 2Tap the Safari option, and press the Content Blockers item.
Step 3Toggle the content that you want to block on the list.
Recommend: Best Ad Eraser for iPhone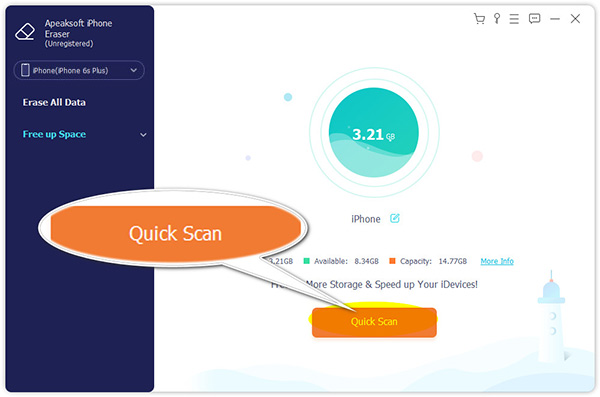 Ads are not annoying, but also install trackers and malware on your iPhone. Therefore, you'd better learn an ad remover for iOS besides ad blockers. From this point, we recommend Apeaksoft iPhone Eraser.
Part 3: FAQs about Ad Blocker for iPhone
Question 1. What is the best ad blocker for iPhones?
The answer is determined by your need. The built-in ad blocker feature is the easiest way to stop popups on your iPhone. If you want to get more features, you will need third-party ad blockers.
Question 2. Do free ad blockers work?
Yes, free ad blockers can stop a part of ads, but they are usually not available to all ads. You still need to pay for an upgrade or a subscription to get the advanced features.
Question 3. Do ad blockers track you?
Yes. Some ad blockers send your browsing behaviors to a third-party server.
Conclusion
Now, you should get the top 5 best ad blockers for iPhone. Some of them are free to use the basic features, such as AdGuard. Users can get advanced functionalities with a paid account. Others require payment to download, like Wipr. If you have better recommendations, please write them down below this post.