As the smart phones are so popular in people's everyday life, taking a photo can never be so easy and convenient. Moreover, both Apple and iOS developers have advanced algorithm to make the photos beautiful. How to manage a tremendous and growing number of photos on iPhone? The article explains 5 best iPhone photo manager applications, which you can view, convert, transfer and organize photos with ease.

Part 1

. Best iPhone Photo Manager Software on PC

Cannot decide which photo you should remove? Just hesitate to take photos in HEIC because its high quality? Especially when you only have a 64GB or 128GB iPhone. What should be the best method to manage photos on iPhone?

MobieTrans is the ultimate solution to transfer photos, contacts, media files and more other files for iPhone.

1. Transfer any data of iPhone, such as photos, music, videos and more.

2. Manage iPhone photo albums like rearrange the photos, rename the albums, delete the albums, etc.

2. Preview and select the desired photos instead of transfer all photos.

3. Delete, rename, de-duplicate (contacts) files of iPhone.

4. Convert HEIC photos to JPG/JPEG/PNG format in a batch process.

5. Save iPhone photos like GIF, JPEG, PNG, etc.

Step 1: Download and install MobieTrans on your computer, you can connect iPhone to computer with the original USB cable. The program can recognize and analyze iPhone automatically.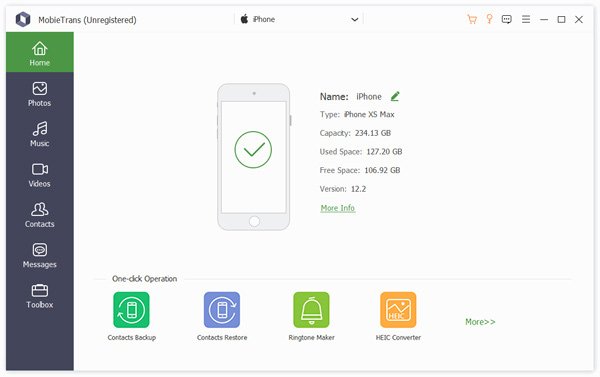 Step 2: Click the "Photos" of the left menu of the interface. The program is able to detect and show all the photos within the program. You can check the "Check All" to select and manage iPhone photos within the program.
Preview photos: Once the program detects your iPhone, you can get iPhone photos from different applications.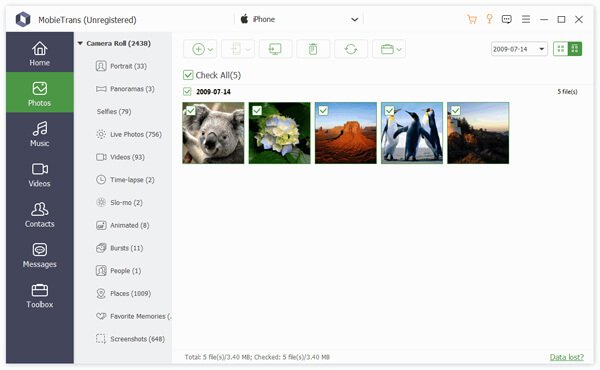 Convert photos: Click the "Toolbox", you can find the method to convert HEIC photos into JPG/JPEG/PNG files when you need to transfer them to PC.
Transfer photos: Just transfer and backup the photos to computer or other device, and you can delete them from your iPhone to release more space.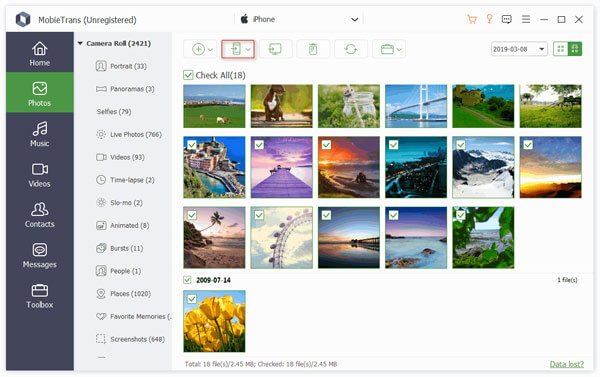 Add photos: If you have some important photos from your computer, you can import them directly to iPhone in a batch processes with ease.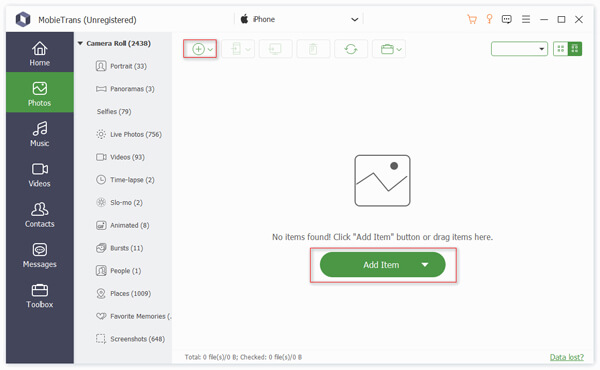 Part 2

. Best Photo Manager App for iPhone

Is there an iPhone photo manager to organize the photos in an efficient way? MyPics is the most popular photo management app that organizes all your photos on iPhone by date. With MyPics, iPhone users can transfer, organize, sort, delete, and rename their photos on iPhone with ease.

1. Create and edit photo albums like move, delete, etc., on iPhone.

2. Search photos by file name, tags, or shooting location.

3. Edit photos, but the original photos keep intact.

4. Import photos from camera roll and display location on map.

5. Share photos, including live photos and videos on Instagram, Facebook, etc.
how to manage photos on iPhone with MyPics
Step 1: Download MyPics on your iPhone from App Store, after that launch this app to start managing iPhone photos.
Step 2: At the bottom of the screen, tap the icon with a "+" sign to create an album.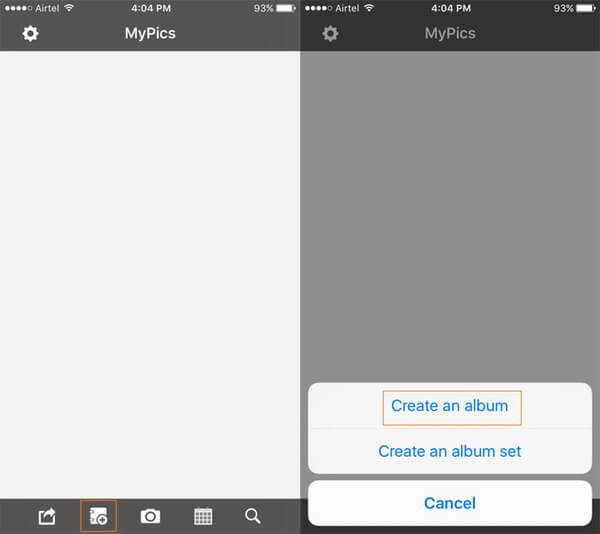 Step 3: In the newly created album, tap the second icon at the bottom of the screen to select the photos or folders that you want to manage, and then tap Import.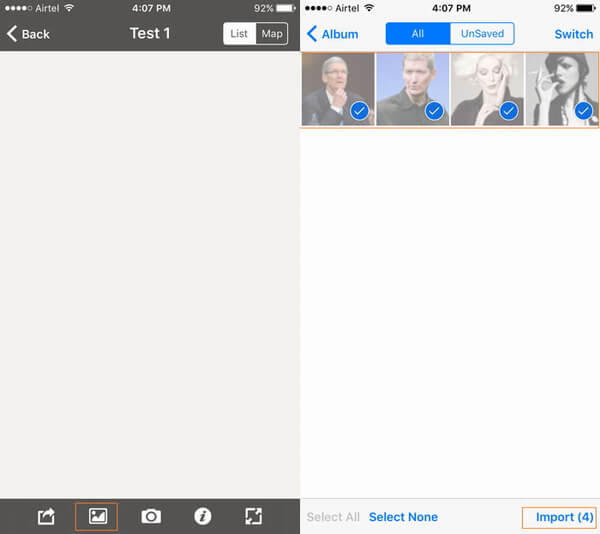 Step 4: After the photos are imported in the album, you can manage them. Mypics provides these management functions: share, order, tag, use as cover, save, move, copy, and delete. You can select one photo or multiple photos to do the management.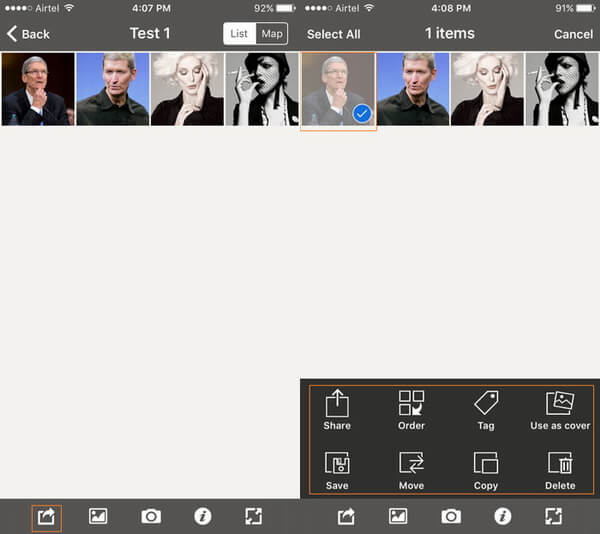 The free version of Mypics can manage 100 photos together at most. If you want to remove this limitation, you need pay for the premium version.
Part 3

. Best iPhone Photo Manager on Cloud Service

What should be the best method to manage iPhone photos on Cloud? The answer should be Photos. The built-in photo manager of iPhone can manage and edit all your pictures on your iPhone. Moreover, you do not have to purchase or download anything to use the photo manager on cloud.

1. Sort the photos from different album, such as Camera Roll Album, Selfies, Screenshots, Recently Deleted and so on.

2. Basic editing features to delete, crop, and share iPhone photos with ease.

3. Backup photos from different albums to iCloud service automatically.

4. Sync and manage iPhone photos with Photos program on Mac.
How to use Photos on iPhone to manage photos
Edit photos: Whether you need to edit the color, adjust the brightness, crop, straighten the photos, just tap the photo to get the desired feature.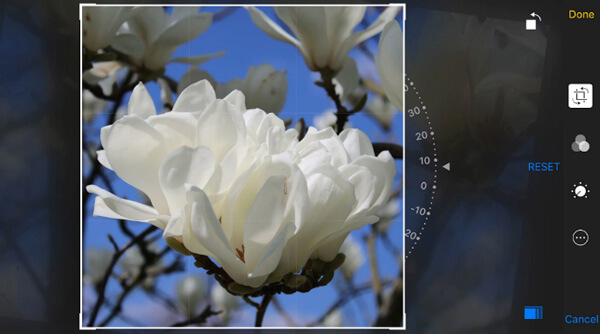 Sort photos: Photos automatically present the photos by data and location. You can also enter the key words to get the results.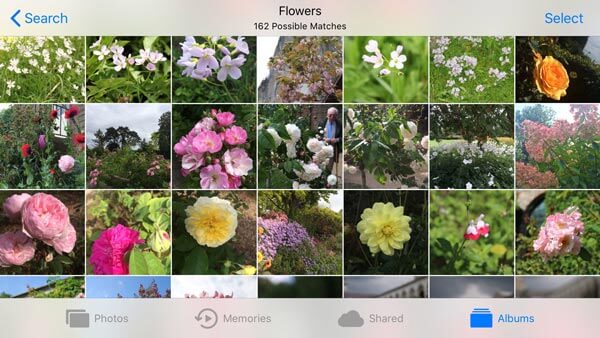 Arrange order: If you need to change the order of the photos or albums, you can simply drag them to the right position.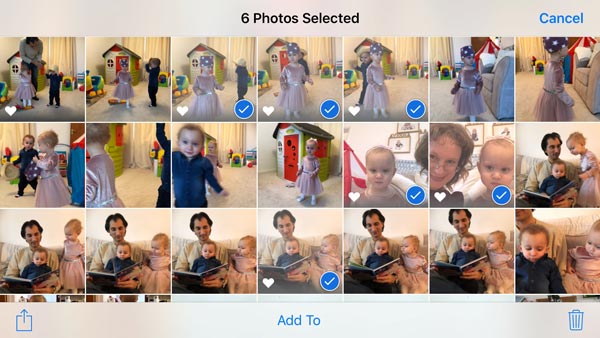 Part 4

. Manage Photos on iPhone within App and Cloud

If Apple Photos app and Mypics app cannot meet your requirement of manage photos on your iPhone, Photo Manager Pro 5 is the recommended iPhone photo manager. It provides a comprehensive management solution for your photos and videos.
Organize photos and videos
You can copy or move photos from one album into other albums. In an album, you can sort the photos by dates, names, or types, and you can even drag and drop the thumbnails to organize the photo order.
Manage albums
It creates albums with colors, and provides password encryption for albums to protect your privacy. You can also modify the album cover by specifying a photo to use as the album cover.
Transfer photos freely
Photo Manager Pro 5 provides the built-in HTTP and FTP server for transferring photos between iPhone/iPad and computer. You can directly transfer photos between two iOS devices or to computer via iTunes file sharing. It even can copy photos between iPhone/iPad and iCloud storages.
Photo editing
Besides the common editing functions: crop, filters, light & color adjustment, Photo Manager Pro 5 supports photo metadata editing, and you can add star rating and description on photos.
Photo Slideshow Playback on TV
Photo Manager Pro 5 provides two ways of photo slideshow playback on TV, you can use AirPlay to display photos as a slideshow on Apple TV, or you can connect your iPhone to a TV with an HDMI cable and play photos as a slideshow on the TV.
Support Multiple File Formats
Photo Manager Pro 5 Supports not only the common image formats, such as JPG, PNG, and GIF, but also RAW formats, such as CR2, CRW, NEF, NRW, ARW, RAW, DNG, etc. This app can also play MOV and MP4 videos.
Support Multiple Cloud Storages
Photo Manager Pro 5 can connect to many cloud storages, such as Google Drive, Dropbox, Box and OneDrive. It is very convenient for the users who use multiple cloud storages to store photos.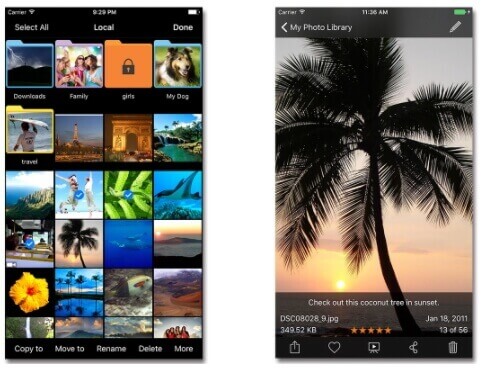 You may need Free iPhone File Managers to organize and manage iOS files.
Conclusion
In order to manage iPhone photos, you need to choose the suitable software tool according to your management. If you need to back up, copy, or move photos from your iPhone to a PC, you can choose the PC software, such as MobieTrans, which has no restrictions on the management as iTunes does. If you don't need computer to back up photos, and just manage photos on your iPhone, MyPics is a good option. To edit photos on iCloud, the iOS built-in Photos is the best option. To edit photos on other cloud storages, Photo Manager Pro 5 may be your best choice. Try these apps, and you will find what you want.