"I have subscribed Apple Music on my iPhone, but now I don't want to listen to it anymore, how to cancel app subscription on iPhone?"

Signing up for a service on iPhone is kind of fun. A menu shows up, you activate your Touch ID or Face ID, and then you will get the notification that tells your purchase was successful.
However, it is another story when you want to cancel it. Unsubscribing forces you to venture into many extra menus in the Settings app. Whether you want to cancel Apple Music, HBO Now, or other services, here is what you need to do to cancel apps on iPhone.
Part 1

. How to cancel app subscription on iPhone

There are two methods of unsubscribing on iPhone.

In this part, we focus on how to cancel app subscription on iPhone XS/XR/X/8/8 Plus/7/7 Plus/6/6s/5 with the Settings app.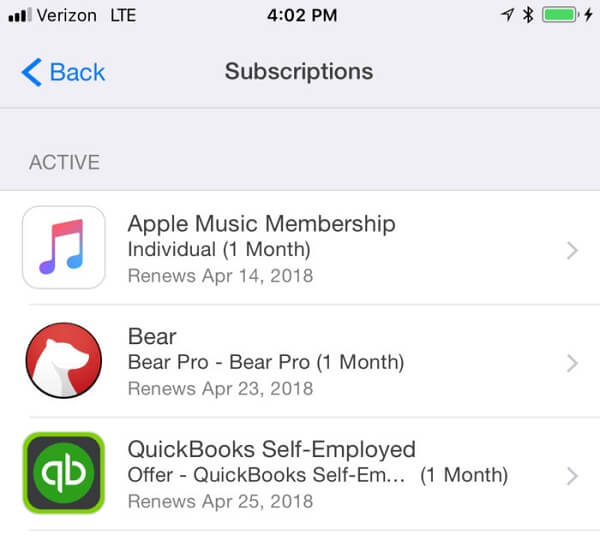 Step 1: Start your Settings app from the home screen, tap on your name, and then go to iTunes & App Store.
Step 2: Locate your Apple ID at top of the screen and tap on it. When prompted, choose the View Apple ID option. Then use Face ID, Touch ID or your password to access your account.
Step 3: When the Account Settings screen appears, tap Subscriptions to see all services that you subscribed on your iPhone 7.
Step 4: Scroll down to find the app that you want to cancel, such as Apple Music. Tap it and then press the Cancel Subscription option at the bottom.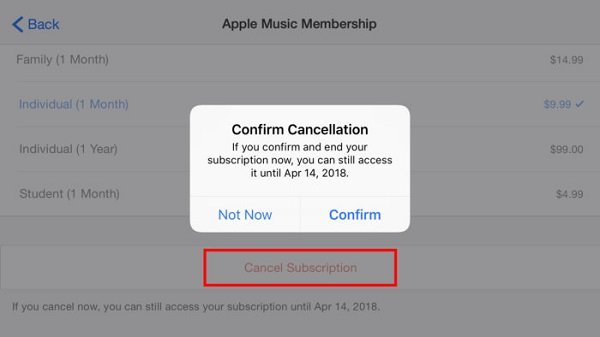 Step 5: Read the message carefully on the Confirm Cancellation dialog. It usually tells that you are able to use the service until the most recent period you paid for ends. Finally, tap the Confirm option to get rid of the subscription.
Even though you did not subscribe any app manually on your iPhone, we suggest you to check the subscriptions in your account frequently.
Part 2

. How to unsubscribe apps on iPhone from Mac

Apple creates an ecosystem that allows you to control iPhone on other Apple devices, such as cancel apps on iPhone from a Mac computer. The steps below could help you to simplify the process.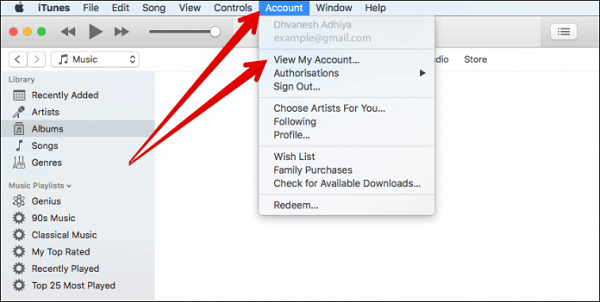 Step 1: Open iTunes on your Mac computer, and go to Account -> View My Account.
Step 2: Enter your password on the popup dialog and click on the Sign In button to access your account on Mac.
Make sure that the Apple ID in the Sign-in dialog is the same one that associated on your iPhone.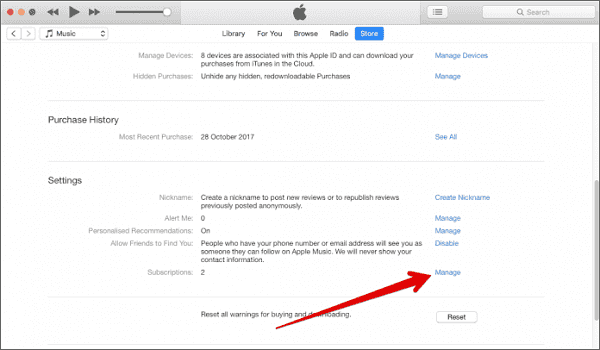 Step 3: Hit the Store tab on top of the iTunes window, locate the Settings section and click Manage next to the Subscriptions option.
Step 4: Select the service that you'd like to cancel, hit the Edit button and click on the Cancel Subscription button.
Congratulations! Now, you have cancelled apps on iPhone, even though the iOS device is not in your hand.
Part 3

. How do I get a refund for an iPhone subscription?

If you encounter a problem with music, books, movies, TV shows, or other services subscribed from App Store or iTunes, you can request and get a refund from Apple directly after canceling it on iPhone or Apple website.
Method 1: Get a refund on iPhone
Step 1: Run the Mail app on your iPhone home screen and search for Your receipt from Apple in the search box.
Step 2: Select the receipt for the subscription to request refund, and tap Report a Problem. That will take you to Apple's problem reports page.
Step 3: When prompted, input the Apple ID and password that you used to cancel the app subscription on iPhone.
Step 4: Next, press the Choose Problem option, pick up a proper one and type in the details of your issue, then tap Submit.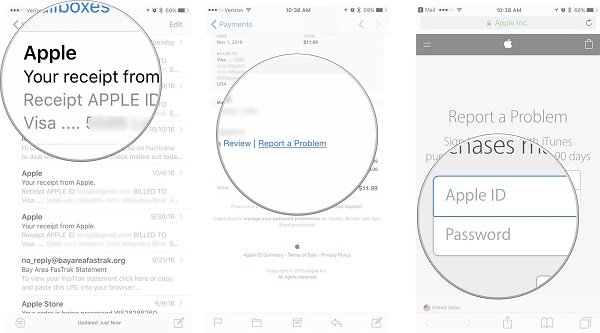 A few days to a week later, Apple will reply whether your request is approved.
Method 2: Request a refund for an iPhone subscription on apple.com
Step 1: Launch your web browser and visit http://reportaproblem.apple.com/.
Step 2: Sign in your Apple ID and password, and locate the proper section, like music, movies, or apps.
Step 3: Click on the Report a Problem button next to the service that you'd like to get a refund for, then unfold the Choose Problem dropdown list and select your problem.
Step 4: Enter the details if necessary and hit the Submit button to send your request to Apple.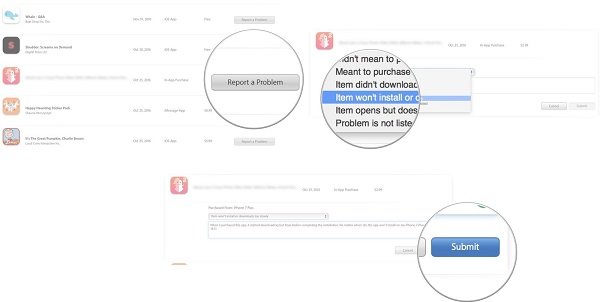 Now, all you need to do is to hear back from Apple.
Part 4

. How to re-subscribe to a service

Cancel app subscription on iPhone by accident or just want to re-subscribe to it? Follow the guide below to complete it quickly. We use an iPhone 7 as the example.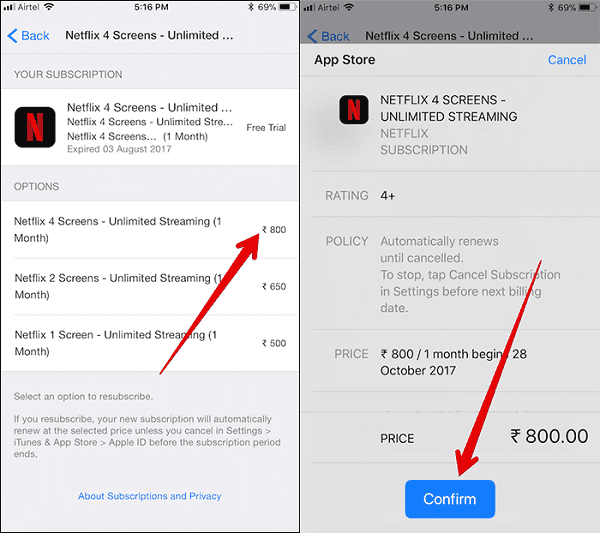 Step 1: Launch the Settings app from your iPhone 7, touch your name and go to iTunes & App Store.
Step 2: Press your Apple ID and then the View Apple ID option, input your password and tap Sign in to move on.
Step 3: Then head to Subscriptions -> Expired, and find the service you want to re-subscribe.
Step 4: Select your favorite subscription plan, and input all required information. Once press the Confirm button, you can enjoy the service again.
Conclusion
In this tutorial, we have told you how to cancel app subscription on iPhone. First of all, you can complete the task on your iPhone's Settings app or Mac computer. Plus, we shared more knowledge related to unsubscribe. Requesting a refund for an iPhone subscription, for example, is a bit complicated to many users. Our step-by-step guides should be helpful.
On the other hand, if you regret, you can re-subscribe any services on your iPhone simply. Have more problems of unsubscribing apps on iPhone? Please feel free to leave messages below this post.