Although Apple iPhone integrates a variety of advanced technologies, it is difficult to customize your iOS device, such as changing alarm sound, since iOS is a close operating system. The default alarm sound can cause a lot of problems. It is not only boring, but also leads to misunderstanding. This article shares a guide to change alarm sound with your favorite music.

Part 1

: How to Change Alarm Sound on iPhone

Apple offers several alarm sounds in iOS for customers to choose. The procedure is pretty simple and you can get it following the steps below.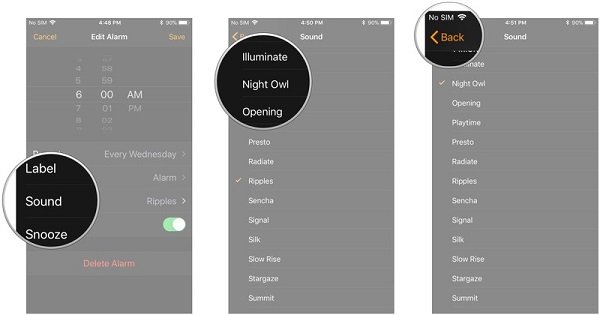 Step 1. Turn on your iPhone and run the Clock app from your home screen.
Step 2. Go to the Alarm tab from the bottom with a clock icon, which is the second one from the left side.
Step 3. Tap the Edit button at the upper left corner and select the alarm that you want to change the sound on the list. If you want to create a new alarm, tap the Plus icon and set it based on your need.
Step 4. Select the Sound option to open the alarm sound collection. Then touch each sound to pre-listen to it, and find your favorite sound.
Step 5. After selection, press the Back button at the top left side and then tap Save to confirm the alarm sound change on iPhone for free.
The clock sound to each individual alarm is different, so you have to change each one. In another word, there is no option to change alarm sound for all your alarms at one time. Moreover, there is a Silent alarm tone that you can use if you only want to have your alarm vibrate.
Part 2

: How to Set Personalized Alarm Sound for iPhone

There is only a small set of alarm sounds on iPhone. Officially, Apple does not permit you to change alarm clock ringtones with your songs. However, it is possible to use your favorite music as alarm sound. Apeaksoft MobieTrans is a professional ringtone maker for iOS devices.
Built-in a ringtone maker for creating personalized alarm sound with your songs.
Import music from PC or iPhone for making ringtones on computer.
Transfer and convert customized alarm sounds to iPhone automatically.
Not damage existing data on your iPhone when making and syncing ringtones.
Free Download
How to Change Alarm Sound on iPhone
Step 1. Install the best ringtone maker for iOS
Download MobieTrans and install it on your PC.
Next, connect your iPhone to the computer with the Lightning cable. Once launch the ringtone maker, your iPhone will be detected. Select Toolbox tab from the left side and click the Ringtone Maker option to open the ringtone maker window.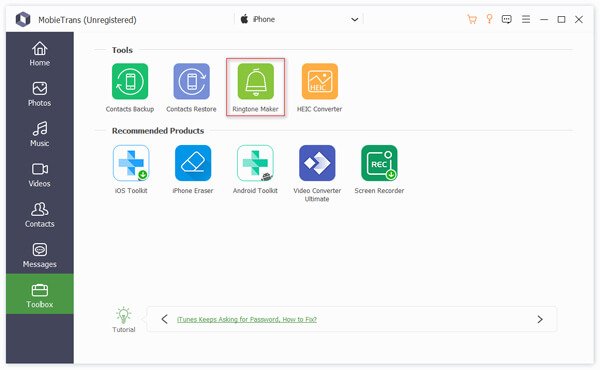 Step 2. Create an alarm sound with your favorite song
Select Add file from device or Add file from PC button and import the song you want to set as alarm sound. Locate the beginning of the alarm sound on the timeline and click Set starting point button. Then slide to the end and hit Set ending point button. Then adjust the Volume and pre-listen to alarm sound.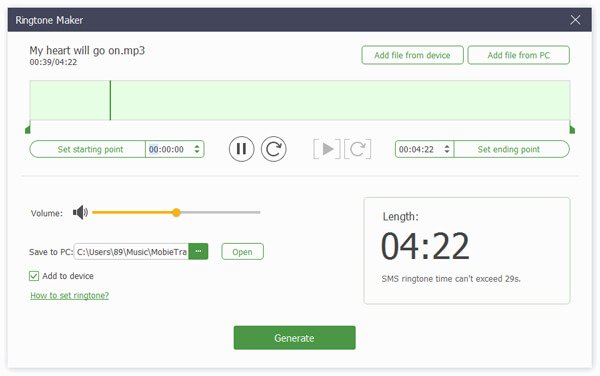 Step 3. Transfer your alarm sound to iPhone
If you are satisfied with it, check the box next to Add to device. Once click the Generate button, the alarm sound will be saved to both your iOS device and PC. After transferring, disconnect your iPhone.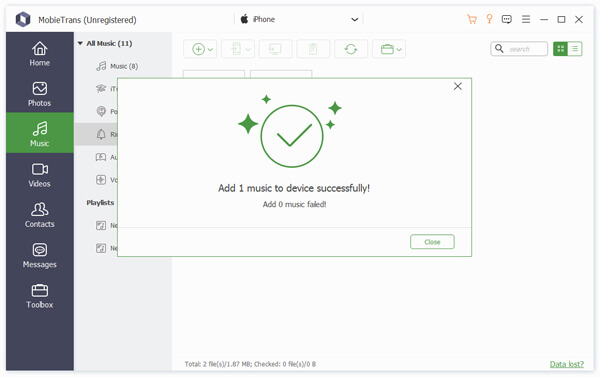 Surely, if you have downloaded ringtones, then you just need to add ringtones from computer to iPhone directly.
How to Set Personalized Alarm Sound on iPhone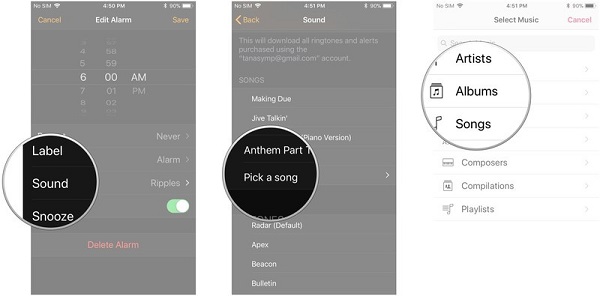 Step 1. Start the Clock app on your iPhone, go to Alarm tab, tap Edit and select the alarm you want to change.
Step 2. Touch Sound, scroll up to the top of the list, and tap Pick a song.
Step 3. Find the sound you just transferred to your iPhone and tap it. That will change alarm sound with your music on iPhone 7.
Step 4. Tap the Back button and hit Save.
You may subscribe Apple Music or other music services; however, audio streaming cannot be set as custom alarm tone on iPhone. The only way to set personalized alarm sound is to transfer it to your iPhone memory.
Conclusion
This tutorial has discussed how to change alarm sound on iPhone and iPad. By default, you are allowed to set alarm sound integrated in iOS when creating a new alarm or change it at any time. If you expect to set your favorite music as alarm sound, Apeaksoft MobieTrans can meet your need. It is not only able to transfer alarm tones you downloaded online to your iPhone, but also able to create an alarm sound with your song. We wish our guide is helpful to you.