Feel annoyed by the white or grey background of text messages? Want to add more expressive effects to your text messages on mobile phone?
Just change the text bubble or message background wallpaper or color.
However, you may notice that there is no setting option from Messages app on your iPhone or Samsung.
No worry and this page is the solution.
Here you can get 3 easy ways to change your text message background color, wallpaper and bubble effects on Samsung and iPhone.

Way 1. How to change text message background bubble on iPhone without jailbreak
Though Apple provides some message effects for bubble e and screen on iPhone, you may find the effects are limited styles and models.
Memoji, animoji and emoji effects of bubble texts or full screen are only less than 10, and Memoji, animoji effects are only available on iPhone X and later.
So there are some apps that support to change text messages background on iPhone.
FancyBubble is one of them.
Step 1. Go to App Store on your iPhone, Input "FancyBubble" in the search bar, install and run it on your iPhone.
Step 2. In the main interface, select "Messages" app from its message types drop-down list. Then select the bubble effect with typing the detailed texts, text font, text size by dragging the ball and text color.
Step 3. Hit "Send" then you just need to select the receiver and complete the Subject or comment and hit "Send" button to send the text messages with background bubble effects.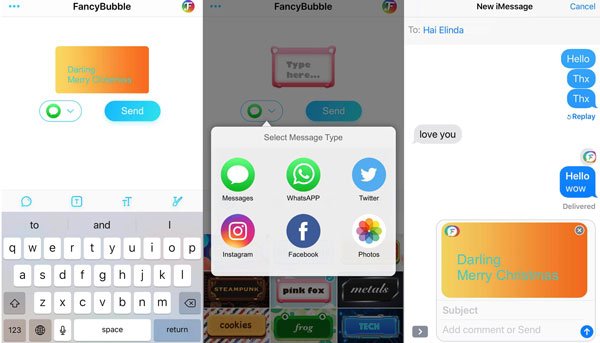 Note: When you apply the background effects to send text messages on iPhone, you had better enable iMessages, because text messages with effects will become MMS, and it charges extra fee according to your carrier plan. Check here to learn more about differences between text messages and iMessages.
The frequent operations on changeing the text message or iMessages background on iPhone, your accidental deletion of messages may happen sometimes.
iPhone Data Recovery
Apeaksoft iPhone Data Recovery is the message recovery tool, which can help you get back the deleted text messages, iMessags and MMS from iPhone 15/14/13/12/11/XS/XR/X/8/7/6, etc. running in iOS 17/16.
Here this app only supports background bubble changing for text messages. If you want to change the whole text message wallpaper, visit the next method.
Way 2. How to change background wallpaper for text messages on iPhone (jailbroken)
For changing the full screen of text background, you need to jailbreak iPhone firstly. Then download Cydia, as the alternative to App Store, because it is the app providers for jailbroken iPhone.
Step 1. Run Cydia, input "SMS/Desktop Background" in the search bar to install this app on your jailbroken iPhone.
Step 2. Go to "Settings" > "Wallpaper" to select the wallpaper you want to use from your own Photos app.
Step 3. Hit "i" icon on the upper left side of the photo you've selected, and your SMS background wallpaper will be changed as the selected one.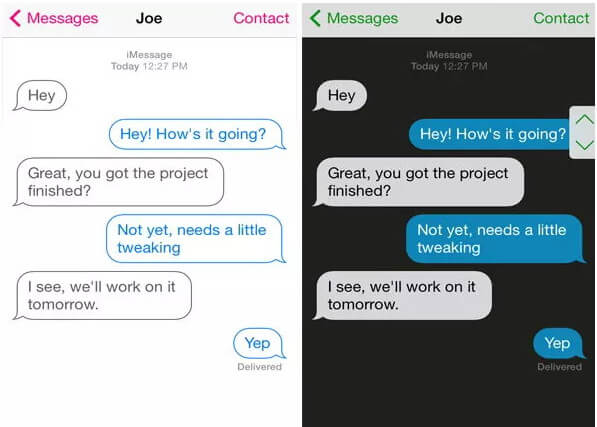 In this way, you can get more freedom to customize your own text message background wallpaper. However, you need to jailbreak your iPhone.
If you regret jailbreaking iPhone, take iOS System Recovery to help you unjailbreak your jailbroken iPhone.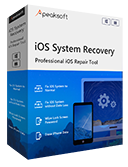 4,000,000+ Downloads
Set jailbroken iPhone to be unjailbroken.
Lock SIM carrier unlocked iPhone again.
Fix problematic system iPhone to normal.
Work on iPhone 15/14/13/12/11/XS/XR/X/8/7/6, etc.
Note: When you unjailbreak your iPhone, your iPhone will be restored to factory settings. So just remember to backup iPhone in case of data loss.
Step 1. Free download iOS System Recovery and install it to your computer.
Run it immediately and connect your iPhone to your computer with the USB cable.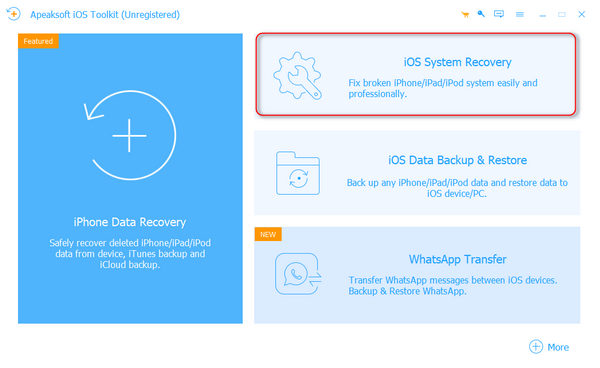 Step 2. Go to "iOS System Recovery", select "Other" from the system error, and click "Start" button and this software will detect your iPhone is normal.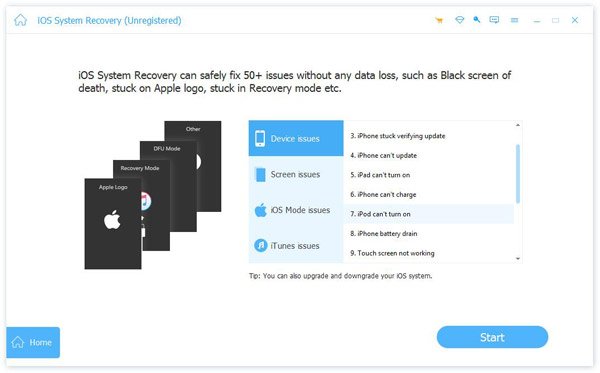 Step 3. You need to click the question mark to get your iPhone into recovery mode or DFU mode manually.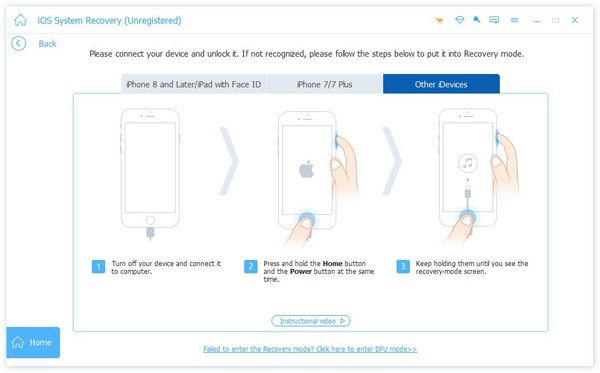 Step 4. Just click the "Back" option and select "Advanced Mode" and "Confirm" button to start to download the firmware and restore your iPhone to factory settings.
Then you can check your iPhone to see if it has to be unjailbroken.
Way 3. How to change text message background theme on Samsung
Coincidentally, Android phone also leaves you no option to change or customize text message background. What you need is still a third-party app to help you do that.
Here we take the apk, SMS Wallpaper Background for Texting, as the example.
This apk lets you choose your favorite SMS chat background including text bubble and background wallpaper. More interestingly, you could change the wallpaper from your own photo library freely.
Step 1. Search SMS Wallpaper Background for Texting on Google Play, download and install it on your Samsung phone.
Step 2. When you run it, it will pop up to let you set this app as the default SMS app. You need to hit "YES" > "Start" to enter your message screen.
Step 3. When you open Messages app, hit the three-dot option on the top right corner to select "Appearance" to set "Conversation Settings", where you can "Set Background", "Set Conversation Bubbles", "Set Font", and "Block Conversation".
After you set the text message effects, your text message background will be changed automatically.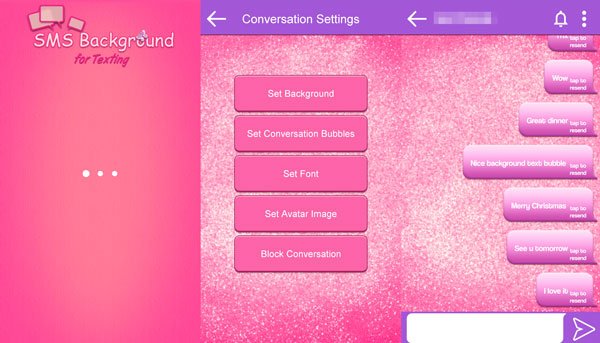 Note: You can set background or bubble by opening a certain message, which gives you one more option to "Set Avatar Image" for the message contact.
FAQs About Changing Backgrounds for Text Messages
Why has my phone background turned black?
Nowadays, cell phones differentiate between day and night modes to prevent your screen from getting too bright and hurting your eyes at night. Your phone's background color may turn black in night mode. You can usually switch back to the normal white background in the settings or set a timer to shift your phone's background.
Can I edit my text messages on my iPhone?
The iPhone allows you to edit a message 5 times and resend it within 15 minutes of sending it. Select your target conversion, including the message you want to edit in Messages and touch and hold the text message bubble. Tap Edit and modify it.
Why are text message bubbles in different colors on the iPhone?
Different colors can be used to identify what the message was sent through. A blue message was generally sent via Apple iMessage, while a green message was sent via standard SMS or MMS.
Is the text message and iMessage the same thing?
While both represent messages, iMessage can only be used on Apple devices and require an Internet connection. Text messages can be used on all devices without an internet connection. In addition, iMessage is more confidential and secure than regular text messages.
Can I change the contact background?
Sure. Open the Contacts on your mobile phone, and tap the contact you want to change the background. Click Edit on the top right corner of the screen. Tap its background, and you can select from different colors.
Conclusion
This article shows you three ways to change background for text messages on iPhone and Samsung phone. Whether you change background bubbles on iPhone or Android, you just the third-party apps to help you. However, when you change background wallpaper for iPhone, you have to jailbreak iPhone to use the third-party apps. Surely, you can regret your jailbreak option using iOS System Recovery.
For more suggestions to this page, do not hesitate to leave your comments below.