"How can I clean my iPhone speaker, they are being filled with dust and the sound is becoming very disturbing, any suggestions would be appreciated."

An iPhone is an extension of us.
However, according to a recent research, our smartphone is also a giant germ magnet that harbors more bacteria than a toilet seat. Moreover, the dust accumulated in iPhone speaker can cause a variety of problems, including let the speaker stop working.
Considering that the best iPhone case cannot protect the device from getting dirty, we are going to tell you multiple solutions on how to clean iPhone speaker in this post.
Part 1

. When Do You Need to Clean iPhone Speaker?

In fact, we suggest you to clean iPhone speaker frequently, at least once a month, but there are some situations that are extremely urgent to do the job:

1. Long-term usage. If you have used your iPhone for long time, such as several years, it is the time to clean iPhone speaker right now. Even though you use an iPhone case, the speaker port must collect lots of dust.

2. Just finished a long travel. iPhone is the most important device when travelling. We utilize it to take photos and videos, and kill time on the plane. At the same time, it becomes the carrier of dust and germ.

3. Covered by dust. Sometimes, you leave your iPhone on the table or in the drawer for several days or months. When you find it again, your iPhone is covered by dust and debris. Before use it, you'd better clean iPhone speaker.

4. Sound becomes unclear or intermittent. The dust in iPhone speaker could cause sound to be abnormal. So if the sound becomes odd, you should try to clean iPhone speaker first.

5. Home button or Touch ID failed. Home button is close to speaker, and the dusty speaker may affect the usage of home button, which result in failed Touch ID.
Part 2

. How to Clean iPhone Speaker

iPhone speaker is a sophisticated component. The dirtiest part is the speaker port on the bottom of iPhone, and we do not recommend you to disassemble your iPhone to clean iPhone speaker, because it may cause more problems and even damage your device.

First of all, you can prepare the tools to clean your speaker, such as a toothpick or a paper clip, a paint brush, and a hair dryer. Then press the Side button and shut down your iPhone, and pick up the proper method from below to clean iPhone speaker simply.
Method 1: Clean iPhone speaker with paper clip
This way is used to clean large pieces of dust and debris in your iPhone speaker.
Step 1: Put your iPhone on a table and use something to pad the bottom. That will make the iPhone speaker exposed and convenient to clean.
Step 2: Clean out any gunk and dust from the speaker port with the paper clip, toothpick or any sharp things. You should do it gently and do not insert the paper clip too deep.
Step 3: You can use a Q-tip dipped in a bit of alcohol to scrub the speaker. Congratulations! Now, cleaning iPhone speaker is complete.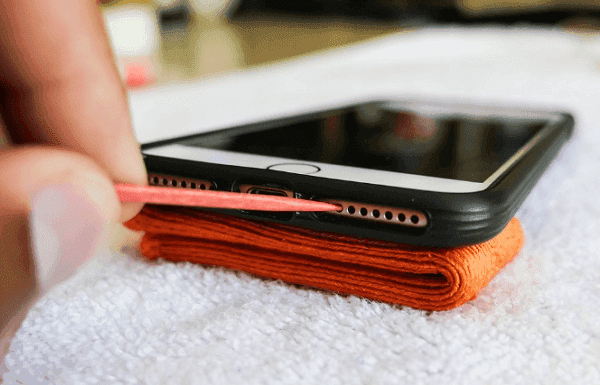 Method 2: Clean speaker port using paint brush
Artist brush is able to clean iPhone speaker as well, especially when it is full of tiny debris.
Step 1: Take your iPhone in one of your hand vertically.
Step 2: Use the paint brush in another hand to clean up the bottom speaker on your iPhone. Then the tiny debris and particles will fall out.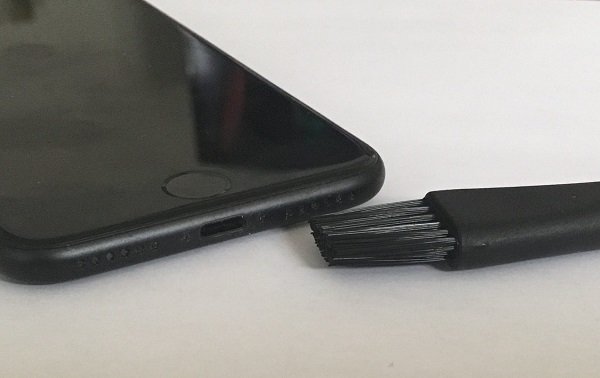 Method 3: Clean iPhone speaker by blowing
Another way to clean iPhone speaker is to blow the dust out of the port. The hair dryer is a useful tool, but do not use hot air. If you do not have a hair dryer, use your mouth or compressed air as a substitute.
Step 1: Place your iPhone flat and expose the speaker port on the bottom.
Step 2: Turn on the hair dryer and blow the dust out of your speaker.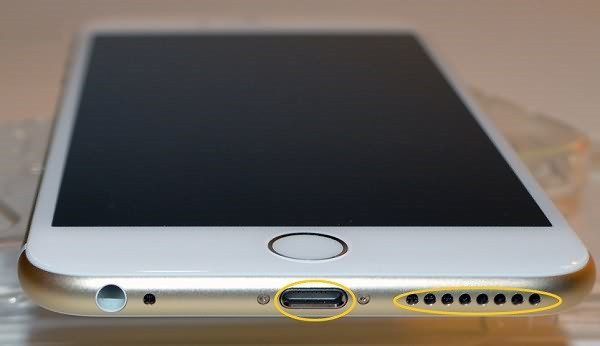 Method 4: Clean iPhone speaker with adhesive tape
Adhesive tape is common in our daily life and also a good option to clean iPhone speaker.
Step 1: Take a small piece of tape and wrap it on one end of the toothpick. Make sure that the sticky side is facing outward.
Step 2: Insert the toothpick into your iPhone speaker and move around gently. Then take it out, and you will find the tape is full of dust.
This way will wipe dusty of speaker to get speaker work normal and fix not working Touch screen, because Touch screen is close to speaker.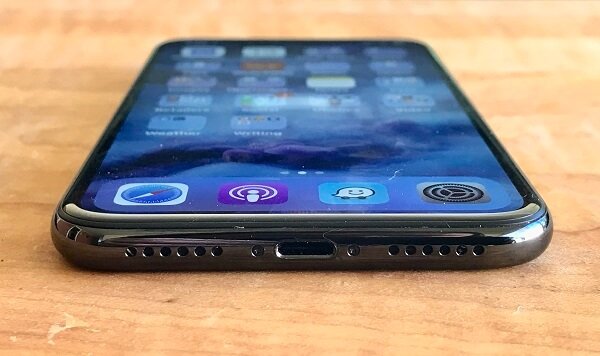 The above solutions are aiming at helping you to clean your iPhone speaker. If your data are lost because of cleaning speaker, restore iPhone files from iCloud or iTunes backup right now.
Conclusion
Based on the tutorial above, you might understand how to clean iPhone speaker now. Many people said that they cannot live without their iPhone, even for one minute. It means we take our iPhone everywhere. As an electronic device, iPhone collects dust, debris, tiny particles here and there. Sometimes, it could cause serious problems, including the speaker stops working. That is why we shared how to clean iPhone speaker in the article. And we hope that our step-by-step guides are helpful to you.