More and more people are addicted to sharing everything with Twitter. Well, you may feel that you have spent too much time on this social platform. If you are tired of the mentions, subtweets and direct messages littering your Twitter, you can delete Twitter account permanently. On the contrary, you can get more attractive activities and interesting friends around in your daily life.

In addition, Twitter offers a 30-day grace period. It means you can reinstate your Twitter account within 30 days. Everything can be recovered like nothing happened. So why not delete Twitter account to see if you can live without Twitter or not. After all, you can reactivate Twitter account and recover previous Tweets within a month. Now, let's start to learn how to delete Twitter account permanently on mobile or computer.
Part 1

: How do I Delete Twitter Account Permanently

No matter which reason you take, if you thought it is time to break up with Twitter, then you can follow steps below.

Step 1. Log into Twitter account

Open the official Twitter website on your browser like Chrome, Safari and others. Sign in with your Twitter account and password. Later, click your Twitter avatar on the top.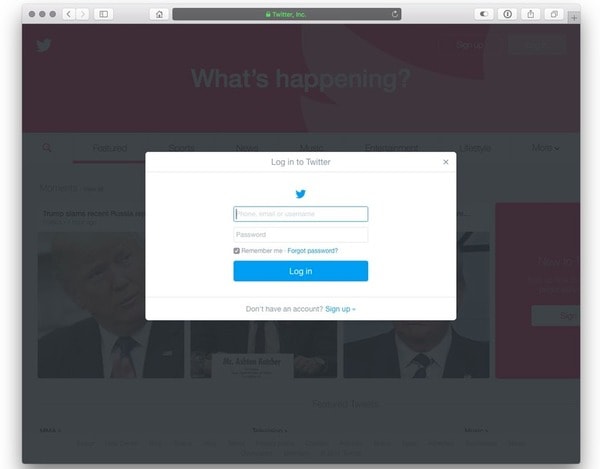 Step 2. Request to deactivate Twitter account
Choose "Settings" option from its drop-down menu. Scroll down the page and click "Deactivate my account" hyperlink at the bottom of the "Account" menu.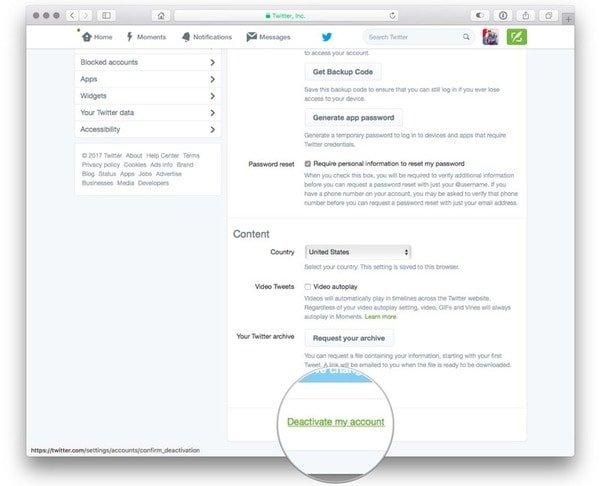 Step 3. Delete Twitter account on computer
When you click the Twitter link, you will be asked if you really want to delete a Twitter account. Click "Deactivate" and enter your password to confirm.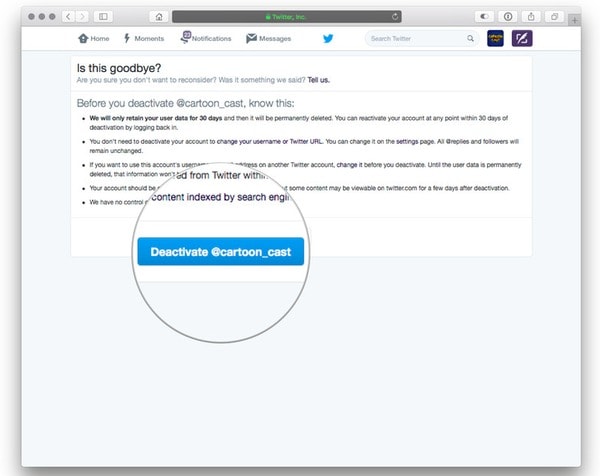 Be aware that Twitter will not remove all your personal data immediately. Because you are given a chance of 30-day period from the date of deactivation. In addition, the search engine can still find all your previous tweets, even though you have deleted old Twitter account permanently.
Part 2

: How do I Delete My Twitter Account on the APP

Actually, the Twitter application does not allow users to delete Twitter account on phone. But you can still remove the account from your smart phone. If it is exactly what you want to do, then you can follow steps below to delete Twitter account mobile.

Step 1. Run Twitter app

Click the Twitter app on your iPhone or Android. Sign in with your Twitter account and password. Later, you can see its main interface totally.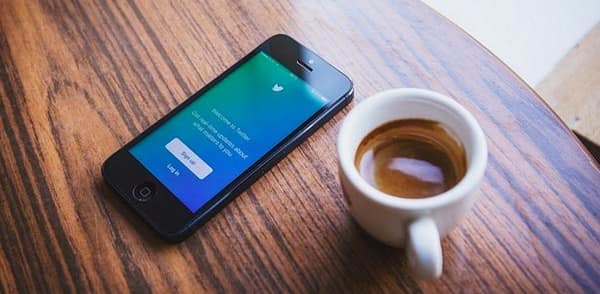 Step 2. Delete Twitter account through app
Choose "Me" icon on the lower right corner. Then all your Twitter account information will be displayed. Click "Accounts" button near the "Settings" option. Later, select your account and move the slider to the left side. Click "Remove" to ask for Twitter deactivation.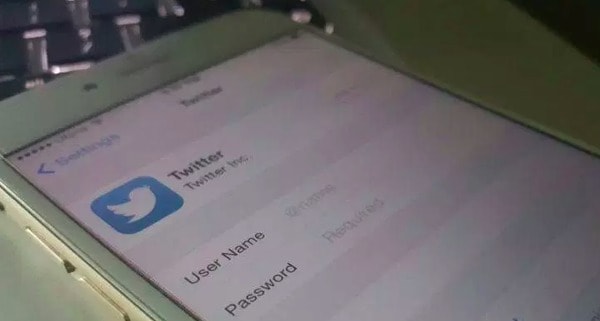 After that, you can reopen Twitter app to have a check. If the username and password options are blank, then you have removed your Twitter account successfully.
Don't Miss:
How to Delete a Facebook Account
How to Delete an Apple Account
Part 3

: What Should You Know Killing Twitter Account

There is also something important you should know about Twitter deletion. And you can find the answer towards the certain question from the following sentences as well.
Twitter retains your data for 30 days since the data you commit Twitter-suicide. Thus, you can reactivate your Twitter account whenever you want within 30 days.
You can change your Twitter account in Account settings directly after the Twitter deactivation.
You can still find your previous tweets in Google, Bing and more. Deleting Twitter account does not work for those search engines.
Now, it is turn to frequently asked questions about Twitter. And you can also benefit a lot from those small tips.
How do You Delete All Your Tweets
If you want to clean up your Twitter completely, deleting all your tweets would be a good choice. And you would not lose any follower. TwitWipe, TweetDelete, Cardigan and Delete All Tweets are all excellent Tweet cleaners. During this section, I'll take TwitWipe as an example.
Step 1. Run Twitwipe
Open twitwipe.com and click "Get Started" option. To start with, you need to solve its security puzzle first. Later, click "Proceed" to move on.
Step 2. Delete all tweets of your Twitter
Sign into your Twitter account and choose "Authorize app". Later, choose "Yes" and confirm to delete all your Tweets.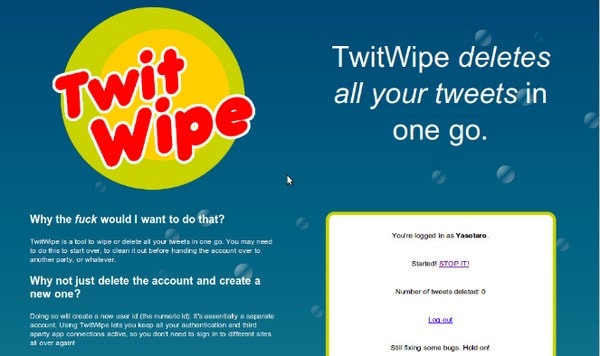 After that, you need to sign out your Twitter account out of TwitWipe and disable the connection.
Deactivate Twitter Link
Is it possible to make your username or email address available for reuse before deleting Twitter account? Well, just read and follow.
Step 1. Adjust your username or email address
Open Twitter site on your browser, and then locate the Settings page. Now you can choose a new username or change a new email address freely.
Step 2. Confirm Twitter link
You will receive an email sent from Twitter. Later, deactivate Twitter link to set your username or email address freely.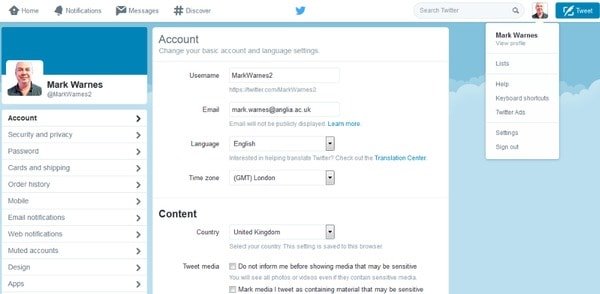 Next time you set up a new Twitter account, you can still use your email and username freely.
Delete Twitter on iPhone
Apeaksoft iPhone Eraser is your reliable tool that can delete Twitter and its account information completely and permanently. Moreover, no personal information will be tracked even though your sell your mobile phone.
Erase all data and settings on your iPhone, iPad or iPod securely.
Support all files types including apps, account information, contacts, etc.
Provide three erasing levels to protect your privacy in one click. s
Wide support of iOS devices including iPhone XS/XS Max/XR/X/8/8 Plus, iPad Pro, iPod and more.
Download for Win
Download for Mac
Step 1. Run iPhone Eraser
Launch iPhone Eraser on Windows or Mac, and then connect iPhone to your computer with a USB cable. Wait until iPhone Eraser detects your iOS device.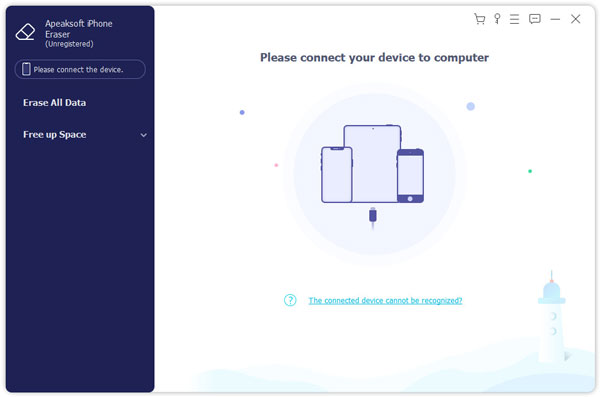 Step 2. Choose erasing level
Select the erasing level you want to apply to delete Twitter. During this time, you can select low erasing level to overwrite iPhone for one time.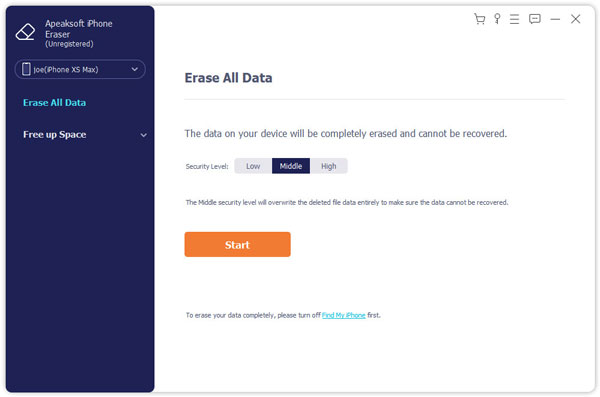 Step 3. Delete Twitter account and settings
Click the huge "Start" icon to start deleting Twitter and other iOS content. The whole process may take several minutes.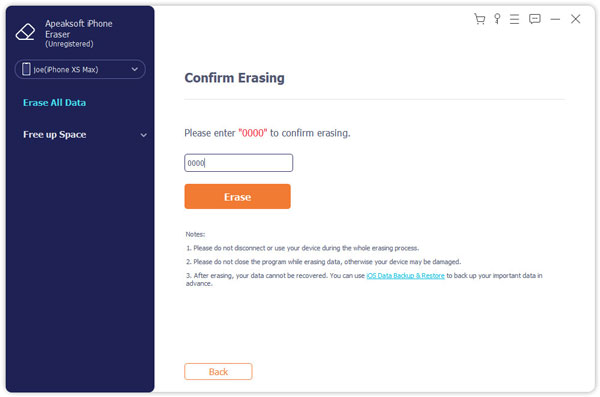 That's all for the latest tutorial of how to delete Twitter account 2018. And you can also share your solution or experience about Twitter account deactivation in the comments below.