iMessage is one of the most prevalent Apple services, allowing users to contact with friends and family. Most Apple customers have heard of this service, some people even use iMessage every day. But when we asked what the difference between text and iMessage is, only a few people could answer this question exactly.

It makes sense when considering that people send both text messages and iMessages in Apple's Message app. Many iPhone users are still confused about the difference between text and iMessage. Therefore, we are going to answer this question and show you basic knowledge you should understand about iMessage in this post.
Part 1

: Difference between text and iMessage

What is the difference between text and iMessage? To answer this question, let's take a look at a traditional text message first. When you send a text message, also called SMS, you type several words in the Message app and hit the Send button. Then your cellular data service provider transfer the message to the recipient through their network. And the provider charges for each text message or cell phone plan. Though text message fee is not high, the charges could add up quickly if you are appetite for texting.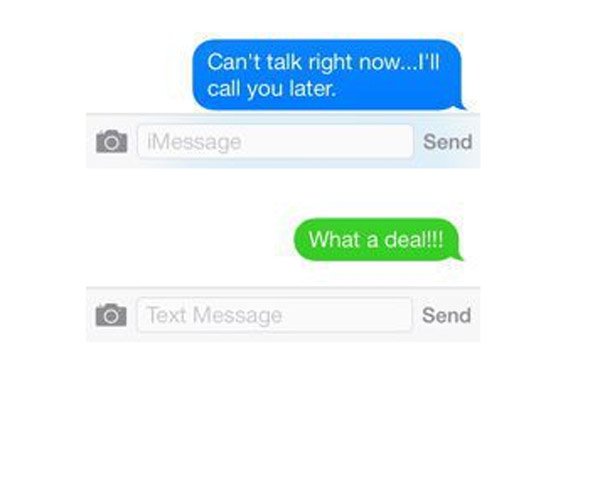 In a result, instant message services rise rapidly and attract every generation. iMessage is the best option for Apple customers to send and receive text, image, audio and video messages through Wi-Fi network or cellular traffic. In another word, sending iMessage is totally free of charge except paying for internet connection.
In summary, the differences between text and iMessage include:
1. Transmission modes. Text is delivered through operator's network, such as Verizon, AT & T, Sprint, and more; while iMessage transmits via internet.
2. Compatible devices. iMessage is Apple's service, so it is only available to iPhone, iPad, iPod Touch, Mac and other Apple devices. On the other hand, text is available to all smartphones, feature phones, and part of tablets with SIM card.
3. Charges. If you don't have an unlimited texting plan or if you exceeded the limitation for the month, you could be charged for each text message. On the contrary, iMessage is free to use.
4. Content. iMessage allows you to send photos, videos, audio, files, locations, emoji and message. Text does not support delivering so many data types, and has limitation on character number.
The most apparent difference between a text message and iMessage is the background. Apple uses blue background to mark iMessage and green background to highlight traditional SMS and MMS.
Recommend: iPhone Data Recovery
Now you should understand the differences between text and iMessage, but you may face the challenge to get back lost messages. From this point, we recommend a professional iPhone assistant, Apeaksoft iPhone Data Recovery.
Its key features include:
1. Recover lost messages from iOS devices, iTunes or iCloud backups in one click.
2. Open iTunes and iCloud backup on computer for selectively recovering.
3. Restore lost messages to computer or iOS device in original conditions.
4. Besides messages, support a wider range of data types, such as contacts, call history, WhatsApp and more.
5. Work for all iPhone, iPad and iPod Touch models, like iPhone X/8/8 Plus/7/7 Plus.
6. Available to Windows 10/8/8.1/7/XP and Mac OS.
In a word, it is the easiest way to get back lost messages on iOS devices.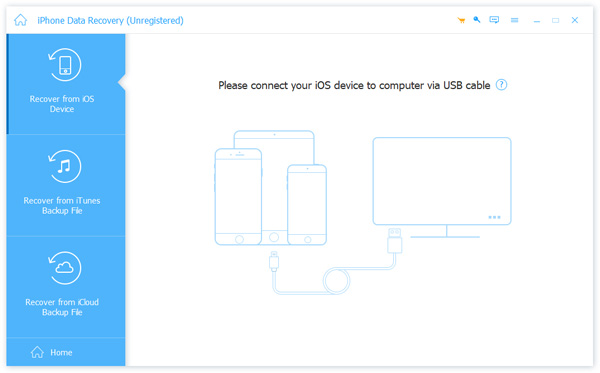 Part 2

: How to Turn on iMessage on iPhone or iPad

Now, you should understand the difference between text and iMessage. If you want to send iMessage, you have to turn it on and set up this service on your iPhone or iPad.

Step 1. Make sure you have registered your iDevice using your email address. Open the Settings app and connect to a stable Wi-Fi network.

Step 2. Head to "Settings" > "Message" and put the switch of "iMessage" to "ON" position.

Step 3. If it is the first time to use iMessage, you have to activate it. You need to tap "Send & Receive" in "Settings" > "Message". And input your Apple ID and phone number.

It will take up to 24 hours to activate iMessage.

Step 4. After activated, you can send iMessage on your iPhone or iPad.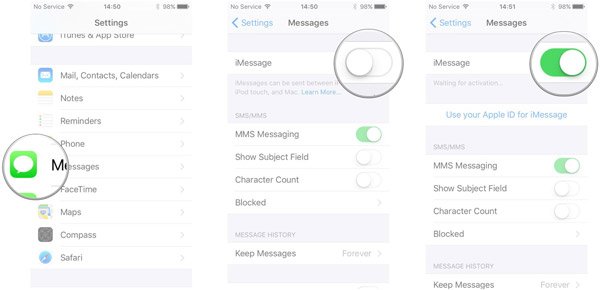 When you meet errors during turning on iMessage, follow the troubleshooting below to fix it quickly.
1. Check your Internet connection. If the Wi-Fi network is not stable, try another one or cellular data plan.
2. Make sure you have disabled "Airplane" mode and "Do Not Disturb", and set "Date & Time" correctly.
3. If iMessage activation failed, you can reset iMessage with only Apple ID or only phone number.
4. Restarting your iOS device could get rid of the failure of turning on iMessage due to stuck in certain mode.
5. The last thing you can do is to check the iMessage server status on www.apple.com/support/systemstatus/.
Part 3

: How to send iMessage instead of text

Users who do not understand the differences between text and iMessage are usually not sure how to send iMessage instead of text. In this part, we will show you how to send iMessage in details. Firstly, both the sender and recipient devices should be Apple products. You can send iMessage between iPhone, iPad, iPod Touch and Mac computer after turn on this service.

Step 1. Connect your iPhone to a Wi-Fi network or turn on cellular data plan. If you want to only send iMessage, go to "Settings" > "Message" and toggle off the "Send as SMS" option.

To ensure all messages are sent through iMessage network, tap "Send & Receive" in Message settings screen, only drop your Apple ID and remove the phone number.

Step 2. Now, open the Message app from your home screen. When sending messages, the blue "Send" button indicates the message will be sent via iMessage. If the button turns to green color, you are sending traditional text message. Another clue is that iMessage colored with blue background.

If you see Not Delivered alert under your message, it means your iMessage is not sent successively.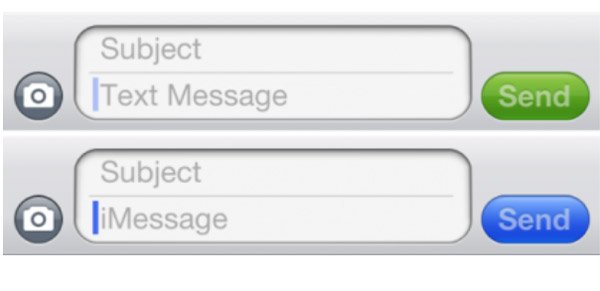 Conclusion
Based on the tutorial above, you might understand what difference between text and iMessage is. In a word, they are totally different features on mobile phone. For Apple customers, iMessage is a better option to send and receive messages since it is able to help you save money, especially in the regions where text fees are high. Plus, we also told you how to turn on, set up and send iMessage on iPhone and iPad. We hope that the analysis and guides are useful to you.