"I bought an iPhone 14 off eBay and it is iCloud locked. I tried contacting the owner of iCloud account but he hasn't answered yet."
"How can I open my iPhone activation lock without the previous owner's account? I just need somebody to help me unlock it, thanks."
It is frustrating when you bought a second-hand iPhone on eBay but were locked out because of the previous owner's iCloud account. Otherwise, you just got your iCloud locked on iPhone or iPad by mistake. To solve this problem, this article aims to show you 6 easy ways to fix iCloud lock issues.

Part 1

: How to Fix iCloud Lock by Removing Apple ID (Easiest)

The easiest way to fix iCloud lock is to remove the iCloud account from your iOS device. To complete the iCloud account removal process, you will need Apeaksoft iOS Unlocker to help you.

Apeaksoft iOS Unlocker is the professional iOS unlocker software, which can help you get into the locked iOS device, whether your device is iCloud locked or screen locked, even the Screen Time locked.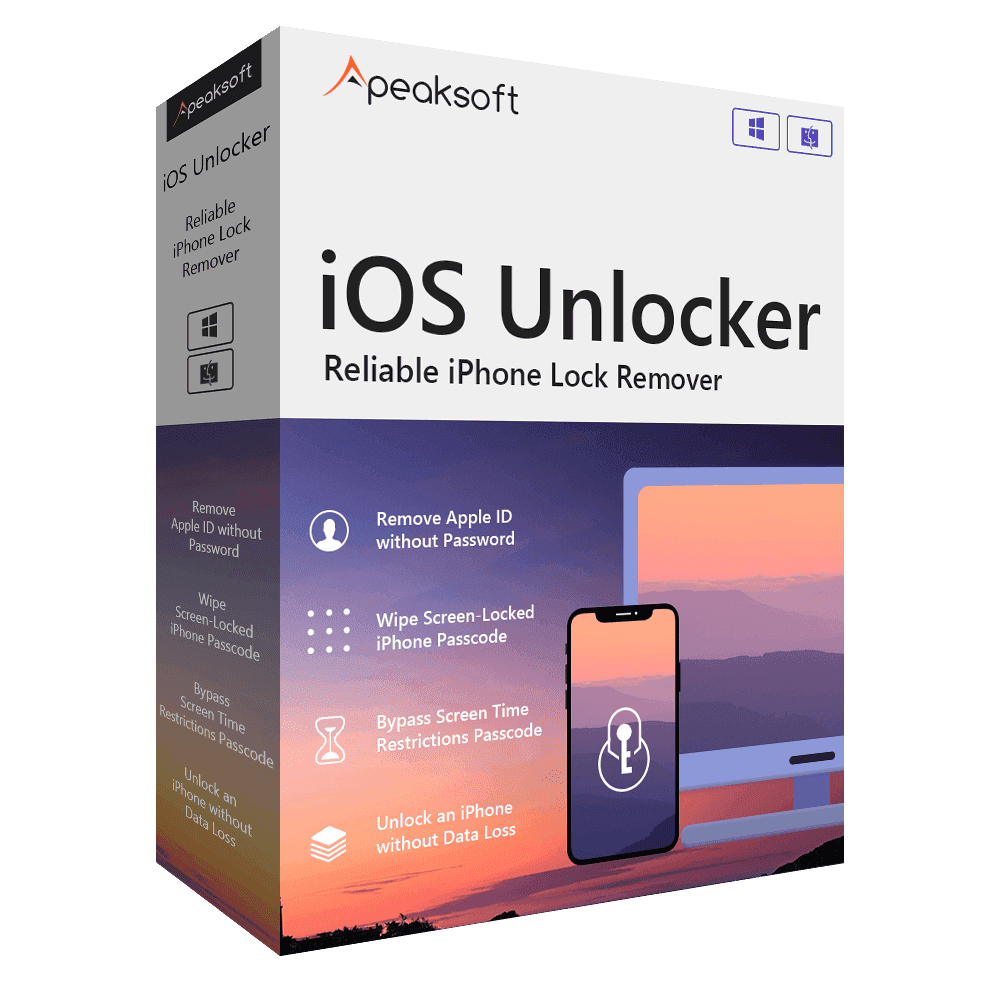 4,000,000+ Downloads
Remove Apple ID account to get rid of iCloud lock.
Wipe screen-locked passcode to unlock iOS device easily.
Recover and remove Screen Time passcode to use device freely.
Compatible with all iOS device running in iOS 16, 15, 14, 13, and before.
Now, let's check how to use the iCloud unlocker to remove iCloud lock in 2 steps.
Step 1. Free download and install Apeaksoft iOS Unlocker by clicking the download link below. Run it after the successful installation.
In the main interface, you will see the three tabs, where you should click Remove Apple ID. Connect your iOS device to computer, and do not forget to tap Trust on your device to trust the computer.
Step 2. Click the Start button and this software will remove Apple ID that causes the iCloud lock from your device.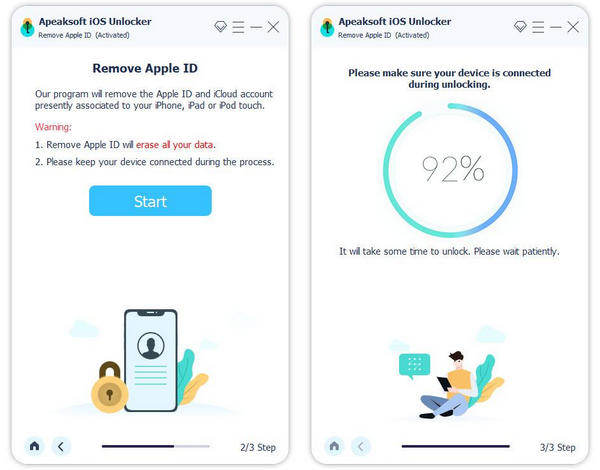 3. iOS devices running in iOS 11.4 or later, you should turn off Find My iPhone/iPad and then use this software to remove iCloud lock.
Tips :
1. If Find My iPhone/iPad is disabled on your iOS device, this software will remove Apple ID associated with iCloud lock from your device.
2. If Find My iPhone/iPad is enabled on your device, you should reset all settings firstly by tapping Settings, selecting General to hit Reset, and finally tapping Reset All Settings.
3. iOS devices running in iOS 11.4 or later, you should turn off Find My iPhone/iPad and then use this software to remove iCloud lock.
Part 2

: How to Fix iCloud Lock via DNS (Quick Solution)

You can fix iCloud lock on iPhone and iPad quickly through the following operations. However, it does not mean that you can bypass iCloud activation lock without password. You are only allowed to access your iCloud account temporarily. But if you need to log into Apple iCloud immediately, you can try this method.

Step 1. Access your direction IP

Open "Settings" app on your iPhone or iPad. Choose "Wi-Fi" button. Hit the "i" icon in the right side of the network you want to connect to.

Step 2. Reset the DNS settings according to the country you live

Remove the original DNS settings and then enter a new one. You can fill in the DNS settings according to your location.

USA/North America: 104.154.51.7 Europe: 104.155.28.90
Asia: 104.155.220.58
Other areas of the World: 78.109.17.60

Step 3. Unlock iCloud locked on iPhone and iPad

Click "Back" and then turn to "Activation Help". When you see a message saying "You have successfully connected to my Server.", you can bypass and fix iCloud lock without password quickly.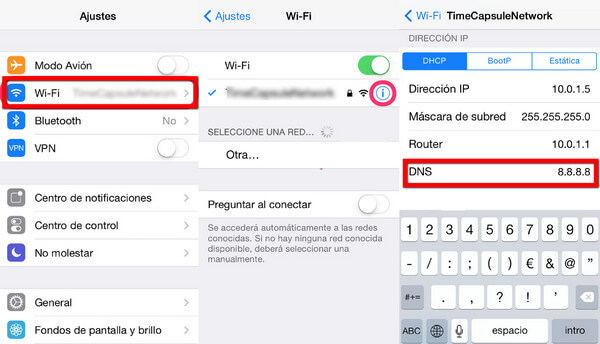 Part 3

: How to Fix iCloud Lock Permanently

It is true that you can fix an iCloud locked iPhone with the solution mentioned below. However, you are still required to fix iCloud lock problems every time you use Apple apps like Face Time and Phone.

In addition, it has tested that it works well with iOS 8, iOS 9.2, iOS 9.3.2, iOS 9.4 and above. For people who need to unlock an iCloud locked Apple device and use it as usual, then you can try this method.

Step 1. Select the language and country

Select "Menu" and then choose "Applications". Tap "Crash" to restart your iPhone. Set the language and country according to your need.

Step 2. Locate "HTTP PROXY" menu

Choose the Wi-Fi settings and find the "i" icon besides the relevant wireless network you want. Locate "HTTP PROXY" menu, and then access "Server" and "Port Zone" options under "Manual". You can see there are 30 emoji icons listed in the "Server" and 15-30 random characters displayed in the "Port" Zone.

Step 3. Fix iCloud lock on Apple products

Slide the unlock screen and choose the language for the second time. Now you can enter its Home screen successfully.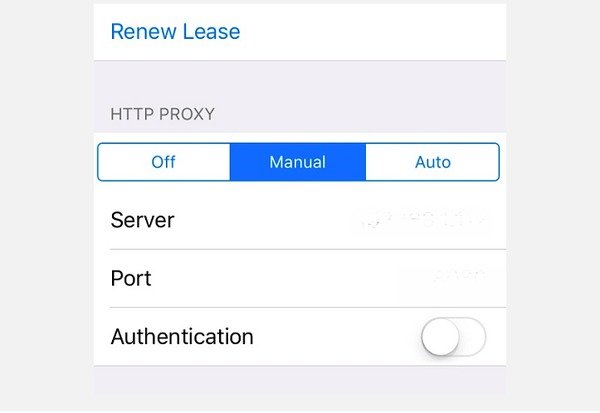 Part 4

: Fix iCloud Lock Using iCloud Lock Removal Service Online

The most effective way to bypass iCloud activation lock is to use an iCloud unlock service. You can read and pick out one of the iCloud removal services to fix iCloud lock permanently and easily. Well, all iOS versions are supported including the latest iOS 16.
OfficialiPhoneUnlock – iCloud Lock Removal on iPhone/iPad/Apple Watches
OfficialiPhoneUnlock offers the iCloud Activation Lock Removal service with the fastest unlock delivery and reasonable price.
Even though you forgot the password, OfficialiPhoneUnlock can still help you remove the previous owner's iCloud account and activate an iPhone or iPad safely. Moreover, it is not a SIM unlock. So your Apple iPhone or iPad is still locked to the original network.
Fix an iCloud lock with a forgotten password permanently
Works with all iOS models including iPhone 14/13/12/11/XS/XR/X/8/7/6/6s/5s/5c/5, iPad Pro/Air/mini, iPod touch and Apple Watch
Instant carrier checking to prevent customers from purchasing the wrong unlock service
Update your iCloud unlock status hourly
Offer the fastest unlock delivery
Step 1. Fill in the iCloud unlock request
Launch OfficialiPhoneUnlock site and select "iCloud Unlock" in the left panel. Find the "Device Details" part and choose your Apple model. Enter its IMEI number or serial number. Hit "Add to Cart" button to move on.
Step 2. Complete the payment of fixing iCloud lock online
Type your email address that can receive an active notification once the iCloud unlock is done. Check the unlock price and timeframe to complete the purchase process.
Step 3. Unlock an iCloud locked iPhone easily
Once you receive the email from OfficialiPhoneUnlock. Follow its provided instructions to remove iCloud lock remotely.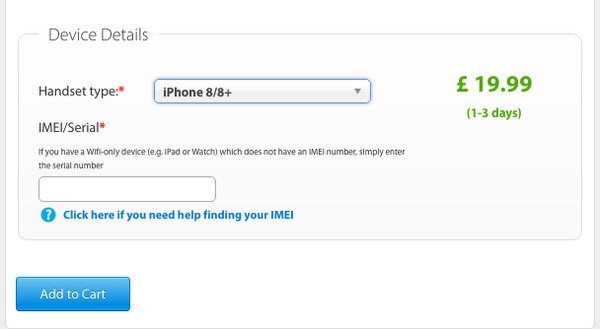 iPhoneIMEI – iCloud Lock Removal without Password
iPhoneIMEI is also a popular service that can unlock iCloud activation lock for your iPhone, Apple Watch and iPad models with no data loss.
In another word, you can bypass iCloud lock of all iOS versions if Apple release an update.
All you need to do is to enter your iOS model and the related IMEI number. After that, iPhoneIMEI can remove the current iCloud account permanently. It will cost you 1 to 3 days to remove the previous iCloud account. And its iCloud unlock price starts from $28. Different Apple devices are charged differently via iPhoneIMEI.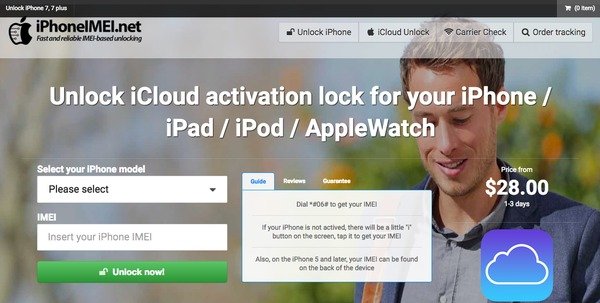 Doulci Acticator – Free iCloud Lock Removal
Doulci Activator is an iCloud removal tool that can bypass iCloud lock from your iPhone and iPad services by using a mirror activation server easily.
When you connect your locked iOS device to iTunes, Doulci Activator can unlock iCloud lock error automatically. Furthermore, you can fix iCloud lock for free on Windows, Mac and Linux computers.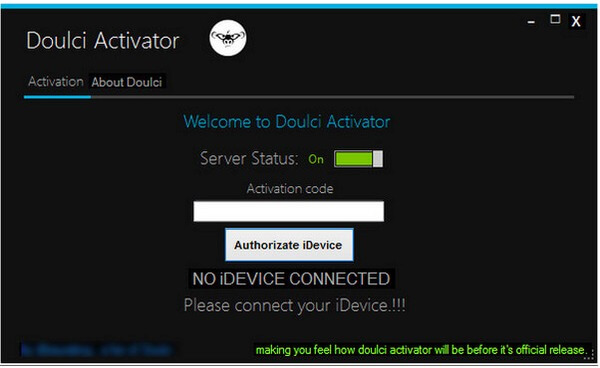 Part 5

: FAQs of Fixing iCloud Lock

1. What does iCloud locked mean?

When you see "iCloud is locked" on an iPhone, it means that you forgot the password to sign out of your iCloud account. Or you purchased a secondhand iPhone from someone, but the previous owner factory reset the iPhone and didn't sign out of their Apple account.

2. How do I check for iCloud lock?

To check if a device has an iCloud activation lock, you need to open the Activation Lock Status website and enter either the IMEI or Serial Number. After that, just hit the Continue button to have a check.

3. Is it safe to buy an iPhone that is iCloud locked?

The answer is no. If you buy an iCloud locked iPhone, you might be in possession of a stolen phone.

4. Can iCloud locked iPhone be unlocked?

You need to make use of a professional iPhone unlocker tool like Apeaksoft iOS Unlocker to help you get into the iCloud locked iPhone.
That's all for how to fix iCloud lock on iPhone, iPad and iPod touch. Contact us if you have any other good ideas to bypass iCloud activation lock, or you have anything hard to understand about above paragraphs.