- "New iPhone user: How to add ringtones to iPhone 14?"
- "iPhone default ringtones suck."
- "Is it possible to add my own ringtone to iPhone 13?"
- "I'm trying to put personal ringtones on iPhone…"
- "Where can I get free ringtones for iPhone?"
Apple offers standard ringtones for all iPhone devices. However, setting default iPhone ringtones is not a smart choice. It is hard to tell whether your iPhone is ringing, especially in public places. What's more, you may get tired of limited iPhone ringtone sources. Fortunately, you can download and add free ringtones for iOS including iPhone, iPad and iPod touch here.

Part 1

: Top 8 Websites to Download Free Ringtones for iPhone Legally

There are two main ways to get free iPhone ringtones. You can install a free ringtone app for iPhone to get collections of tones. However, most iPhone ringtone apps contain in-app purchases.

The second choice is downloading free ringtones from online sites. Actually, you can visit and get free ringtones on iPhone directly via online sources too.
| | Where to Download Free Ringtones | Which Is the Best Website for Free iPhone Ringtones | Main Interface |
| --- | --- | --- | --- |
| Zedge | https://www.zedge.net/ | You can get free wallpapers, ringtones, notifications, icons and many other sources here. Well, it is free to download ringtones from Zedge to your iPhone. | |
| CellBeat | https://cellbeat.com/ | You can choose from hip hop ringtones, country ringtones, R&B ringtones and many other categories. All free ringtones for iPhone will be downloaded as MP3 or M4R format with CellBeat site. | |
| Mobile9 | https://www.mobile9.com/ | Mobile9 is more like a community that people share free contents. You can get free ringtones for iPhone 7 and other iOS models. | |
| Mob | https://tones.mob.org/ | Here you can get many types of iPhone alert tones, such as dance, funny, holiday, movies, games, relaxing and more. You can also see most popular and best of the month iPhone ringtones in mob.org. | |
| Melofania | http://www.melofania.club/ | You can make iPhone ringtones by using Melofania. In addition, you can search and download free ringtones for iPhone 6 too. | |
| Mobilesringtones | https://download-apple-ringtones-free.mobilesringtones.com/ | You can listen to iPhone ringtones before downloading. Moreover, you can choose whether to download a new iPhone ringtone as MP3 or M4R manually. | |
| Freetone | https://freetone.org/ | Freetone offers wide selections of free sound effects and ringtones. Though you need to use iTunes or other iOS transfer tools to get free ringtones on your iOS device directly. | |
| Mobcup | https://mobcup.net/ | If you want to download free ringtones for iPhone 5 and later versions, you can head to M4R iPhone ringtones library. Well, MP3 ringtones are much more than M4R music files. | |
Don't Miss: How to download ringtones on iPhone
Part 2

: 2 Ways to Set Free iPhone Ringtones with/without iTunes

After downloading free songs and tones, it is time to set as your iPhone ringtone. In another word, you need to transfer audio files from your computer to iPhone first. Now, let's read together and see how to make your favorite song as iPhone ringtone.
How to Create and Add a New Ringtone to iPhone with iTunes 12.12
Recently, Apple releases the new iTunes 12.12 update. The App Store disappeared from iTunes. Moreover, iTunes U was moved into the Podcast section automatically. It is quite confusing to set iPhone ringtones with the latest iTunes 12.12.
For Windows users, you can find free ringtones for iPhone 14, iPhone 13 and more via "C:\Users\NAME\Music\iTunes\iTunes Media\Tones\".
As for Mac users, you can follow "~/Music/iTunes/iTunes Media/Tones/" to get your ringtone files.
Step 1 Update iTunes to the latest version
Run iTunes. Choose "Check for Updates" from the "Help" drop-down menu. You can see if there is any available iTunes update.
Step 2 Choose a song for iPhone ringtone
Locate the "My Music" section in iTunes. If you cannot see your downloaded ringtones, you can choose "File" followed by "Add File to Library" to add a new iPhone ringtone. Right click on the song you want to set as iPhone ringtone. Then choose "Get Info" from the right-click menu.
Step 3 Create a fragment no longer than 30 seconds
Locate the "Options" section. Click before "Start" and "Stop" options. You can set the start time and stop time of a song manually. Be aware that the maximum iPhone ringtone loop ups to 30 seconds. Click "OK" to save the change.
Step 4 Change ringtone's extension
Choose "Create AAC Version" from the song's right-click menu. You can see a new version of the audio track in 30-seconds long. Right click on the short ringtone track. Select "Show in Windows Explorer". Later, you need to change the audio file extension from ".m4a" to ".m4r". Click "Yes" to confirm.
Step 5 Create iPhone ringtones with iTunes
Add this audio track to iTunes via the "Add File to Library" feature. Plug your iPhone into the computer. Choose the "Tones" or "Ringtones" folder under your iTunes media folder. Copy the song you want to set as iPhone ringtone. Choose your iPhone icon and select "Tones" in the left panel. Finally, paste your ringtone to complete the process.
Get more details about creating ringtones in iTunes here.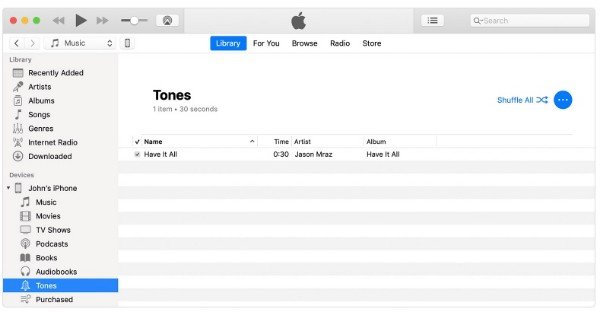 How to Set Any Song as Ringtone on Your iPhone without iTunes
It takes too much time to transfer free ringtones to iPhone with iTunes. Fortunately, you can enjoy one-stop iPhone transfer service with MobieTrans.
The most important thing is that you can get the built-in ringtone maker function here. It is super easy to extract audio track from any video or audio file. There is no need to worry about the incompatible issue. Because MobieTrans built-in conversion and transfer function has simplified the whole process.
Transfer music files from Windows/Mac to your iPhone/iPad/iPod touch flexibly.
Add, export and delete music files to playlist.
Create iPhone ringtone with any video or audio file with customizable filters.
Work with the latest iOS 16 and Apple devices like iPhone 14/13/12/11/XS/XR/X, etc.
Download for Win
Step 1 Launch iPhone ringtone maker and transfer
Free download, install and run MobieTrans. You can transfer music files between iOS devices and PC up to 10 times for free. If you want to edit and make iPhone ringtones, you need to upgrade to its Pro version.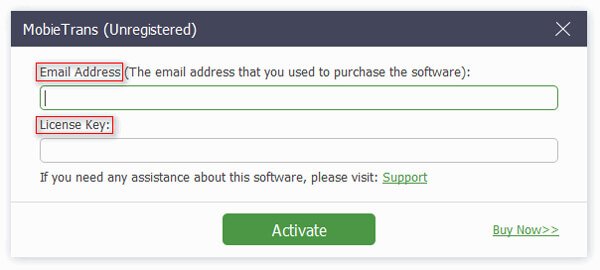 Step 2 Access iPhone ringtone maker
Connect iPhone to your computer via a lightning USB cable. Choose "Toolbox" on the lower left corner of the window. Then select "Ringtone Maker" in the main interface. Well, you can choose "Music" followed by "Ringtones" too.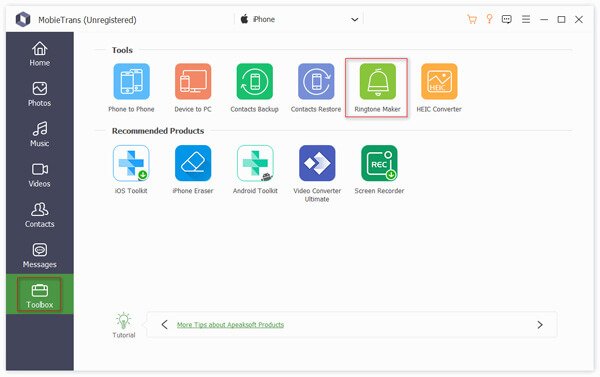 Step 3 Make free ringtones for iPhone
Click the "+" icon on the top menu bar. In the popping-up dialog, you will be prompted with two ways to make an iPhone ringtone.
Generally speaking, you can import music files to your iPhone directly. It is also supported to extract background music from a video as your iPhone ringtone.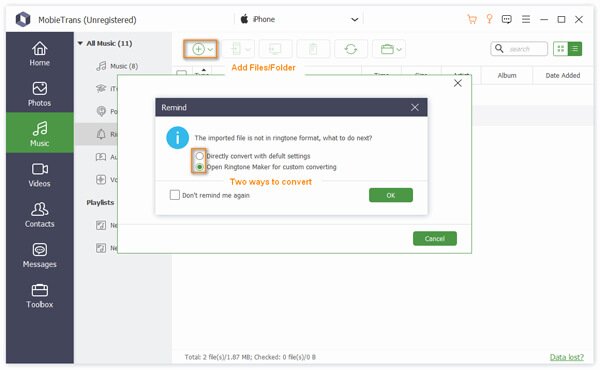 Method 1: Select the first "Directly convert with default settings" option. Click "OK" to close the window. As a result, all your imported songs will be converted as .m4r ringtone format automatically. You can find your free ringtones on iPhone in a short time.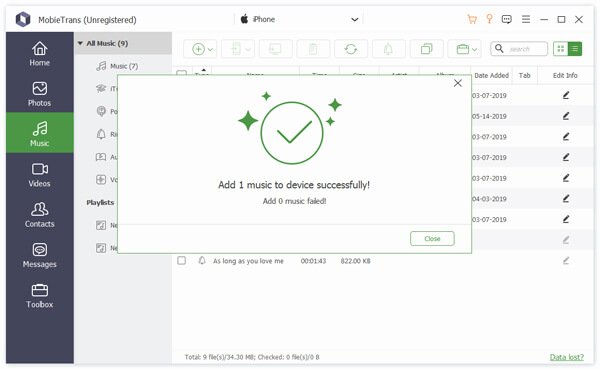 Method 2: If you want to DIY iPhone ringtones from other video or audio files, you can choose the second "Open Ringtone Maker for custom converting" option. In the new "Ringtone Maker" window, click "Add file from PC" on the top right corner.
Now, you can set starting/ending point, adjust volume, change ringtone time length and do other customizations. Check the small box before "Add to device". At last, click "Generate" to create free ringtones for iPhone directly.
So which one does a better job in creating iPhone ringtones, iTunes or MobieTrans? iTunes is the default file manager for all Apple users. However, it is not convenient to create free ringtones for iPhone with iTunes. You have to change the extension and find out iPhone ringtones by yourself.
Compared with iTunes, MobieTrans is more user friendly. You can get more choices to get free ringtones for iPhone 14/13/12/11/XS/XR/X and more. For instance, you can extract background music from your favorite movie as iPhone ringtone without data loss. All in all, if you want to make video and music files as iPhone ringtones, MobieTrans will be a better choice.