iPhone offers a simple way to block unwanted or nuisance callers. When you can't contact someone through texts or calls, you may wonder if they have blocked your number. There is no specific solution to tell if someone blocked you on your iPhone. You won't get any notifications about this when you have been blocked.

How to Know If Someone Blocked You on iPhone
So how to know if someone blocked you on your iPhone? Surely you can't ask the person for a sure answer. But some signs can help. You can tell if others blocked you on iPhone or iMessage based on them.
Part 1. How Can You Tell If Someone Blocked Your Number on Your iPhone
If someone doesn't answer your calls or respond to your texts is not an immediate sign that you have been blocked. Under most circumstances, they were busy or didn't get a notification that you called/messaged them. They may use another iPhone or iPad and don't see alerts. You can try contacting them later. You can check the signs below to figure out if someone blocked your iPhone number.
Phone calls go right to voicemail
When someone never answers your calls, you should give them a phone call again and pay attention to the ring. If the phone rings once or a half ring and then directly goes to voicemail, that can be evidence that your number has been blocked. If you want further evidence, you can use another number to call them. If it usually rings, that means someone has blocked you on your iPhone.
Hide the Caller ID and call again
You can also turn off the Caller ID when you want to tell if someone blocked you on your iPhone. You can go to the Settings app, scroll down to choose Phone, and then enter the Show My Caller ID interface. You can switch off Show My Caller ID to mask your phone number and call the person that may have blocked you again. If the phone rings more than once with the Caller ID disabled, that tells you your number has been blocked.
Check respond text
When someone has turned on Do Not Disturb, Airplane, or a customized Focus mode, you can't contact them successfully through calls or messages. They will respond to you with a text like Sorry, I can't talk right now, I'm on my way, or Can I call you later. You will get a delivery notification right away when you send an iMessage. You are not blocked on your iPhone if you receive that kind of automated response.
Part 2. How Do You Tell If Someone Blocked You on iMessage
The Do Not Disturb mode on iPhone offers an option to auto-reply to contacts. You can check if there was a delivery notification when you sent an iMessage. If you see a Delivered status, they didn't block you on iMessage.
Check the iMessage delivery status
As mentioned above, if you get a Delivered or Read status in the iMessage app, you are not blocked. Note that the Not Delivered error doesn't refer to you as having been blocked. That means your iMessage is not sending successfully due to network or other issues. When you get the iMessage Not Delivered error red, you can tap the info icon next to your message and choose Try Again or Send as Text Message.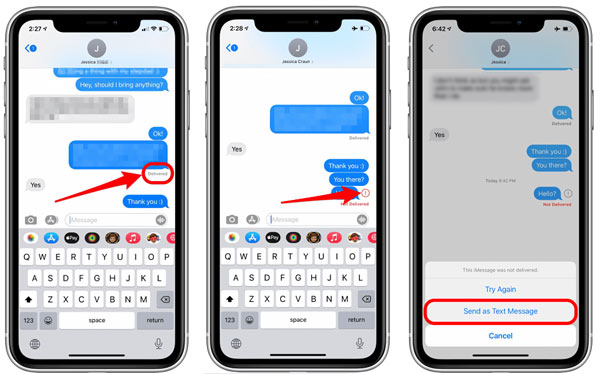 Check the color of text messages
iPhone uses different colors to display common SMS messages and iMessage. A regular SMS shows as a green bubble, and an iMessage is displayed as a blue bubble. When you can't contact someone through iMessage, you can turn to SMS. You should know that SMS messages are sent through your carrier, while iMessages are sent over the internet. You may be blocked on iMessage when you get no delivery notification or see a Not Delivered prompt.
Fix various iPhone issues using iOS System Recovery
You can restart your iPhone to fix the issue when you can't contact others through calls or messages, and they don't block you. Also, you can choose to update iOS to the latest version and customize settings to ensure your iPhone is under a common condition. If the problem still exists, you can turn to the all-featured iOS System Recovery to troubleshoot it.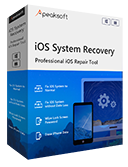 4,000,000+ Downloads
Fix various system-related issues on iPhone and iPad.
Advanced technology to figure out why your iPhone can't contact others.
Recover iPhone from different problems, including disabled, frozen, and more.
Support all commonly-used iPhone/iPad models and iOS versions.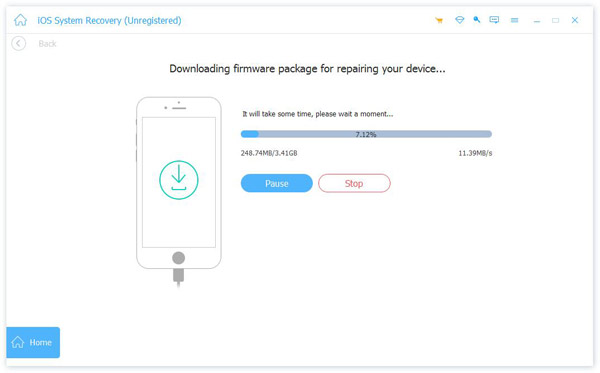 Part 3. FAQs of How to Tell If Someone Blocked You on iPhone
Question 1. How to block someone on iPhone?
iPhone has a block feature to prevent certain people from calling or messaging you. When you want to block someone on your iPhone, you can go to the Phone app and tap Recents to show recent calls you made and received. Find the phone number you like to block and tap the Info icon next to it. Now you can choose Block this Caller to stop getting calls or messages from this number.
Question 2. How do you enable and disable Do Not Disturb on iPhone?
Enter Settings on your iPhone and choose the Focus option. Locate Do Not Disturb and turn it on or off based on your need. You can also enter Central Center and tap the Focus icon. Tap on the first Do Not Disturb mode and enable it.
Question 3. How can I remove someone from my blocked contacts on my iPhone?
When you want to manage your blocked contacts on an iPhone, you should open the Settings app, tap Phone, and then select the Blocked Contacts option. You can check all contacts and phone numbers you have ever blocked. Tap Edit in the top-right corner and tap the red - icon ahead of the number to remove it from your blocked contacts.
Conclusion
How to know if someone blocked you on your iPhone? After reading this post, you can know if you have been blocked based on five signs. You can leave us a message in the comment section below for more questions.