Gone are the days of using default ringtones on your iPhone or Android phone. With a little creativity and some simple steps, you can create custom ringtones that reflect your personality and style. This post gives you a detailed guide on how to make a custom ringtone. Whether you want to use a song, a sound effect, or even your voice, you can easily customize iPhone and Android phone ringtones.

How to Make a Custom Ringtone on iPhone
Part 1. Best Way to Custom Ringtones for iPhone and Android Phones
Different phone models and versions may have specific requirements or limitations for ringtones. But there are some general guidelines. When you make a custom ringtone on your iPhone, ensure the format is M4R, and the duration is limited to 30 seconds. You can use the most commonly-used formats like MP3, AAC, and OGG to custom Android ringtones. The maximum duration is also 30 seconds. You can make custom ringtones based on that.
You can rely on the easy-to-use Apeaksoft MobieTrans to make ringtones with any video and audio files, then transfer them to your iPhone or Android phone. It has a unique Ringtone Maker to help you create and set custom ringtones.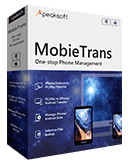 4,000,000+ Downloads
Offer an individual Ringtone Maker for custom ringtones.
Make a custom ringtone from your movie or music file.
Transfer all types of data, including ringtones, to iPhone, iPad, or Android.
Back up, restore, and manage various files on your iOS/Android devices.
Step 1 Free download MobieTrans on your computer and launch it. Click Toolbox on the left panel and choose the Ringtone Maker tool.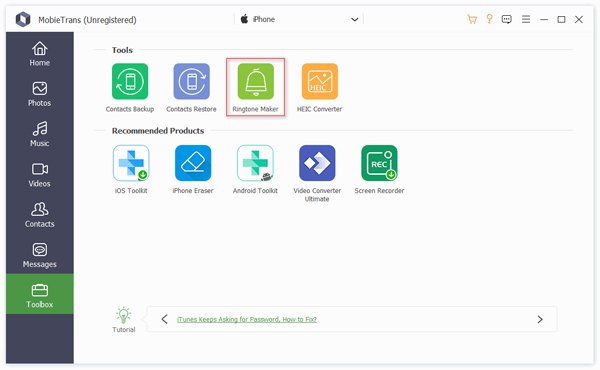 Step 2 This phone ringtone maker offers two options to create ringtones. You can use files from your device or computer. Connect your device to make a custom ringtone on your phone. Here we take customizing ringtones on iPhone as an example.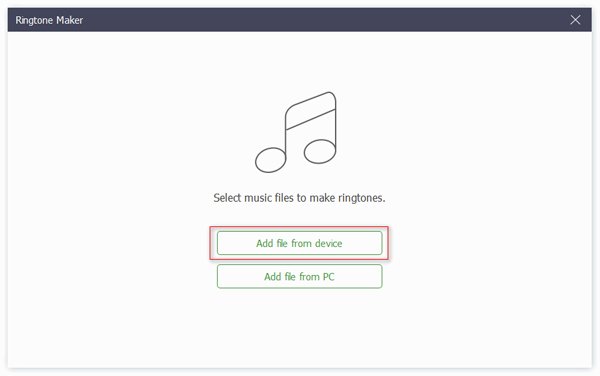 Step 3 The loaded audio will be automatically played. Besides music, you can make a custom ringtone from your favorite movie. It can extract the audio track from your added video with ease.
Drag the left and right sidebars to trim the ringtone based on your need. You can also set starting and ending points by clicking the buttons. Ensure you trim the ringtone to a suitable length. To add the custom ringtone to your iPhone, tick the Add to device box. Then click the Generate button to make a custom ringtone and add it to your phone.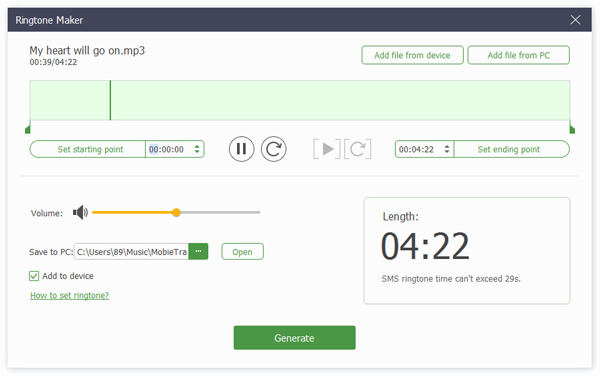 Part 2. How to Make a Custom Ringtone on Your iPhone
Before telling you how to custom ringtones, let's explore the built-in options available on your iPhone. Open your iPhone's Settings app and navigate to the Sounds & Haptics section. Here you will find a variety of inbuilt ringtones and alert tones to choose from. You can listen to each audio and identify any that appeal to you. You can set it as your iPhone ringtone if you find one that nearly fits your desired tone.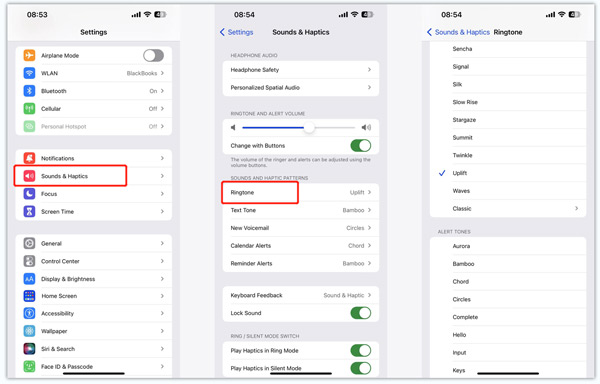 Custom ringtones on iPhone using iTunes
Step 1 Launch iTunes, click the File menu and choose the Add File to Library option. Select the audio file you want to turn into a ringtone in iTunes and load it.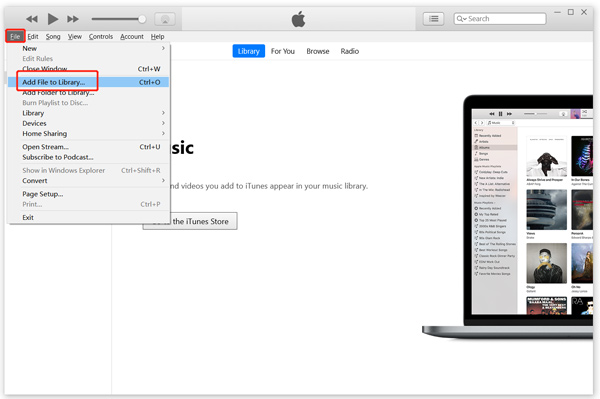 Step 2 Listen to the song and identify the section you want as your ringtone. Remember, shorter sections work best for ringtones. Right-click on the imported audio file and choose Song Info from the context menu. Navigate to the Options section, then set the Start Time and Stop Time to your desired segment. Click OK to save the change.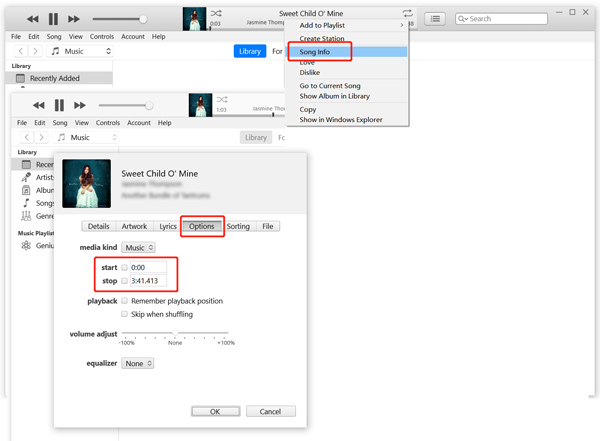 Step 3 Click the audio to highlight it, go to File, hover your mouse on the Convert option, and choose Create AAC Version. iTunes will create a new version of the ringtone file with a shorter duration. Change the file extension to .m4r.
Step 4 Connect your iPhone to iTunes, click the iPhone button, and choose Tones in the left sidebar. Drag and drop the custom ringtone into the Tones section. This operation will sync the created ringtone with your iPhone. After that, you can find it in the Ringtone list and set it as your iPhone ringtone.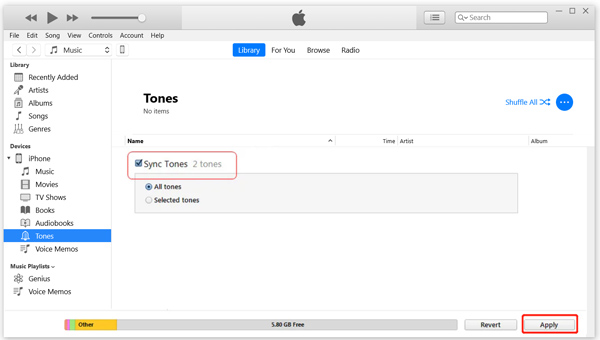 Besides iTunes, you can use some third-party apps to make custom ringtones on your iPhone, such as GarageBand, Ringtone Maker, and more. They offer easy ways to create and customize ringtones directly on your iOS device.
Part 3. How to Make and Set Custom Ringtones on an Android Phone
You can access the sound settings on most Android phones by going to Settings, Sound, and then Phone Ringtone. You can select from pre-installed ringtones or tap Add ringtone to browse and choose your preferred audio file.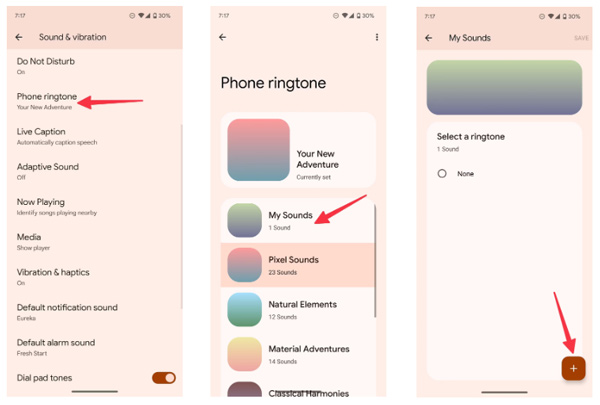 If your Android device doesn't offer built-in settings to set custom ringtones, you can install a file manager app. Use it to find the desired song and directly set it as your ringtone. Have someone call your phone or use a ringtone preview feature to ensure your custom ringtone works correctly.
Part 4. FAQs of How to Make a Custom Ringtone
How to set a ringtone for a specific contact on your Android phone?
Open the Contacts app on your phone, locate the contact you want to set a custom ringtone for, tap the 3-dots button in the top-right corner, choose the Set ringtone option, then select a ringtone.
How to make a custom ringtone on iPhone using GarageBand?
Open the GarageBand app on your iPhone. If not already installed, you can install it from the App Store. Tap + to create a new project and choose Audio Recorder. Set the Tempo to No Tempo in the top-left corner. Tap the Tracks button and select Audio Recorder. Now you can start playing the selected song in the background and tap the red Record button to capture it. After that, you can listen to the recording, make any necessary adjustments, then tap My Songs to save it. Tap and hold the audio file, tap the Share button, then choose Ringtone from the list. Go to Sounds & Haptics in the Settings app, find the newly created ringtone, and set it as your default or assigned ringtone.
How can I enable Emergency Bypass on my iPhone?
The Emergency Bypass feature allows someone to call you normally even when the ring switch is set to silent, or the Focus mode is activated. Open the Contacts app, choose the specific contact you want to enable the feature, tap Edit, go to the Ringtone option, then turn on Emergency Bypass.
Conclusion
Customizing ringtones is an excellent way to add a personal touch to your iPhone or Android phone. Whether you choose to use a song, a sound effect, or even your voice, making a custom ringtone is a fun and creative way to personalize your device. You can follow the guide above to easily create, edit, and set custom ringtones that resonate with your style and preferences.