A live photo is made up of a 12MP JPEG image, which included 1.5 seconds before and after the still image. Thus, you can record a short video to tell your fans what happens about this picture briefly. When you record a live photo on iPhone, you can record both video and audio to get an Apple live photo. Later, you can share live photos on Facebook, Messenger, Twitter, Tumblr and many other apps.

How to Post Live Photos on Facebook
There are two mainstream ways to post live photos on Facebook. You can take a live video with the iPhone Camera app, and then share it on Facebook. Well, it is also supported to extract a 3-second video clip as your Facebook live photo. Whatever, if you want to post a live photo on Facebook, here is the complete tutorial you are looking for.
Part 1: How to Post a Live Photo on Facebook from iPhone
You need to keep your hand steady to take an iPhone live photo for 3 seconds. Thus, it is quite common to take enough live photos until you get the perfect one. Compared with iPhone photos, live photos take up more storage space. Remember to delete the unnecessary ones to free up iPhone space. Now, let's read together to post Facebook live photos in 2019.
Step 1
Take a live photo
Power on your iPhone. Launch the Camera app. Tap the round icon that looks like diffusing rings on the top. When it turns yellow, it means the iPhone live photo feature is enabled. Now you can take live photos on iPhone.
Step 2
Edit an iPhone live photo
Run the Photos app. Tap and hold the file to view live photos. You can edit a live photo with loop, bounce and long exposure photo effects. To get more details, you can check the iPhone live photos guide.
Step 3
Select your favorite live photo
Open the Facebook app. Create a new post as usual. Select the "Photo/Video" option. Browse and select the live photo you want to post to Facebook. Make sure the "Live" icon is activated at the bottom. This is the main reason accounting for live photo won't play on Facebook.
Step 4
Post live photos on Facebook
Tap "Post" to upload live photos to Facebook. To view live photos on Facebook, you can press and hold the certain file directly.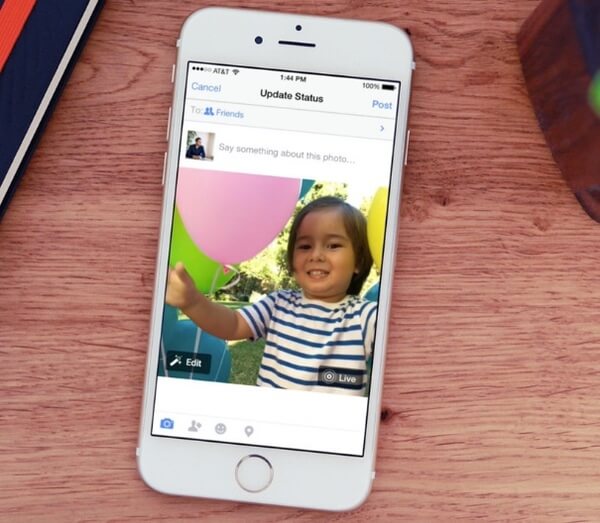 Part 2: How to Extract the Video Clip and Save as GIF to Post Live Photos on Facebook
What if you want to share your favorite part from a movie or TV show to Facebook? You can share photos in a loop to Facebook too. During this time, you can run Apeaksoft Video Converter Ultimate to get the one-stop solution.
The built-in video editor offers basic video editing tools. Later, you can convert the video clip as GIF format. What's more, you can improve video quality via the entry-level video enhancer. It is a good way alternative to posting live photos on Facebook. Well, you can turn live photo into GIF here too.
Apeaksoft Video Converter Ultimate
Clip, merge, watermark, flip, mirror, crop and adjust video effects to any video file.
Convert video to GIF, MP4, MOV, MKV, FLV and almost all video and audio formats.
Enhance video quality and share it on Facebook, YouTube, Instagram and more directly.
Get superfast video conversion speed without data loss.
Download for Win
Download for Mac
Step 1Free download, install and launch the iPhone video editor. Drag and drop the video into the main interface.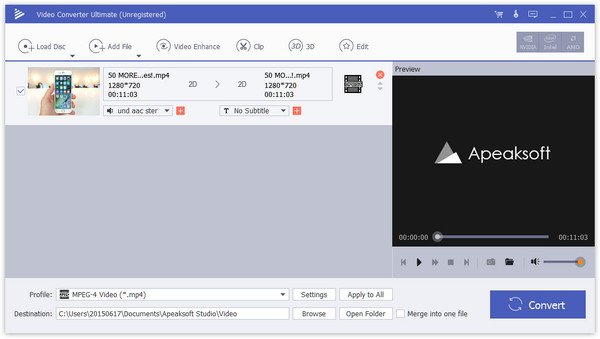 Step 2Click "Clip" on the top toolbar. You can extract any part of a video clip via the video clipper. Set the start and stop time freely. Moreover, you can merge several video clips into a file if necessary.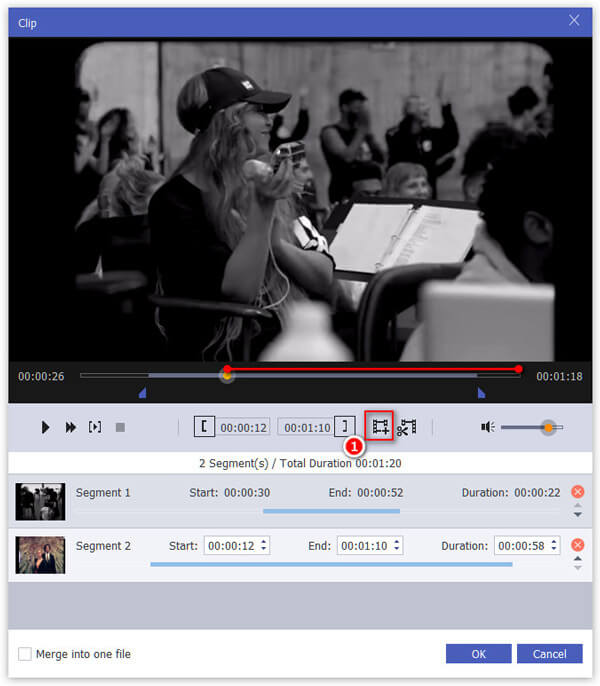 Step 3You can click "Edit" to access all video editing tools on the top. Later, unfold the "Profile" list near the bottom. You can set the output format from the "Apple iPhone" category.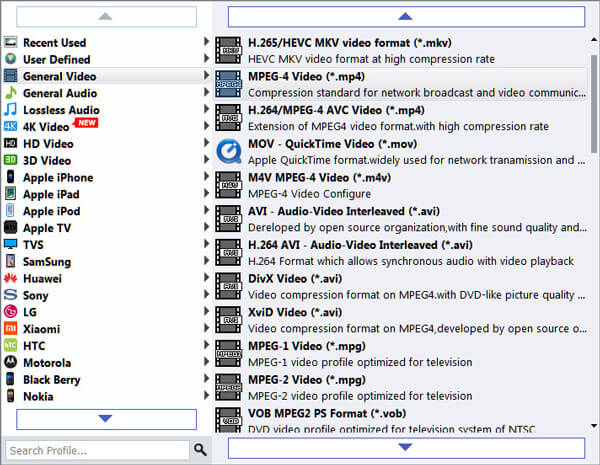 Step 4Click "Settings" next to "Profile" to adjust profile settings. At last, click "Convert" to convert video to GIF. You can post a GIF on Facebook from iPhone or computer. The file size of a GIF should be less than 15MB or so.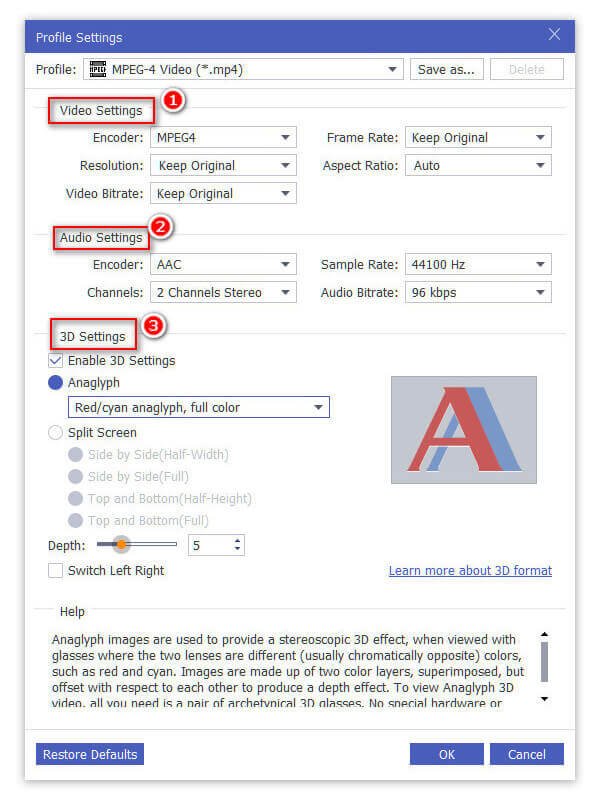 Part 3: How to Post a Live Photo on Facebook from Your Computer
If you want to move all your live photos from iPhone to your computer, you should not miss Apeaksoft iPhone Transfer. It is a good way to free up iPhone storage space. You can upload live photos to Facebook from your Windows or Mac computer as well.
Well, just as its name shows, Apeaksoft iPhone Transfer is capable to transfer all kinds of files from iPhone to elsewhere. Thus, it is a piece of cake to move sizable photos, live photos, videos and other files from iPhone to the computer via iPhone Transfer.
Transfer photos, albums, live photos, movies, TV shows, music, contacts, messages and more files for iPhone, iPad and iPod flexibly.
Transfer data from iPhone to iPhone/PC/Mac in one click.
Manage all kinds of files on iOS devices directly.
Fully compatible with the latest iOS 12 and iPhone XS Max.
Download for Win
Download for Mac
Step 1Launch iPhone Transfer after the installation. Plug iPhone into the computer with a USB cable.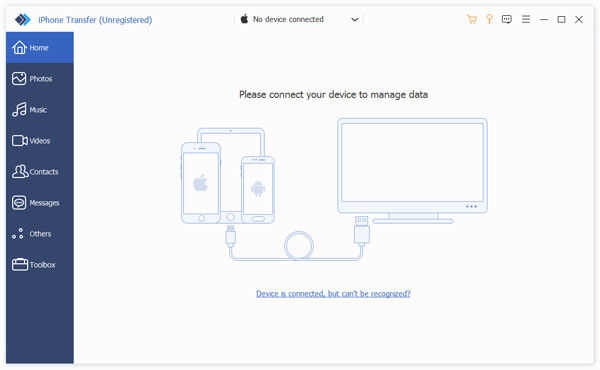 Step 2Click "Photos" in the left pane. You can see all photos and albums in categories. Choose "Other Tools" to manage iPhone photos if necessary.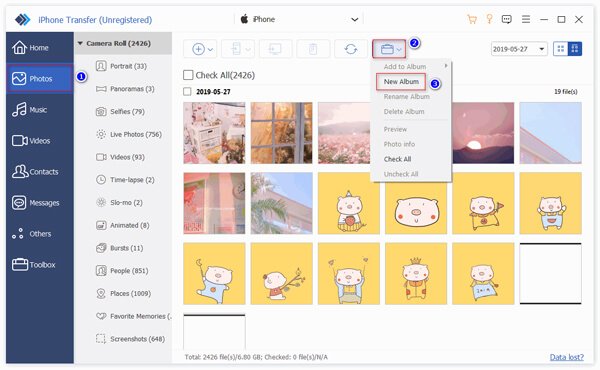 Step 3You can right click on a file to preview details. At last, click "Export" and select "Export to PC" to move the selected photos from iPhone to PC.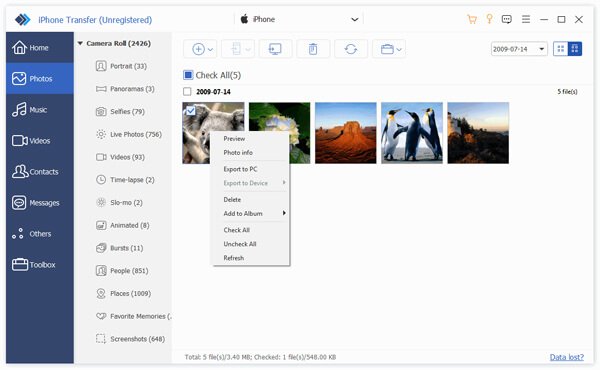 Step 4Visit the Facebook webpage. Sign into your Facebook account. Check the video file size and format. Later, click "Upload" to upload videos to Facebook.
That's all for how to post live photos on Facebook from different digital devices. You can share any interesting moment in your life with people all over the world. As for Android users, you need to post Facebook live photos on Android via the "Motion Photo" feature.
Part 4. FAQs of How to Post Live Photos on Facebook
How to know if my photo on Facebook is a live photo or not?
To determine whether a photo on Facebook is a Live Photo or not, you can look for the small Live icon in the top left corner of the photo. This icon indicates that the photo is a Live Photo, meaning it contains both a still image and a short video clip.
How to capture images Live using iPhone?
Open your Camera App, and on the upper part, click the Live icon to activate this feature. Then, tap the capture icon, and the image you capture will have an extra 2 to 3 seconds.
What format are Live Photos?
Live Photos are captured and saved in the HEIC (High-Efficiency Image Format) file format on iOS devices. This is a special feature on the iPhone that is neither a common image format nor a video format.
Why can't I post live photos on Facebook?
You can first make sure that the picture you uploaded is a live photo. It's possible that you just took a normal photo. Secondly, you can check your internet connection. If the problem still cannot be fixed, restart the Facebook app and try again.
Are Live Photos supported on all devices when posted on Facebook?
Currently, only the iPhone supports taking and posting live photos. The model of the iPhone cannot be earlier than the iPhone 6S. Android phones do not support this feature at the moment. However, both Android and Apple phones can now view live photos.