iPhone battery life is one of the most important factors in its overall usefulness for work or entertainment. With so much usage, it is common for iPhones to run out of juice quickly. This post will share 7 tips and tricks on how to save battery on iPhone and make iPhone battery last longer.

How to Save Battery on iPhone
Part 1. How to Save Battery on Your iPhone
This part will discuss seven tips and tricks on conserving battery on an iPhone. You can use them to increase your iPhone battery life and keep its battery healthy over time.
Adjust screen brightness to improve iPhone battery life
One factor affecting your iPhone's battery life mostly is screen brightness. You can lower your iPhone screen's brightness to save some power.
Select the Display & Brightness option in your iPhone's Setting app. Locate Brightness and drag its slider to the left to reduce the iPhone screen brightness to a comfortable level.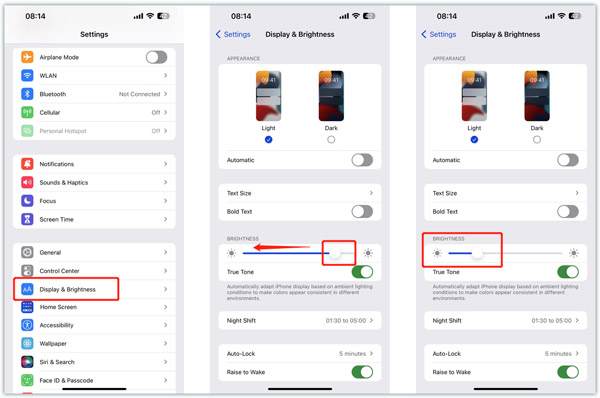 You can enable Auto-Brightness to automatically adjust the brightness of your iPhone's display. In the Settings app, go to Accessibility and choose Display & Text Size. Scroll down to the bottom to turn on Auto-Brightness.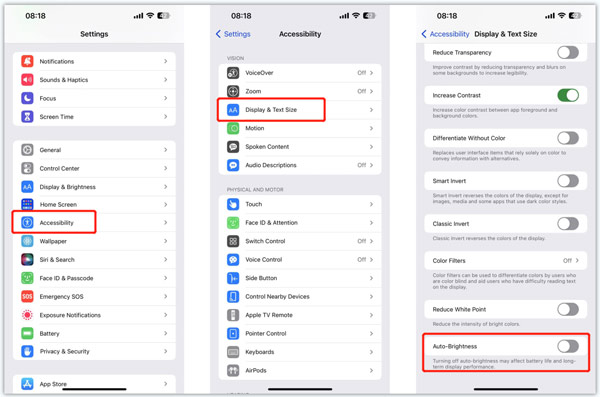 Turn on Low Power Mode to save batter on iPhone
Low Power Mode lets you improve your iPhone battery life automatically when the battery level reaches 20%. It can restrict background app refresh, block unnecessary visual effects, turn off the Hey Siri function, and disable automatic downloads to make iPhone's battery last longer. This feature will also lower the brightness of the iPhone and turn off the display auto-lock, thus increasing the battery life of your iPhone significantly. You can choose Battery in the Settings app and toggle on the Low Power Mode option.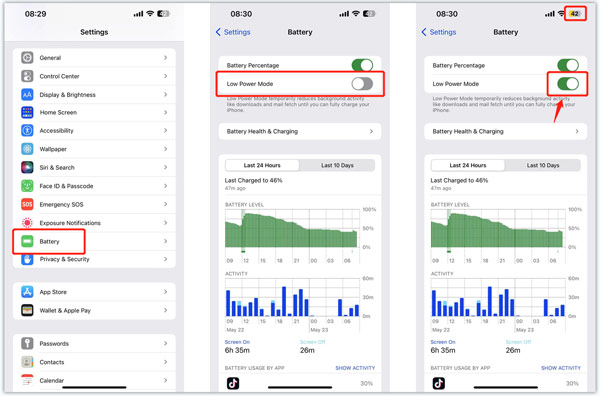 Disable Wi-Fi, Bluetooth, AirDrop
Wi-Fi, Bluetooth, and AirDrop can significantly drain your iPhone's battery, especially if they constantly search for a connection to sync. Consider disabling these functions when you are not using them to save battery life on an iPhone.
To do this, you can swipe down from the top right corner of the iPhone screen to display the Control Center and tap the Wi-Fi, Bluetooth, or AirDrop icon to turn it off.
Turn off Location Services to preserve battery life on iPhone
Location Services is an inbuilt iOS feature on your iPhone that allows apps to determine your location using GPS. Although this function is convenient, it can also drain your iPhone battery. You can disable Location Services for apps that don't require it.
To customize the settings of Location Services, you can go to the Privacy & Security option in the Settings app, tap Location Services, then toggle off the option for any apps you don't need. Also, you can turn off all location services according to your need.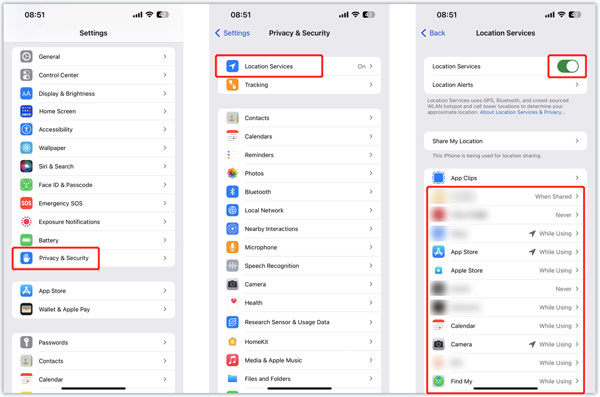 Disable Background App Refresh to make iPhone battery last longer
Background App Refresh is enabled by default on your iPhone to allow apps to refresh data in the background, even if you don't use them. It is useful for instantly getting notifications and data updated. But this feature will also drain your iPhone battery unnecessarily. You can disable Background App Refresh for some apps you don't use regularly.
Go to General from the Settings app and choose the Background App Refresh feature. You can scroll down to disable the apps you don't use or turn Background App Refresh off.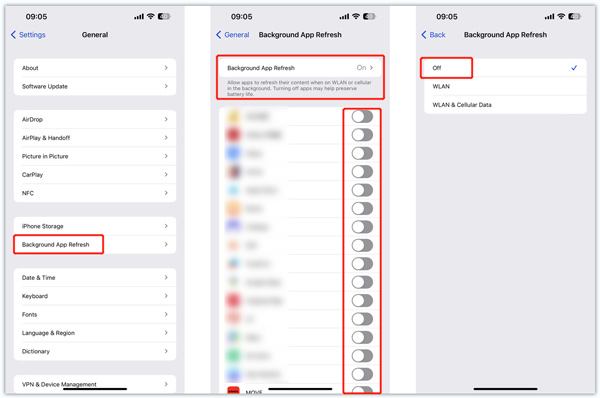 Use Airplane Mode to save battery on your iPhone
You can consider turning on Airplane Mode in certain places that don't need cellular or Wi-Fi signals or are trying to conserve battery life. Airplane Mode disables all wireless connections, allowing you to use your iPhone for basic functions without draining your battery. Please swipe down from the top-right of your iPhone screen to access the Airplane Mode icon and tap to enable it.
Turn off push email and fetch services
Your iPhone constantly searches and receives messages for any new mail that arrives in your mailbox when push emails are turned on. Similarly, fetch services can be quite taxing on the iPhone battery since they require your iPhone to periodically check for new email messages. Turning the push emails and fetch services off can help save battery on an iPhone.
To turn off push email, you can go to Settings, Mail, Accounts, and Fetch New Data. You can turn off push email completely or select which email account to enable push.
Other helpful tips to save battery on iPhone
Consider reducing the Auto-Lock time to the shortest duration possible to save battery on your iPhone. Also, you can turn off Siri Suggestions and remove unneeded widgets from the Today View. Moreover, you should know that apps consume a considerable amount of battery life on iPhones, and many do so even when not in use. Therefore, it is crucial to evaluate and uninstall apps you do not use frequently, thus helping to reduce the battery consumption of your iPhone. If your iPhone battery life drains quickly, you can use the easy-to-use Apeaksoft iOS System Recovery to troubleshoot various issues.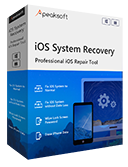 4,000,000+ Downloads
Fix various iPhone system issues and keep it in good status.
Use advanced technology to diagnose your iPhone battery problem.
Troubleshoot iPhone displays, apps, and other issues without data loss.
Support all iPhone models like iPhone 14/13/12/11 and iOS versions.
Part 2. How to Check Battery Health on an iPhone
Surely you want to keep your iPhone battery health at 100. But after a long time of using an iPhone, the battery health will continuously reduce. This part tells how to check the current iPhone battery health percentage.
Go to the Battery option in the Settings app. Tap Battery Health & Charging to check the Maximum Capacity of your iPhone battery. You will be prompted to replace the battery when the iPhone battery's health is lower than 85% or 80%. You should enable Optimize Battery Charging to make your iPhone battery last longer.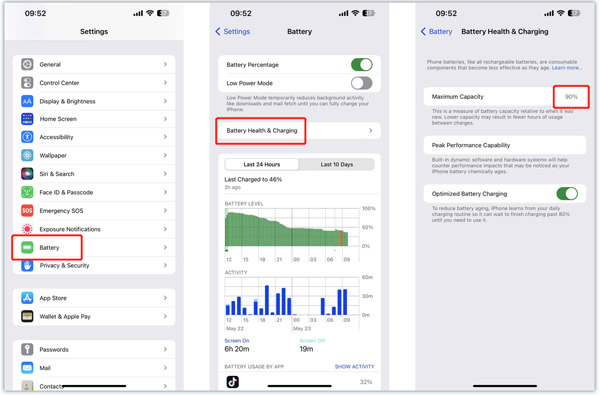 Part 3. FAQs of How to Save Battery on iPhone
Can I keep my iPhone battery health at 100?
No. You can't keep iPhone battery health permanently at 100%. But there are some tips to slow the battery life reducing. For instance, you can enable the Optimize Battery Charging feature, keep iOS updated, avoid using an iPhone while charging, and use the right charger.
How do you increase the maximum capacity of the iPhone battery?
Some third-party batteries offered on the market can help you increase the maximum capacity of your iPhone battery. But you should not replace the iPhone battery with them.
How to show the battery percentage on an iPhone?
The icon of the iPhone battery in the top-right corner can display how much juice is left. To present the current iPhone battery percentage, you can head to Settings, choose Battery, then turn on Battery Percentage.
Conclusion
With the 7 helpful tips outlined in this article, you can help save battery life on your iPhone and better enjoy apps and media without worrying about your iPhone's battery life.