iOS has a Zoom feature to magnify the iPhone screen based on your need. It is an Accessibility function that lets your iPhone screen larger for better viewing. You can freely zoom in or out on specific items in many iPhone apps like Photos and Safari. You can make the entire screen zoom or window zoom to control your iPhone display. This post covers how to set up the Zoom function and zoom in and out on iPhone.

Zoom In Zoom Out on iPhone
Part 1: How to Set Up and Turn On Zoom on iPhone
You need to turn on Zoom to magnify the contents of your iPhone screen. You can use multi-touch gestures and VoiceOver to zoom in or zoom out on an iPhone once Zoom is enabled. Follow the steps below to set up and enable Zoom on your iPhone.
Step 1Open the Settings app and scroll down to tap the Accessibility option.
Step 2Locate the Zoom function and enter its interface. Switch the Zoom slider to the On position to enable it. Your iPhone screen will zoom in immediately. You can double-tap to zoom using three fingers. Also, you can drag three fingers to move around the iPhone screen.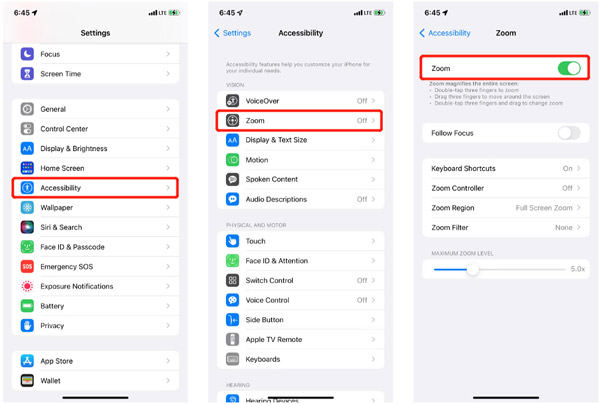 Part 2: How to Zoom In and Zoom Out on iPhone
After you turn on the Zoom feature on an iPhone, you can double-tap with three fingers to use it. Moreover, you can set the Accessibility shortcut to triple-press the Side or Home button to zoom in and zoom out on your iPhone.
Zoom in and zoom out on iPhone
Step 1Open the Settings app and go to Accessibility. Enter the Zoom interface and choose the Zoom Controller option. You can enable it to add a virtual button to your iPhone screen to control the zoomed display better.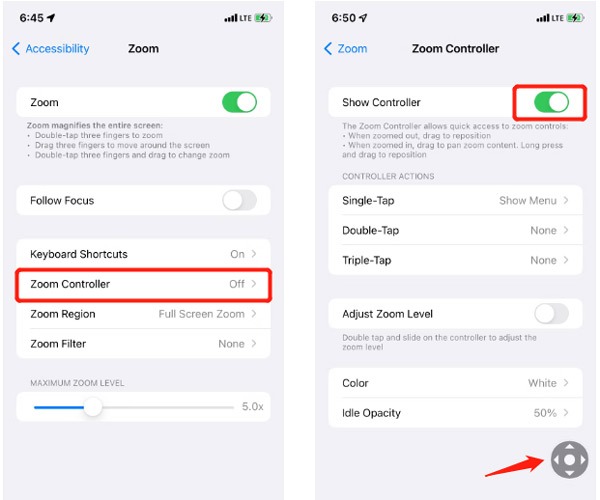 Step 2A virtual joystick-like gray button will appear on the iPhone screen. You can drag it to move around. You can adjust the Controller Actions according to your need. For instance, you can customize Single-Tap, Double-Tap, Triple-Tap, Color, and Idle Opacity. By default, you can tap the Zoom Controller icon to display more options, like Zoom In, Choose Region, Choose Filter, and Hide Controller.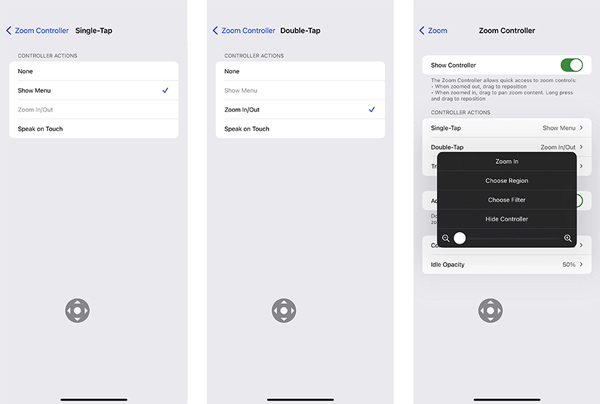 Zoom out a picture or video on iPhone
iPhone has a built-in zoom-in/out feature designed in the Photos app for easy zoom-in pictures and videos. You can use two fingers to enlarge or shrink the image size freely. Also, you can use the Zoom Controller to zoom out a picture or video on your iPhone.
Open the Photos app and locate the photo or video you want to zoom. Tap the Zoom Controller icon, then drag its slider left or right to zoom. You can easily apply a new filter to it for viewing. You can tap the screen again to hide the controller options.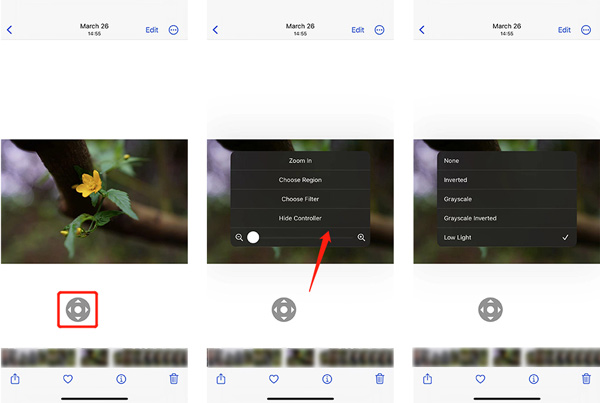 Professional way to turn off Zoom on iPhone
Generally, you can quickly turn off Zoom from Accessibility on an iPhone. When some apps like Safari, Google, or Instagram zoomed in/out on your iPhone, you can disable the Zoom feature to fix the issue. If the problem persists, you should use the powerful iOS System Recovery. It offers a Free Quick Fix to eliminate the iPhone zoom problem.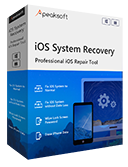 4,000,000+ Downloads
Fix various iOS issues, including iPhone apps zoomed in and out.
Advanced technology to diagnose why iPhone zoom in and zoom out.
Troubleshoot iPhone zoom issues on Safari, Google, Instagram, and more.
Support all popular iPhone and iPad models and iOS versions.
Step 1Download and launch iOS System Recovery. Connect your iPhone to it and click the Start button.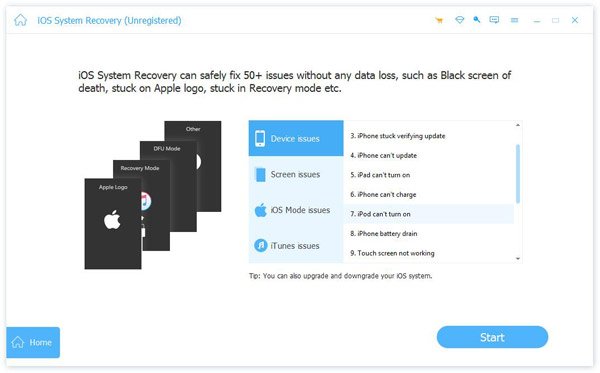 Step 2When your iOS device is connected, you can click Free Quick Fix to directly bring your iPhone back to normal condition.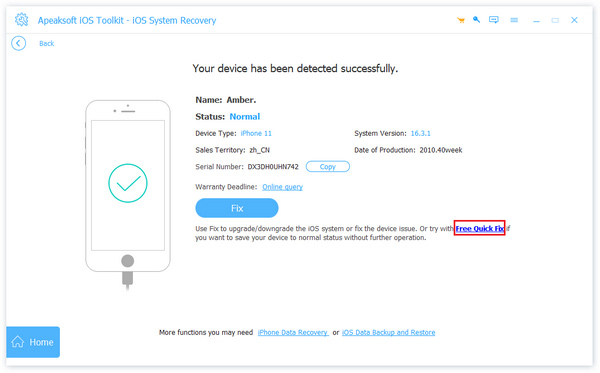 Part 3: FAQs of How to Zoom In and Zoom Out on iPhone
How to zoom out on your iPhone while recording?
When you take a picture or record a video using the Camera app, you can simply place two fingers on the screen and pinch them together to zoom out on your iPhone.
Can I zoom out my iPhone home screen?
The iOS Zoom feature does not allow you to zoom out the home screen to view more icons. You can go to the Settings app, choose Display & Brightness, and then tap View to select from Standard and Zoomed. You can switch the view mode to adjust the appearance of your iPhone home screen.
How to zoom in on the Safari webpage on an iPhone?
When you browse a webpage in Safari, you can easily zoom in by putting two fingers on the iPhone screen and separating them. This operation will enlarge the size of the content on the page. Click here to learn more about how to clear history on Safari.
Conclusion
This post has mainly talked about the Zoom feature on iPhone. You can follow the guide to enable and disable it. Also, you can learn how to zoom in and out your iPhone screen.