"When I try to change the volume on my phone, it says 'Headphone' instead of 'ringer'. I think my iPhone 6s is stuck in headphone mode, so I plug in headphones and then put on speakerphone. But I still cannot listen to music or videos unless headphones are plugged in. Can anybody explain why my phone says headphones are plugged in but they aren't?"
It is a common problem that your iPhone thinks headphones are plugged in when they aren't. You are able to fix iPhone stuck in headphone mode by yourself instead of going to a repair store directly. The followings are reasons and solutions to fix the problem that you have unplugged headphones while your iPhone still thinks they are plugged in. In a word, read and learn easy methods to get out of headphone mode quickly.

Solution 1: iOS System or Software Issue
System error can be the first reason that causes your iPhone stuck in headphone mode mistakenly. And it seems hard to solve when you have no experience of fixing iOS system before. What do you do if your iPhone is stuck on headphone mode due to iOS system problems? Fortunately, you can use Apeaksoft iOS System Recovery to fix iPhone from abnormal situations back to the normal state safely and professionally.
Fix iPhone from headphone mode, Apple logo, loop restart, DFU mode, etc. to normal state.
Repair iOS system errors on Mac or PC without data loss.
Support all iOS models including 15/14/13/12/11/XR/XS/XS Max/X/8 Plus/8/7, etc.
Highly compatible with iOS 17/16.
Clean, safe and easy to use interface.
Download for Win
Download for Mac
Step 1. Launch iOS System Recovery
Free download the iPhone system repair software to fix iPhone stuck in headphone mode. Then open it and choose "iOS System Recovery" under the "More Tools" column.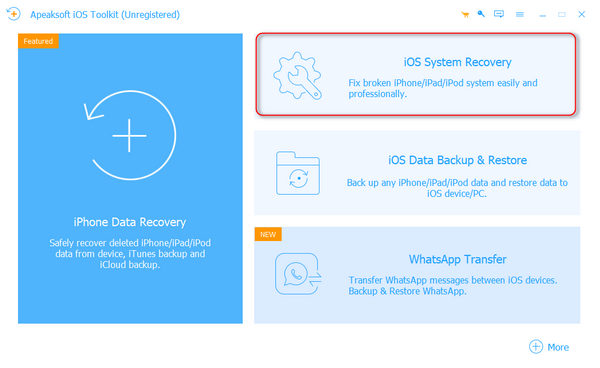 Step 2. Connect iPhone to PC
Use a USB cable to plugin iPhone to your computer. When you locate the iPhone system recovery window, read notifications below and tap "Start" to confirm.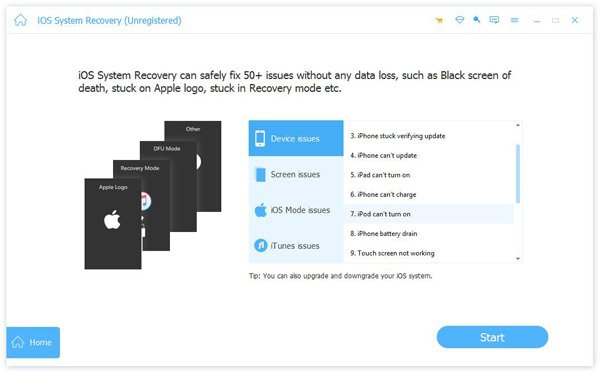 Step 3. Enter into DFU mode
Put your iPhone into DFU mode by following the on-screen instruction. No matter which Apple device you use, you can find the related step-by-step guide here.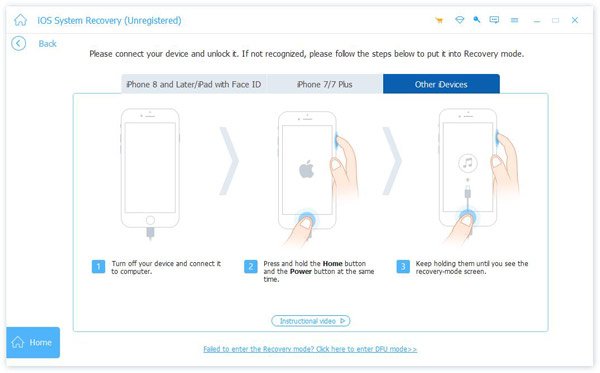 Step 4. Choose iPhone model
Check and select your iPhone model with correct information. You can choose from device category, device type, device model and iOS version to update.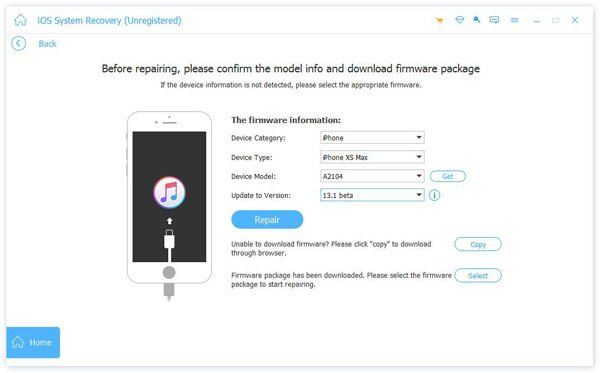 Step 5. Fix iPhone thinks headphones are plugged in safely
Press "Repair" button to download plugins and firmware. Then it can fix iPhone stuck in headphone mode and not working automatically. As we mentioned above, this powerful iOS System Recovery also has the capability to fix other system issues like stuck on Apple logo or boot loop and so on.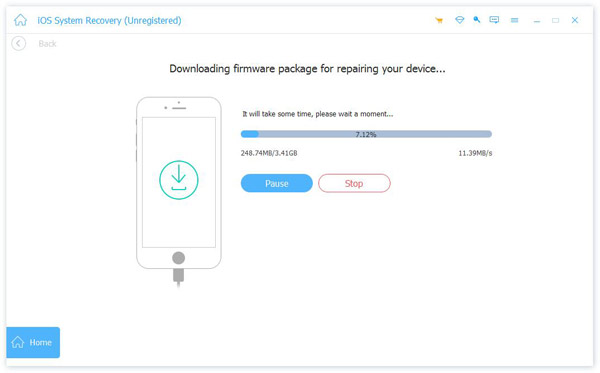 Solution 2: Abnormal Headphone Disconnection
If you unplug iPhone headphones too quickly, then your iPhone may has not recognized the disconnection in time, or even thinks headphones are plugged in.
Thus, you can plug in headphones and then unplug them out of headphone jack for several times. As a result, your iPhone can detect the iPhone headphone disconnection and exit headphone mode automatically.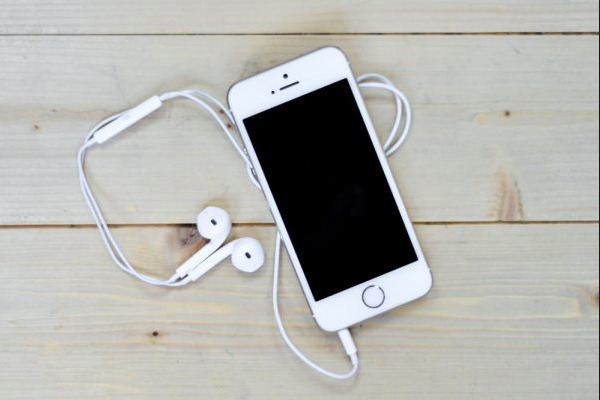 Solution 3: Liquid Gets into Headphone Jack
If you spill coffee, juice or other liquid on your iPhone by mistake, then the spilled liquid may still remain in the 3.5mm headphone jack. Thus, your iPhone thinks headphones are plugged in water, which may often lead to Touch screen not working, because Touch screen is close to headphone.
To dry water in headphone jack, you can turn off your iPhone and use a hair dryer to fix it. Otherwise, you can use Q-tip or a needle with cotton to wipe off liquid carefully.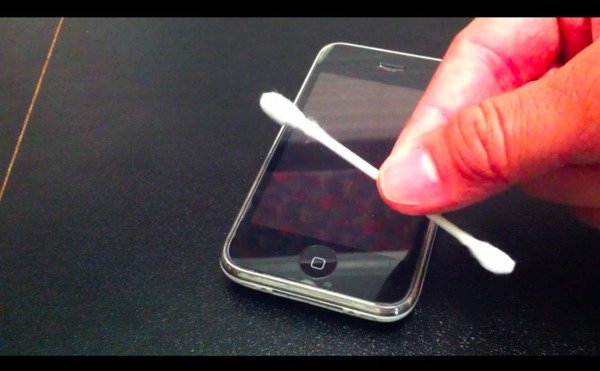 Solution 4: Headphone Jack Is Physically Damaged
It is also possible that your headphone jack got physical damage before. In spite of physical damage, incorrect overusing and using generic headphones are also blameful.
During this time, you had better change the suitable headphones to have a test. Otherwise, you may need to go to the local repair store. It is free if your Apple device is covered under warranty.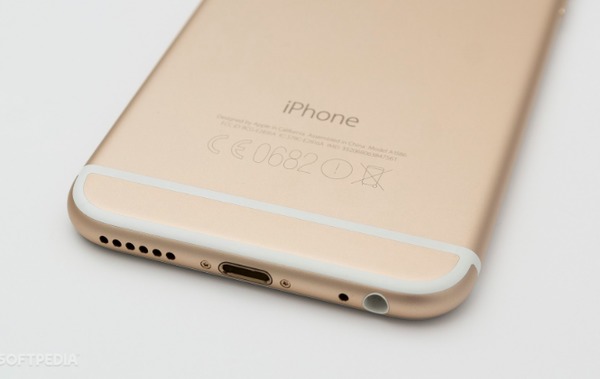 Solution 5: Headphone Jack with Moisture
Even though you do not spill any liquid over your Apple device, it is still possible that iPhone thinks headphones are plugged in water if its surroundings is wet.
Place a hair dryer right opposite to dry out inside moisture softly. By the way, it is useless to use tissue to absorb moisture.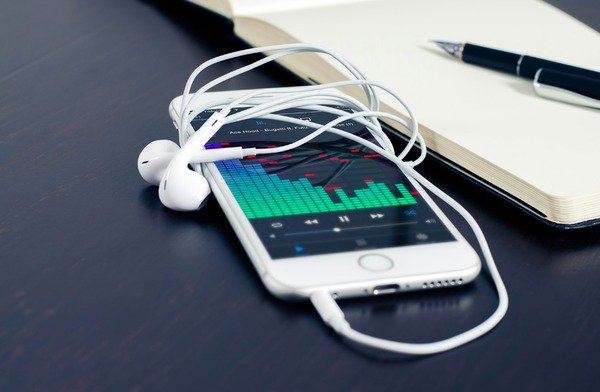 Solution 6: Dirty Headphone Jack
Though you clean the iPhone screen every day, it does not mean that your iPhone is totally clean. You should have a look at the headphone jack to see whether it is clean enough, or is there anything dirty that make the headphone jack jammed. Therefore, it is easy to get the result that your iPhone thinks headphones are plugged in but they aren't because of dirty headphone jack.
Try something that is not too sharp to damage your iPhone, then clean headphone jack gently to remove dirty dust. Using a flashlight is a good way to have a clear look.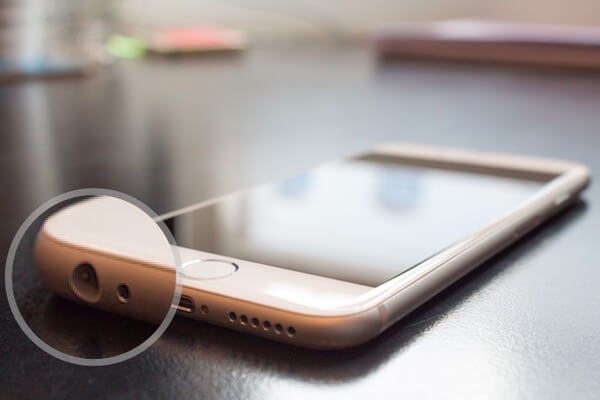 Solution 7: iOS Update
Updating iPhone to the latest iOS 12 version can solve many bugs and software errors without hassle. If you have ignored several iOS updates before, then it may cause iPhone stuck in headphone mode.
Backup your iPhone in one click by using iOS Data Backup & Restore first. Later, open "Settings" and choose "General" to locate "Software Update". Tap "Install Now" below to update iPhone and get out of headphone mode.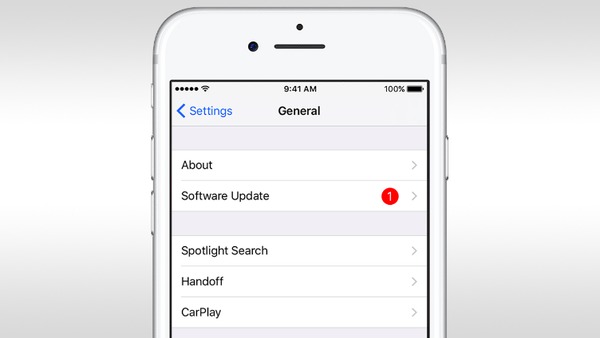 Tips and Tricks to Disable Headphone Jack iPhone
When your iPhone thinks headphones are plugged in but they are not, you can also try some traditional solutions to fix the problem. The first choice is to force restart iPhone. Hold and press Power button and Home button until the Apple logo appears, especially when your iPhone screen is non-responding. Moreover, you can reset all settings to disable headphone mode on iPhone as well. It is an operation that can return all your personal settings back to the original state without data loss.
FAQs of Fixing iPhone Thinks Headphones Are Plugged in
1. Why is my iPhone stuck in headphones mode?
Your iPhone is stuck on headphone mode because it thinks headphones are plugged into the headphone jack or lightning port, even though they're not. It is usually caused by a problem with the headphone jack or Lightning port itself.
2. Why won't my iPhone play through headphones?
The iPhone is supposed to automatically recognize when headphones are plugged in, but it's possible that your iPhone is sending the audio to another output.
3. Does iPhone XS have a headphone jack?
No. Since the headphone jack was removed from the iPhone with the launch of the iPhone 7.
Well, those above causes can also be applied when someone ask My phone thinks I have headphones in Android but they aren't. Prepare to change a new headphone jack if it is a hardware problem. If you still have problems about iPhone stuck in headphone mode, then feel free to contact us.