The privacy scandals happened in the past few years have made people attach much more importance to their data security and privacy. Everyone will have more or less secret and private information in mobile phone. You may need to hide your text messages or send secret messages to a certain recipient out of different reasons. Find the 6 best secret messaging apps below which can help you do what you want.

1. Signal Private Messenger
Supported OS: Android & iOS
Signal is widely regarded as the one of best encrypted messaging apps. With Signal, you can communicate with your friends instantly without any SMS fees. Please note that if you want to enjoy the encrypted feature of Signal, you and your friends both need to install this app.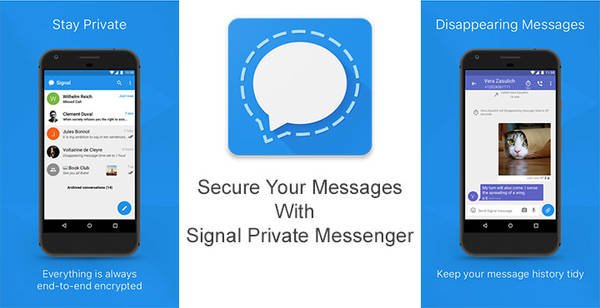 Main Features:
• Its end-to-end encryption protocol provides privacy protect for each of your messages.
• Signal is free and open-source, this feature doesn't make this private messenger easier to be hacked, but allows anyone to review its code and check its security at any time.
• Signal has a unique feature which is called self-destruct timer for messages. If you don't want to keep a record of the messages you have sent before, you can set a timer to make the messages self-destruct when the time comes.
• This secret messaging app also has basic functions like all other messaging apps, such as voice calls, group chats, file transfer and archive functionality.
2. Private Message Box: Hide SMS
Supported OS: Android
This private messaging app can hide private conversations for you in case they are checked by others. It saves SMS/MMS/Call Logs of secret contacts behind PIN pad. If you want to set the messages and calls of particular contacts as secret, you just need to add them as Private Contacts. After that when there are any new messages and calls from that contact, they will directly move inside this application.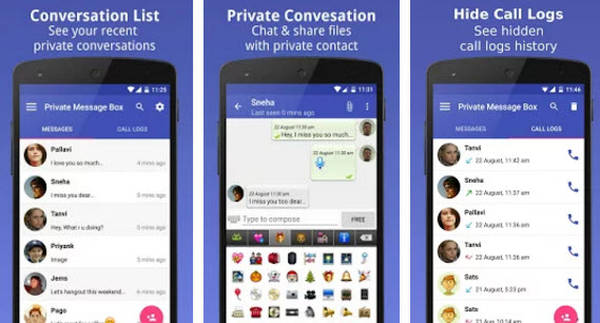 Main Features:
• The incoming/outgoing messages will be hidden automatically. You can customize notification icon/sound. To open this secret message app, you need a password, and the default password is "1234".
• You can send unlimited free texts and multimedia files to another user.
• You can set a timer to close application. So if you are absent for too long, no one has access to your private information.
• It can hide your mail box with no app icon on your screen, so that your mail box cannot be seen or opened by others.
3. Vault
Supported OS: Android and iOS
Vault is specially designed to protect your privacy by hiding your secret SMS, contacts, call logs, pictures and videos on your phone. It's popular among more than 100 million users worldwide.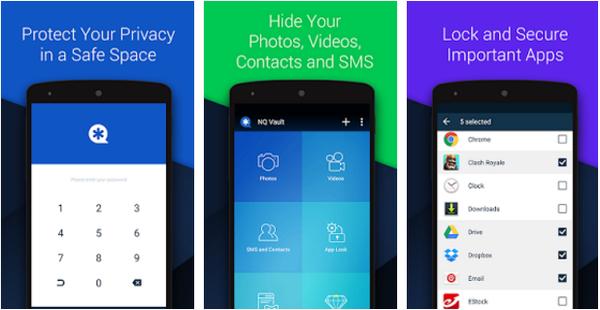 Main Features:
• You can easily hide and protect your SMS with this private messaging app.
• Once you set particular contacts as private, all the text messages and calls from them will be hidden automatically.
• Lock the apps on your iPhone as you like with App Lock.
• The Vault app itself can disappear from your screen when you open the Stealth Mode. Thus no one will know that you have installed this application. You can bring it back with correct password.
• The Break-in Alerts will secretly snap a picture of anyone who attempts to access with a wrong password.
4. CoverMe Private Text & Call
Supported OS: Android & iOS
If you are looking for an application to hide your text messages and calls, CoverMe is worth to try. It can private your texts and calls without any record on your phone bill. This secret messaging app also uses end-to-end encryption technology to better protect your information security and privacy.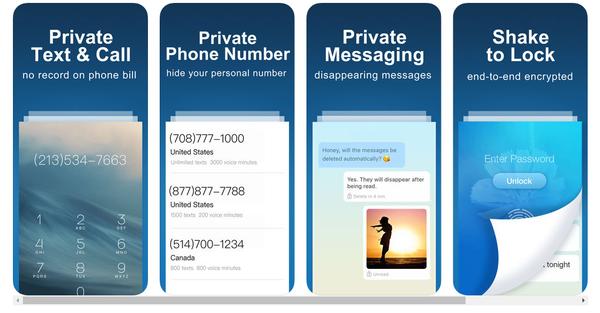 Main Features:
• Private phone number as new line
When you are sending text messages or phone calls, it also assigns you a new number to cover your original number. This feature is special and unique, CoverMe provides numbers with various area codes, which is perfect for business, dating and more.
• Make sent messages disappear
You will immediately know when your private messages are read by the recipients. And you can make the sent messages disappear once they are read without the worry that your secret messages will be spread around or stored. Moreover, you can recall a message or photo that is sent by mistake.
• Shake to hide secret text messages
You can easily hide private text messages by shaking your phone to the lock & login screen. With decoy passwords, even if someone enters your CoverMe, he cannot read you private messages or secret SMS. CoverMe will take a picture of any other people who tries to assess this app.
5. Blur Chat
Supported OS: iOS
This private messaging app is interesting with some unique features like facial recognition or touch id. In this way your secret messages can only be read by the receiver after he/she confirms his/her identity via facial recognition or touch id. (What if touch id failed?) Never worry that your private messages got in the wrong hands.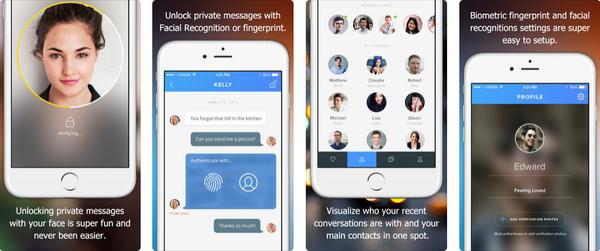 Main Features:
• You are allowed to delete your messages from both phones if you changed your mind and don't want the recipient to have your texts or pictures any more.
• Scheduling your messages for automatic-destruction is available.
• You can change the name and picture of the person you are texting with, to hide his real information from prying eyes.
6. Viber
Supported OS: Android, iOS
Viber is also a good secret messaging app that deserves your try. With a variety of messaging and calling features, Viber enables you to make audio and video calls, set group chats, send text messages with thousands of expressive stickers and GIFs at no cost.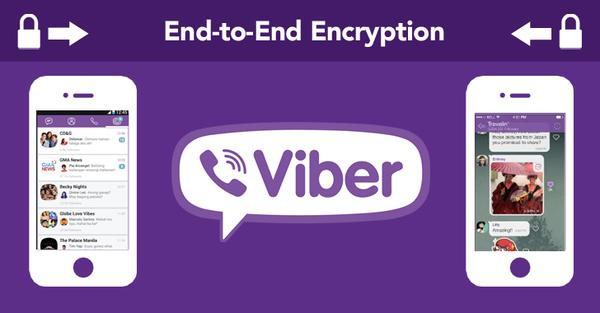 Main Features:
• Viber also takes advantage of end-to-end encryption technology to protect your privacy better.
• Viber server will not save your messages once they are delivered to the recipients successfully. If there is an issue with message delivery, it remains the message encrypted until the receiver eventually gets it.
• There is a feature called secret chats, if you add a contact to secret chat, you can set a countdown to make the sent messages destruct automatically. Before that you also need to set a time limit for your messages to stay accessible. The timer will start as soon as your message is opened or read.
• Hide your texts of a secret contact to make them invisible by others. The hidden chats will be stored in a separate section of the app and protected by a PIN you set. After that, when you receive a message from a hidden chat, you will get an empty, generic notification about a new message.
Extend Reading: iOS Private Data Eraser
If you want to erase all your private data on your iOS device permanently and thoroughly, Apeaksoft iPhone Eraser can do you a great favor.
Features:
• Erase all data and settings from iPhone, iPad, iPod securely and easily with no recovery possibility.
• Three erasing levels guard your private information from being tracked after you erase all the data and sell your device.
• This private iOS Eraser works well with all iOS devices and enables you to erase data with more than one device simultaneously.
If you searched private messaging apps online, there will be too many options available. We have filtered for you and selected the best 6 secret messaging apps as above. Most of them are free, you can choose one to have a try according to your specific needs. It would be great if you could leave a comment below after you try any app mentioned above.