It would be annoying if your iPhone is lost or stolen and you don't know where it would be. So the first thing you should do when you get your iPhone, is to turn on Find My iPhone. Then if your device ever goes missing, you can use this function to find it back. If you didn't turn Find My iPhone on before your device lost, it's too late then.

Part 1

. How to Set Up Find My iPhone on Your Device

Find My iPhone is a great feature that can help you locate lost or stolen iPhone with the built-in GPS or location services of your iPhone on a map. If you don't think that you can find your iPhone back, the Find My iPhone feature also enables you to lock or wipe all your personal information from your device remotely, in this way the thief is prevented from accessing your privacy. Now let's learn how to turn on Find My iPhone and use it to find a lost iPhone.

Step 1. Start at your home screen.

Step 2. Tap Settings > your name > iCloud. If you are using iOS 10.2 or earlier, go to Settings > iCloud.

Step 3. Scroll to the bottom and tap Find My iPhone.

Step 4. Tap the switch to enable Find My iPhone and Send Last Location.

If your are asked to log in, enter your Apple ID to login to Find My iPhone. When you set up Find My iPhone, your paired Apple Watch and AirPods will be automatically set up too.

You can also set up Find My iPad or Find My Mac with the similar steps like above.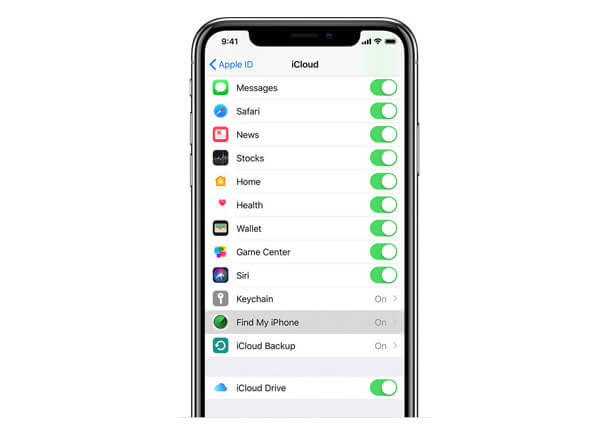 Please also note that you can only turn on Find My iPhone on your device, there is no way to turn it on remotely, from your computer or from another Apple device.
Part 2

. How to Use Find My iPhone

If your iPhone is lost or stolen, then the Find My iPhone feature will come in handy.
Find my iPhone with a computer
Step 1. Open iCould.com in any web browser on your computer. Log in your iCloud account with your Apple ID and password. Then click Find iPhone application.

Step 2. Click on All Devices and a drop-down menu will appear, choose the device name of the device that you are tracking.
Beneath your device, you will see a timestamp with the most recent location of your iPhone. It means that your iPhone is at this location within the last minute.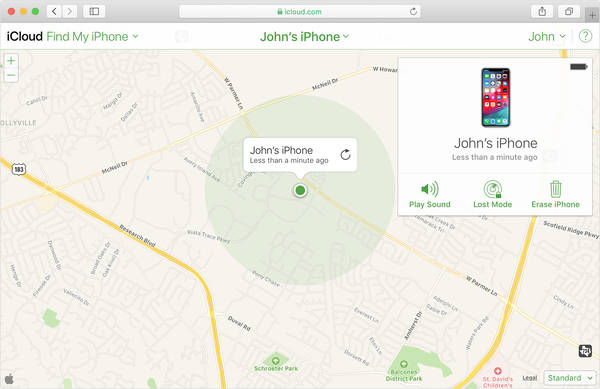 You can zoom in or out on the map or drag the map with your mouse to track your device more closely.
Note: If your Apple ID is the same as your friends, then you will find their iPhone without them knowing by logging on your sides. On the contrary, they can also track your iPhone without you knowing.
There are three modes listed in the upper right, you can choose the mode according to what you want to do on your missing iPhone. It's worth noting that all these options will only work when your iPhone is connected to Internet. So if your missing device is offline, the actions you have made will not take effect immediately, but after your device is online again, all the pending actions will work.
Play sound: When you click this mode, an audible tone will be played on your iPhone even if it's on vibrate or silent. If you couldn't find your iPhone at home, you can use this option to let your device make a sound, then you can find where it is according to the sound source.
Lost mode: If you use this mode, you'll be asked to enter a phone number with which you can be reached, this phone number will be displayed on the screen of your lost device. You can also enter a message which will be shown with your phone number on the device screen together. Then someone who picked up your iPhone can use this phone number to call you. An audible tone will also be played to draw attention to the device.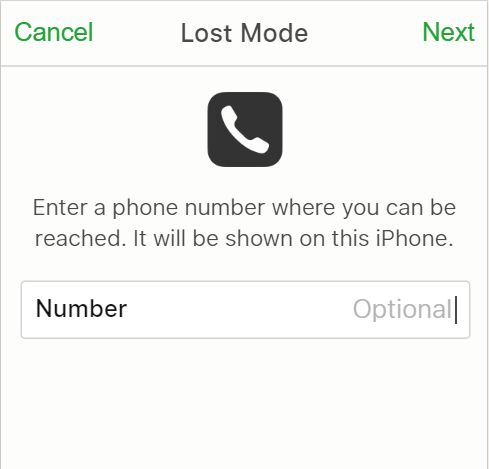 Erase iPhone: If you have no confidence that your iPhone can be found back, or you worry that someone will have access to your private information, you can delete everything on your iPhone remotely with the Erase mode.
If your device is found back later, you are able to restore the deleted data from iCloud backup (if it was turned on before the erase) or iTunes backup with Apeaksoft iPhone Data Recovery – a professional iPhone data recovery tool. It can help you recover deleted or lost data from iOS device and iTunes/iCloud backup.
Recover deleted data from iOS device directly or from iCloud and iTunes backup.
Recover any iOS data including photos, messages, contacts, notes, call history, videos, calendar, apps, and more.
Preview both deleted and existing data in your device before recovery.
Support all popular iOS devices like iPhone 15/14/13 and iOS versions including iOS 17.
Available in both Windows and Mac computer.
Download for Win
Download for Mac
Find my iPhone with an iOS device
If you also have another iOS device such as an iPad, iPod Touch, and even an Apple Watch, or your friend or family member can lend their iOS device to you, it'd be more practical to use the Find My iPhone app to find your lost iPhone.
Step 1. Download and install Find My iPhone app on the iOS device you have at present, then enter your Apple ID to log in.
Step 2. Click the device you are looking for, then you will see your device's most recent location. You can also use the three modes mentioned above according to your demand.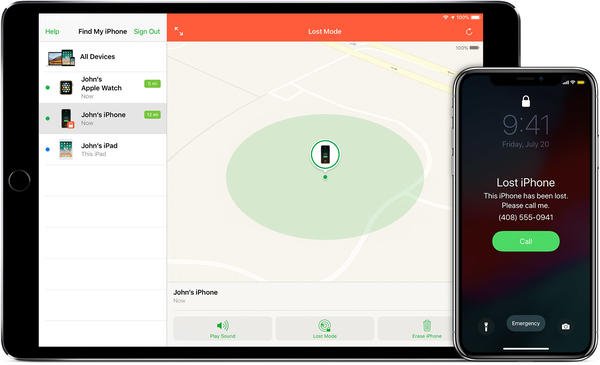 Part 3

. What to Do if Find My iPhone isn't Enabled?

If you have not enabled Find My iPhone before it's missing, you cannot use it to locate your device. But the following tips can help you protect your private data more or less.
Change your Apple ID password. Nobody can access your iCloud data or use other services (like iMessage or iTunes) on your missing device after you change your Apple ID password.
Change password of all your Internet accounts, which may include your Facebook, Twitter, Email accounts and more.
Report your lost or stolen device to local law enforcement, in this case you might need to provide your device serial number for them.
Report your lost or stolen device to your wireless carrier. The can help disable the account to prevent phone calls, texts, and data use.
Find My iPhone is the only possibility to help you find back your lost device, if you didn't enable it before it's missing, there is no other better way to track your device then.