"I want to download some free audio books on my iPhone 7 but don't know where to get them. I notice that most top audiobooks in iTunes are not free. How to download free audiobooks on iPhone? Is there any free audiobooks app?"
We have to admit that, we are getting lazier and lazier. Comparing with the traditional paper books, now we prefer audiobooks. We can easily listen to audiobooks wherever we are. It's quite convenient. But how to get free audiobooks for iPhone or iPad?

If you often listen to audiobooks on iPhone, you definitely don't want to buy all books from iTunes store. Instead, free audiobooks will always be your first choice. Here comes the question, how to get free audiobooks on iPhone? Here in this post, we recommends 10 free audiobooks sites and apps to help you find the free audio books you want to read.
Part 1

. Top 5 Audiobook Sites to Get Free Audiobooks for iPhone

In fact, many free audiobooks websites on the internet enable you to download free audiobooks for your iPhone, iPad or other devices. All you need is to download the right audio format like MP3 or M4B for your iPhone to play. Now you can take the following guide to check these 5 best free audiobooks sites one by one.
NO.1 Free audiobooks site - LIT2GO
Lit2Go is a very popular and good-design free audiobooks site. It collects lots of audiobooks, plays, short stories, and poems for users to choose from. All free audiobooks are offered in MP3 format. So you don't need to worry about the unsupported format issue. It enables you to directly search for the audiobook you need. Moreover, you can browse various audiobooks based on author, genre, readability and more. You can easily find many classic books in this site.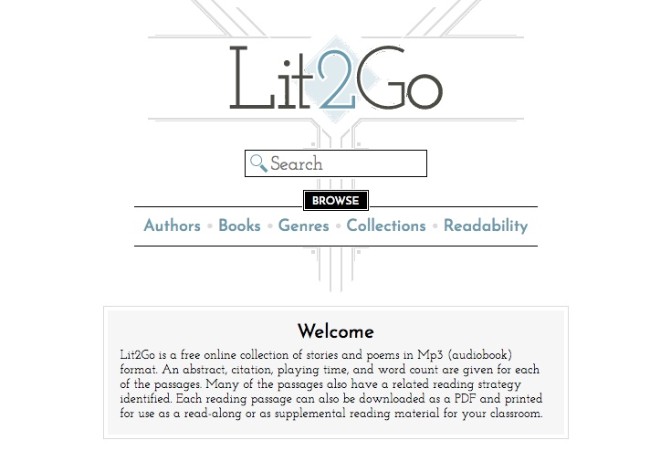 NO.2 Free audiobooks site - LOYAL BOOKS
LOYAL BOOKS is a popular free audiobooks site which can help you quickly find and download audio books for iPhone. Comparing with other free audiobooks sites, it offers a more clear genres like Adventure, Children, Fiction, Fantasy, Mystery, Top 100, History, etc. for you to quickly locate the audiobook. Besides free audiobooks, it also provides many paid books for you to choose from.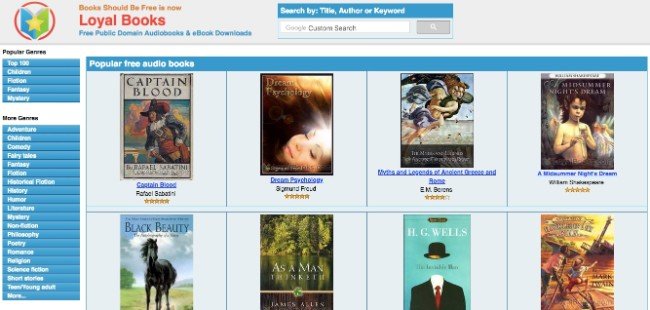 NO.3 Free audiobooks site - LibriVox
LibriVox is a free audiobooks site which collects lots of public domain books. It enables you to download audiobooks completely for free. You can easily locate the audiobook according to the author, title, genre, reader or language. One thing you should know is that, all the books in LibriVox are public domain in the USA. You need to verify the copyright status of these works if you are not in the USA.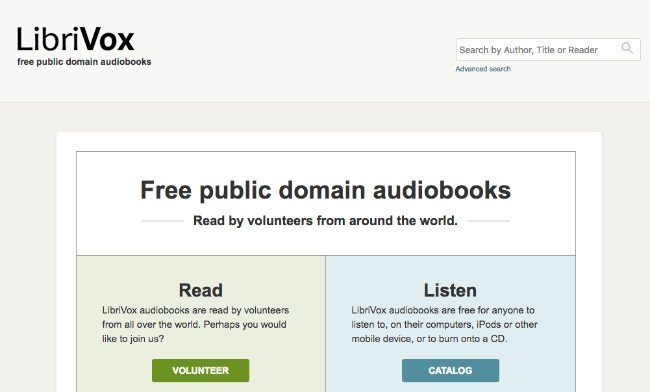 NO.4 Free audiobooks site - Open Culture
Open Culture is one more featured free online audiobooks site. It offers many kinds of audiobooks for you to listen to online or download. You can easily find what you need in this site. Here you can find great works of fiction, non-fiction and poetry and more. Famous authors like Shakespeare, Hemingway, Orwell, Vonnegut, Nietzsche, Austen, etc. can easily be found here.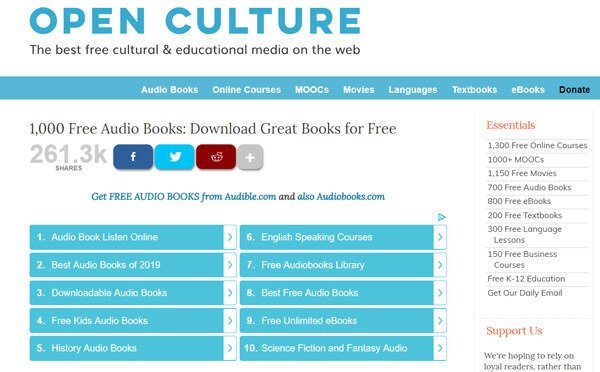 NO.5 Free audiobooks site - Podiobooks
Podiobooks is a free audiobooks site which gathers many new releases. If you are looking for some new released audiobooks, you shouldn't miss this site. All free audiobooks are offered in a serialized form. It also provides a search box to make sure you can quickly find the audiobooks you like. Besides listening to or download free audiobooks, you are allowed to publish your ebooks to this site.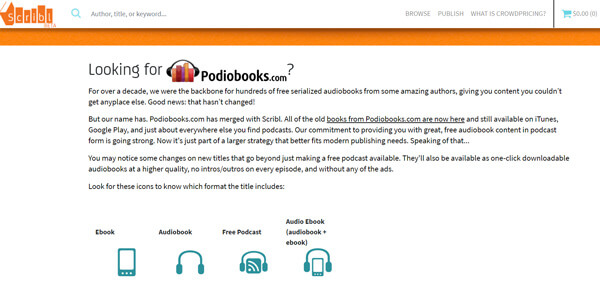 Part 2

. How to Transfer Free Audiobooks to iPhone

iTunes won't be your first choice if you want to directly transfer all these free audiobooks to iPhone. Here we sincerely recommend the professional iOS data transfer, MobieTrans to help you get the job done.

MobieTrans - Best iTunes Music Transfer
Transfer any iOS data like audiobooks, music, photos, contacts, videos, messages, etc.
Download free audiobooks from iTunes to iPhone and computer.
Create iPhone ringtones with any music you have and directly transfer them to iOS device.
Manage all types of iOS files like delete, rename, de-duplicate and more.
Compatible with iPhone 15/14/13/12/11/X with the latest iOS 17 version.
Download for Win
Step 1. Free download, install and run this free audiobooks transfer on your computer. Connect your iPhone to it with a USB cable. It will automatically show some basic information of iPhone in the interface.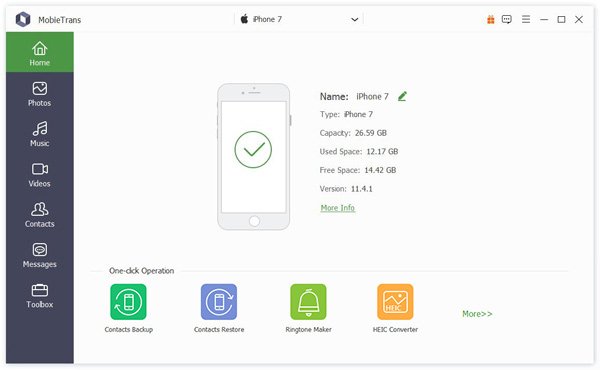 Step 2. Click "Music" on the left control. Now you can check all audio files on the right window. Click "Add" icon to directly free audiobooks from local computer to this iPhone. Just in a few seconds, the audiobooks transferring will be complete. Then you can listen to the free audiobooks on your iOS device.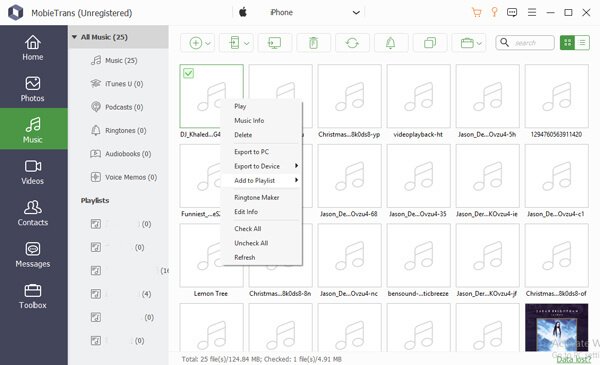 Read More: 5 Workable Ways to Transfer iBooks
Part 3

. Top 5 Audiobook Apps to Download Free Audiobooks on iPhone

If you prefer to get free audiobooks directly on iPhone or iPad, you can find 5 best apps from this part to download free audiobooks.
NO.1 Free audiobooks app - Libby
Libby is one very popular free audiobooks app which enables you to instantly borrow and download ebooks and audiobooks for free. Comparing with other apps, Libby provides a simple way to enjoy free audiobooks of newly released books and hot bestsellers.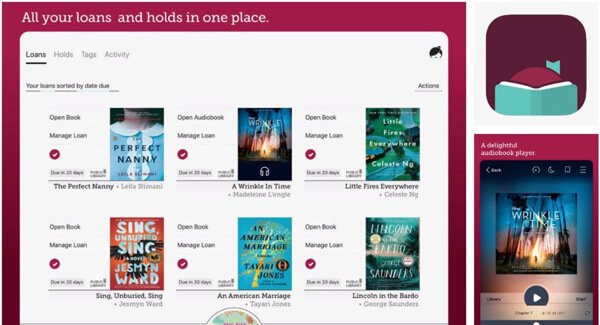 NO.2 Free audiobooks app - Audible
Audible is a very popular and powerful audiobook app brought by Amazon. It offers the widest selection of audiobooks including free audiobooks. Besides audiobooks, you can find audio shows, short-form narratives and many more in it. One thing you should know is that, Audible is not a totally free audiobooks app. But it offers a free 30-day trial.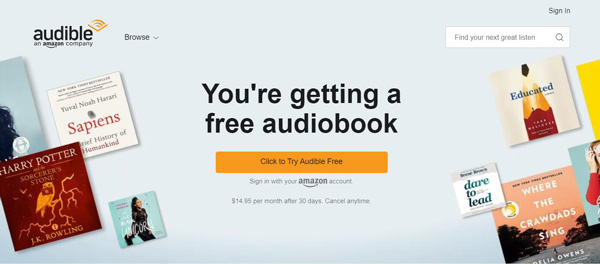 NO.3 Free audiobooks app - OverDrive
OverDrive is one of the best ebook and audiobook apps which enables you to get free audiobooks on iPhone. It offers a convenient way to borrow and read free ebooks, audiobooks, and magazines with your iPhone or iPad. You can directly search for the free audiobooks in its search box.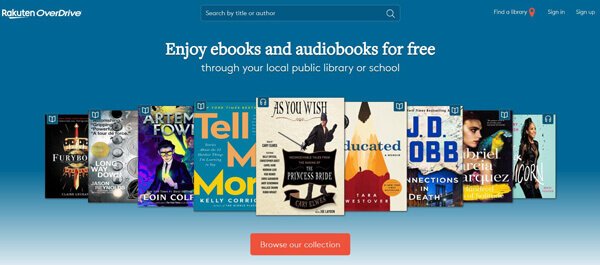 NO.4 Free audiobooks app - Wattpad
If you like new writers and new books, you should pay more attention to this free audiobooks app, Wattpad. It connects a global community of 70 million readers and writers to ensure you get the audiobooks you really like. Besides reading books, it also enables you to publish your own works.
NO.5 Free audiobooks app - Nook Audiobooks
Nook Audiobooks is a great audiobooks app which gathers a massive selection of thousands of audiobooks. Not all audiobooks are free. But you can get great discounts for some new releases or best sellers. It allows you to download free audiobooks and listen to it in your car. Over 125,000 titles are offered to ensure you can get the audiobooks you are looking for.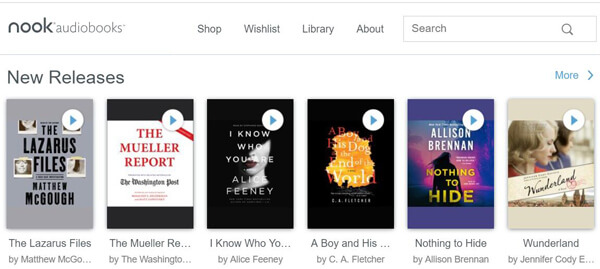 We have talked about how to get free audiobooks in this post. We introduce you with 10 best free audiobooks sites and apps to make sure you can find and download the books you need. In addition, we also show you a simple way to directly transfer downloaded free audiobooks to iPhone. Please tell us in the comment if you have any better solution to get free audio books on iPhone.