Can you AirDrop to Android?
AirDrop is a convenient feature that allows users to wirelessly share files, photos, videos, and more between Apple devices. Unfortunately, AirDrop is not natively available on Android devices. So how do you AirDrop on Android?
There are several alternative methods and third-party apps that can provide similar functionality. In this guide, we will explore some AirDrop-like options for Android phones. You can use them to AirDrop between iPhone and Android devices.

How to AirDrop on Android
Part 1. What Is AirDrop for Android
As mentioned above, Android devices don't have a built-in feature like AirDrop. But some alternative methods and apps can achieve similar file-sharing capabilities.
AirDrop on Android using Nearby Share
One of the most widely used alternatives to AirDrop on Android is Google's Nearby Share feature. Introduced in August 2020, Nearby Share is integrated into Android devices running Android 6.0 or later. This AirDrop for Android allows users to share files, photos, apps, links, and other content with nearby devices, regardless of the brand or model.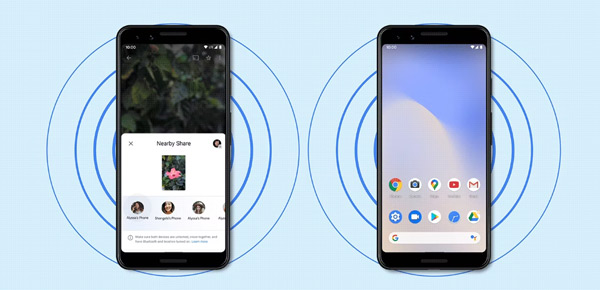 To use Nearby Share, both devices should have the feature enabled and be close to each other. You can open the Settings app on your Android phone, choose Connected devices, tap Connection Preferences, then locate the Nearby Share feature. Here you can enable Use Nearby Share based on your need. After that, you can simply select the file they want to share, tap the Share button, and choose the Nearby Share option to send the file to nearby devices. You can use it to AirDrop on your Android device.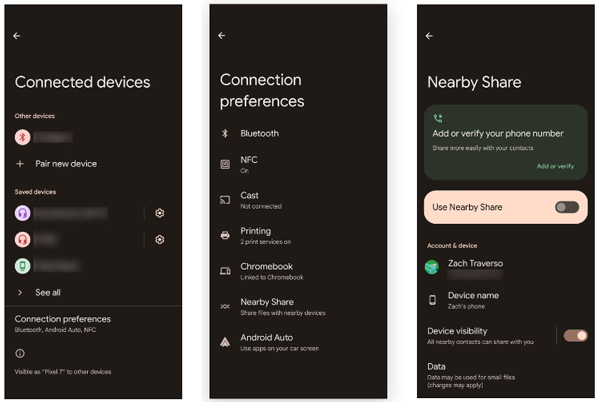 If the files you want to AirDrop are not too large and you don't mind using a temporary platform, you could utilize email or messaging apps. Attach the data you want to transfer to an email or message, send it from your iPhone to your Android device, then download the attachments on your Android device. However, keep in mind that some email providers may have attachment size limitations, so this might not be suitable for very large files.
Part 2. AirDrop from iPhone to Android Through Cloud Services
Cloud storage services like iCloud, Google Drive, Dropbox, and OneDrive can also share files between Android devices and other platforms. These services provide a centralized location to store files and allow for easy sharing with others.
AirDrop iPhone data to Android
You can upload files to their cloud storage accounts and share the link with others using email, messaging apps, or any other means of communication. This method is especially useful when sharing large files or when the recipient is not physically near the sender.
Suppose the iPhone data you like to AirDrop to Android is backed up to iCloud. In that case, you should go to the iCloud website on your Android device, sign in with your Apple account, verify the two-factor authentication, then access various files, including photos, notes, contacts, and more.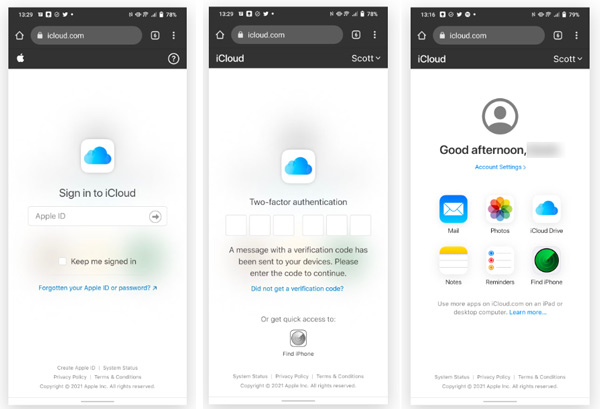 Part 3. Easy Way to AirDrop Between iPhone and Android Phone
When you search for a way to AirDrop to Android, you can also rely on file-sharing apps like Shareit, Xender, and Send Anywhere. They give you a simple and convenient way to transfer files between iOS and Android devices.
These AirDrop for Android apps use a combination of Wi-Fi Direct, Bluetooth, and other wireless technologies to establish a connection between your devices and facilitate the transfer of files. You can install the app on both devices, select the files you want to transfer, then follow the instructions to AirDrop between your iPhone and Android phone.
Best AirDrop alternative to transfer files between iOS and Android devices
If you want a stable transferring experience, you can use the powerful iOS and Android data transfer, Apeaksoft MobieTrans. It supports all commonly-used files, including pictures, videos, songs, messages, contacts, notes, and reminders. All popular iOS and Android devices and systems are supported.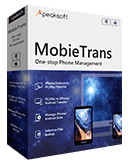 4,000,000+ Downloads
Transfer all types of files from iPhone or iPad to Android.
Back up iPhone or Android phone data to the computer.
Best AirDrop for Android alternative to manage and transfer data.
Support all popular iOS/Android devices and systems.
Step 1 Download the recommended AirDrop alternative on your computer and launch it. To quickly transfer files between your iPhone and Android phone, you should connect both devices and select the source device.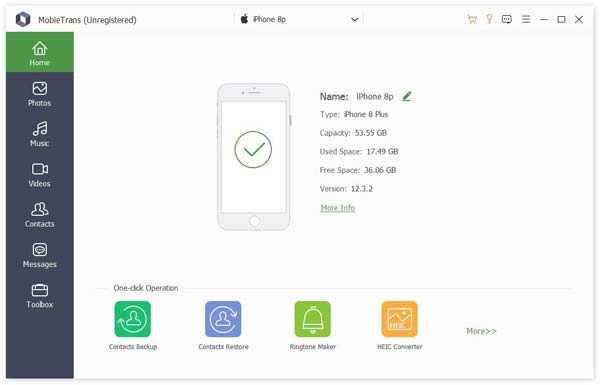 Step 2 You can see some basic information about your iPhone and Android phone when your devices are recognized. Frequently-used files are listed in categories on the left. Go to the specific data type you want to transfer, then select all related files. After that, click the Phone button to select the other device.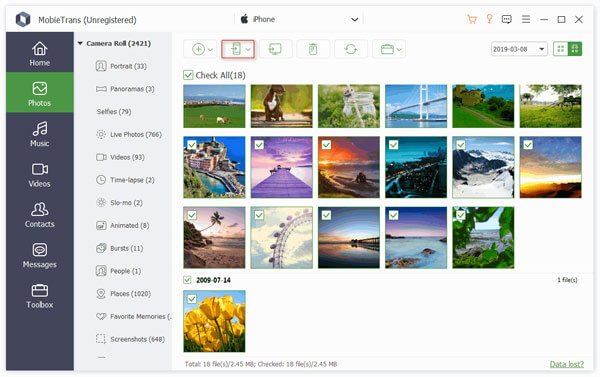 Step 3 You can take similar steps to transfer other files when the transfer is finished. Ensure you set the right source and target devices.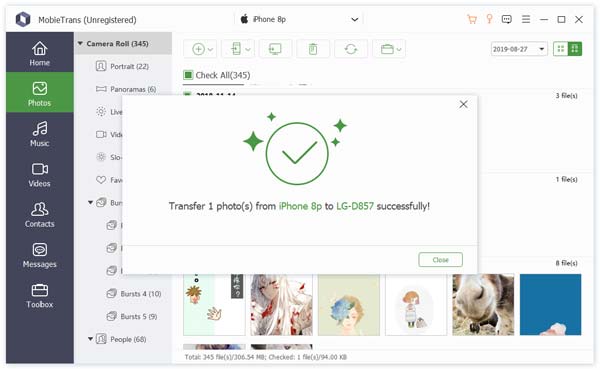 You should know that some Android devices provide file-sharing features. For instance, Samsung devices have a feature called Quick Share, which enables you to share files with other Samsung phones. Similarly, Xiaomi devices have a feature called Mi Share, which allows users to share files with nearby Xiaomi devices.
Part 4. FAQs of How to AirDrop on Android
How can I save files shared through Nearby Share?
When you receive data sent through Nearby Share, you will get a Ready to receive prompt on your phone's screen. Just tap the Accept button to store data on your device.
How do you select the best AirDrop for Android apps?
Many transfer apps on the market allow you to AirDrop between your iPhone and Android. When you select an AirDrop for Android app, you should ensure it supports your devices. Check its key features and ensure it can secure your files. Also, you should check its supported data types and transferring speed. Last, you may need to concern about the price when choosing an app from the top recommendations.
How to AirDrop from iPhone to Mac?
To transfer iPhone data to your Mac through AirDrop, you should enable the AirDrop feature on both devices. After that, you can open the file you want to AirDrop on your iPhone, tap the Share button, then select your Mac as the target device.
Conclusion
After reading this post, you should know that no official AirDrop is available for Android devices. You cannot directly AirDrop files between an iPhone and an Android phone. Considering that, this post shares other solutions for transferring your iOS and Android data. You can AirDrop on Android using the email or messaging app, cloud storage services, third-party transfer apps, and manufacturer-specific features. So although AirDrop may not be available, Android users can still enjoy seamless file-sharing experiences.