How to personalize live wallpaper for your Android with a favorite singer, or the short video of your child? It is an easy task to have some special wallpaper on Android. There are dozens of live wallpaper apps that you can download the desired one for super stars, anime characters and landscapes.

Live Wallpaper Android
In order to make live wallpaper for an Android from your own videos, you need to edit and convert them to live wallpaper formats. After that you can set live wallpaper in your Android accordingly. Just learn more about the details from the article now.
Part 1: 15 Best Live Wallpaper Apps for Android Phone
Just need some live weather backgrounds on Android? Here are 15 best live wallpaper apps for Android phone, which you can search for a desired theme with ease.
| Live Wallpaper Android | Special Features of Best HD Live Wallpaper for Android |
| --- | --- |
| Amber Weather | Live weather wallpaper with 3D image and create beautiful weather backdrops on Android screen. |
| KLWP Live Wallpaper Maker | Personalize live wallpaper with awesome WYSIWYG editor to create your own design. |
| Muzei Live Wallpaper | Iconic live wallpaper for Android that automatically replace wallpaper with classic pieces of art. |
| Oajoo Device Info Wallpaper | Live wallpaper with system information of Android phone, such as CPU, storage, temperature, etc. |
| Parallax 3D Live Wallpapers | 3D live wallpaper in different categories, including superheroes, anime, abstract, space and more. |
| Paperland Live Wallpaper | Funny and fantastic live wallpaper with paper cutout landscape that keeps scrolling on your screen. |
| Hypno Clock Live Wallpaper | Clock live wallpaper with animated gears and parts of a mechanical watch with the magic of clockwork. |
| Pixelscapes Wallpaper | 3 animated pixel art wallpapers that transport you back to the days of Koopas and warp pipe. |
| Teen Wallpapers | Teenagers' girls and boys dope wallpapers with different categories in fresh, trendy and beautiful themes. |
| Minima Live Wallpaper | Free live wallpaper for Android that brings an endless range of shifting shapes and colors to Android screen. |
| Shake Them All 2 | Funny live wallpaper that brings a bunch of Android bots, which move when you touch or tilt the display. |
| Hipster Wallpaper | Customize the live wallpapers with geometry and accumulates images from 500px or Reddit. |
| Panoramic Screen | Panoramic live wallpaper, which you can load the panoramic photos or customize from normal ones. |
| AMOLED Wallpapers | Cool AMOLED wallpaper to maximize your screen on time by setting up the pitch-black background. |
| Motion | Dynamic 3D animated wallpaper for Android with custom colors for particles and background. |
Part 2: How to Download Live Wallpaper to Android Phone
Besides the live wallpaper apps, you can also download HD live wallpaper online from computer. As for the case, you do not have to install extra apps or receive notifications.
Download Live Wallpaper for Android on Computer
If you cannot get satisfied wallpaper from apps, you can also check out them from National Geographic's wallpaper collection or Interfacelite, Flickr, Deviant Art and more others. Just download and save the live wallpaper for Android on your computer.
Transfer Live Wallpaper from Computer to Android
After you downloaded the live wallpapers, you can transfer them from computer to Android. MobieTrans is the one stop phone manager to transfer the live wallpaper for your Android.
Step 1Connect Android phone and computer with the original USB cable. Tap the "Trust" on the Android phone and enter the passcode. It will scan the Android phone to import the files.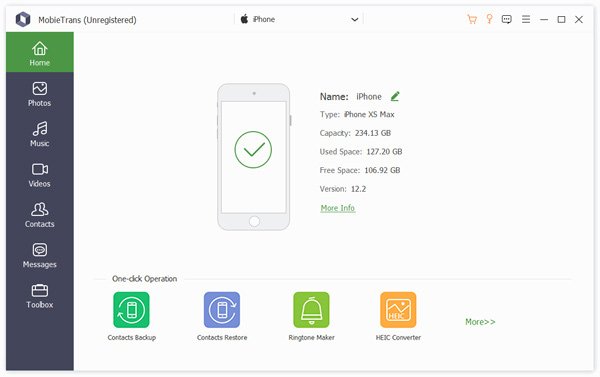 Step 2Click the "Videos" from the left menu, which you can click the "+" or "Add Item" button to add video from computer to Android phone. Select the live wallpapers you want to transfer.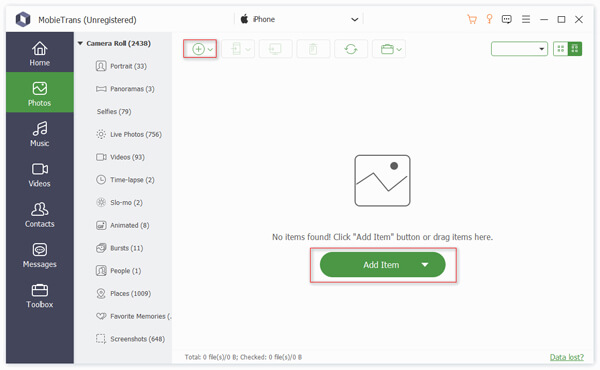 Step 3Once you transfer the files to Android phone, you can locate the live wallpapers in the desired location. Then you can set the live wallpaper as the default one for Android phone.
It also lets you download live wallpapers to iPhone from compuer.
How to Set Live Wallpaper on Android Phone
Once you transferred the live wallpaper to Android, you can directly set it on Android phone with long press, or go to "Settings" on Android phone to set live wallpapers on the Android devices as below.
Step 1Launch Android phone and go to "Setting" menu, you can also pull down your notification menu to select the "Settings" icon.
Step 2Choose the "Display" option, which you can find and select the "Wallpaper" option.
Step 3From there, you can select the "Live Wallpaper", which you can select a desired one as live wallpaper for your Android.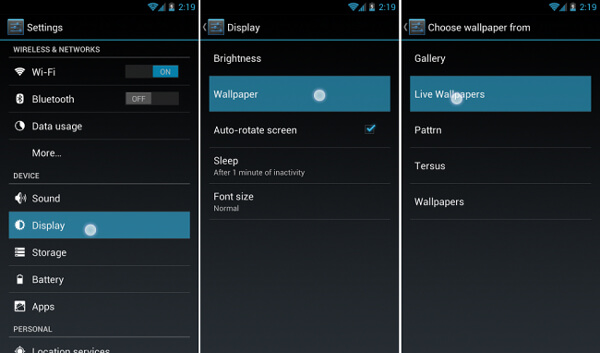 Part 3: How to Make Live Wallpaper for Android Phone
What should you do if you need to customize and make live wallpaper for Android? If you have some funny videos for your child in the digital camera, you can make live wallpaper for your Android from these videos with ease. Video Converter Ultimate is the live wallpaper maker that creates HD live wallpaper from any video with ease.
Step 1Download and install the live wallpaper maker, launch the program and click the "Add File" to select the videos. You can preview the video and select the parts for the desired live wallpaper.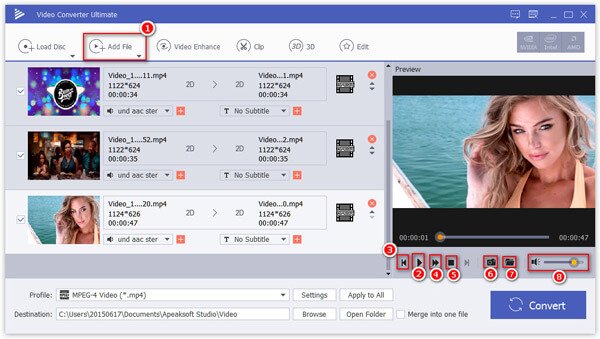 Step 2Select the desired part with the clip features, then merge the different parts into one or use the loop feature. Moreover, you can also enhance the video quality with the live wallpaper maker.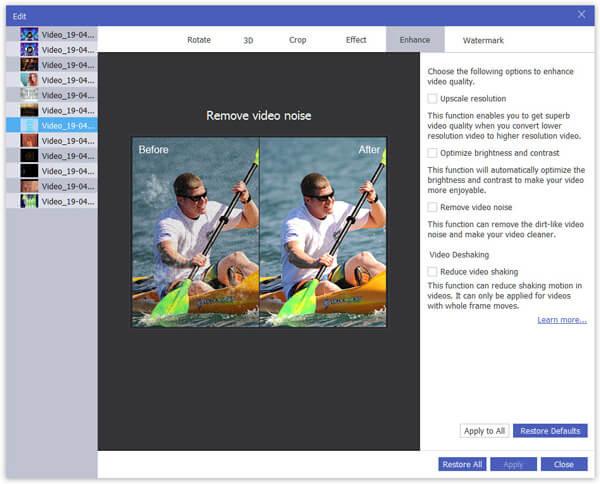 Step 3In order to get the best live wallpaper for Android, you can click the "Profile" and choose the type of Android device, or choose the MP4 format as the live wallpaper on Android phone.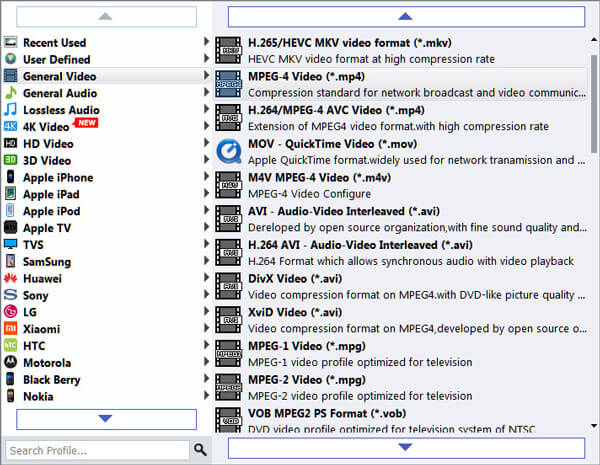 Step 4Export the videos as live wallpaper to your computer. You can also use the phone transfer to copy the customized live wallpaper to your Android phone and set it as the default one.
If you are interested, here comes the way to download live wallpapers for Samsung Galaxy phone.
Conclusion
It is the ultimate guide to download and customize the live wallpaper for your Android. Whether you want to download it from Android app, online websites, or even make one from computer, you can get the desired solution from the article. More queries about how to make wallpaper for the Android, you can feel free to leave a comment in the article.