T-Mobile Content Transfer is one of data transferring apps for you to switch to new device. While getting a new smartphone, the first thing that bothers you is how to get your files from the old device to the new one. Thanks to technology improvement, you can do it easier than ever before. This article is going to introduce this app, so you can migrate your data from old phone to new device. If you are ready, let's get started.

T-Mobile Content Transfer APP
Part 1: What Is T-Mobile Content Transfer?
In fact, T-Mobile Content Transfer is a versatile mobile app for T-Mobile customers. With it, you can synchronize contacts, pictures, messages, music, documents and videos to your new phone from the old device. It does not require a computer or any USB cables. All you need is a stable Wi-Fi network. Plus, you can monitor the total transfer time on your screen. To speed up the process, you have the option to only transfer the content that you need now. When it is convenient, you can restart the process and the files previously transferred will be skipped.
PROS

1. T-Mobile Content Transfer app works on both iPhone and Android devices.
2. Easy to use and transfer a wide range of files between mobile devices quickly.
3. Rely on wireless connection to transfer data without computer.
4. Not compress your files while transferring.
CONS

1. This app has been removed from App Store and Play Store, but you can still find it in third-party app stores.
2. It requires a strong Wi-Fi connection; otherwise you might get a hard time.
3. It has to work on Android 4.4 or above and iOS 8.0 or later.
4. Your files may be corrupted on the new device due to various factors.
Part 2: How to Use T-Mobile Content Transfer
If you have the third-party app stores on your mobile devices and the T-Mobile Content Transfer app is available to download, you can follow the steps below to learn how to use it.
Step 1 First of all, connect both the old smartphone and the new device to the same Wi-Fi network.
Step 2 Open the T-Mobile Content Transfer app on the old device and tap From this phone button in the main interface. Then you will be presented the QR code.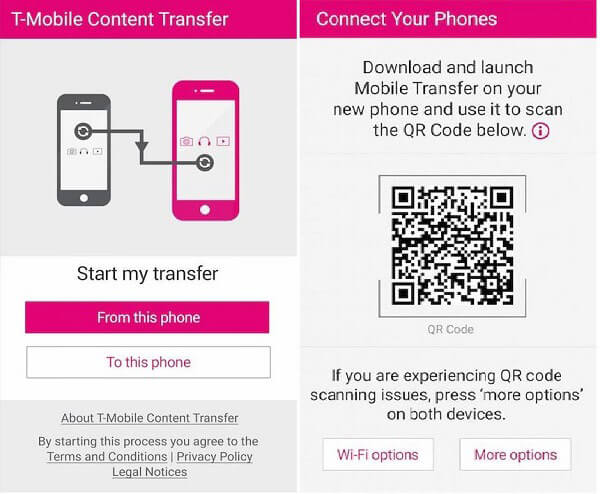 Step 3 Turn to the new mobile device and run T-Mobile Content Transfer app as well. This time select To this phone button to open the connect screen. Next, put the QR code showing on the old device behind the rear camera to scan it.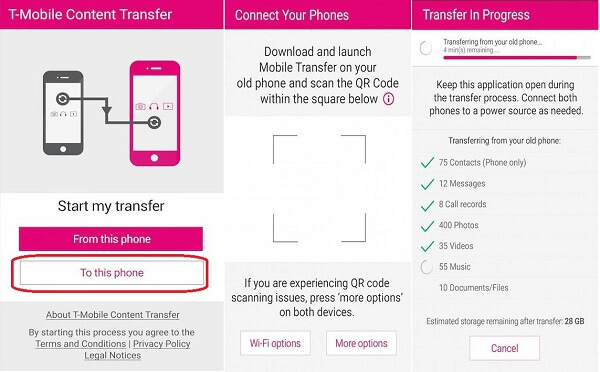 Step 4 When the connection is successful, you can see all files and data transferrable. Select the file you need and start transferring.
Part 3: FAQ of T-Mobile Content Transfer
If your WMV video is not large, you can also try other online WMV file compressors. Just figure out the file size limit to see if you need to pay for the service or not.
Question 1: Does T-Mobile Content Transfer app transfers text messages?
Yes, it can transfer text messages from one mobile device to the other. The problem is that your emojis, voice, photos and video attachments are not supported.
Question 2: Where can I Download T-Mobile Content Transfer app?
As mentioned previously, you cannot download it from App Store or Play Store. Fortunately, you can still find it on the internet as an APK file. It means that you have to download it from third-party app stores or websites. The latest update was in 2018.
Question 3: How do I transfer photos from one Android to another?
The T-Mobile Content Transfer app does support transferring photos between Android devices. However, you may encounter some problems, such as the transferred photos corrupted on the new phone.
Part 4: The Best Alternative of T-Mobile Content Transfer
Apparently, T-Mobile Content Transfer app is not the best way to transfer your data between mobile devices. From this point, we recommend Apeaksoft MobieTrans.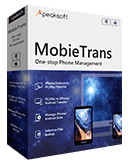 4,000,000+ Downloads
Transfer data between Android and iOS devices quickly.
Support photos, videos, music and a wide range of data types.
Transform file format based on the target device automatically.
Sync data between mobile devices using physical connection.
Compatible with all iPhone and Android devices from Samsung, etc.
Briefly, it is the best alternative to T-Mobile Content Transfer app to sync data and files between mobile devices. We use an iPhone and an Android phone as the example.
How to Transfer Data between iPhone and Android Phone
Step 1Connect two mobile devices
Plug the two mobile devices to your computer when you wish to transfer data without T-Mobile Content Transfer app. Then install MobieTrans to your computer too. Once launch it, the two devices will be detected.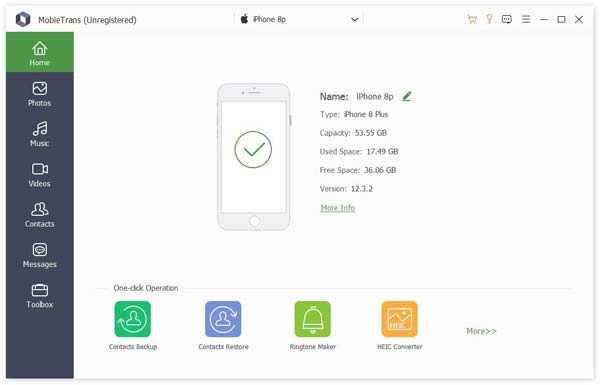 Step 2Preview data on the source phone
Expand the drop-down list on the top of the window and select the source device, such iPhone. Next, you can view all personal data on it by types. Go to the Photos tab from the left side, for example, and then you can view all photos on iPhone.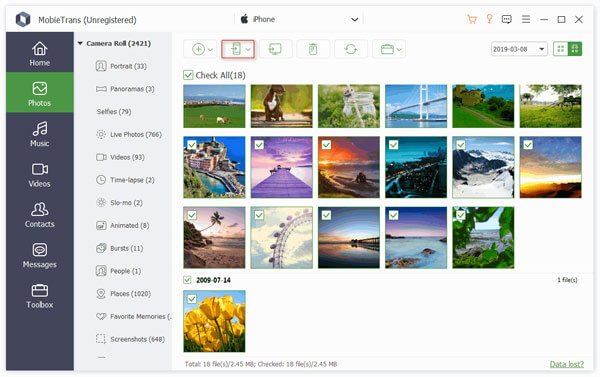 Step 3Transfer files to the target device
Make sure to check all files that you want to transfer to the target mobile device. Then click the Phone icon at the top menu bar and select the target Android phone. Alternatively, right-click on the selected files, choose Export to Device and pick up the target device. According to our research, it only takes a few minutes to sync entire mobile device to another. Plus, the alternative to T-Mobile Content Transfer app does not require any internet connectivity.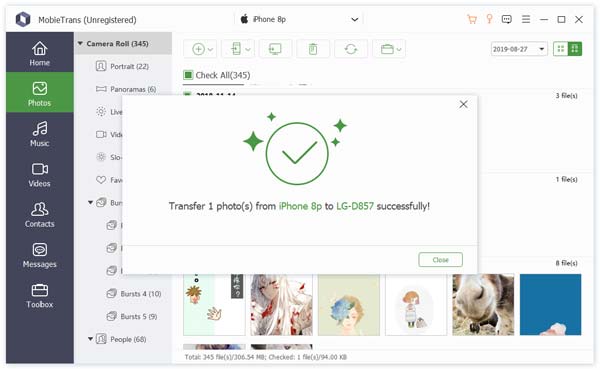 Conclusion
Based on the guide above, you should master the T-Mobile Content Transfer app, which is a simple tool to transfer media files, contacts and messages between mobile devices. However, it can produce serious problems and damage your files and documents. If it is not available to your device or you need a better solution, Apeaksoft MobieTrans is worth to try. It is faster than T-Mobile Content Transfer and can protect your data. If you encounter other troubles when transferring data, feel free to leave a message below this post and we will reply it as soon as possible.