"I have had an iPhone for years, but I got locked out of my device when I want to sell it, how to unlock an iPhone without a passcode ?" The high level of security of the iPhone is one of the main reasons why people buy iOS devices. However, every coin has two sides, and so does iPhone. If you have ever locked yourself out of your device, this guide tells you multiple ways to unlock it when you forgot the passcode.

How to Unlock iPhone
Part 1: The Easiest Way to Unlock iPhone without Passcode
One of the quickest ways to unlock a locked iPhone is Apeaksoft iOS Unlocker. The biggest benefit is that users do not need any technical skills. You can easily unlock your device following the on-screen instructions.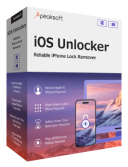 4,000,000+ Downloads
Unlock a screen-locked iPhone without a passcode.
Wipe the lock screen passcode from iPhone easily.
Remove Apple ID and password and turn iPhone into a new one.
Get rid of the Screen Time restriction password.
How to Unlock an iPhone without Passcode or Face ID
Step 1Connect iPhone
First of all, back up your iPhone to iCloud, iTunes, or a computer since erasing the lock screen passcode will delete all your data. Install the best iPhone unlocking tool on your computer and launch it. Next, connect the locked iPhone to the same machine with a Lightning cable. As long as the software detects your iPhone, select Wipe Password, and click the Start button.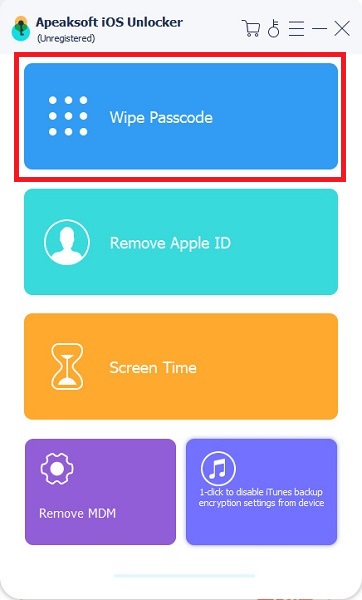 Step 2Download firmware
When prompted, check the information on your iPhone, and hit the Start button if they are right. If not, correct them. Then the iPhone unlocking tool will download the firmware according to your device model.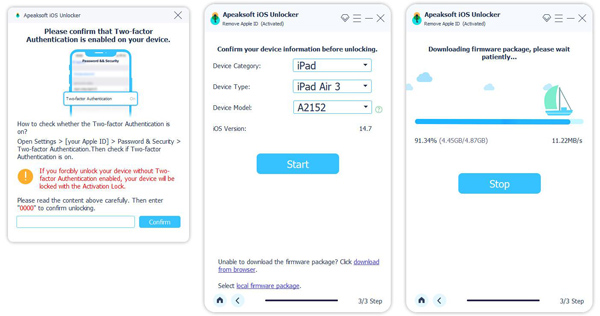 Step 3Unlock iPhone
After firmware downloading, click the Unlock button to remove the screen lock passcode. Type 0000 into the box, and hit the Unlock button to confirm it. Wait for the process to finish and your iPhone will restart. Now, you can unlock the device without a passcode or Face ID.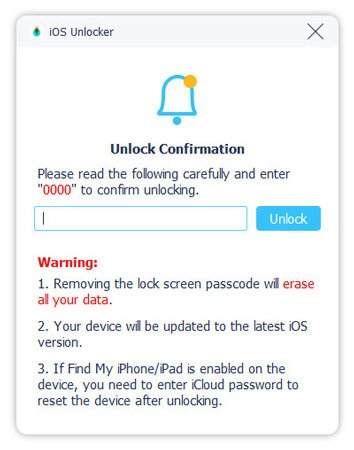 Part 2: The TikTok Method to Unlock iPhone without Passcode
More recently on platforms like TikTok and YouTube, there has been a viral trend of videos displaying a method for unlocking any iPhone without a PIN code or Face ID. The core is to unlock a device by accessing the camera or calculator.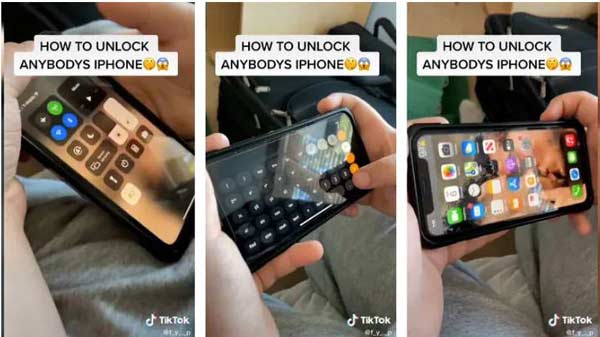 Step 1 Swipe down on the control panel while covering your camera Face ID. For old devices, swipe up.
Step 2 Make sure to disable Wi-Fi, Data, and Bluetooth. Then enable the Airplane Mode.
Step 3Open the Calculator app from the Control Center. Then type in a decimal place. Put your iPhone sideways to enter the scientific mode, press IN, and then tap Rand. Now, swipe up on your iPhone and it will be unlocked.
Note: According to our test, this way does unlock a locked iPhone and display the home screen. However, it is little more than a deceptive illusion.
Part 3: How to Unlock iPhone with iTunes
iTunes is the traditional way to back up iPhone data with a computer. Although Apple has stopped it on the latest Mac machines, iTunes is still an important iPhone data manager. It has two ways to unlock a disabled iPhone, the Recovery Mode, and the DFU mode. Both ways require the Apple ID and password associated with the target iPhone. They will erase all personal data and settings on iPhone along with the lock screen password. The main difference is the latter will install the latest iOS on your iPhone after unlocking.
How to Unlock iPhone with iTunes Recovery Mode
Step 1 Run iTunes on your computer and update it to the latest version. If you do not have it, download the utility from Apple's official website for free.
Step 2 Plug your iPhone into the computer with a USB cable, and shut it down. Then put your iPhone into the Recovery Mode:
For iPhone 8 and later: Press and quickly release the Volume up button, and do the same to the Volume down button. Then long-press the Side button until it enters the Recovery Mode.
For iPhone 7/7 Pro: Hold down the Side button or the Volume down button to enable the Recovery Mode.
For iPhone 6 and earlier: Keep pressing the Home and Power buttons at the same time until you see the Recovery Mode screen.
Step 3 Then a popup dialog will appear from iTunes. Click the Restore button on the dialog, and iTunes will begin erasing your iPhone. Once done, you can unlock your iPhone for free.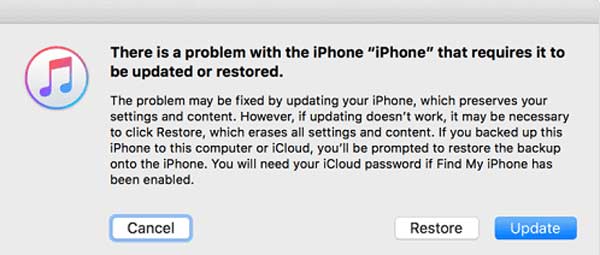 How to Unlock iPhone with iTunes DFU Mode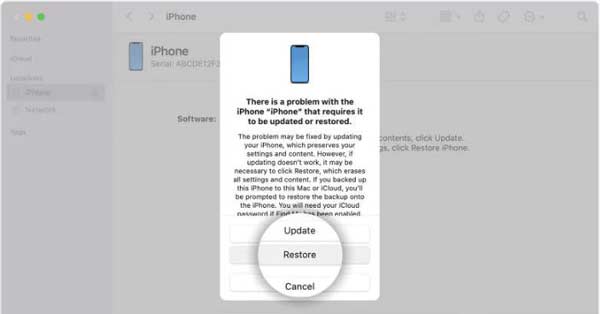 Step 1 If the Recovery Mode is not available to you, open iTunes and connect your iPhone to the computer using a USB cable.
Step 2 Put your iPhone into the DFU mode:
On iPhone 8 or up: Hold down both the Side and Volume down buttons for more than 10 seconds. Release the Side button but continue pressing the Volume down button for another 5 seconds.
On iPhone 7/7 Pro: Long-press the Side and Home buttons for at least 10 seconds. Then let them go.
On iPhone 6 or older: Continue to press both the Side and Home buttons for more than 10 seconds. Let the Side button go but keep pressing the Home button for another 5 seconds. Release the Home button.
Step 3 Now, your iPhone screen should be blank and iTunes has detected it. If you have a backup on the computer, you can restore it to your iPhone and unlock it. If not, follow the onscreen instructions to erase iPhone.
Part 4: How to Unlock iPhone without Password via Siri
Siri is the voice assistant on all iOS devices. With it, you can control your iPhone with your voice easily. When Apple released iOS 8.0 to 10.1, it leaves a bug in Siri, which provide a way to unlock iPhone 6 or other models. If you are still using an old operating system on iPhone, try the steps below.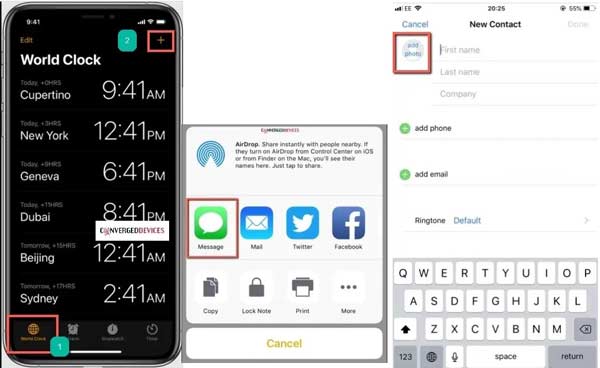 Step 1 Activate the voice assistant on your iPhone lock screen. You can press the Home button or say Hey Siri to wake it by default.
Step 2 Ask Siri what time is it. Then the assistant will open the Clock app directly, which does not require the passcode.
Step 3 Now, go to the World Clock screen from the bottom, and press the Add icon to enter the new world clock screen. Here you have the Share button to share the new clock.
Step 4 Tap the Share button, and press the Message option to write a new message. Here you do not need to write anything in the Message box. Simply enter something in the To field.
Step 5 Next, ask Sire to create a new contact. In response, Siri will take you to the Add Contact screen. Write down the name and some details of the new contact. You can make up something but not use a real contact.
Step 6 Tap the Add Photo icon to open your Camera Roll. Select any photo from your album to add it to the message as an attachment. Then close the Camera Roll and you can access your home screen as usual. In so doing, you will unlock the iPhone passcode.
Note: Make sure to unlock your iPhone with Siri since doing so to others' devices is illegal. It may violate the privacy and safety of the device owner and other authorized users.
Part 5: How to Unlock iPhone by iCloud
Find My iPhone is not a new feature on iPhone. It enables you to control your iOS device even if it is not in your hand. This feature locates your iPhone on a map in real-time and unlocks iPhone 12 or other models by erasing it. However, you must meet the requirements below:
1. The Find My iPhone feature is enabled on your iPhone.
2. Your iOS device must associate with an iCloud account.
3. You still remember your Apple ID and password.
4. The locked iPhone connects to a network, Wi-Fi, or cellular data.
5. If you have set up the two-factor authorization, you must have the iPhone in your hand.
To unlock a locked iPhone, you can do this:
Step 1 Open a browser, visit icloud.com, and sign in with your Apple ID and password associated with the locked iPhone. If you have the two-factor authorization, you will receive a code on the lock screen. Enter it and access the iCloud home page.
Step 2 Choose the Find iPhone option and sign in to your iCloud account to confirm you are the owner.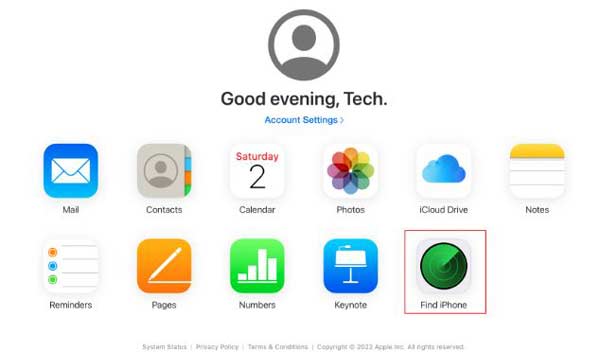 Step 3 Pull down the menu on the top of the map, and choose the locked iPhone on the list. Then it will appear on the map and display the location.
Step 4 Click the Erase iPhone icon on the iPhone pane. Then Find My iPhone will pop up an alert. Click the Erase button to confirm it and move on.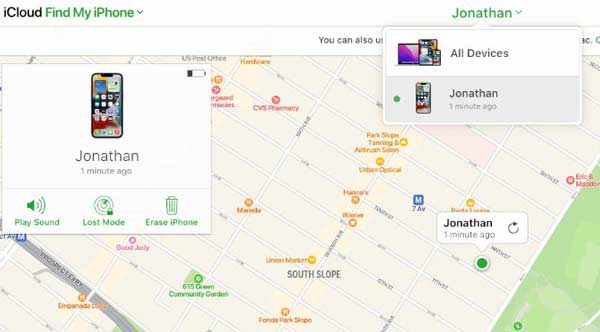 Step 5 When prompted, enter your Apple ID password to verify that you are the owner and start erasing data on iPhone and the lock screen passcode.
Step 6 Wait for the process to complete and your iPhone will power on as a new device to unlock without passcode. It means that this way will erase all data and settings on your iPhone, so you'd better make a backup before that.
Part 6: FAQs on How to Unlock iPhone
How to unlock the iPhone carrier?
If your iPhone is locked to your carrier, Apple suggests you contact your carrier to unlock it. You can request an unlock if your account meets the requirements. As long as your carrier confirms that, they will unlock your iPhone immediately.
What code can unlock an iPhone?
iPhones do not have an unlock code or any type of sequence. It is officially unlocked by Apple servers and carriers. It means that your device will stay unlocked even after updating the system or making a factory reset. In order to unlock an iPhone, you need to provide the IMEI number, which can be found in the Settings app.
Can Siri enter my passcode?
No. It is not possible to enter your lock screen passcode by asking Siri. Instead, you need to enter it by tapping on the screen or Home button. It is an important way to protect your privacy and device security.
Conclusion
Now you should learn at least 6 ways to unlock a locked iPhone in various situations. Most of these methods have some kind of requirements. iCloud, for example, asks you to set up the Find My iPhone feature on your iPhone before being locked. You can follow each way and pick an appropriate one. Apeaksoft iOS Unlocker is the easiest option for beginners. More questions? Please contact us by leaving a message below this guide.