"I just get my new Samsung Galaxy phone, but I do not want to use the preset lock screen wallpaper since it is the same with my friends and difficult to tell which device is mine, how to change the wallpaper? Any recommendation will be appreciated."

In fact, you can use your photos and pictures as wallpaper for home screen and lock screen on latest Android systems. Some people search for changing wallpaper online, partly because they do not have proper wallpaper or not understand how to set up new one. Therefore, we are going to show you where to find awesome lock screen wallpaper and replace the default one.
Part 1

: 5 sites to download lock screen wallpaper

Here are 5 great websites that you can discover and download trending lock screen wallpapers for free.
Top 1: Zedge
Key features:
1. Include a large database of lock screen wallpapers.
2. All wallpapers are well designed and in high quality.
3. Offer an app for Android users to discover wallpapers and ringtones.
4. Preview wallpapers in trending list or categories.
5. Create wallpapers with your pictures and texts.
6. Share your masterworks with others.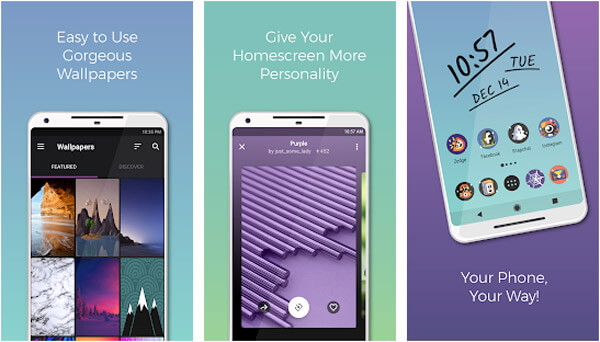 Top 2: Unsplash
Main features:
1. Provide a huge collection of lock screen wallpapers.
2. Contain HD wallpapers up to 1080p in resolution.
3. Search for wallpaper images with keywords, such as color, theme and more.
4. Download images within app or from website simply.
5. Join the community and share wallpaper made by your own.
6. All wallpapers are free of charge without watermark.
Top 3: AndroidWalls
Basic features:
1. Collect more than 2 thousands lock screen wallpapers for Android.
2. All images are free to download from the website.
3. Wallpapers are all created in high quality.
4. Find favorite images by categories, such as Sports, Animals, and more.
5. Add any wallpaper to My Collections using cookies without registration.
Top 4: Wallpaperswide
Principal features:
1. Include oceans of lock screen wallpaper for Android and other machines.
2. Preview the thumbnail, review and other information before download.
3. Browse wallpapers by dozens of categories or search by keywords.
4. Support live wallpapers to download on Android and iPhone.
5. Offer multiple resolutions and sizes for each wallpaper.
6. Get your favorite wallpaper without login or other limitations.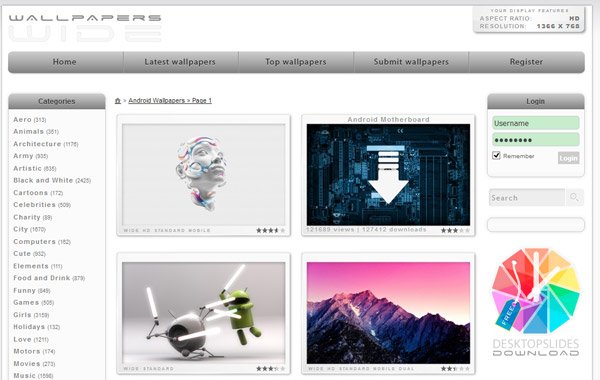 Top 5: vividscreen
Attractive features:
1. Organize millions of lock screen wallpapers in categories.
2. Read the theme, keywords and other information of the wallpaper before download.
3. Redesign your favorite wallpaper according to your device automatically.
4. Download HD wallpaper in a single click in your browser.
5. Available in various languages besides English.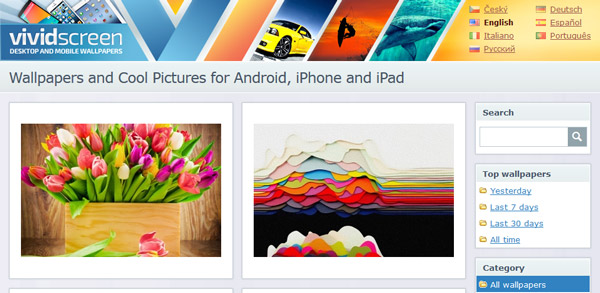 Besides downloading wallpapers on website, you can also download live wallpapers on Samsung Galaxy with live wallpaper apps
Part 2

: How to change lock screen wallpaper

Now, you may get your favorite lock screen wallpaper for your Android handset, but what about replacing the original wallpaper. The procedures are different depending on your device.

Touchwiz is a user interface design created by Samsung, which allows users to set different wallpapers for lock screen and home screen separately; while Stock Android only permits you to change wallpaper for all screens at the same time. The methods below are available to all Android devices without installing third party tools.
Method 1: Change lock screen wallpaper from Home screen
Step 1: Unlock your Android phone and go to the Home screen. You need to long press on an empty area until options menu launches.
Step 2: Tap on "Wallpapers", find and touch the desired wallpaper, and then hit "Set wallpaper" button at upper left corner. If prompted, select "Lock screen". Otherwise, it is changing both lock screen and home screen simultaneously.
Step 3: When it is done, you will be taken to the home screen again. Lock your screen and turn on your phone to check if the lock screen wallpaper is changed as you wish.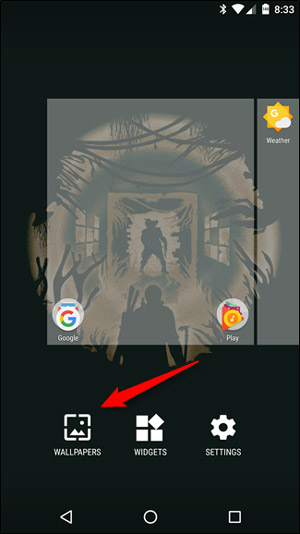 Method 2: Reset lock screen wallpaper in Photo Gallery
Most Android phones have a built-in Photo Gallery app to store photos and downloaded pictures. If you want to set a downloaded picture as your lock screen wallpaper, doing it from your Photo Gallery is a simple solution.
Step 1: Discover your favorite picture from the websites we shared above and download it to your Android phone.
Step 2: Open your Photo Gallery app from your app drawer, scroll down and find the desired picture. Tap on the three-dot icon at top right corner of the screen. This will activate the floating menu.
If there is no three-dot icon, long press the picture to evoke the menu list.
Step 3: Touch "Use as" or the option similar, and then select "Lock screen wallpaper". If you cannot find it, choose Wallpaper instead. It means that you are not allowed to set wallpaper for lock screen separately.
Many people use Google Photos or third party photo gallery apps on their Android phone. In fact, they are able to use personal pictures as lock screen wallpaper as well.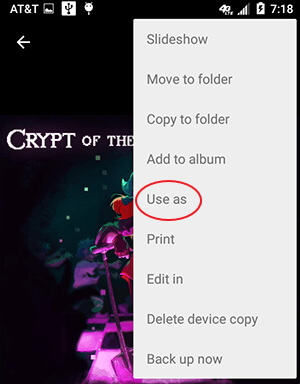 Method 3: Replace lock screen wallpaper using mobile browser
Another easy way to set up lock screen wallpaper on Android phone is your web browser. According to our research, both Firefox and Chrome have such capacity. And we use Firefox as the example here.
Step 1: Run your mobile browser and discover wallpapers by search engine or wallpaper databases.
Step 2: When you find the online image that you want to use it as your lock screen wallpaper, long press it until you see a menu list pops up.
Step 3: Tap on "Set Image As" or similar option, and then pick up "Wallpaper". Finally, touch Set Wallpaper to confirm it. This will download the online image and replace your current wallpaper with it at the same time.
We cannot guarantee that all mobile browsers allow users to set online picture as wallpaper.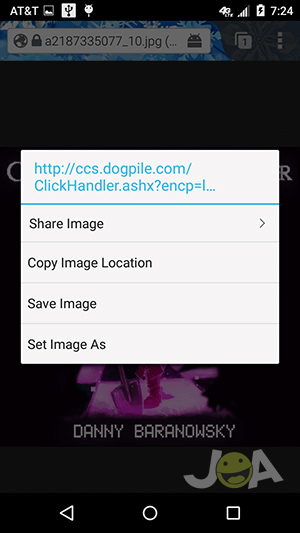 Conclusion
In this tutorial, we have shared the knowledge you need to know about lock screen wallpaper. First of all, we identified top 5 websites to discover wallpapers. You can pick up your favorite picture on the wallpaper databases. Fortunately, it is not difficult to set lock screen wallpaper. But on old Android versions, users are only able to change wallpaper on lock screen and home screen at the same time. Anyway, we told you 3 ways to change wallpaper on your lock screen. They are available to most smartphone running Android O/N/M/L.