"I just bought a second-hand iPhone, but it was locked by Activation Lock, how to remove it?" It is well-known that iOS devices have superior safety features. As one of the security measures, iCloud Activation Lock prevents others from being able to access your handset without permission. However, sometimes you have to remove the iCloud Activation Lock on your iPhone. To help you complete the job quickly, this article shares the how-to with details.

Remove iCloud Activation Lock
Part 1. What is iCloud Activation Lock
As its name indicates, Activation Lock, or iCloud Lock, is a part of Find My, Find My iPhone, or Find My iPad. This protection system is referred to as Factory Reset Protection. It allows owners to remotely wipe and lock their devices. The purpose is to discourage phone theft by dramatically reducing the resale value of stolen devices.
According to Apple, Activation Lock is a feature designed to prevent someone else from accessing your iOS device or Apple Watch when it is lost or stolen. As long as you turn on Find My iPhone, it will be enabled automatically. Even if you reset your handset, Activation Lock can continue to deter anyone from reactivating your iPhone without your permission.
Before removing the iCloud Activation Lock, let's talk about how it works. Once you set up and turn on Find My iPhone on your device, Apple registers it by linking your Apple ID to the device ID on the activation servers. Then your phone is automatically protected. Officially, without your passcode or Apple ID password, anyone cannot disable this feature. Even if someone reset your handset in DFU mode, it cannot be reactivated.
Part 2. How to Bypass iCloud Activation Lock with Jailbreak
Jailbreaking an iPhone will give you root access to the filesystem on your device. In other words, it bypasses iCloud Activation Lock and other restrictions by Apple. The downside is that you will no longer receive any official iOS updates from Apple. There are jailbreak tools, such as Checkra1n, Unc0ver, and more. Let's use Checkra1n as an example.
Step 1 Install the jailbreak tool on your computer. It is only available to Mac and Linux currently. Make sure that your phone runs on iOS 12.3 and later.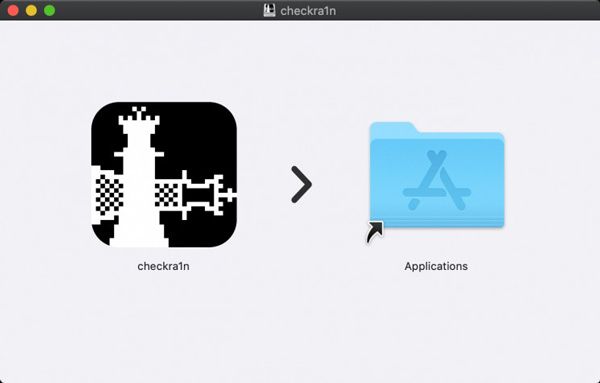 Step 2 Connect your iPhone to your computer, and run the tool. When your device is detected, the app will put it into the recovery mode.
Step 3 Follow the on-screen instructions until the app asks you to put your phone into DFU mode. Hit the Next button and confirm the action.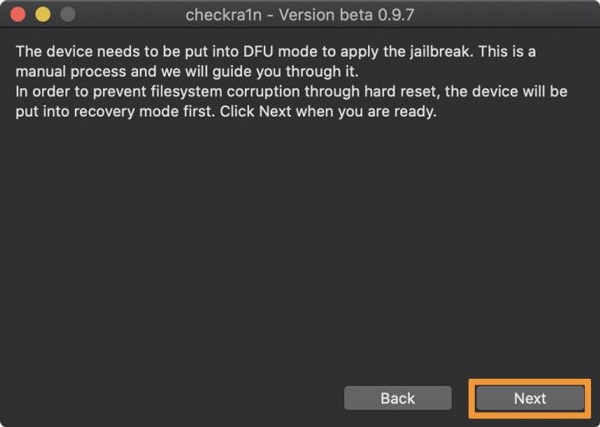 Step 4 Then the jailbreaking process will initiate automatically. Wait for the process to complete and your iPhone should reboot automatically. Now, you will see the Checkra1n loader screen.
Note: In addition to official software updates, all Apple services and apps are not available after jailbreaking. Moreover, it may cause damage to your hardware and data. And the process is too complicated for average people to complete without trouble.
Part 3. How to Remove iCloud Activation Lock with Password
There are two ways to get iCloud Activation Lock removal for free if you still remember your device passcode or Apple ID password, which is used to verify the ownership during the process.
How to Remove iCloud Activation Lock on iPhone
Since iCloud Activation Lock is closely tied to Find My iPhone, you can disable the latter to remove the former on your handset. That is the easiest way to remove the iCloud Activation Lock with your password.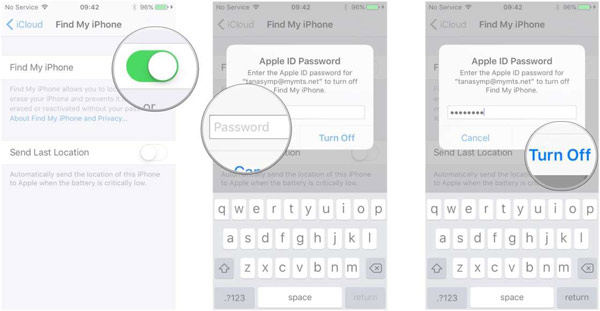 Step 1 Run the Settings app, tap on your name, and choose iCloud.
Step 2 Press the Find My iPhone option, and toggle off Find My iPhone.
Step 3 When prompted, input your Apple ID password, and tap the Turn Off button to confirm the action.
How to Remove iCloud Activation Lock Remotely
Even if your iPhone is not in your hand, you can get iCloud Activation Lock removal on the web. This way requires a web browser as well as your passcode or Apple ID password. If your handset is offline currently, the action will be performed when your iPhone connects to a network.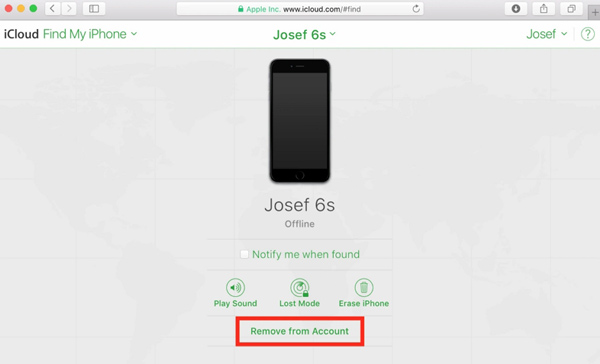 Step 1 Visit https://www.icloud.com/find in your browser, and sign in with your Apple ID and password.
Tip: If you are using the two-factor authentication, enter the verification code.
Step 2 Pull down the All Devices list on the top of the webpage, and select your iPhone.
Step 3 Click Remove from Account, and then input your Apple ID password.
Part 4. How to Remove iCloud Activation Lock without Jailbreak and Password
Is it possible to remove the iCloud Activation Lock without a password and jailbreak your iPhone? The answer is yes if you have a proper iCloud Activation Lock removal tool, such as Apeaksoft iOS Unlocker.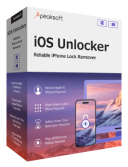 4,000,000+ Downloads
Unlock the iCloud account on your iPhone easily.
Do not require your password or jailbreak your device.
Easy and secure to use.
Support a wide range of iPhones and iPad models.
How to Remove iCloud Activation Lock without Password
Step 1Connect to your iPhone
Install the iCloud Activation Lock removal tool on your computer, launch it, and choose Remove Apple ID. Hook up your iPhone to the same machine with a Lightning cable, and hit the Start button.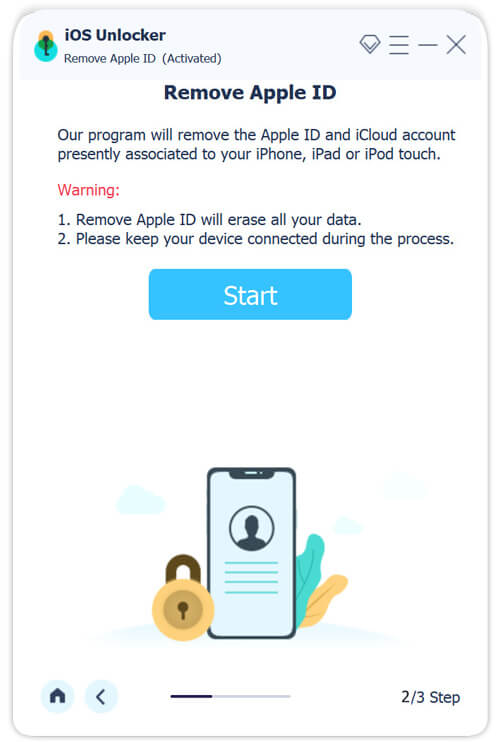 Tip: Make sure to trust this computer on your iPhone.
Step 2Remove iCloud Activation Lock
Input 0000 into the box and confirm it. Then check the information of your device, and hit the Start button to download the firmware. Next, enter 0000 again, and hit Unlock. Once your iCloud Activation Lock is removed, follow the instructions to reactivate your handset.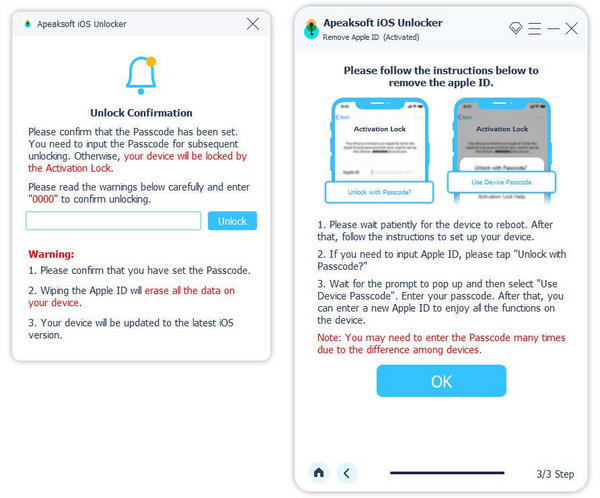 Note: If your iPhone runs iOS 11.3 or earlier, go to the Settings app, tap General, Reset, and Reset All Settings in sequence. After your device restarts, the app will remove your iCloud account automatically.
Part 5. FAQs about iCloud Activation Lock
Can iOS be jailbroken?
The answer is determined by your status. Generally speaking, Apple prohibits users from jailbreaking by releasing updates regularly. Checkra1n, for example, can jailbreak iOS 14 on A9 devices and lower. If you update your device to the latest software, you have to wait for the patched version of jailbreaking software.
Is it possible to unlock a locked iCloud?
Yes, there are multiple ways to unlock iCloud Lock. You can unlock your iCloud Lock with your Apple ID password on your iOS device or iCloud website. If you forget your password, you will need a third-party application to get the job done.
Why does the iPhone go on Activation Lock?
When your iPhone enters the lost mode or stolen mode, the Activation Lock will pop up and ask you to enter your Apple ID and password. Sometimes, you may enable Activation Lock accidentally, such as forgetting to disable Find My iPhone before erasing your iPhone.
Conclusion
Now, you should understand what iCloud Activation Lock is, and how to remove it from your device by jailbreaking or with your Apple ID password. Apeaksoft iOS Unlocker is the best choice to remove your iCloud account and Activation Lock without jailbreaking your device and password. If you have other questions about this topic, please feel free to leave your message below this post and we will reply to it quickly.