This article will review one of the popular iCloud Activation Lock removal tools, UltFone Activation Unlocker. Although most iPhone and iPad users do not understand what iCloud Activation Lock is exactly, this feature protects their devices from unauthenticated access. However, most users did not unlock the iCloud Activation Lock when selling old devices. In other words, you have to remove it with a third-party removal tool, like UltFone Activation Unlocker, if you bought a second-hand iOS device.

UltFone Activation Unlocker Review
Part 1. UltFone Activation Unlocker Review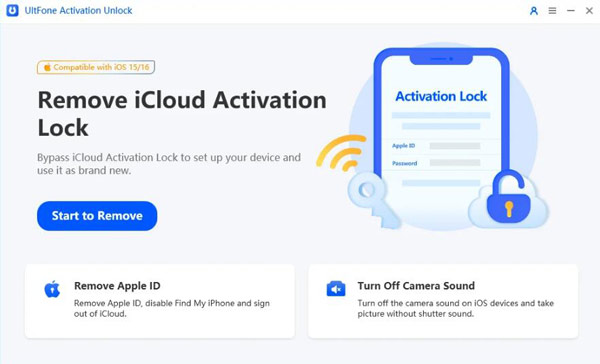 As its name indicates, UltFone Activation Unlocker is an iCloud Activation Lock removal tool. It enables you to remove the iCloud Activation Lock from your iPhone or iPad on a computer without the password.

Main Features of UltFone Activation Unlocker
Bypass iCloud Activation Lock without a password.
Remove the old Apple ID without a password and acquire a new Apple ID.
Reactivate a second-hand iPhone without the previous owner's Apple ID.
Turn off Find My iPhone/iPad without Apple ID password.
Prevent the potential tracking by removing the previous Apple ID.
Brief Review of UltFone Activation Unlocker
PROS

It can remove Activation Lock from iPhone 5s and later.
UltFone Activation Unlocker is compatible with a wide range of iOS from iOS 12 to iOS 17.
You can unlock Apple ID and iOS devices.
The concise design makes it very easy to use.
There is a free trial with basic features.
CONS

Some important features may stop working, such as cellular data, after removing the Activation Lock.
When you reset, upgrade, or restart your device, the iCloud Activation Lock will be turned on again.
In order to get the full version, you have to purchase a license, which starts at $35.95 per month.
It jailbreak your device during the process.
How to Use UltFone Activation Unlocker
Step 1 Download the installer from the official website, and install it on your desktop. Then run UltFone iCloud Activation Unlocker, and connect your iPhone to the computer with a USB cable.
Step 2 Agree the terms and conditions, and hit the Start button.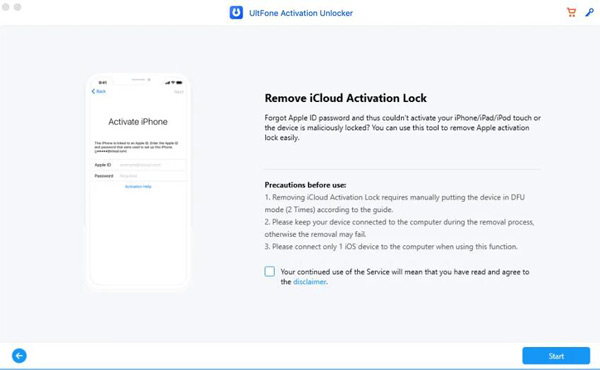 Step 3 Next, follow the on-screen instructions to jailbreak your iPhone. Then click Next to move on.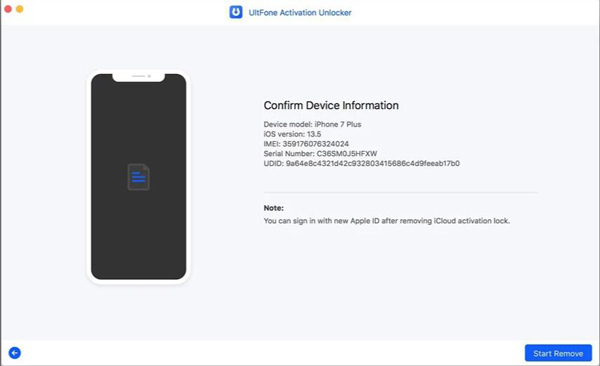 Step 4 Check your device information, and click the Start Remove button to begin removing the iCloud Activation Lock.
Part 2. Best Alternative to UltFone Activation Unlocker
The big downside of the UltFone Activation Unlocker is jailbreaking your device during the process. It is possible to bypass iCloud Lock without jailbreaking an iPhone? The answer is Apeaksoft iOS Unlocker.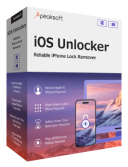 4,000,000+ Downloads
Unlock iCloud Activation Lock without jailbreaking.
Compatible with the latest iOS and iPhone and iPad.
Remove Apple ID and iCloud account without a password.
Include a wide range of bonus features.
How to Use the Best Alternative to UltFone Activation Unlocker
Step 1Connect to your iPhone
Run the best UltFone Activation Unlocker alternative after installing it on your PC/Mac. Choose the Remove Apple ID mode, and plug your iPhone to the same machine with a Lightning cable.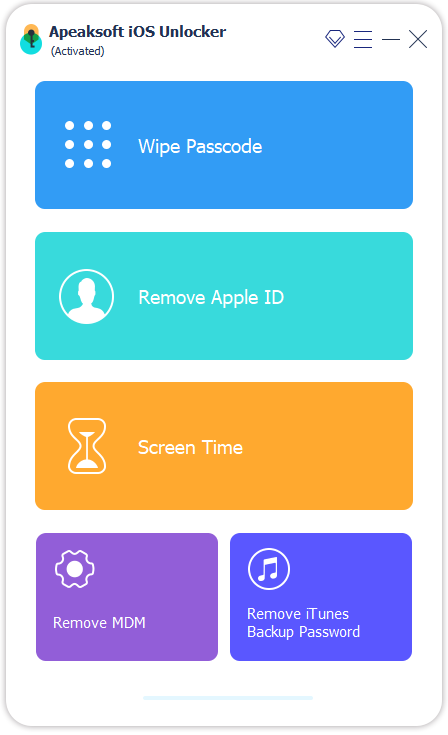 Step 2Bypass Activation Lock
Click the Start button to begin removing iCloud Lock immediately if Find My iPhone is disabled.
If this feature is enabled on your handset, input 0000, click Confirm, check your device info, and click Start. Next, enter 0000 and click Unlock.
During the process, you must keep your iPhone or iPad connected to your computer. When it is done, you will notification. Then disconnect your handset and close the UltFone Activation Unlocker alternative.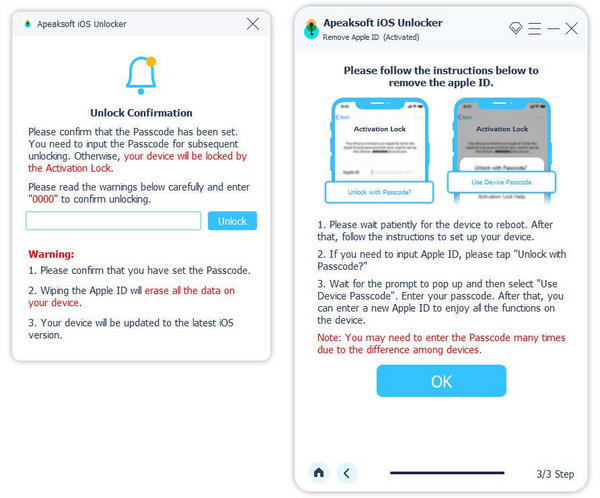 Further Reading:
Part 3. FAQs about UltFone Activation Unlocker Review
Is UltFone Activation Unlocker safe?
Yes, it is legit and safe to use. Your data and privacy originally will not be affected. However, a few of users come up with an issue that their data is being compromised during the process.
Can the iPhone Activation Lock be bypassed?
Activation Lock is closely associated with Find My, Find My iPhone, or Find My iPad. Therefore, if you turn off Find My on your iPhone, the Activation Lock is disabled too. If you forget your password, you have to find a third-party tool.
Is it legal to bypass the Activation Lock?
By default, Activation Lock is enabled on iPhones and iPad. You can disable it by turning off Find My iPhone although it is not recommended. This security measure can protect your device and privacy when it is stolen or lost.
Conclusion
Now, you should learn what UltFone Activation Unlocker is, what it can do, the benefits and disadvantages, and how to use the software. To remove Activation Lock without jailbreaking your device, Apeaksoft iOS Unlocker is the best alternative solution. If you have other questions about this Activation Lock removal tool, please feel free to contact us by leaving a message below this post and we will reply to it quickly.