Many people purchase iPhone from their carrier provider, such as Sprint, AT & T, and more. To avoid customers change carrier, providers lock iPhone devices. A few years later when the contract is terminated, you can use another carrier provider.

As competition increases, carriers release various packages with lower and lower price. The only way to enjoy carrier and package as you wish is to unlock iPhone 6 and other models. But this is not as simple as changing your SIM card.
Therefore, we are going to share how to carrier unlock iPhone 6 in this tutorial.
Note: This tutorial is the guide of unlocking SIM card from carrier. If your iPhone is locked for password-forgotten, just visit this page to unlock a locked iPhone.
Part 1

: How to unlock iPhone 6 by contacting network provider

The best way to unlock iPhone 6 is to contact your network carrier. This is the most secure method. It will not bring risk to your iPhone, both software and hardware. But there are usually some restrictions using this way.

For example, unlocking iPhone 6 Sprint is only available if:

1. Your device should be purchased after 2015.

2. You have to request for the unlocking for domestic use.

3. The domestic and international unlocking process will be done separately.

4. Your iPhone should not be on blacklist or reported lost.

You have to read the details for domestic unlocking and international unlocking on your carrier's website carefully.

Next, you have to talk to the customer service or unlock your iPhone online depending which carrier you are using.

Unlock iPhone 6 Sprint: call 1-888-211-4727 for domestic unlocking and 888-226-7212 for international unlocking.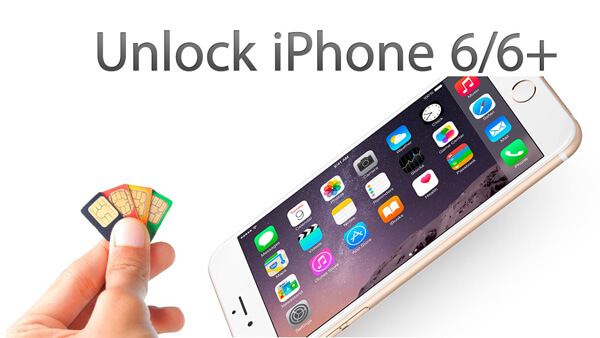 Some network services offer online unlocking feature, such as AT&T, Three, Vodafone, T-Mobile, and more.
For example, to unlock AT & T iPhone, fill out the form with your iPhone information. The carrier will unlock it in a few days if it meets the requirements.
The information required when unlocking iPhone 6 by contacting your carrier includes:
1. Your phone number. Open the "Phone" app, go to "Contacts" tab, and then you can get your phone number in "My Number".
2. Information of your iPhone account, like your first name and last name.
3. The type of your subscription contract.
4. The contract of your iPhone.
5. The email account that you used to register the subscription.
6. Other information depending on the carrier.
Before contacting to your carrier or unlock iPhone 6 online, you should take the information above in your hand.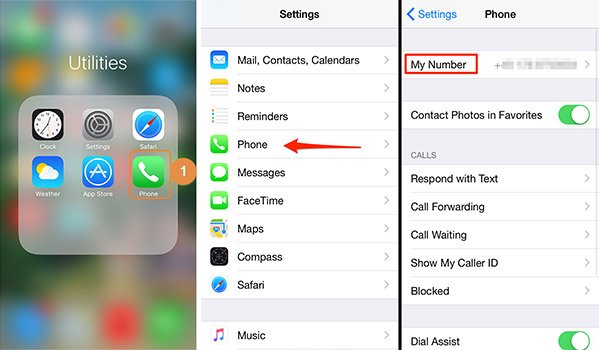 Part 2

: How to unlock AT&T iPhone with online service

Online service is a good option to unlock iPhone and switch network services. They usually require some basic information about your device, so it is important to find a proper service.

If you put your information to wrong hand, the result may be a disaster. According to our testing, IPhoneIMEI.net is available to UK and USA, and Official iPhone Unlock is a good option for rest regions. We use IPhoneIMEI.net and an AT&T iPhone as the example to show you the workflow.

Step 1: Turn on your iPhone, open the Phone app and dial *#06# to display your IMEI number. For iPhone 5 or later, you can find it on the rear case of the device.

Step 2: Switch to your computer, and visit IPhoneIMEI.net in your browser. Go to the unlock AT&T iPhone pricing table.

Step 3: Select your carrier. If you are not sure, check your contract and find it. Input the IMEI number and select your iPhone model from the dropdown list.

Step 4: If you are ready, click on the "Unlock now" button and follow the onscreen instructions to complete it.

When it is done, you can get the confirmation email from the online service.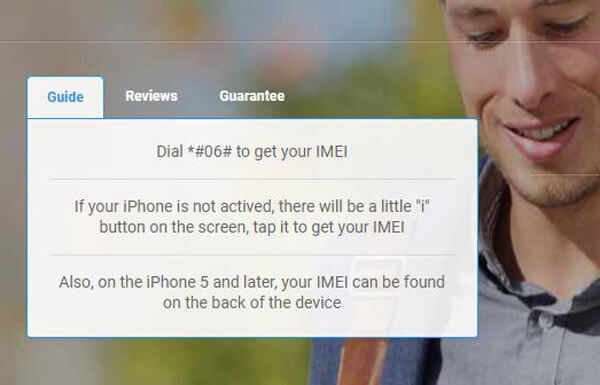 It may take a few days to complete the process, so you must be patient. Bear in mind that online services are not panacea. They cannot unlock all iPhone models, especially latest iPhone devices.
Part 3

: How to unlock iPhone 6s Sprint with iTunes

Now, some carriers, such as Sprint and AT&T, have integrated iTunes in to the unlocking process, especially for the devices without the SIM card. For instance, you have purchased an iPhone from Sprint and have requested unlocking iPhone 6s Sprint, but not got the original SIM card, follow the steps below to carrier unlock your device.

Step 1: Install the latest version of iTunes on your computer. If you have iTunes, update it. Next, connect the iPhone that you want to unlock to the computer via the Lightning cable. Open iTunes to let it detect your device. (iTunes is not recognizing iPhone?)

Step 2: Click on the "iPhone" icon and go to the "Summary" tab from left hand column. Locate to "Backups" area, check "This Computer" and hit "Back Up Now" button. This will make a full backup for your iPhone.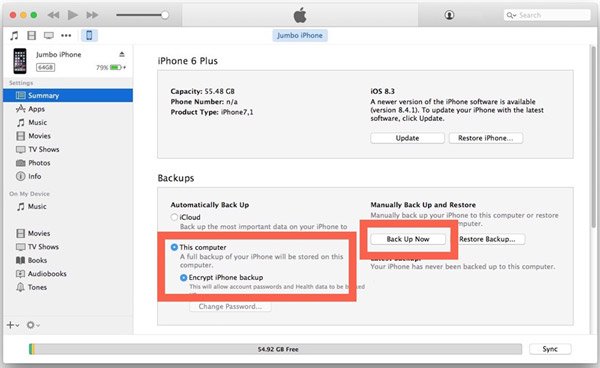 Make sure that your backup finished successfully in iTunes "Preferences" > "Devices".
Step 3: Then disconnect your iPhone, head to "Settings" > "General" > "Reset" and tap on "Erase All Content and Settings" to bring your iPhone to factory status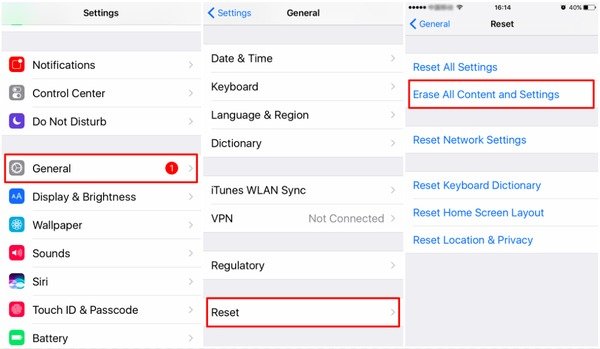 Step 4: When it is done, restart your iPhone, and you will be presented the welcome screen similar to a new device. Follow the onscreen assistant to select your language and other information.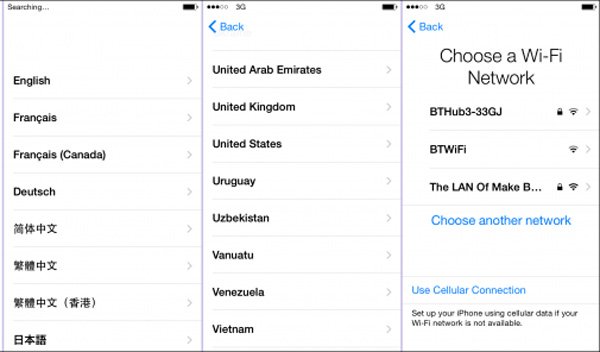 Step 5: Select "Restore from iTunes Backup" once the "Apps & Data" screen pops up. Tap on "Next", and then hook up your iPhone to your computer again.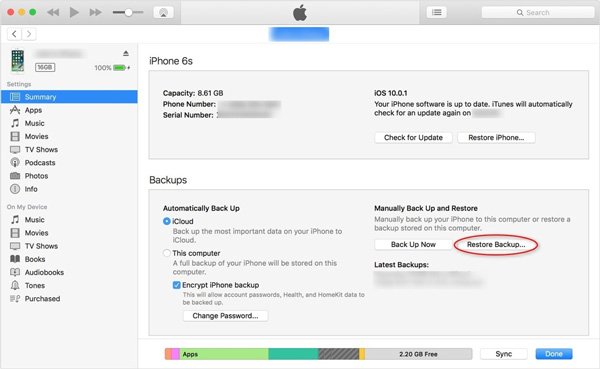 Step 6: Launch iTunes, go to the "Summary" tab, click on Restore Backup and pick up the latest backup file to restore your data to your device.
Congratulations! Your iPhone 6s Sprint is unlocked successfully now.
Conclusion
In this tutorial, we shared multiple methods to unlock iPhone 6 and other models. As you can see, without unlock iPhone devices, you cannot change network providers even though your contract ends. To get better experiences and use more cost-effective package, you need to do some work, for example, contact your carrier and make a request.
Besides, online services and iTunes are able to wipe out the lock of carrier. Anyway, it is very simple to choose your favorite approach and follow our guides to get what you want now.
If you have other questions or recommendations, please tell us below this article.