Nowadays, more and more people like watching short videos instead of dozens of pictures and long paragraphs. If you want to post something eye-catching on Facebook, you can use the Facebook slideshow feature to create photo or video slideshows directly. Facebook provides both the Facebook site and app. Thus, you can make a slideshow on Facebook on iPhone, Android, Windows and Mac.

How to Make a Slideshow on Facebook
Even though the default Facebook slideshow option is not working or missing, you can still get the best Facebook slideshow maker to make a Facebook photo or video slideshow. What's more, you can share slideshows to YouTube, Vimeo, Twitter and other platforms as well, you can make a slideshow of photos, videos and music for Facebook with 2 different tools here.
Part 1: How to Make a Slideshow for Facebook with Facebook Slideshow Maker
Some users complain that there is no such a slideshow option on the Facebook page. If you have no idea of Facebook slideshow missing, you can use an alternative Facebook slideshow maker to make a photo or video slideshow for Facebook. It is Apeaksoft Slideshow Maker that allows users to make your own Facebook slideshow video with fabulous effects easily.
For beginners, the ready-made slideshow styles and themes are helpful. You can make a stylish slideshow for Facebook by importing photos and videos easily. Of course, you can make small changes with any existing slideshow movie style. Thanks to the hundreds of customizable filters, you can also create new themes for Facebook slideshow creating.
The built-in video controller and photo & music processor can help you edit all media files. For instance, you can add music to a slideshow on Facebook in any length. After the customization, you can share and save your created slideshow to Facebook and other media platforms.
1. Make a slideshow on Facebook with 10 great slideshow themes, such as wedding, graduation, holiday and more.
2. Fully compatible with popular video and photo formats.
3. Define your unique Facebook slideshow theme with 48 types of text, 57 types of transition effects, 43 types of filters and 65 types of elements.
4. Edit any video and audio file with the built-in media editor.
5. Add background music to your Facebook slideshow.
6. Safe, clean and intuitive interface.
Step 1 Download and install Apeaksoft Slideshow Maker. Click Add photo (s) and video (s) here to import the materials to the Facebook slideshow maker software.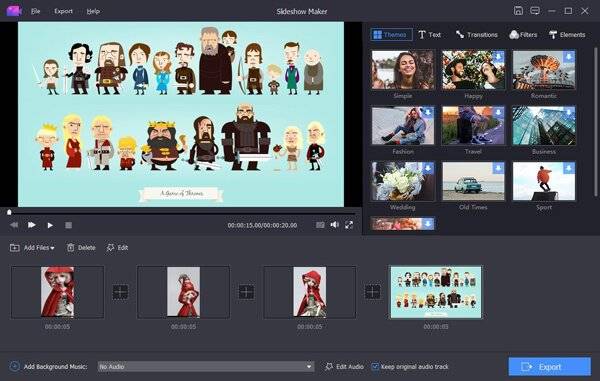 Step 2 Choose the certain photo or video. Then click Edit above to access the photo or video editor. You can rotate, adjust photo/video effects, set duration, crop photo/video and get more editing functions here. Click OK to save and move on.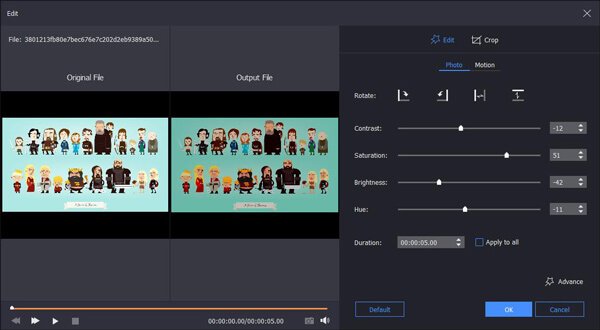 Step 3 To make a slideshow on Facebook with your own music, you can click Add Background Music near the bottom of the main interface. Browse and add any song you like. You can click Edit Audio or Keep original audio track besides if necessary.

Step 4 In the right pane of the Facebook photo slideshow maker, you can set Themes, Text, Transitions, Filters and Elements. Click on the certain item to download and try. The preview window will show you all customizations immediately. Moreover, you can personalize the output effects in the Edit window.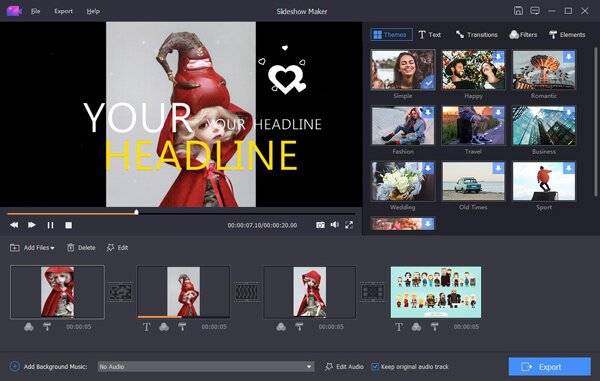 Step 5 After making a slideshow on Facebook with music, you can click Export and select the Facebook compatible video format or output device. Later, you can post slideshow on Facebook to finish the entire process.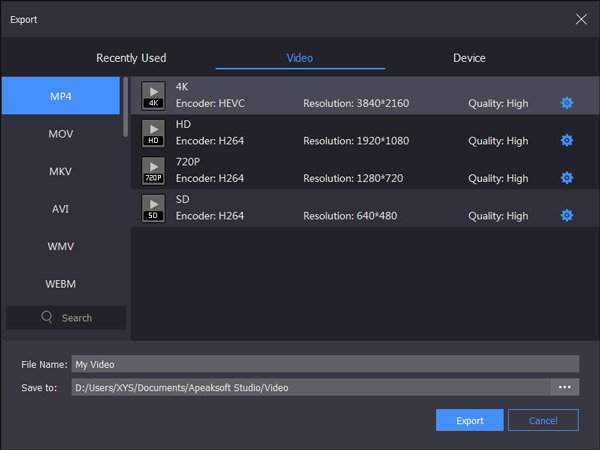 Part 2: How to Create a Slideshow on Facebook App
For mobile users, you can make a photo slideshow on Facebook app as well. Since it is a part of an online social media platform, the slideshow making and editing features are limited. You can continue reading to know how to make a slideshow on Facebook on Android, iPhone and desktop with Facebook slideshow. Be aware that the Facebook slideshow feature is not available on all pages and app versions.
Step 1 Update the Facebook app to the latest version. It is a workable solution when you don't have slideshow option on Facebook. Open a new Facebook post window as usual.
Step 2 Choose Slideshow or Create a Slideshow. Tap Add Photos to import up to 10 pictures for Facebook slideshow making. You need to edit the image aspect ratio as 1:1, 16:9 or 2:3. Later, set the image duration no more than 15 seconds.
Step 3 Then switch to the Music section to import the song. Later, you can add a title for your Facebook slideshow. Choose Next followed by Post or Share to post a Facebook slideshow.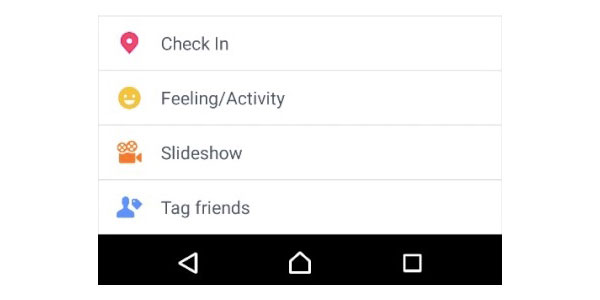 If you want to make a slideshow on Facebook with more than 10 pictures, using Apeaksoft Slideshow Maker is your better choice. You can get premade and customizable slideshow styles for both beginners and experts. Moreover, the program can export slideshows to other platforms and devices without limitations.
All in all, if you need to create a photo slideshow on Facebook with a few pictures, you can choose any solution mentioned above. For people who like creating slideshows for presentations, exhibitions, photo slides and other occasions, the built-in Facebook slideshow feature is not enough. You need to run standalone slideshow maker software to make a slideshow with unlimited photos and videos. Please feel free to contact us if you have any good idea to make a slideshow on Facebook in 2020.