Nowadays, you can access many video and photo collages on the internet and various social apps. Are you looking for a video collage maker to mix and merge multiple videos together?
It's a big trend that more and more YouTubers and video makers create video collages. With so many photo collage apps offered on the market and app store, you can easily make collage pictures. But when it comes to placing 2 or more videos side by side on one same digital canvas, you may have no idea how to do it.

Video Collage Maker Apps
In fact, it's quite easy to create a video collage as long as you have a good photo and video collage maker. Considering your need, this post like to share 5 best video collage apps for PC, Mac, online free, iPhone, iPad and Android phone.
Part 1. Best Photo and Video Collage Maker - VCU
Video Converter Ultimate is an all-featured video editing and converting tool which can work as a video editor, movie maker, video collage maker, video converter, and more for you to deal with different digital editing and conversions. It has the capability to combine and mix videos into a video collage with high quality.
Similar to the photo collage maker, it provides you with many frequently-used templates to easily place two or more videos into the frame and play simultaneously. As a video collage app, it is designed with a split-screen video editor feature that allows you to put several videos side by side. What's more, it has a Filter feature for you to quickly apply different effects like Hong Kong Movie, Sketch, Plain, Stars, Modern, Silk and more to your video collage.
How to make a video collage
Step 1First, you should free install and run this video collage maker on your computer. It allows you to create a video collage on either a Windows PC or a Mac. Select the right version based on your system and double click on its download button to get the installation.
Step 2When you enter this video collage app, choose the Collage feature. Then you can see many frequently-used layouts listed there for you to mix and merge your videos.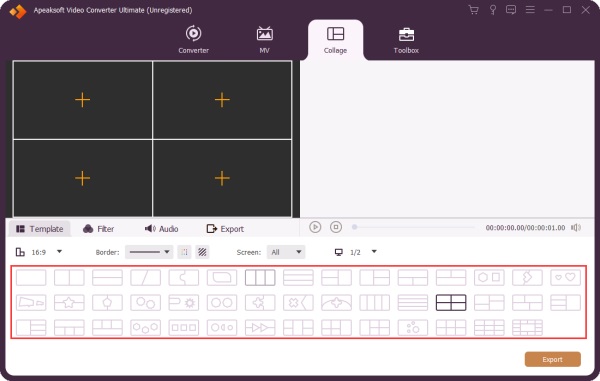 Step 3Select a suitable layout based on your need. During this step, you are allowed to freely custom the layout ratio, border size, and color to make one you really want.
Step 4This recommended Video Converter Ultimate is actually a photo and video collage maker that enables you to mix both photos and video clips. So here you can click the plus icon to add your videos or pictures one by one.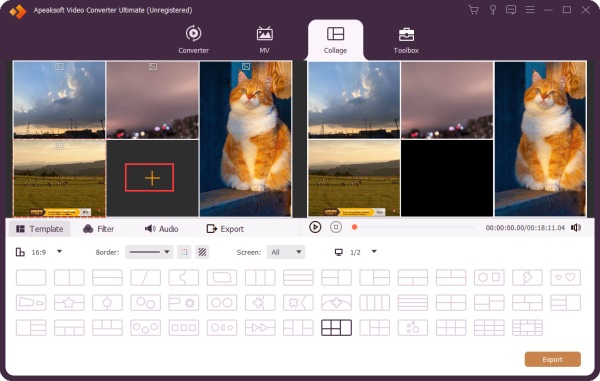 Step 5As mentioned above, this video collage maker comes with various filters and editing features. You can hover your mouse over the video or image you added, and then you can see a floating bar to do more operations. You are able to adjust the original audio track, add new background music, trim video, reset scale and position, and apply the filter, and so on.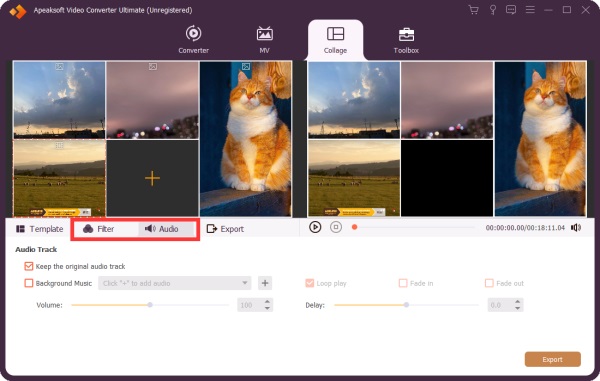 Step 6This photo and video collage maker is designed with a Preview function. Before exporting the video collage, you are allowed to preview it. If you are satisfied with the result, you can click on the Export button to move on.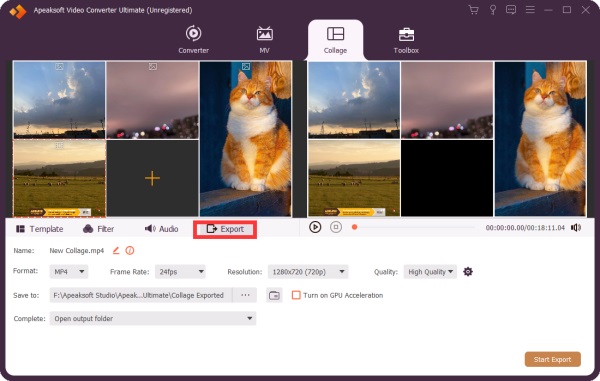 Step 7Now you will be guided to the Export section. Here you can select the specific video format, frame rate, resolution, and quality for the exported video collage file. This powerful tool carries the advanced hardware accelerating technology that can give you a fast editing and converting speed. Before exporting video collage, you can tick the box of Turn On CPU Acceleration.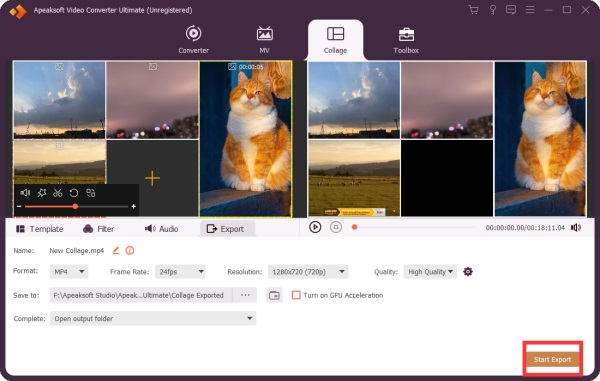 After all these operations, you can simply click on the Start Export button to save the video collage on your computer. Besides making video collage, you can compress a video to upload it to the social media.
Part 2. Online Photo and Video Collage Maker - Kapwing
Kapwing Collage Maker is a popular online video collage app that allows you to place images, GIFs, and videos side by side on the same digital canvas. It offers a straightforward way to quickly combine video clips together to create multimedia collages.

This online video collage maker is designed with a concise timeline and layout. You can easily select a suitable collage template according to your need. Similar to the recommended video collage app above, it also enables you to design a custom collage layout. It is compatible with most web browsers including Chrome, Safari, IE, Firefox, Yahoo, and more.
Step 1When you want to create a video collage online, you can open your browser and navigate to its site. Click Get Started or Upload File to start mixing your videos or images. It also allows you to upload a file through URL. Then you will be taken to the Studio page.

Step 2Click Add Media to upload all video clips, photos or GIFs. When you move your mouse onto the added file, you can see a big plus icon for you to put it to the Timeline. You can add your videos or pictures to the video collage one by one. After adding, you can freely adjust the file position and size based on your need.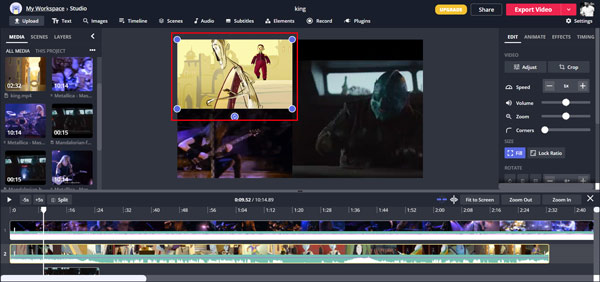 Step 3After editing, you can click on Export Video button on the top right to the video collage file you just created as an MP4 video, GIF file, image or MP3 audio. Also, it offers a Share feature for you to create a link for sharing with others.
Part 3. Online Free Video Collage App - Fastreel
Fastreel Video Collage Maker is an easy-to-use online video collage creating service that helps you mix and combine several videos or images together. Compared with the Kapwing Collage Maker above, it is designed with fewer editing features. When you get to the Video Collage Maker page, you can only see some frequently-used templates offered there. If you're a YouTuber, you can use it as a Vlog editor.
Step 1When you need to place video clips or images side by side, you can go to its page on your web browser and select a suitable layout to start creating your video collage.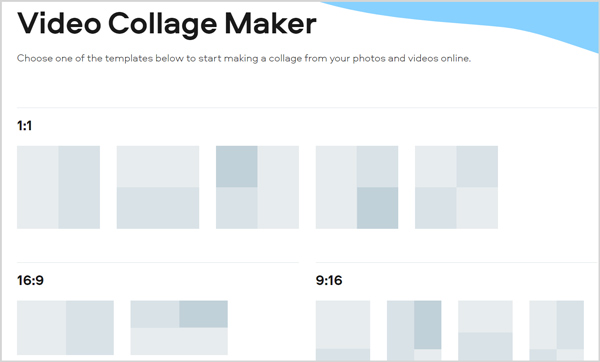 Step 2Click on the template you need, and you will be taken to the Upload File page. Here you can click on the Upload File button to add your videos or images one by one. It will take some time to complete the uploading process, be patient.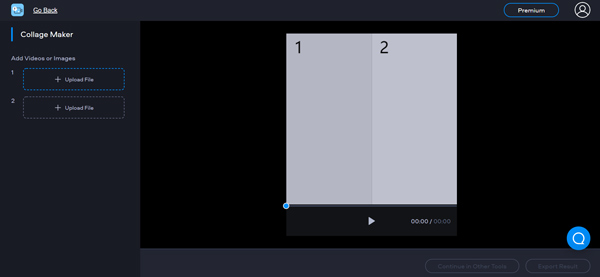 Step 3This free online video collage maker allows you to mute audio or not. But it doesn't allow you to add new background music for the output video collage. What's worse, you cannot freely adjust the added file position or size. You are allowed to preview the video collage. Then you can click Export Result button in the bottom right corner to save it on your computer.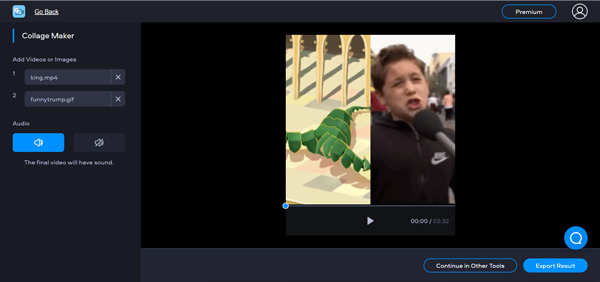 The free version of this video collage maker will output a file with watermark. If you want to remove the watermark, you have to upgrade to its paid version.
Part 4. Photo and Video Collage Maker for iPhone and iPad
Video Collage and Photo Grid is a photo and video collage maker for iOS devices like iPhone and iPad. If you like to create a video collage directly on your iPhone or iPad, you can open App Store and install it. Video Collage and Photo Grid support iOS 8 or a later version.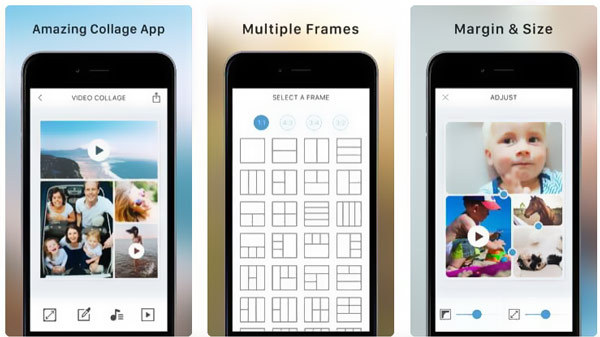 It carries multiple frames for you to choose from. Moreover, it gives you full control of the added file size and position. You can handily select and custom the texture or the color of the frames of each video or photo. Besides loading videos or photos through your Camera Roll, you can capture new footage with the video collage app.
This photo and video collage maker offers some basic editing features like Crop for you to better create a video collage file. In addition, it enables you to adjust the audio track according to your need. But this feature is not free. You should make an in-app purchase to get it.
Part 5. Photo and Video Collage App for Android Phone
Video Collage Maker is a powerful photo and video collage creating app which developed by Momentic Apps. It has the capability to mix and merge multiple videos and photos together on your Android phone. Besides merging videos and photos together, it allows you to mix and merge audios from videos.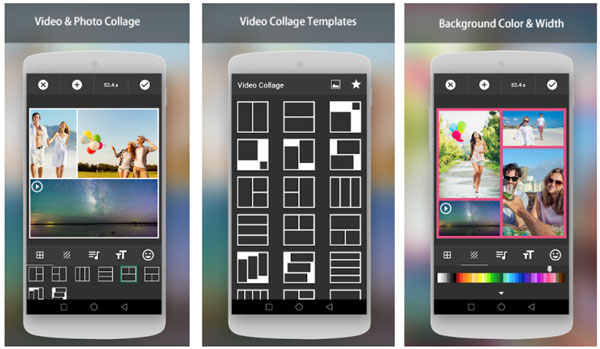 This all-featured video collage app enables you to custom the border width of template layouts. In addition, it can add additional music, text or stickers to the video. After you create a new video collage, it will be saved in Gallery on your Android device by default. When you want to make a video collage, you can go to Google Play Store and free install it on your Android phone.
Part 6. FAQs of Video Collage Maker App
Question 1. How do I combine multiple videos into one?
Many video editors offered on the market can help you combine two or more video clips into one. You can use the recommend Video Converter Ultimate above to merge videos with ease.
Question 2. How do you put multiple videos in one frame on iMovie?
Open iMovie, and go to Preferences and then make sure the Advanced Tools feature is enabled. Now you can add the first video clip to the project. Drag and drop the second video clip into the project on the frame. You can select Cutaway, Picture In Picture, Side By Side, or another option from the pop-up window. After that, you can put them in one frame.
Question 3. Can I add my own face to a video?
Yes. You can choose to directly capture your face through a webcam and place it on one video you want. You can rely on Screen Recorder to record your own face while playing video. It is able to record them with high quality even up to 4K. More importantly, you are allowed to adjust the face capturing size and place it on any region of the video.
Conclusion
We have mainly talked about video collage app in this post. You can get 5 great photo and video collage makers for computer and portable iOS/Android devices. When you want to create a video collage, you can pick your preferred one to make a travel Vlog. For more questions about the video collage maker, you can leave us a message.