Are you boring about still photos? Can you imagine that your photos can be turned to animated presentations? All you need is a photo slideshow maker for your device. It can help you to arrange your photos and display them one by one automatically. Plus, you can add your favorite music as the background.
However, it is not always easy to figure out which application can meet your need best. There are a lot of software and mobile apps on market and each of them offers different benefits. That is why we share this post, to help you find the right photo slideshow creator.

Part 1

: Top 8 Slideshow Makers on Desktop
Top 1: Apeaksoft Slideshow Maker
No matter you are a beginner or an advanced user, Apeaksoft Slideshow Maker can meet all your need on slideshow making. You can find a lot of pro-level features designed in the easy-to-use way.
PROS

Make a slideshow with photos and video clips simply.
Provides extensive themes and templates for beginners.
Add built-in music or your own songs to a photo slideshow.
Decorate slideshows with filters, text, transitions and more.
Include bonus tools, such as photo and video editing.
CONS

It may take a moment if you make a very long slideshow.
Needless to say, it is the best slideshow maker with music for your PC.
How to Make a Photo Slideshow with Music
Step 1 Install the best slideshow creator
When you have some photos and want to turn them to a photo slideshow, install the best slideshow maker to your computer. Then launch it, drag and drop the photos and video clips on the storyboard area in the main interface.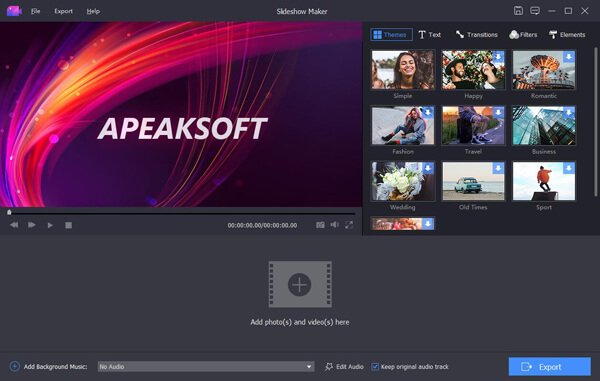 Step 1 Make a slideshow with music
Adjust the order of media files in storyboard. Use the tools on the right side to decorate your slideshow with theme, text, filter, transitions and stickers. To add music to your slideshow, click the Plus icon in front Add Background Music and import the desired song. Alternatively, you can use the built-in music in the drop-down list.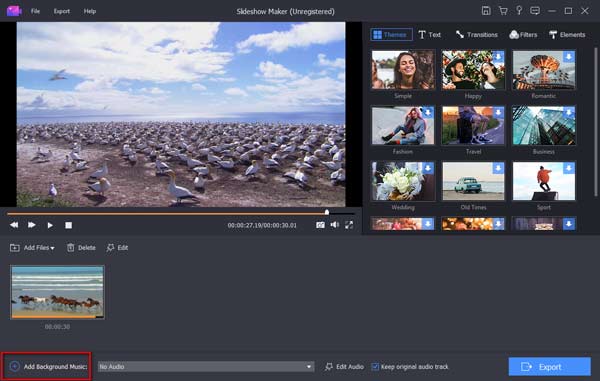 Step 3 Export your slideshow
Preview the slideshow and click Export button if you are satisfied. On the export dialog, go to the Video tab and select the proper format, or head to the Device tab and choose the target device. Write down the filename and set the destination folder. Hit Export button again to finish it.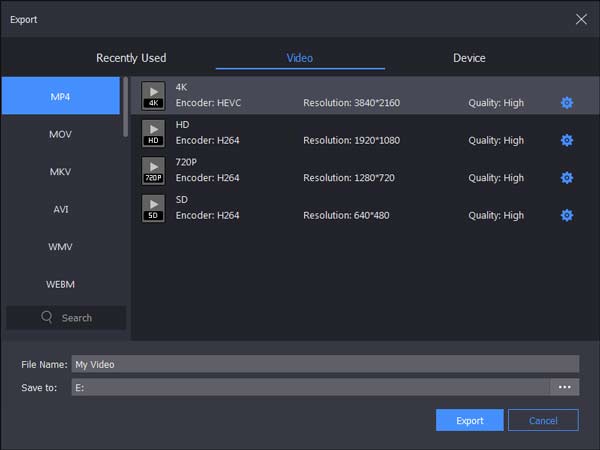 Top 2: iMovie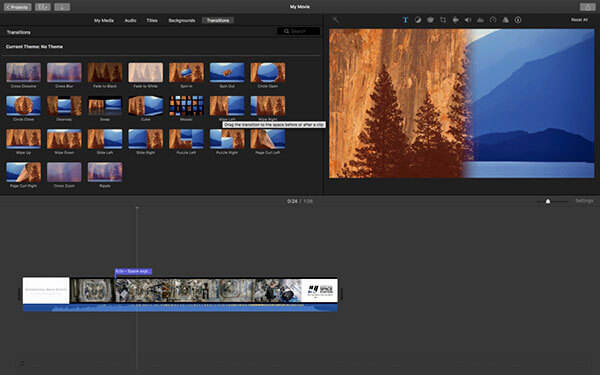 iMovie is not only a free video editor, but also a photo slideshow creator for Mac. You can create a project, import several photos and arrange them on the timeline, and save the slideshow simply. Learn the details here to create a slideshow in iMovie.
PROS

Free to use without ads.
Include photo editing features.
Built-in several transitions for slides.
CONS

It is only available to Mac.
The output formats are limited.
Top 3: Windows Movie Maker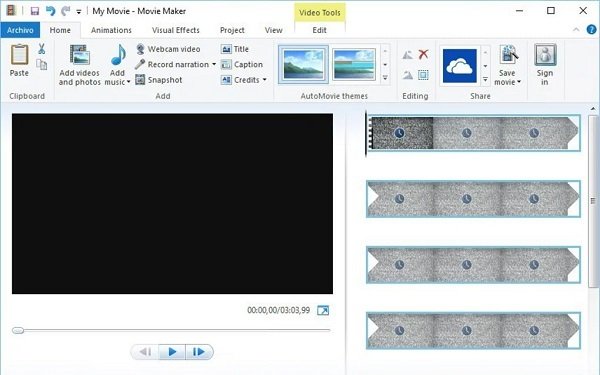 Windows Movie Maker is the counterpart of iMovie for Windows. As a free slideshow maker, it can meet the basic need of slideshow making. Of course, you can expand it with third-party plugins.
PROS

Available to most PCs for free.
Make a slideshow with photos and videos.
Share your slideshow to YouTube directly.
CONS

There is no support of Mac.
It lacks advanced features.
Top 4: 4K Slideshow Maker
As its name indicated, 4K Slideshow Maker is a good starting point. Beginners can create a slideshow using this slideshow creator with no experience. Plus, the output quality is pretty good.
PROS

Export a photo slideshow in 4K.
Share the result to YouTube or Facebook.
Integrate effects and transitions.
CONS

There are no pro features.
It is only compatible with Windows.
Top 5: Icecream Slideshow Maker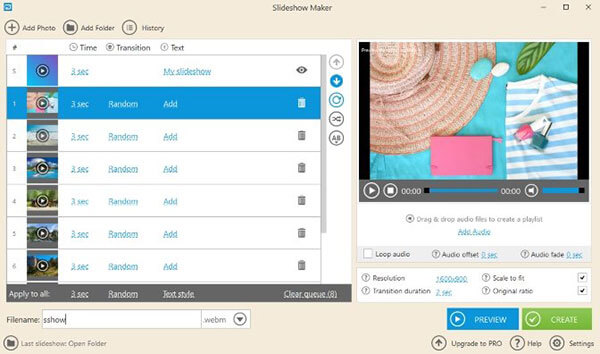 This video and picture slideshow maker are another way to convert your photos or albums to animated content. The built-in media player permits you to clearly monitor the effect in each step.
PROS

Share result to YouTube and Google Drive.
View current and old slideshows.
Use time, transition and text tools.
CONS

Mac users cannot use it.
The free-trial has some limitations.
Top 6: CyberLink MediaShow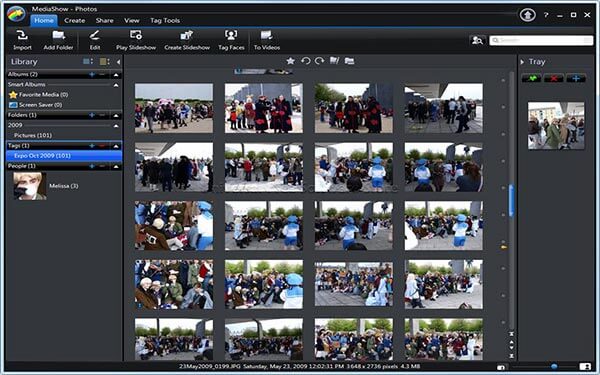 If you need a photo manager with slideshow making feature, CyberLink MediaShow is a good option for Windows users. It can organize your photos and videos, and offer a bonus tool, slideshow maker.
PROS

Scan photos on hard drive automatically.
Offer 31 transitions.
Add audio tracks to slideshow.
CONS

It is large and may freeze while editing.
Some features need to charge.
Top 7: Photostory Deluxe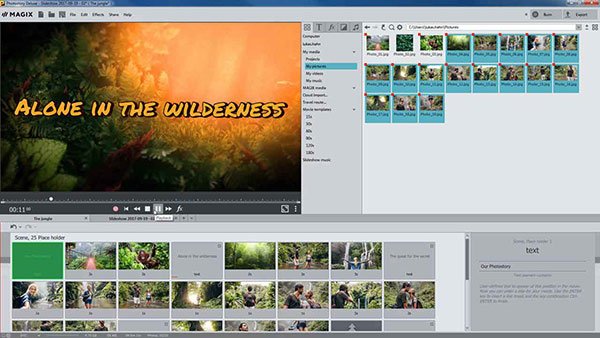 Photostory Deluxe is a professional photo slideshow maker with music. It provides extensive advanced tools to edit, decorate and smooth your slideshow. Plus, You can find oceans of built-in elements.
PROS

Offer hundreds of transitions, background and filters.
Purchase more elements from in-store app.
Support a variety of media formats.
CONS

It is expensive.
The technical support needs extra cost.
Top 8: Freemake Video Converter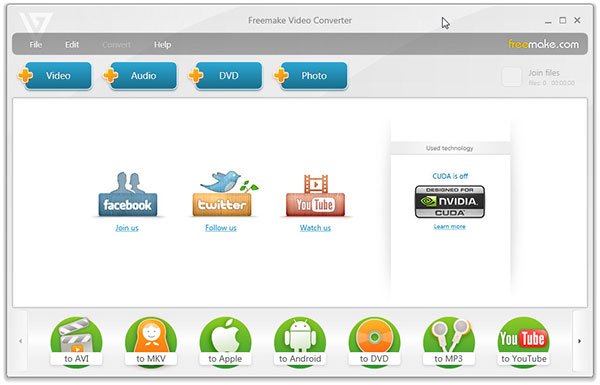 Freemake Video Converter is another free photo slideshow maker for Windows 10. You can get it from the official website for free, import several photos and turn them to a video slideshow.
PROS

Make a slideshow with photos and videos.
Add background music.
Burn slideshow to DVDs directly.
CONS

There are no tools to edit photos.
You cannot preview the result.
Part 2

: Best Online Slideshow Maker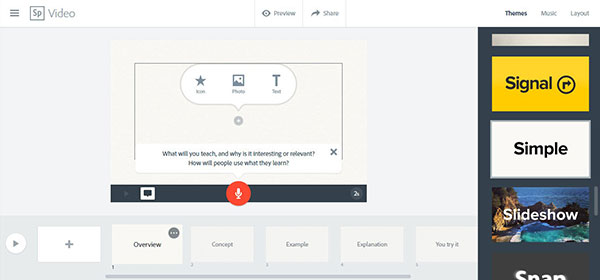 When it comes to the photo slideshow maker online, Adobe Spark is one of the best choices. It is the web app developed by Adobe.
PROS

Make slideshows online for free.
Offer basic tools for slideshow making.
Include dozens of templates.
CONS

It takes longer time to upload photos.
It requires a good internet network.
For more web-based photo slideshow creators, you can find from here.
Part 3

: Top 8 Photo Slideshow Maker Apps
Top 1: SlideLab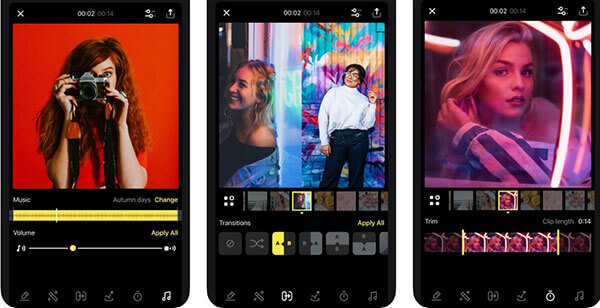 Platform: iOS 11 and up
Price: Free with in-app purchase
SlideLab is a picture slideshow maker with music for iPhone and iPad. It helps you to transform your videos and photos into amazing slideshow on mobile device without extra hardware, and save the slideshow on iPhone easily.
PROS

Import photos from Camera Roll.
Batch edit photos and videos.
Offer a large collection of background tracks.
CONS

It is only compatible with new devices.
Many features need to purchase.
Top 2: Pixgram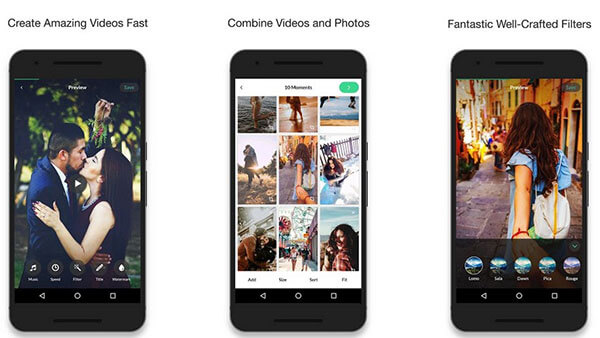 Platform: Android 4.3 and above
Price: Free with ads and in-app purchase
Pixgram is one of the best video and photo slideshow maker with music for Android users. You can add some photos from your Gallery app, apply filters and music, and share the slideshow to your friends.
PROS

Add local or online music to slideshow.
Enhance your slideshow with filters.
Instant share the result to social networks.
CONS

You have to view annoying ads.
Top 3: InShot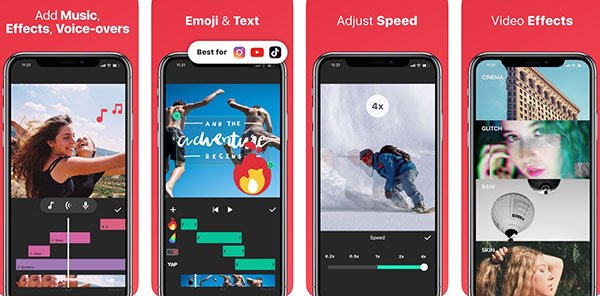 Price: Free with in-app purchase
InShot is an all-in-one photo slideshow maker with music app for both iPhone and Android phone. You can find almost every tool necessary for slideshow making.
PROS

Edit photos, videos and music.
Add text, emoji, and more on slideshow.
Share the result in high resolution.
CONS

The full features is only accessible with Pro subscription.
Top 4: Quik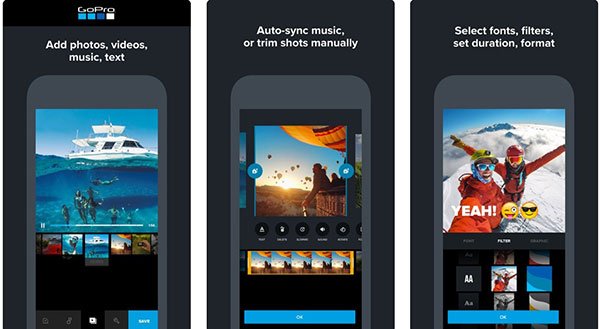 Price: Free
Though this free slideshow maker app was released by GoPro, everyone can use it on iPhone or Android device. You can create awesome slideshows within a few taps.
PROS

Add up to 200 photos and video clips.
Support various media formats including Live Photos.
Offer themes and background music.
CONS

It only works on the latest mobile devices.
Top 5: VivaVideo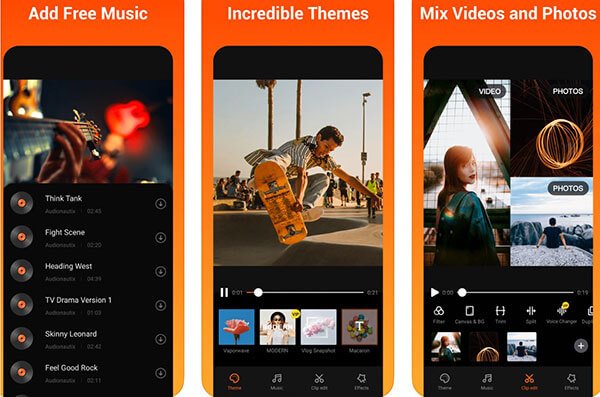 Price: Free with in-app purchase
VivaVideo is a popular video editor app available to both iPhone and Android phone. Moreover, it is built-in a slideshow maker as well.
PROS

Turn photos into slideshow in a few taps.
Include a music library.
Edit photos on mobile.
CONS

Only subscribers can export slideshows in high quality.
This app is large.
Top 6: Scoompa Video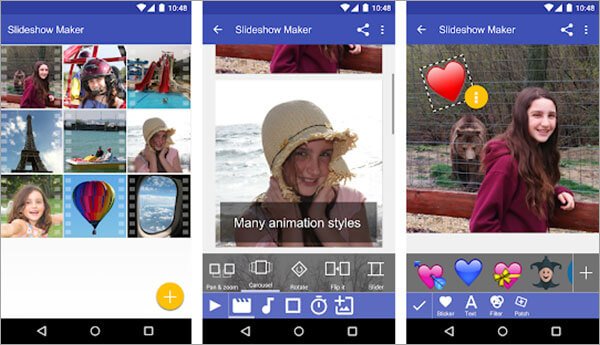 Platform:Android
Price: Free with ads and in-app purchase
This photo slideshow maker app lets you get an awesome slideshow with your photos on Android phone quickly. The user-friendly interface is pretty nice.
PROS

Add photos from Gallery, camera or web.
Preview photo and video materials.
Apply style, sticker, music, text, and filter.
CONS

You have to pay for ad removal.
It only works on new Android devices.
Top 7: Splice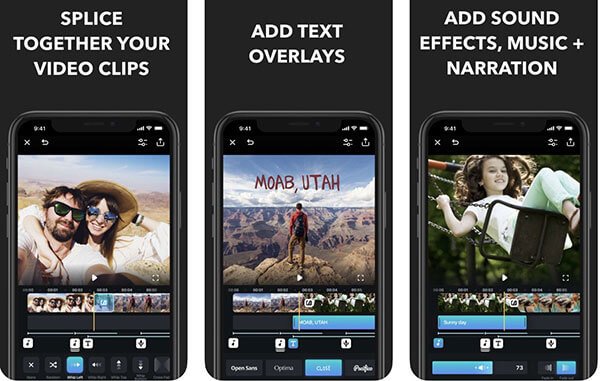 Price: Free with in-app purchase
If you need a versatile photo and video slideshow maker app, Splice can meet your need. It includes a wide range of editing tools for producing video slideshows.
PROS

Combine photos and videos together.
Trim, crop, and cut photos and videos.
Add transitions and control the speed.
CONS

It requires iOS 11 and above.
It may slow down your device.
Top 8: PicPlayPost
Platform: Android 4.3 and up
Price: Free with ads and in-app purchase
PicPlayPost is a versatile photo slideshow maker with music app for Android phone and tablet. Though it lacks some important features, this app is still a simple way to get what you want.
PROS

Make a slideshow up to 5 minutes.
Share slideshows in full 1080p.
Integrate a photo collage tool.
CONS

It cannot edit photos.
Some media files are not supported.
Part 4

: FAQs of Picking up Best Photos Slideshow Maker

Question 1: Can Google Photos make a slideshow?

Answer: Yes, you can make a slideshow with Google Photos in a web browser. Unfortunately, this feature is not available to Google Photos app for iOS and Android now.

Question 2: What is the best free Photo Slideshow Maker?

Answer: For desktop software, Windows Movie Maker is the best free photo slideshow maker for Windows, and iMovie is the best option on Mac. For mobile-first, Quik is a good option to make photo slideshows on iPhone and Android.

Question 3: How do I make a slideshow of pictures for free?

Answer: Install a free photo slideshow maker on your device, import pictures from local drive or memory, adjust the order and add transitions, then save or share the slideshow.
Conclusion
We have researched the most popular photo slideshow maker software and apps, and listed the best list above. No matter you wish to turn your photos to slideshow on computer or mobile, you should read the review carefully and find your favorite one. We suggest you to try Apeaksoft Slideshow Maker if you have a computer. Better recommendations? Please, write it down below.