Is it possible to reset Android phone when locked? The answer is yes. According to the recent survey, Android is safer than iOS now, partly because there are a variety of methods to lock an Android phone. That makes hacking or spying an Android device more difficult. And cybersecurity experts suggest people should change Android phone password regularly. The result is that more people forgot their password and locked out. Moreover, some software issues could lead to Android lock, such as system freezing and touch screen not responding. In this tutorial, we are going to show you how to reset Android phone when locked.

Part 1

: How to reset Android phone when locked through Recovery mode

When you were locked out of Android, it is impossible to reset Android phone with the Settings app. But recovery mode is still feasible. Recovery mode is able to reset Android phone when locked without booting into Android system. Though it is a little complicated, you can follow the guides below.

Step 1. Power off your Android phone

Press the "Power" button until you see the power off screen. Then swipe or tap "Power off" to shut down your device.

Step 2. Boot into the recovery mode

Hold the button combination of recovery mode after the screen turns black. When the recovery mode screen shows up, release the button combination.

The general combination of recovery mode are the "Volume Down" and "Power" buttons, or the "Power" and "Home" buttons. The unique combinations include:

On earlier Samsung phone models: the button combination is the Volume Up, Home and Power keys. On Galaxy Note 8, you need to press the Power, Volume Up and Bixby button at the same time.

For Nexus devices: the button combination is Volume Up + Volume Down + Power buttons.

On HTC phones: hold down the Volume Down button and then push the Power button together.

On Moto phones: hold down Volume Down, Home and Power buttons simultaneously.

On LG devices: push both the Power and Volume Down buttons at the same time until you see LG logo, release the buttons, and then hold the button combination again to boot into recovery mode screen.

Step 3. Reset Android phone in Recovery Mode

When you are presented the recovery mode screen, the "Volume Down" and "Volume Up" buttons could help you to shift between the menus and the "Power" button is used to execute the command. Select and execute "Wipe data/factory reset". When prompted, implement the "Yes" option. You Android phone will be reset even when locked.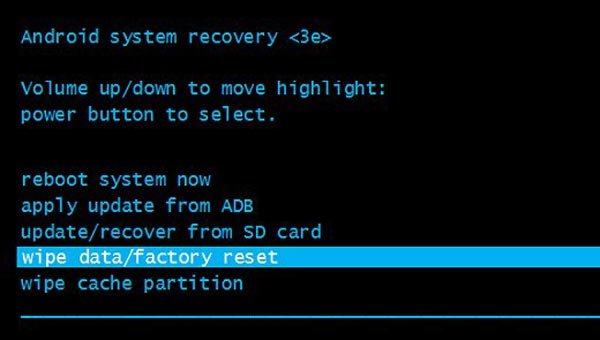 Part 2

: Remotely reset locked Android phone with Android Device Manager

Another way to reset Android phone when locked is Android Device Manager. It is a location-based service that has the capacity to find, lock and erase an Android device remotely. If you want to use Android Device Manager, your Android phone should connect to the internet through Wi-Fi or cellular. And your device has installed Google account.

Step 1. Access Android Device Manager in your browser or put www.google.com/android/devicemanager in the address bar and press Enter key.

Step 2. Once you enter the Google account associated with your phone, Google will search and locate your device on the map.

Step 3. You will be presented three options on the Android Device Manager. Click Erase and then hit Erase again on the pop-up warning message.

Step 4. When you see the message said Factory Reset [date], you can restart your Android phone and set it up as a new device.

Note: This is how to factory reset your Android phone and all your apps, music and settings will be erased. After reset, Android Device Manager will no longer work because the Google account and internet connection are deleted on your phone. But it will not wipe the content on the SD card in your phone.

If your phone is offline, the factory reset command will be performed as soon as it goes online.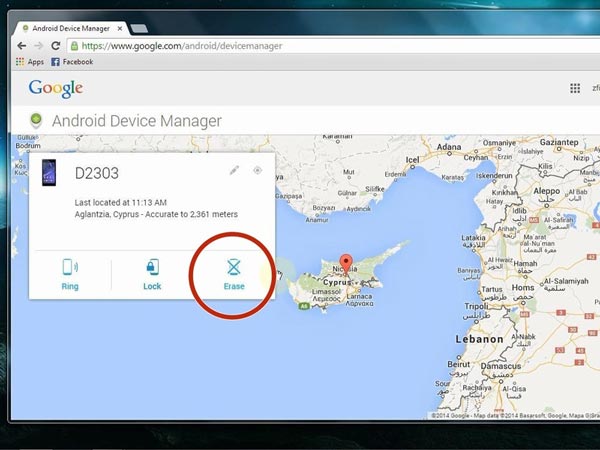 Part 3

: Fix locked Android phone data before hard reset

As you can see, there are multiple ways to reset Android phone when locked. And they can help you remove the issues that caused you are locked out of your Android phone. At the same time, they will clean your important information, files and documents on your phone as well. So, you'd better create a backup for your locked device before reset. From this point, we recommend Apeaksoft Broken Android Data Extraction. Its main features include:

Broken Android Data Extraction
Fix Android phone data when the device is frozen, crashed, black screen, attacked by virus, or locked.
Extract important data, such as contacts, messages, call history, WhatsApp, photos and other files from broken or locked phone.
Save entire Android phone to your computer even it is inaccessible.
Support all Android phone models from Samsung running Android Oreo/Nougat/Marshmallow/Lollipop and earlier.
Available to Windows 10/8/8.1/7/XP and Mac OS.
Download for Win
In short, Broken Android Data Extraction is an easy to use tool for backup inaccessible Android devices.
How to fix locked Android phone data before hard reset
Step 1. Preparation for fixing locked Android phone data
Download and install Broken Android Data Extraction on your PC. Connect your locked phone to your computer using a USB cord.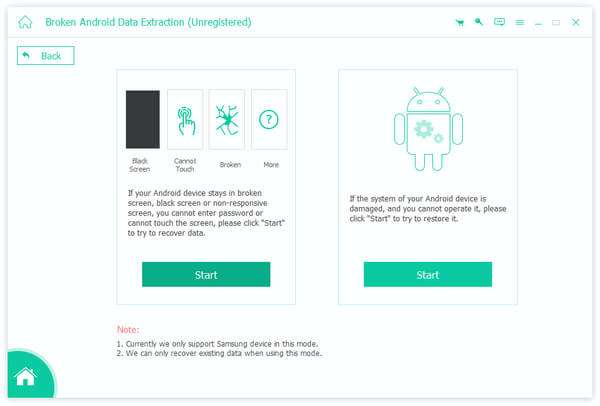 Step 2. Scan your locked phone for data recovery
Read the messages carefully and click the Start button in corresponding section. Then pick your phone name and model, and click Confirm to move on. After switch into Download mode following the onscreen instructions, click Start again to scan your phone data.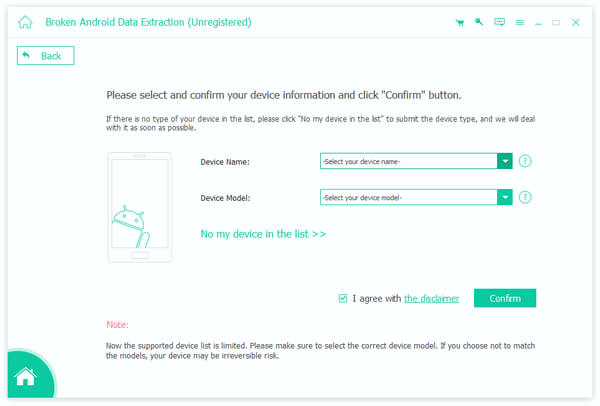 Step 3. Enter the Download mode
Follow the three steps as the interface tells to enter the Download mode, and click "Start" to fix your phone.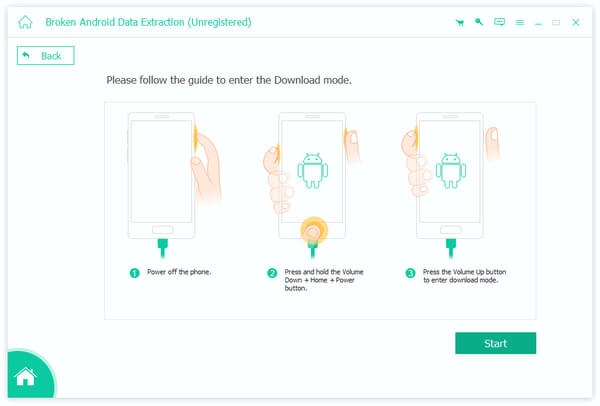 Step 4. Extract data from locked phone
After that your phone data will be scanned. You can view and recover all phone files like contacts, messages, WhatsApp, call logs, photos, and more. You may also want to know how to fix bricked Android phone.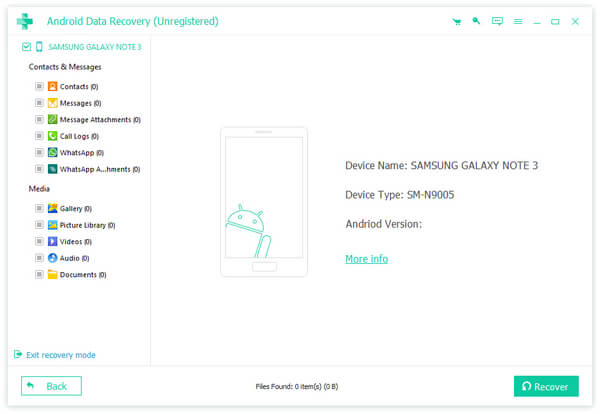 Conclusion
In this tutorial, we have shared multiple solutions to reset Android phone when locked. The Recovery mode allows you to restore your Android phone to factory settings without login the device. And the Android Device Manager has the capacity to reset an Android device when locked as well. You could learn about the step-by-step guides of these methods above and solve problems on your phone. In order to avoid Android data loss, we also recommended a professional tool for fixing Android devices and extracting data from locked phone, Apeaksoft Broken Android Data Extraction. Anyway, we hope you have get what you need in our tutorial and enjoy your handset as usual.