We take our smartphone here and there all the time. There are chances that someone else takes your phone because of the same lock screen. Many people want to distinguish their smartphone from others.

Customized lock screen is a good idea and all you need is an app, such as PIN Look Screen. What is it, what it can do, is it worth to use, and how to use it? You may be confused by these questions. Don't worry! We are going to tell you all knowledge you need to know about PIN Lock Screen and you can get more options to redesign your lock screen.
Part 1

: Information about PIN Lock Screen

Key features of PIN Lock Screen:

1. It has the capacity to set PIN password to improve the security of your smartphone.

2. With it, you can launch your frequently used apps from lock screen quickly.

3. It permits you to change the background of your lock screen with HD wallpapers.

4. You can look at clock and date on your lock screen with concise designs.

Pros:

1. PIN Lock Screen is totally free to download from Google Play.

2. You can enjoy all features without viewing ads.

3. This lock screen app is easy to use, especially for beginners and non-tech savvy.

4. It is compatible with a wider range of Android device.

Cons:

1. It lacks some features as lock screen app, for example alert when someone else tries to unlock your phone, or add widgets or apps on your lock screen for quickly accessing.

2. This app does not support fingerprint or other biometrics screen locks.

3. Some users reported it tries to install other apps quietly.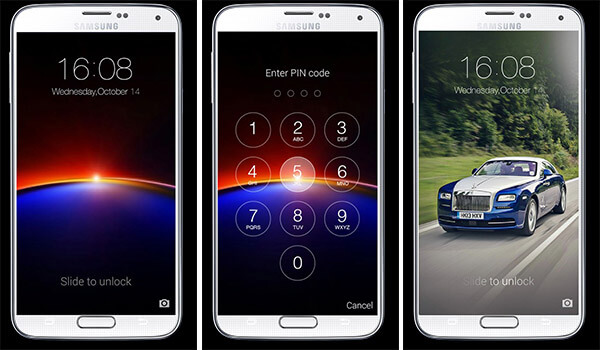 Part 2

: How to use PIN Lock Screen

Want to change your lock screen? Follow the steps below to use PIN Lock Screen on your device.

Step 1: Connect your phone to a Wi-Fi network and go to your Google Play Store. Search and install Pin Lock Screen on your device.

Step 2: Next, launch the app from your home screen. First of all, tick the checkbox in front of "Lock Enable". This will turn on the app.

Step 3: To set up PIN password on your phone, check the box of "PIN Lock" and enter some digits. You'd better remember the PIN code; otherwise you will be locked out of your phone.

If you do not set up PIN Lock in the app, it will enable "Slide To Unlock" instead.

Step 4: Touch the "Change Background" option below PIN Lock; you will be presented HD lock screen wallpapers. Select your favorite one.

If you want to disable PIN Lock Screen, go to the app and uncheck "Lock Enable" simply.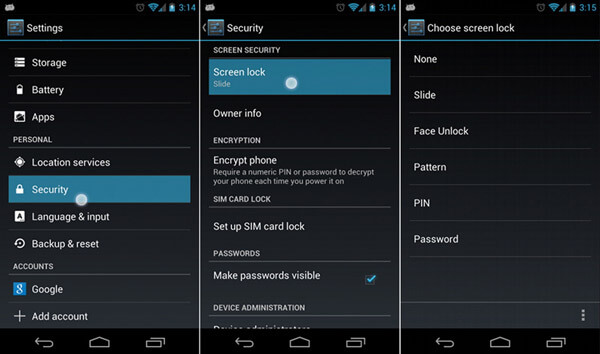 Part 3

: Three alternative programs for PIN Lock Screen

In this part, we will share more options offering similar features of PIN Lock Screen.
Top 1: Solo Locker
Key features:
1. Lock screen with photo passcode, character password, pattern and fingerprint according to your demands.
2. Offer 9 photo styles to create unique screen locks.
3. Add widgets, notifications, music player and more on lock screen.
4. And you can use your name as your lock screen.
5. Change background, text style, layout and more of your lock screen.
6. Access frequently used apps from your lock screen quickly.
Pros:
1. This PIN Lock Screen alternative is compatible with a wider range of devices running Android 4.0 or above.
2. It is lightweight and not taking up much storage and CPU.
3. The built-in wallpapers are beautiful.
4. It provides rich features and custom options.
Cons:
1. The music player widget does not work fine.
2. It is free of charge, but some features need to purchase in app.
3. There is no support team or video tutorial.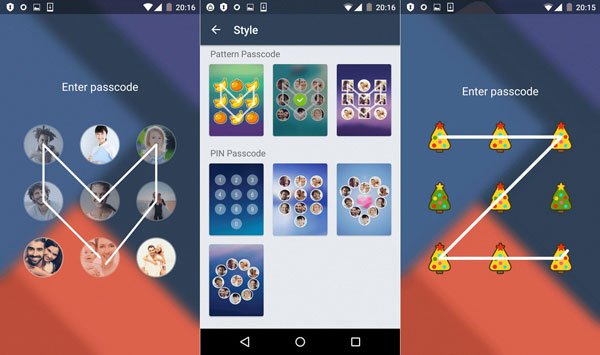 Top 2: CM Locker
Main features include:
1. It uses advanced technology to protect your confidential data and information on Android phone.
2. Lock your phone screen, apps, photos, contacts and more with latest security measures.
3. Snap the intruder's face with your front camera when he or she enters wrong password.
4. Offer awesome HD wallpapers and themes to stylize your lock screen for free.
5. Add lock on third party apps, like Facebook, to prevent others from spying on your messages.
6. Phone Booster & Battery Saver function is able to extend battery life up to 30%.
Pros:
1. This PIN Lock Screen replacement offers plentiful features for free.
2. It supports PIN, pattern and fingerprint screen lock.
3. This app is use friendly and easy to use.
Cons:
1. This free lock screen app contains annoying ads.
2. There is no option to remove ads or purchase in app.
3. It is only compatible with latest Android devices.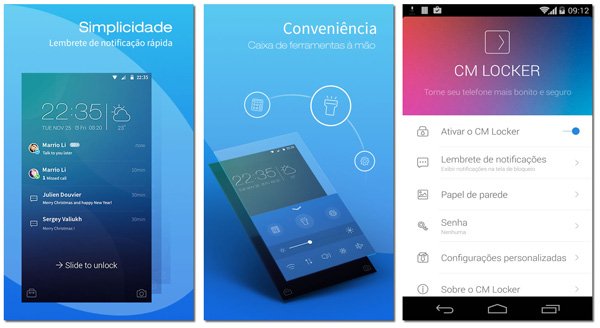 Top 3: Hi Locker
Principal features:
1. It supports a wider variety of screen locks, like password, PIN, and fingerprint.
2. With this app, you can customize everything on your lock screen with your own style.
3. Add your name on a proper location of lock screen.
4. Display or hide notifications by swiping left or right simply.
5. Reset, add or remove lock screen wallpaper at any time.
6. Turn off password or other screen lock in particular situations, such as connect to Wi-Fi network, to access your phone and apps quickly.
Pros:
1. This PIN Lock Screen alternative works on a wider range of Android devices, including the old phones.
2. The hiding notification feature is useful to protect your information and display a clean lock screen.
3. When staying in safe locations, it will disable the screen lock automatically.
Cons:
1. It is large and takes up a lot of storage and battery power, even though your screen is locked.
2. The setup is a bit complex, especially beginners.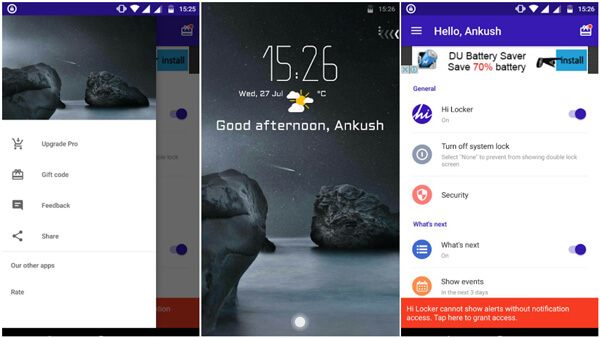 You may need: How to bypass iPhone lock screen
Conclusion
In this post, we have shared one of the popular lock screen apps, PIN Lock Screen, in detail. If you just need a simple way to lock your screen, it is a good starting point.
In order to help you grasp this app, we also shared a how-to tutorial. If you are an advanced user to look for a versatile lock screen app, find them in the third section. And you can discover the most proper one based on our introductions and reviews.