You may not realize the importance of backing up Android apps before. Image that you buy a new Android phone and everything goes fine until you go back home – "How to deal with those Android apps?" It is time-wasting to re-download Android apps again, not to mention to related Android app data. But do not worry about that, actually, you can backup apps on Android to transfer to the new Android tablets easily. The followings are top 5 best Android backup apps that enable you to back up and restore Android apps without rooting.

Part 1

. 5 Best Android APP to Backup Applications

After you have backed up Android apps with any backup app mentioned below, there is no need to worry about losing app data again.
Top 1: App Backup Restore
Price: Free/$4.99
App Backup Restore allows auto backup, restore, transfer your apps and personal data for free. You can batch backup and restore APKs, personal data and other Android details to internal storage, SD card, USB, etc. Or you can upload Android app backups to Google Drive, Dropbox and other cloud storage space automatically or manually. App Backup Restore APK has been the No.1 in "10 Best Android Backup APK assistant", so you can imagine how fantastic the backup app for Android is. The only weakness of the App Backup Restore APK is that it stores your APKs merely, with which you can re-install those Android apps easier after a factory reset. No APK data backup service you can enjoy at present.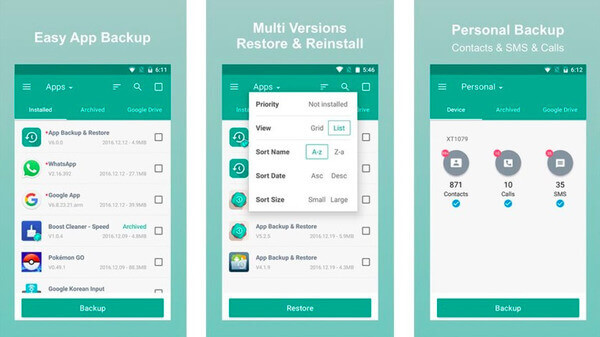 Top 2: App Backup & Restore
Price: Free/In-app purchase
App Backup & Restore enables users to backup Android apps to SD card and cloud storage in batch. Furthermore, you are able to search apps from Google market and send apps with Email. And you can customize Android backup apps to create your personal local app store. Moreover, you can schedule app auto scan and backup with notifications. App Backup & Restore APK can backup apps from Android and keep originals. It is also supported to overwrite, downgrade and backup old versions of Android apps. Well, the Android backup app cannot backup app data either.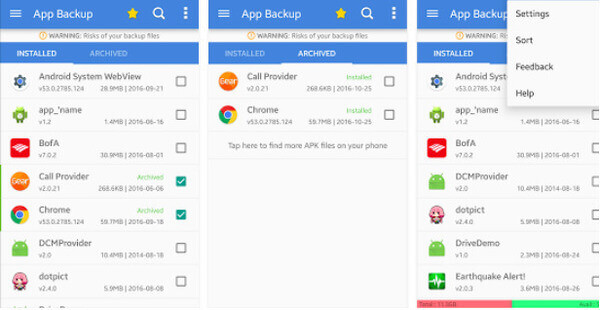 Top 3: Super Backup & Restore
Price: Free/$1.99
Super Backup & Restore offers simple interface that has listed main functions clearly. You can also backup SMS, contacts, call logs, bookmarks and calendars to SD card and cloud storage, apart from apps. Compare with other Android backup apps, Super Backup & Restore can backup and restore app's data with rooted Android devices. And when you batch restore apps from SD card, you should also root your Android in advance. Moreover, you can change backup folder path in Settings and set schedule to backup Android apps automatically.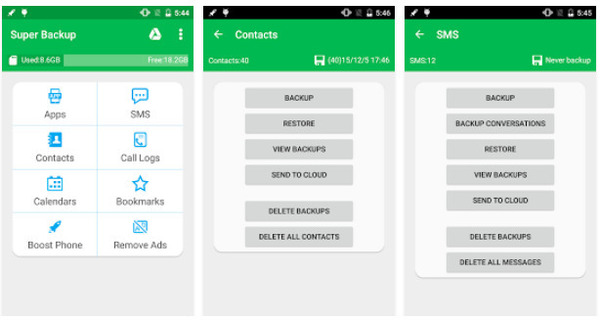 Top 4: Easy Backup & Restore
Price: Free/$2.99
Easy Backup & Restore is your best Android backup app that can preserve your phone data to SD card or cloud storage. Furthermore, you can use Easy Backup & Restore to transfer data between two Android phones. Similar with other backup apps of Android, the Android app backup APK enables users to backup contacts, SMS, MMS, call logs, calendar, bookmarks, dictionary and apps manually or automatically with schedule. In addition, your backup contents will be exported and emailed as HTML file. And remember that you need to root your Android before batch restoring Android apps.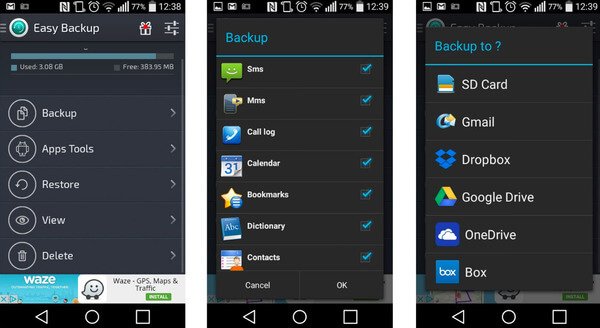 Top 5: Backup Your Mobile
Price: Free
Backup Your Mobile app can backup more Android data than other backup apps. To be more specific, you are able to have Wi-Fi password, secure system settings, APNs, browser history and other common items. In addition, backups from the Android backup app can be encrypted with strong AES 256 encryption method. Well, it is also supported to backup app data on the rooted Android devices. In conclusion, Backup Your Mobile is the free Android backup app that allows users to back up Android apps without costing.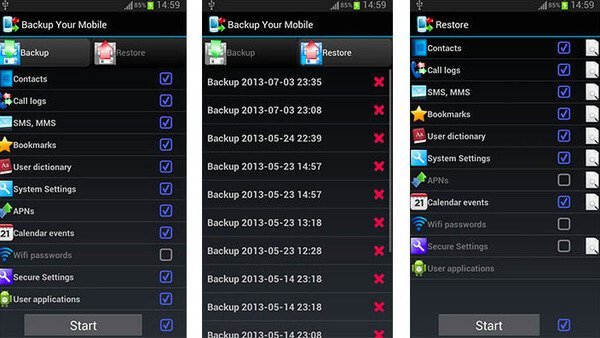 Part 2

. Best Android Data Backup Tool

If you are not satisfied with above Android app backup APKs, then you can try Android Data Backup & Restore app. It is the best Android data backup app that enables users to backup and restore Android data by one click. And you can customize which Android files to backup selectively. Android Data Backup & Restore offers one-stop service, with which users can preview and restore data from backup files selectively. In addition, Windows users can fix and back up frozen crashed Android phone without limitations too.

Free Download Free Download
• One click to backup and restore data from Android to computer
(contacts, messages, call logs, gallery, videos, audios and documents).
• Set the password to protect your important Android backups.
• Preview and select data to restore from backup files.
• Highly supports numerous Android phones and tablets.
• Easy to use filters with ultrafast data backup and restore service.
So if you want to backup Android app data more than the certain application, then using Android Data Backup & Restore app is your best choice. You can get easier and faster data backup and restore service than above backup apps.
Wrapped up
All those Android backup apps can backup apps and other Android files to SD card or cloud storage like Dropbox, Google Drive and more. Moreover, you can set schedule time to backup app from Android regularly. These are basic features Android app backup APKs equipped. Furthermore, some app backup APKs support users to backup app data while some not. But the essential requirement is that you have to root your Android firstly. However, if you do not want to root your Android device, then you can use Android Data Backup & Restore to backup app data and any Android files without data losing. As a result, no matter which backup application for Android you choose, there is no damage or app data lost with the help of Android Data Backup & Restore app.