If you are the heavy users of phone call making, then you should be familiar with Backup Assistant. In another word, for people who rely too much on contacts to keep in touch with friends, families, business partners or even the pizza shop you order frequently, using Backup Assistant is the reliable way to protect the safety of your contacts. For instance, you can backup contacts regularly with Backup Assistant to prevent data loss. With so many descriptions about Backup Assistant, you may wonder what the Backup Assistant is, or how to use Backup Assistant to back up important contacts. Well, you can read following paragraphs for 2 or 3 minutes to figure out Backup Assistant thoroughly.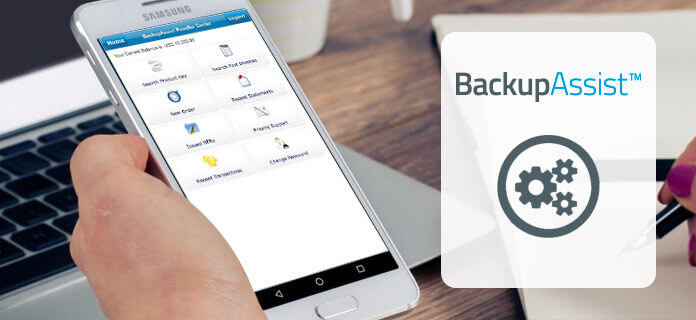 Part 1

. What is Backup Assistant

This part will introduce you the definition of Backup Assistant and its usages. Moreover, some frequently-asked questions will also be listed below.
Introduction for Backup Assistant
Backup Assistant (Plus) is the wireless Version service that backup contacts from your device to a security website. Or you can use Backup Assistant to transfer your contacts to another device. The supported basic phones including iPhone, Android, Windows and BlackBerry devices. So you can use Cloud version to back up your phone. After that, even though your Smartphone was lost, damaged, stolen or replaced, you can restore contacts with your Verizon Backup Assistant account without loss.
How to Use Backup Assistant
Step 1. Download Backup Assistant
Choose "Media Center" from the main menu of your basic phone. Select "Browse & Download" button to find "Backup Assistant". (If not, click "Get New Applications" and then scroll down to tap "Backup Assistant", click "OK" to move on.) If Backup Assistant app has preloaded on your device, then you can see the Backup Assistant screen directly. Or you need to download it first. (Tap "OK" or "Center Select Key" to download Backup Assistant on your Android or other basic devices. Press "Yes" to run the app after downloading.)
Step 2. Set up Backup Assistant
Choose "Next" when you see the Backup Assistant welcome window. Type a secret PIN for your account. Tap "Next" and tick "If I forget my PIN, I authorize Backup Assistant to send it to my phone". You may be required to select a time to address book changes daily, or you can choose the optimal time backup contacts. You can choose "Morning", "Afternoon" or other options in the Schedule window. Tap "Next" button to move on.
Now you have successfully performed a manual backup. Backup Assistant app will start auto backup if there have been changes to your Android phones, iPhone or other devices since the last backup.
FAQs about Backup Assistant
Q. How much should I pay for Backup Assistant service?
A. Backup Assistant is now included with your Verizon Wireless service, and it is totally free to backup contacts. The only fess you may need to pay is approximately 1 MB of data of downloading Backup Assistant app for Android, iPhone, Blackberry, etc.
Q. Can I use Backup Assistant to back up contacts more than one device?
A. No, your Backup Assistant account can be associated with one device only at a time at present.
Q. Why does Backup Assistant show the different phone number during setup?
A. Your device has two numbers associated that are Mobile Internal Number (MIN) and Mobile Directory Number (MDN). Under most cases, Backup Assistant app will take the MDN to perform correctly. But when the incorrect number shows during the number verification process, answer "No" and wait for the SMS message to identify the correct number. Tap "Yes" to complete the Backup Assistant installation.
Q. What does "Pending" and "Backed up" mean within Backup Assistant?
A. You can see both "Pending" and "Backed up" on the main interface of Backup Assistant. The "Pending" icon in red indicates the total number of changes you have made to your address book since the last backup. If the number is 0, then it means you have backed up all contacts. And the "Backed up" in green means the total number of contact entries that are backed up in your Backup Assistant account safely.
Q. Can I use the computer to access my contacts with Backup Assistant?
A. Yes, you can sign in to Verizon Cloud through the user ID or mobile number.
Part 2

. Alternative for Backup Assistant

Here you can use Android Data Backup & Restore to backup contacts and other Android files to computer by one click. The Backup Assistant alternative app enables users to backup Android data safely and selectively, such as contacts, messages, call logs, gallery, videos, audios and documents. And you can even set a password to protect something important. Then when you need to restore contacts and other Android files, you can preview and select any data you want to restore from all available backups flexibly. Most popular Android devices are supported including Samsung, LG, HTC, Sony, etc. And do not worry whether the Backup Assistant for Android alternative will invade your privacy, it will only read your Android data without extra operations.
Key Features:
• One click to backup Android data to your computer and restore back later to your devices.
• Selectively backup and restore Android files without hassle.
• Preview and restore Android data from backup files flexibly.
• Easy to use interface with superior fast Android data backup and restore speed.
How to Backup Contacts from Android to Computer Selectively
Step 1. Launch Android Backup Assistant alternative
Download and install Android Data Backup & Restore on your computer. Launch it and connect Android to PC with USB cable. Choose "Android Data Recovery" in the left panel.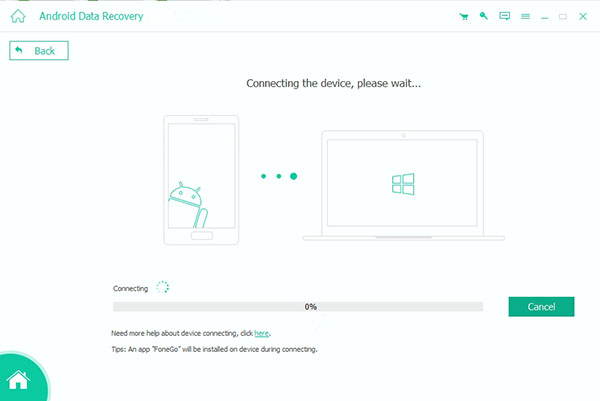 Step 2. Scan contacts and other Android data
You can tick certain Android file type such as "Contacts", "Messages" and other data types. Press "Next" to start scanning. In addition, the Android Backup Assistant will root your Android device automatically that enables you to get full control of your Android.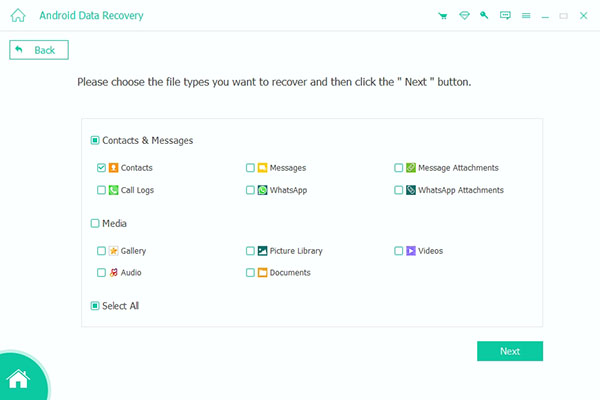 Step 3. Backup Android contacts and other files
You can see all categories listed on the left panel. Click the certain file type, and then you can preview details on the right-side preview window. Select Android data and then tap "Recover" to backup Android phone to computer selectively.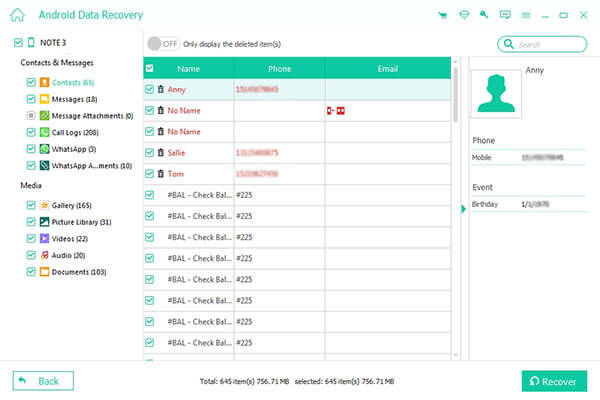 Check this post to get 5 best iPhone backup viewers to check iCloud backup files.
Tips and Tricks
Compare the above two Android contacts backup apps, you can get different methods to backup Android contacts flexibly. Using Backup Assistant Version app is the universal method for most Smartphone to backup contacts automatically. If the Backup Assistant does not work or you meet some errors hard to solve, then you can use the Android Backup Assistant alternative to backup contacts and other Android data manually and selectively.