Blackberry is one of the most popular Smartphone brands on market. While it is not as prevalent as before, there are still many users around the world. Most of Blackberry devices use the special Blackberry OS. And the applications for iOS and Android are usually not available to Blackberry OS. That makes Blackberry backup a difficult task due to lack proper tools.

In this tutorial, we are going to tell you how to perform Blackberry backup. If you have a Blackberry phone, you can follow the guides step by step and back up your device.
Part 1

: How Do You Backup And Extract Data of Blackberry

In this part, you can learn about how to perform Blackberry backup and extract data from Blackberry phone.
Backup Blackberry with Blackberry Desktop Software
Blackberry Desktop Software is an official program to sync the music, videos, photos, organizer from Blackberry phone to Windows PC or Mac computer. As its name said, it is a desktop program, so you have to install it for performing Blackberry backup.
Step 1. Visit Blackberry's software page (blackberry.com/software/desktop) in your browser. Download and install the right version of software to your computer. There is one version for Windows and Mac respectively.
Step 2. Connect your Blackberry phone to your computer using the USB cable came with your phone.
Step 3. Open the Blackberry backup software and click the "Device" menu on top ribbon. If your phone is detected, the device name will appear on the left sidebar.
Step 4. Click the "Back up now" button on right panel and then hit Full to back up your entire phone. Wait for the process to finish, and then remove your Smartphone from the computer.
Note: This Blackberry backup software supports Blackberry 7.1 OS and earlier. If you have a Blackberry 10 OS Smartphone, you need another way to back up it.
Backup Blackberry with BlackBerry Link
BlackBerry Link is another official Blackberry backup application for syncing and managing music, photos, videos between Blackberry 10 OS devices and computers. It is a freeware for Blackberry 10 OS users.
Step 1. To create backup files for Blackberry phone, you need to download BlackBerry Link from the official website (blackberry.com/software/desktop/blackberry-link), and follow the onscreen instructions to install it on your computer.
Step 2. Plug your Smartphone to your computer using the USB cable. Wait for the software to recognize your phone, and then select the device on left sidebar.
Step 3. On the left ribbon, choose the "Back Up & Restore" option. If you want to make a full Blackberry backup, click the "Back Up Device" button. The "Custom Backup" option is used to back up certain files on your Smartphone.
Step 4. Wait until the backup process is complete, then disconnect your device and the computer. Next time when delete important files by accident, you can get them back from the Blackberry backups.
Note: The data back up from Blackberry 10 includes apps' data, media files, Settings, contacts, calendar, etc.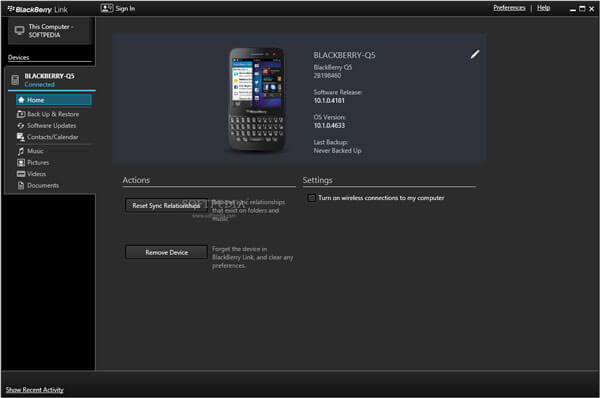 Backup Blackberry with BlackBerry Blend
If you want to back up Blackberry to another Smartphone, such as iPhone or Android phone, BlackBerry Blend could meet your demands. It is compatible with BlackBerry 10 OS, Mac OS X 10.6 or above (including macOS 14 Sonoma), Windows 11, iOS 17 and Android 14 or above.
Step 1. Install BlackBerry Blend app to both the source Blackberry and targeting device, such as computer, tablet or another Smartphone.
Step 2. If you use USB cable to connect the two devices, click "USB Cable Connection". For Wi-Fi or cellular connection, hit "Wireless Network Connection".
Step 3. Next, sign in your Blackberry ID. When you are prompted verification, visit your email address associated with the Blackberry ID and click the link in your email. Then verify the passkey on your Blackberry phone and make sure it matches the one on the targeting device.
Step 4. Now, you can click the Apps menu to switch between apps and do Blackberry backup between two devices.
Note: Though BlackBerry has stopped supporting BlackBerry Blend in 2016, this Blackberry backup application is still available in App Store, Play Store and Blackberry website.
Part 2

: Professional Blackberry backup Extractor

When restore or get back files from backups, you will need a tool to extract files from Blackberry backup, such as BlackBerry Backup Extractor. Its features include:
Open .BBB and .IPD Blackberry backups on computer.
Extract a wider range of data, like contacts, emails, memos, call log, SMS/MMS, photos, app data and more.
Support almost all Blackberry models.
Work on all backups made by Blackberry Desktop Software.
How to extract data from Blackberry backup
Step 1. Start the professional BlackBerry Backup Extractor after installed on your computer.
Step 2. Click the "Open" button and select the Blackberry backup file contains the files that you want to extract.
Step 3. Then hit the "Extract all" button to extract all files saved in the backup. When it is done, you can view the files extracted from the backup on your computer.
Note: This BlackBerry Backup Extractor is only able to display the data types and file number in the backup. You cannot preview them before extracting.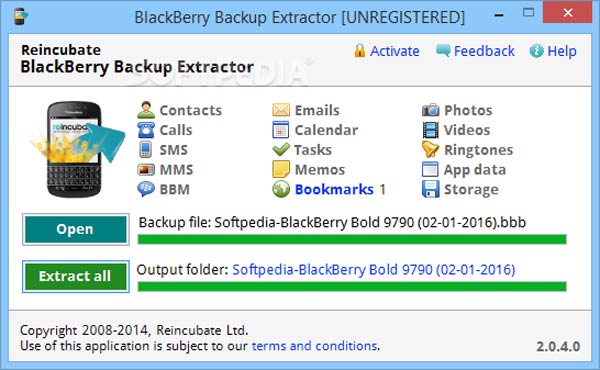 Part 3

: Best Android Backup & restore Alternative

Today, Android has become the top mobile operating system around the world, and Blackberry users are more likely to upgrade to Android phone, partly because the two systems are similar. If you need a versatile backup tool for Android, we will recommend Apeaksoft Android Data Backup & Restore. Its benefits include:
This Blackberry backup alternative supports one-click backup.
And you can back up certain data types on your Android device.
Android Backup & Restore allows you to add password to the backup file and protect your privacy.
This backup tool will save Android data to computer without damaging current data on Smartphone.
It works on all Android device models from major manufacturers, such as Samsung, LG, HTC, Moto, Huawei, etc.
Available to Windows 10/8/7/XP and Mac OS
Download for Win
Download for Mac
In a word, Android Backup & Restore is the easiest way to back up your Android device.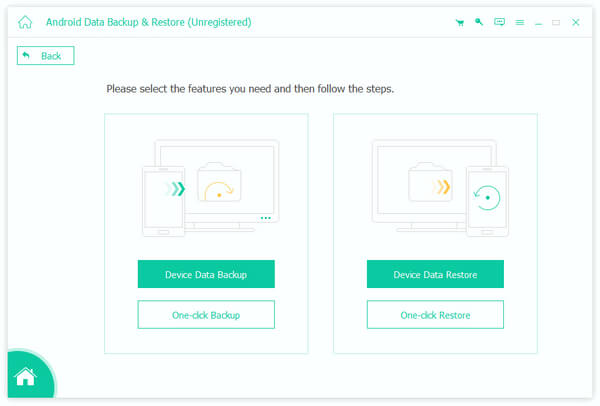 Conclusion
In this tutorial, we have told you how to do Blackberry backup on Windows PC, Mac OS and Smartphone. There are three official Blackberry backup tools ready for your decision. Moreover, we also shared how to extract files from backups. We hope that our guides are useful to you. If you have any questions about Blackberry, feel free to leave a message below.