"I have a Samsung galaxy s4. And there are thousands of photos that I wanna delete. They are in the folder names auto backup. I cannot find the No delete button. How can I delete auto backup pictures? And I do not need to back up my pictures automatically."
Even though auto backup is the good feature that can help you sync files automatically. It is still not suitable for everybody. The more and more auto backup pictures on Android tablets seem to be useless. For most Android users, copying and transferring important pictures selectively is better than those auto backup pictures. Therefore, the main theme of this article aims to explain how to delete auto backup pictures on Galaxy S4 mainly. You can also know how to turn off auto backup on Samsung Galaxy S4/S3/Note 3 Android tablets.
Part 1

: What Is Samsung Auto Backup

Samsung auto backup software enables users to backup data to Samsung external drives. You can back up pictures in real time mode, or there is also scheduled mode you can use to backup pictures. When you install Samsung auto backup, you can set the specific folder to save backup pictures and other files. Your backup pictures of Samsung Galaxy S4 will send to Google Drive in default way. Moreover, Dropbox is also supported to save Samsung backup pictures. As a result, if you forgot to turn on auto backup mode on Samsung before, and you are just the person love taking photos, your Google Drive will be full of backed up pictures.
Part 2

: How to Delete Auto Backup Pictures on Galaxy S4/S3/Note 3

Samsung Android phones are popular because of its fashionable outlook, configuration and reasonable prices. Moreover, you can back up pictures and other data on Samsung Galaxy S4 automatically. But if it is necessary to remove unnecessary backup pictures, you can read and learn how to delete auto backup pictures on Galaxy S4 tablet step by step.
Section 1: How to Delete Auto Backup Picture on Samsung Galaxy S4 from Gallery APP
If you delete photos from Samsung Galaxy S4 directly, your auto backup pictures still exist in gallery from auto backup. Therefore, you need to stop auto photo syncing first.
Step 1. Stop "Sync Google+ Photos" and "Sync Picasa Web Album"
Open "Settings" and locate "Accounts" menu, you can open Google account here. Tap your email ID to turn to "Sync Settings", Uncheck "Sync Google+ Photos" option and "Sync Picasa Web Album" option. Each option has listed the last sync time. In addition, you can disable other auto backup settings here, too.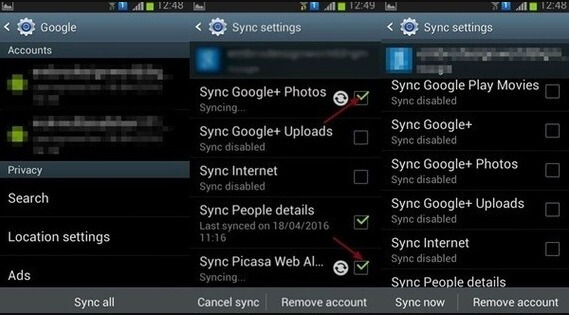 Step 2. Clear Pictures from Your Gallery
Now you need to clean auto backup pictures in your Gallery. Open "Settings" to find "Application manager" button. Later, select "Gallery" to open "App info" menu. You can tick "Show notification" to see the total storage in detail. Hit "Clear data" button below. Restart your Android tablet and then you can delete auto backup pictures on Galaxy S4 from Gallery successfully.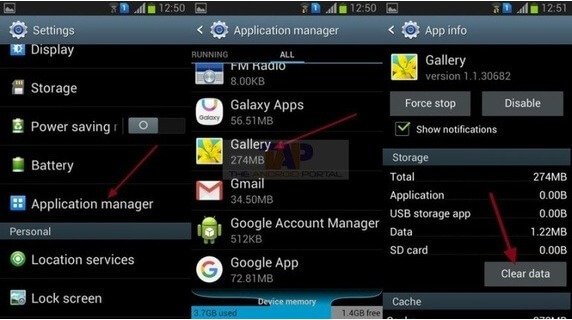 Section 2: How to Remove Deleted Auto Backup Pictures on Samsung Permanently
If you still worry whether those deleted auto backup photos will influence your daily life, you can remove them from Samsung Galaxy S4 permanently. The good way is to remove the old Google account to delete auto backup pictures on Galaxy S4 permanently.
Step 1. Remove your Google Account
Open "Settings" and click "Accounts". Select "Google" from the account list. You need to tap "More" icon with three-dots in lower right corner. Click "Remove Account" from the drop down menu. Make sure the moment you remove the Google account, all your associated previous Android data will delete as well. Untick Google sync options below to stop backing up pictures automatically.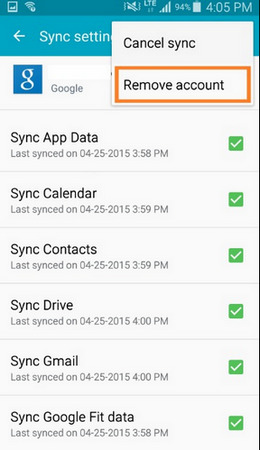 Step 2. Add a new Google Account
Go back to "Settings" to tap "Accounts" again. Hit "Add an account" button and select "Google". Click "New" to enter your Gmail account and password. Remember to uncheck Google Photos in the sync list. After that, your Google Drive account is empty, and all your backup pictures have been deleted permanently.
Part 3

: How to Turn off Auto Backup on Samsung Galaxy S4

If you do not want to receive auto backup pictures and videos in your Google account, you can turn it off from your Photos app. The common way is to delete the Google account totally, with all associated Android photos, videos and other files deleted.

Step 1. Access "Auto Backup" in "General Settings"

Find menu option in your Samsung Android device. Tap Photos app and choose "Settings" from it. You can select "Auto Backup" to enter the Auto Backup menu.

Step 2. Turn off auto backup on Samsung Galaxy S4

There is the on/off option on the top right corner. Turn if off to stop all auto backup service. Or you can untick "Back up Photos" to disable photo auto backup.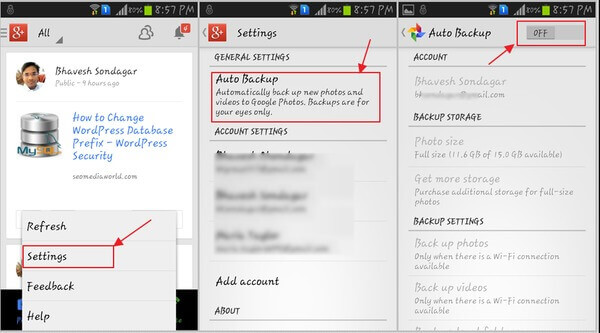 Part 4

: An Alternative Method for Auto Backup Pictures on Samsung

With the methods above, you can handily delete auto backup pictures on your Samsung Galaxy S3/S4/S5/S6/S7/S8, Note 3/4/4/5/6/7/8, and more. Actually, if you prefer the traditional way to back up your Android pictures. You can try the recommended the Android Data Backup and Restore. Besides backing up various Android files, it also enables you to restore data from Android device with ease.
Everybody can back up and resort Android data selectively and safely.
Back up Android files selectively to computer in one click.
Set the password to secure your important backup files.
Preview and restore Android data selectively.
Highly support of a large number of Android phones and tablets.
Easy to use interface and various filters.
Download for Win
Download for Mac
From the above step-by-step guidance, you can fix how to delete auto backup pictures on Galaxy S4 problem easily. If you still have something important, you can back up those pictures manually. Or you can use the above Android data recovery software to recover deleted pictures.