As manufacturers improve camera technology, we can take HD photos and videos with Smartphone. But the limited storage is a problem. According to experts, the internal storage of Smartphone has reached the critical point and cannot increase anymore.

So, you will need to back up your Smartphone to a cloud service or computer. Fortunately, there are several backup tools on market, such as Verizon Backup. Some people still do not know what is Verizon Backup and how to use it. Therefore, we are going to show how to back up Android devices using this service in details.
Part 1

: What is Verizon Backup?

Verizon Backup, also known as Verizon Backup Assistant Plus, is a utility released by Verizon Wireless. Verizon subscribers could save their contacts, photos, videos and music to an online storage. And when lost important contact or upgrade to a new device, you can restore them from the storage. The 2GB free storage is available to any Verizon subscriber who has a basic phone, Android phone, iPhone, Blackberry or Windows phone.

When talking Verizon Backup, many people may have heard of Verizon Cloud. It is another backup service provided by Verizon. The difference is that the latter is able to back up a wider range of date types, including photos, videos, music and SMS, besides contacts. Plus, Verizon Cloud is compatible with iPhone and Android phone. It also offers 2GB free storage to each subscriber.

All in all, if you are a Verizon subscriber, there are at least two methods to back up your Smartphone for free.
Part 2

: How to Backup Android Phone with Verizon Backup/ Verizon Cloud

Now, you should understand what are Verizon Backup and Verizon Cloud and their differences. In this part, you can learn about how to use these two services to back up your Android device. Before that, you should visit Verizon Wireless website and verify whether your phone model is supported in Support page.
How to Back up Android phone with Verizon Backup
Step 1. Open Verizon Backup app on your Android. It is usually pre-installed in the App menu. If not, download it from Play Store.
Step 2. Tap "Sync Now" on the home interface to perform a manual backup immediately.
Step 3. To avoid data loss, you'd better make a backup schedule. Select "Options" > "Schedule" successively, and then set the recurring sync time, like "Morning", "Afternoon", "Evening" or "Late Night". Next time, Verizon Backup will add new contacts to the online storage automatically.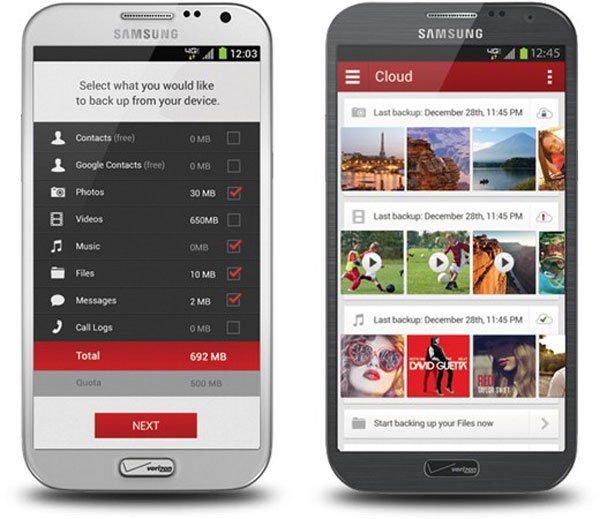 How to Back up Android phone with Verizon Cloud
Step 1. Search for Verizon Cloud in Google Play, and then download and install it on your Android phone.
Step 2. Launch the app and sign in your user ID and password. If you want to expand the cloud storage, select the "Manage Your Products" option and tap on Upgrade to purchase a plan.
Step 3. To perform Verizon backup, tap on the Menu icon with three horizontal lines at upper left corner of the screen. Tap the "Settings" option on the menu list and then hit the "Backup" option.
Step 4. On the popup dialog, tick the checkbox in front of each data types you want to back up, such as "Photos", "Videos", "Contacts" and more. After selecting, tap on the "OK" button to perform manual backup.
Much like other cloud backup services, Verizon Cloud allows you to manage, view or download backup files on computer via a website. You can visit Verizon Cloud web in any browser and access your backups through your Verizon account and password.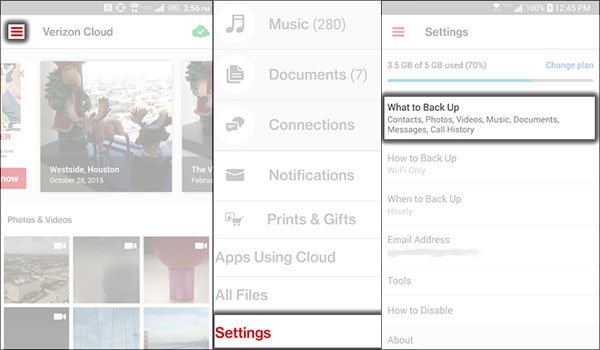 Part 3

: How to Backup All Data Files of Verizon to Computer

Verizon backup services have clear downside, limited storage and data types. If you are looking for better method to back up your files and data from mobile phone to computer, we recommend you to try Apeaksoft Android Data Backup & Restore. Its benefits include:
This Verizon backup alternative has the capacity to back up entire Android device to computer in one click.
And you can select certain data types to create an Android backup on your computer.
This backup tool supports a wider range of data types, including contacts, call log, messages, photos, videos, music, app data and more.
It uses physical connection to back up Android with higher speed and does not need internet connection.
When you delete important files or purchase a new phone, this program could help you restore from Android backups easily.
It is compatible with all Android devices from Samsung, LG, Moto, Huawei, HTC, etc.
Download for Win
Download for Mac
In short, it is the easiest way to back up your Android phone on Windows 10/8/7/XP and Mac OS.
How to back up Android phone with the best Verizon backup alternative
Step 1. Install the best Verizon backup alternative to your computer
Download the right version of Android Backup & Restore according to your operating system, and follow the onscreen instructions to install it on your computer. Hook up your Android phone to the computer via a USB cord. Make sure to turn on the USB debugging mode on your phone.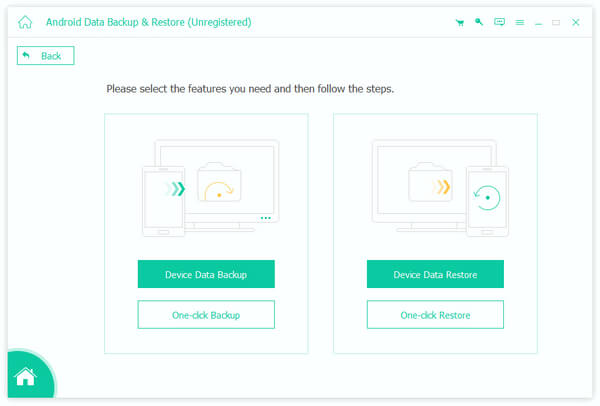 Step 2. Settings for Android backup
Launch the best Verizon backup alternative and click the "One-click Backup" button to back up the whole data on Android. If you need more custom options, click the "Device Data Backup" button instead. On the data type window, select what you want to back up. If you want to make a private backup, check the "Encrypted Backup" box and drop your password.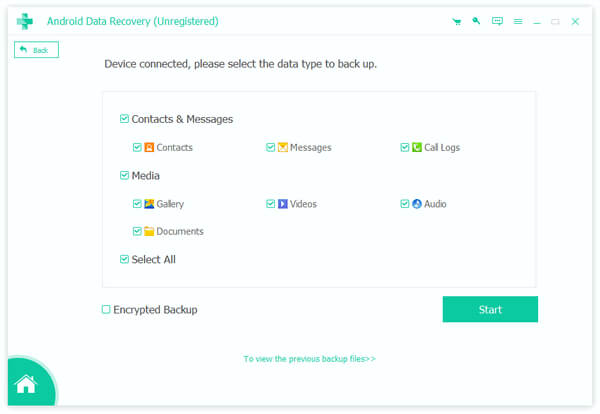 Step 3. Make a backup for Android
If you are ready, hit the "Start" button at bottom right corner to start making a backup for your Android device. Any time when you lost files or purchased a new phone, use the one-click restore or selective restore feature to get back your Android data.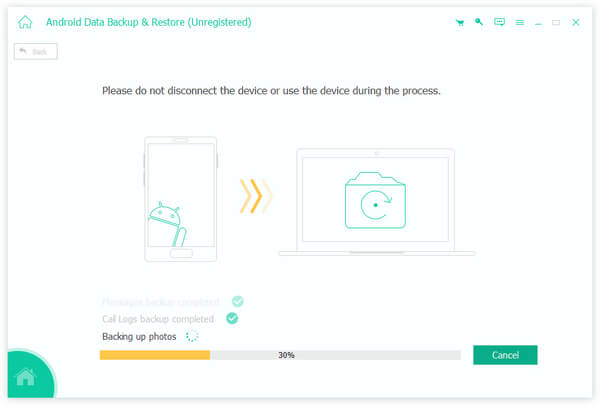 Part 4

: FAQs of Verizon Backup

1. What devices can use Verizon Backup Assistant?

It's primarily used for certain basic phones and older smartphones and tablets. To verify if your device is compatible, you can search for "Backup Assistant" in the app store on your device (e.g., Google Play™, Windows® Phone Store, etc.). If Verizon Cloud appears in the search results, follow the onscreen prompts to open or download Verizon Cloud. If Backup Assistant or Backup Assistant Plus appears in the search results, your device is compatible. If neither Backup Assistant nor Verizon Cloud appears in the search results, you can try other ways to backup your data.

2. How do I get Backup Assistant?

Usually, Backup Assistant comes already installed on most compatible devices. If you don't see it on your smartphone, search for "Backup Assistant" in your device's app store and follow the onscreen prompts to download it. If you don't see the Backup Assistant app in your app store, your device is likely not compatible.

3. How much does Backup Assistant cost?

Backup Assistant is included with your Verizon wireless service. There are no subscription fees.

4. Can I use Backup Assistant with more than one devices?

No, it can be associated with only one device at a time.
Conclusion
In this tutorial, we have introduced popular backup services from a wireless operator, Verizon Backup and Verizon Cloud. If you are a subscriber of Verizon, you can use these services to save your files from Android to online storage. Have trouble to perform Verizon Backup? You will discover our guides above are helpful. Moreover, we also shared a backup tool for all Android devices, Apeaksoft Android Backup & Restore. It simplifies the process of Android backup and restore.