Why should we backup videos on Android? We have been depended so much on our phone to keep our memories vivid and alive, no matter Android or iOS system can enable us to film our precious moments at any time we need and keep them in the video folder. However, even the most accurate and advanced device can sometimes malfunction a lot, so do our common phone. In case there is a dilemma of facing the fact that all your videos are gone and you are simply been left without any way of getting them back, this article will show you ways of Android Backup to help you get rid of this nightmare.
Part 1

. How to Backup Video on Android

Facing this awkward situation, the article recommends one of the most useful and easy-to-use video backup software for android, Android Data Backup & Restore, which helps you to backup videos on Android without any restriction. As one of the most reliable software in the software market, Android Data Backup & Restore offers a large amount of advantages, you can find out in its main features as follows.

Main Features of Android Data Backup & Restore:
1. Recover important information such as contacts, call log history and messages on your Android devices effortlessly.
2. Save the data from your broken, water-destructed Android devices and memory card.
3. Preview and choose the exact file you want to recover.
4. Backup your files on your Android device to the computer.
5. Available for various Android devices and free of charge.
How to Backup Video on Android with the program
Step 1. Install and run the program on computer
Download and install the program from the official website. After the process of installation is done, you can launch Android Data Backup & Restore to backup video on Android with easy process.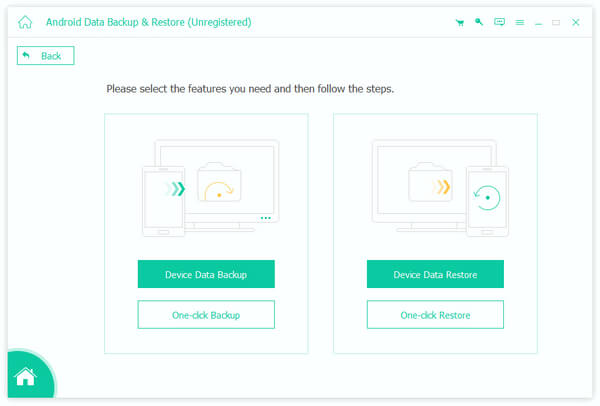 Step 2. Connect and Select wanted type
Now, connect your Android device to your PC with a USB cable so that the app can detect your phone. If you only want to backup videos on Android, you can simply check the little box before "Videos" in the page of selecting the data type to backup. Then after a while, all the videos in your Android backed up will be presented in a new pop-up page.
if you want to backup text messages on Android, just tick "Messages" option.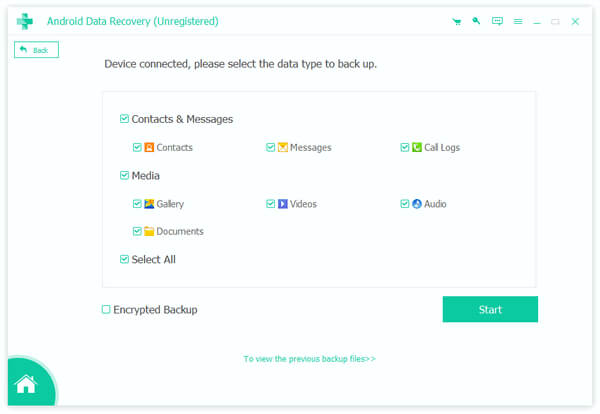 Step 3. Back Up Video on Android
As all the videos are in the screen waiting for you to choose and backup, now, all you need to do is to preview and choose the android videos to backup on computer one by one with this software, and select them with little marks be lightened in small boxes before them. Click the "Start" button at the lower right of the window to backup specific video files in your Android device.
Finally you can backup videos from android to your PC without any effort. If you find there is something wrong, you can tap "Cancel" at any moment.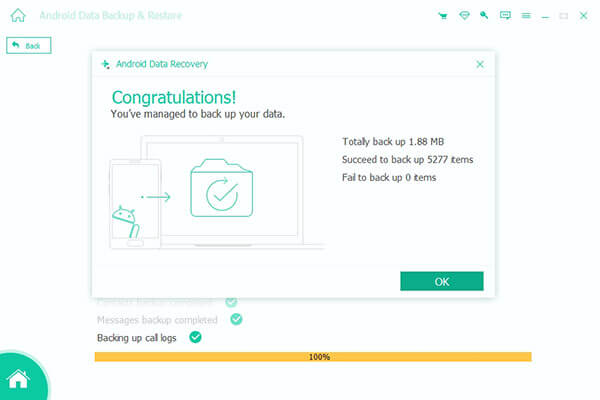 Part 2

. How to Backup Android Video to Google Drive

Google Drive is a good alternative for Android video backup. Actually it's bound with Android phone, which offers storage of 15 GB for free. It can not only backup Android videos but also share files from your Android device. All you need is a Google account and the software installed in your Android phone, you can learn more details about the process as below.

Step 1. Download and Launch the Program

Actually, it is the default app of Android phone. If the program is not available, you can download the program from Google Play to your device. After that, run Google Drive on your Android device and make sure that the phone is connected to Wi-Fi.

Step 2. Set Up Upload Settings

Click the little red plus button at the bottom right, and then tap "Upload" in the new page that just pops up. Enter your Google account with correct password and ID to backup videos from Android.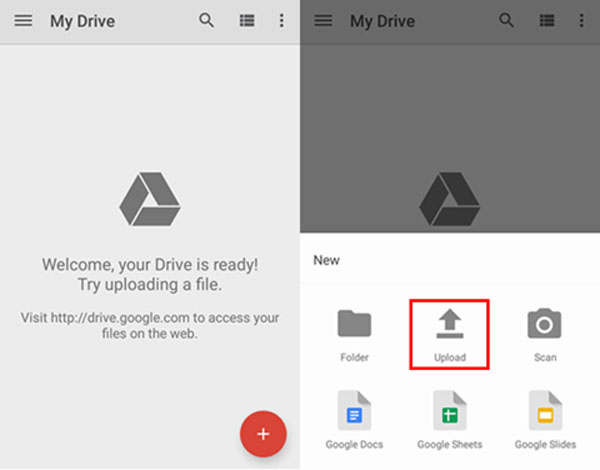 Step 3. Backup Video on Android
Select the videos you would like to retrieve in your Android phone and check them if you like. Finally, click "Done" in order to backup videos from Android to Cloud. After that you can access to the video on any device with ease.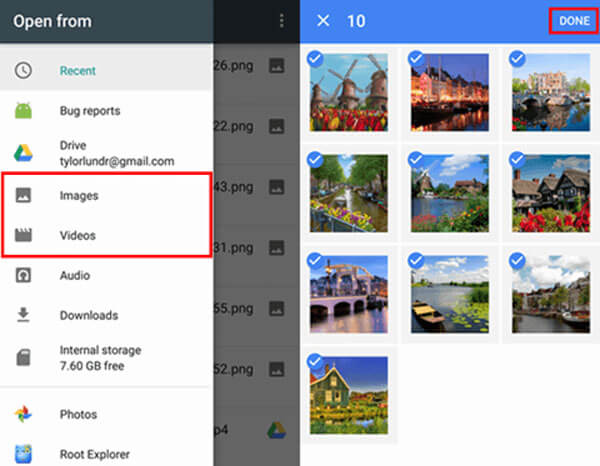 Since Google Drive enables you to backup almost everything in your Android, such as photos, audio, Word/Excel/PPT documents and so on. You can have the Android video backup in few seconds. You can pay for the extra storage for backing up more Android videos, movies, or anything you want.
Conclusion
When you have lots of important video files, you need to backup videos on Android. If you need to store the Android videos on computer, Android Data Backup & Restore should be the best solution. You can save the videos to computer within one click. As for the method, you can save as many videos as you want. Of course, you can also backup Android video to Google Drive, which offers 15GB free storage space. Whatever the solution you take, once you make sure the Android video are backed up, you can remove them from Android phone to free up more space.