When you have a new Android phone, you might need to transfer the chat history from the old phone to new one. WhatsApp backup should be the best solutions to backup and restore the information.

WhatsApp has become one of the most popular social platforms. Many people access this mobile-based service on their smartphone every day. But that does not mean people have learnt all features about WhatsApp, especially the backup and restore functions. Don't worry! We are going to tell you how to back up WhatsApp chats to Google Drive and computer, and how to use the WhatsApp backup Android.
Part 1

: Backup WhatsApp to Google Drive

Google Drive offers 15GB free storage to each account. WhatsApp supports chatting with text messages, pictures, emoji, videos and audio, so make sure that your Google Drive account has enough space to save the WhatsApp backup.

Step 1. Open your WhatsApp, and go to "Settings" > "Chats" > "Chat backup"

Step 2. Then you will be prompted to sign in your Google Drive account. If do not have, you should register one first.

Step 3. Next, you will be presented several options about WhatsApp backup, like the frequency of backup, like never, daily, weekly, monthly or manually. And you can decide to back up WhatsApp to Google Drive over Wi-Fi, Wi-Fi or cellular. WhatsApp backup will work automatically based on your setting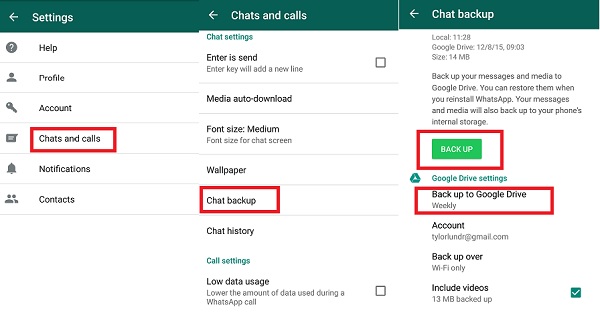 First of all, every time you back up WhatsApp chats to Google Drive, the previous backup will be overwritten. The chat backup includes current messages and attachments. Plus, when you create a WhatsApp backup on Google Drive, a copy will be stored on your phone's internal storage too.
Part 2

: Restore WhatsApp Backup from Google Drive

WhatsApp backup is useful. If you deleted important chats by accident, they can be recovered through the backup on Google Drive. And users can rely on the backup to transfer WhatsApp conversations from old phone to new one.

Step 1. Install WhatsApp on the new device. If the WhatsApp is already on your phone, you have to uninstall and reinstall it.

Step 2. When WhatsApp detects a backup available, it will ask you whether to restore your message history from the backup. Tap on "Restore" and everything in your Google Drive will restore to WhatsApp.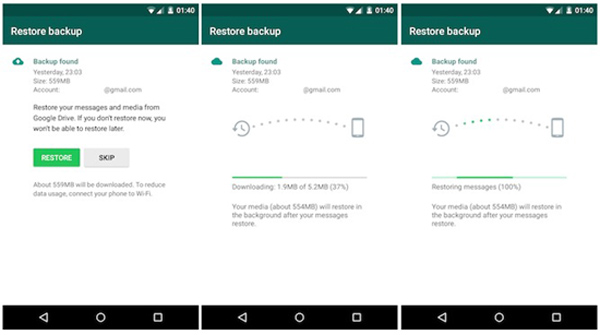 Here you may want to know: How to add password on WhatsApp to protect messages
Part 3

: Google Drive backup troubleshooting

Some people reported that WhatsApp backup or restore stuck. If you encountered the same problem, follow the tips below to fix it.

1. Backup and restore WhatsApp correctly. Make sure that your Google Drive has enough space for WhatsApp backup.

2. When restoring WhatsApp, sign in the same phone number and Google account that you created the backup.

3. It is necessary to install Google Play service on your phone, if it is not pre-installed.

4. Check your network connection and make sure it is fine.

5. Give the permissions for WhatsApp in Settings > Apps > WhatsApp, such as contacts.
Part 4

: Backup WhatsApp data with Android backup & restore

As you can see, WhatsApp backup does not always work fine. To avoid data loss, we suggest you to try Apeaksoft Android Backup & Restore, because it has more benefits, such as:

1. Create a backup for all WhatsApp conversations in one click.

2. Or backup entire phone along with WhatsApp to computer.

3. Use physical connection to create WhatsApp backup, so it is safer and quicker.

4. Allow you to encrypt the backups with password and prevent others from spying.

5. Open WhatsApp conversations on computer at any time.

6. Restore WhatsApp chats to your phone or computer without interrupting current data.

7. Preview before restoring WhatsApp messages.

8. Support all Android devices from major manufacturers, like Samsung, LG, Moto, Huawei, HTC, etc.

In short, Android Backup & Restore is the easiest way to back up and restore your WhatsApp on Windows 10/8/7/XP and Mac OS.
How to create WhatsApp back with Android Backup & Restore
Step 1. When you deleted WhatsApp messages unintentionally or want to transfer old chats to new device, hook up your Android phone to your computer and launch Android Backup & Restore. Click on "Device Data Restore" to move on.
Step 2. On the backup list, select the latest WhatsApp backup based on the latest backup date, or any backup contains the message you want to get back. When going into the detail window, select the data type from left hand column, like Messages, and preview all messages in the backup on right panel. Select the WhatsApp messages you want to restore by checking the boxes.
If the backup file is encrypted, you have to open it with your password.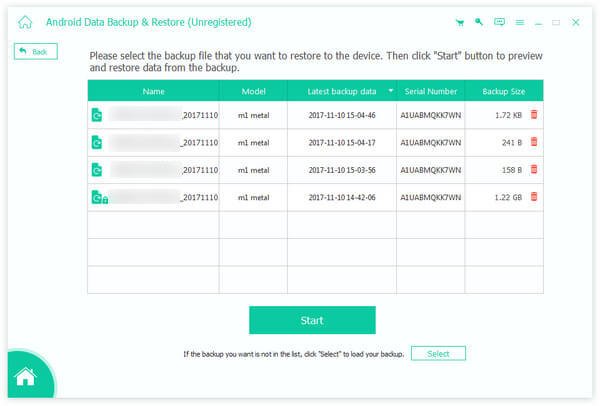 Step 3. After selected, click the "Restore" button at bottom right corner to start the process. Bear in mind to keep your Android device connecting to your computer until it is done.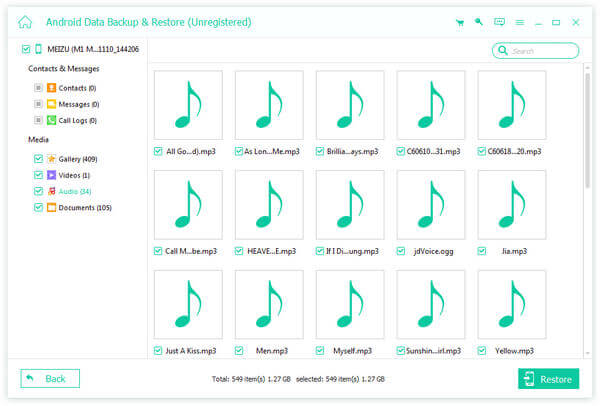 Check this post to learn more details about how to recover deleted WhatsApp messages on Android
Conclusion
In this tutorial, we have described how to make and use WhatsApp backup. First of all, the built-in chat backup feature in WhatsApp allows users to save current conversations to Google Drive over Wi-Fi. And it is able to automatic back up WhatsApp. If have set up chat backup feature, you can restore lost chat at any time. If you do not like web-based backup, we also shared a desktop WhatsApp backup tool, Apeaksoft Android Backup & Restore. It does not need a Wi-Fi connection when making WhatsApp backup and you can add password on the backup to protect your data.