Travel is really great and comfortable for everyone, especially have a vacation overseas. But for iPhone users, it will be a troublesome because locked iPhone cannot connect to network on the other countries. If you are going to have a travel or business meeting on another country, you are certainly not want to get into this trouble. You should know the methods about how to unlock iPhone 5/5s/5c instead.

Part 1

. How to Unlock iPhone 5/5s/5c online

Because there are so many iPhone users on the world, so, Apple company offers an unlock iPhone Service for who needs to learn how to unlock iPhone 5/5s/5c. You can use this service online. Once you unlocked iPhone 5/5s/5c on the website, your iPhone will unlock automatically on other countries. You can easily connect to network or Wi-Fi (this service is available for iOS 7 iOS 8 iOS 9 iOS 10 or higher version, but if you are using iOS 6 or lower version, you can unlock iPhone 5/5s/5c by iTunes).

Except connecting to network, your iPhone can also upgrade iOS freely, restore or backup iTunes and you don't need to worry about relocking. Of course, once you unlock it, your iPhone IMEI number will change as "SIM-FREE" from the Apple activation database. So, let's start to learn how to unlock iPhone 5/5s/5c online.

Step 1. Open the Official iPhoneUnlocks Website Page

Unlock iPhone online, you need to open the website page firstly. Its official website is: https://www.officialiphoneunlock.com. On this page, you can unlock all types of iPhone from different carriers. It is a permanent SIM unlock without jail-breaking your iPhone.

Step 2. Choose iPhone 5 from the list

Whether you need to unlock iPhone 5/5s/5c, you can find the type of iPhone, iPad from the list. What is more, you can also find the latest iPhone X/8 from the list when you get a bundled carrier.

Step 3. Find the iPhone IMEI and network

And then you can choose the network of the iPhone and iPhone IMEI. The Official iPhoneUnlocks is able to unlock almost all the network services around the world, you can always get the desired option from the list.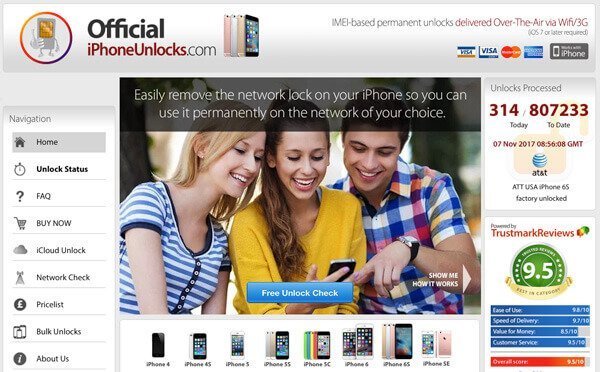 Note: If you don't know or not sure what your carrier is? Click the sentence and the page will jump to the page which ask you to enter your IMEI number, when you enter it and click "Unlock now!" button, it will automatically check your carrier and jump to payment page to unlock iPhone 5/5s/5c.
Part 2

. How to Unlock iPhone Freely

In fact, for so many iPhone users who travel overseas usually, unlock iPhone 5/5s/5c with $28 for 5 days is really expensive. If you are one of them, you must be starved for a free method to help you. But there is a problem, only users of AT&T company can use this method to unlock iPhone 5/5s/5c for free, while users on other companies are out of business. In fact, possibility of unlocking iPhone freely is existing on iPhone with other carriers, but we are not certain about it.

As an iPhone user, you must know a word "jailbreak". Except unlocking iPhone 5/5s/5c network function, jailbreaking can open your iPhone operating system to use some functions that is not supported by Apple. Once your iPhone is jailbroken, you can use a lot of functions on iPhone, including unlocking iPhone to use SIM card on other countries. Most important thing is, it is totally free.

Note: Jailbreaking iPhone can help you to unlock iPhone or use some apps that are not supported by apple, but there are dangers on it. At first, once you jailbreak iPhone, you have no right to enjoy some Apple official service such as iOS update, and your operating system will get unstable, restart and system halted will be more and more frequent. Besides, an open iOS system is more dangerous to be invaded by some bad apps, and Apple will refuse to guarantee jailbroken iPhone.
Section 1: Jailbreak iPhone 5/5s/5c
The first step of unlocking iPhone 5/5s/5c freely is jailbreak it, so, let's have a look how to jailbreak iPhone firstly. But check your carrier one more time: AT&T.
Step 1. At first, tap "Safari" option to launch iPhone Web browser on your iPhone.
Step 2. Navigate to JailbreakMe right now (see it on Resouces)
Step 3. Click the "Slide to Jailbreak" slider to download and install JailbreakMe on your iPhone. Now, your iPhone is completely jailbroken, and you can start to unlock iPhone right now.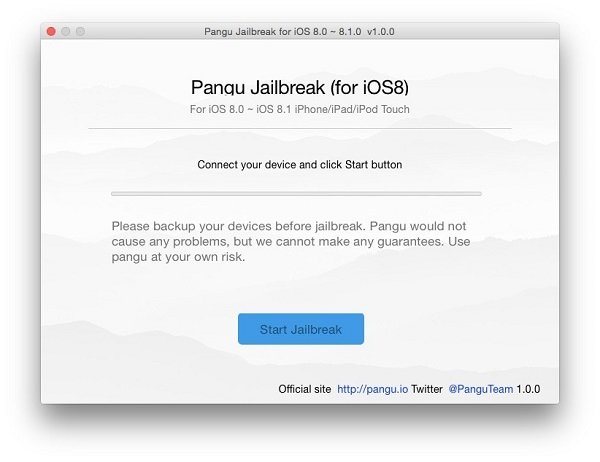 Section 2: Unlock iPhone 5/5s/5c
Once you jailbreak iPhone, there are a lot of applications or functions you can unlock iPhone 5/5s/5c right now.
Step 1. Tap "Settings" on iPhone, and then touch "Network", swipe "Enable 3G" to "Off".
Step 2. Once it done, back to home screen and touch "Cydia" button.
Step 3. Tap "manage" option, and then tap "resource", tap "Edit" button and then "Add" icon.
Step 4. Now, it needs open your browser, touch "repo666.ultran0w.com", and then tap "Add Source" icon. And now, tap "Done".
Step 5. On the top of screen in Cydia, tap the search box and then type "ultrasn0w", and then touch the application icon.
Step 6. Click "Install" and then tap "Comfirm" option. Now, your iPhone can use other SIM card overseas and you do not need to pay any money for unlocking iPhone 5/5s/5c.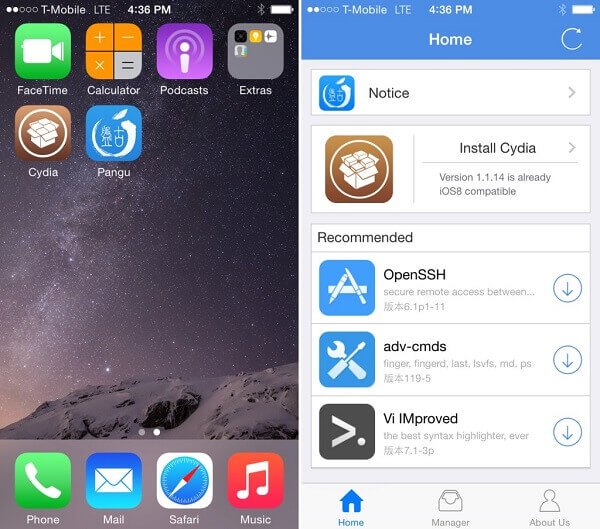 Conclusion
Because the limitation of SIM card on iPhone, traveling on abroad gets more different and inconvenient. If you are facing this trouble, iPhone 5/5s/5c unlock can certainly help you on network service overseas. Unlocking iPhone on Apple official website is one usual and direct way for you but not free. If you think payment is wastful, you can also unlock iPhone 5/5s/5c freely by jailbreaking iPhone. But please be careful about it, because jailbreak will make your iPhone weaker. So, just consider those two methods carefully and hope this article can help you.