The iPhone is the most popular smart device around the world due to its excellent features and software. However, it does not help take care of hardware limitations which can become more and more prominent as time passes. One of the most concerning limitations is the volume. Some users complained that iPhone speakers do not loud enough. Therefore, this tutorial will tell you how to make the volume louder on an iPhone.

How to Make iPhone Louder
Part 1. How to Make iPhone Louder
If you cannot hear any sound on your iPhone, check the Silent button on the side of your device and make sure it closes. Then you can execute the ways below to make your iPhone louder.
Way 1. Make iPhone Music Louder with Audio Qualizer
iPhones come with an audio equalizer. It offers several modes to help you enjoy music in various situations. The Late Night mode makes the music louder on iPhone. Here are the steps to set it up.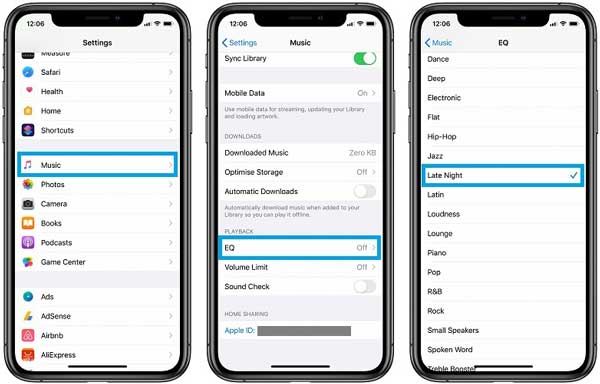 Step 1.Run the Settings app from your home screen, scroll down and choose the Music option.
Step 2.Find the EQ option in the AUDIO section and tap it, which is the equalizer on your iPhone.
Step 3.Enable the Late Night mode. Play a song on your iPhone. Then turn it off and you will see the difference.
Way 2. Make Headphones Louder on iPhone
In order to protect the users' hearing, Apple introduced a feature to reduce loud sounds automatically. To make iPhone speakers louder, you can turn off this feature.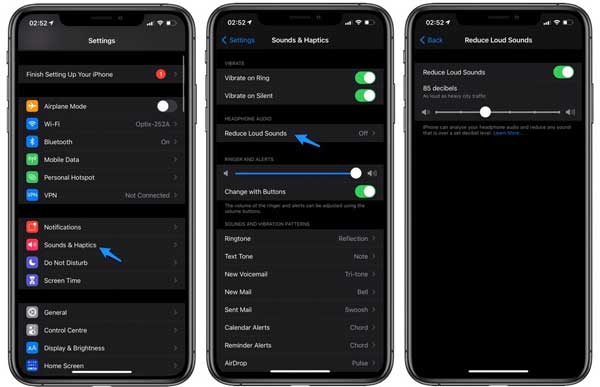 Step 1.Open your Settings app, find and tap the Sounds & Haptics option.
Step 2.Press the Headphone Safety option under the Headphone Audio section.
Step 3.Toggle off the Reduce Loud Sounds. Now, the headphones should become louder on your iPhone.
Way 3. Clean iPhone Speakers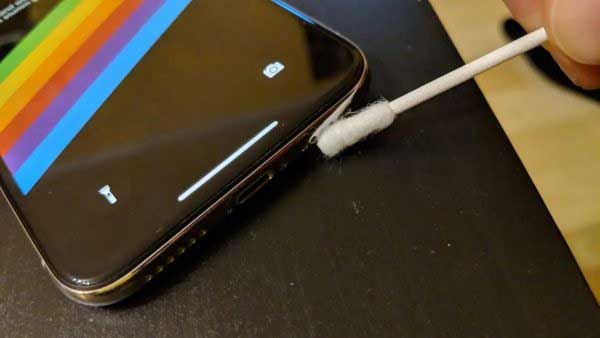 One reason why volume becomes lower on iPhones is the speakers are covered or blocked. Therefore, you can try to clean your speakers and make your iPhone louder. Scrape out the dust and lint with a SIM eject tool gently. Then play some music to see whether it is louder. Another solution is making your iPhone louder without speakers. You can use an external speaker and send the sound via Bluetooth or Wi-Fi network.
Way 4. Use App to Make iPhone Louder than Max
Top 1: Volume Booster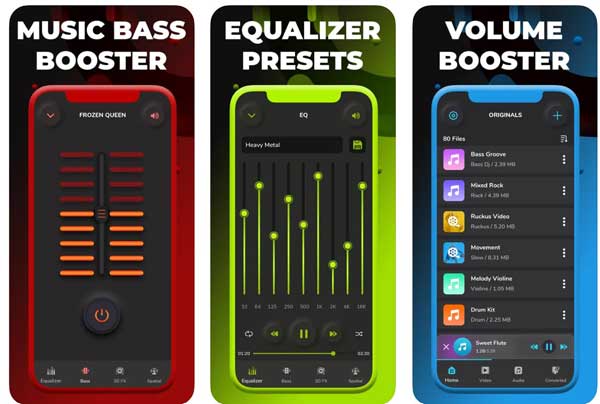 To make your volume louder than max on iPhone, you will need an app, such as Volume Booster. It improves your music experience using a 10-band equalizer. It pushes the phone volume up higher than the system defaults.

Key Features
Include a bass volume booster.
Adjust sound effect levels.
Offer rich sound effects.
Come with a 3D sound player.
Top 2: AmpMe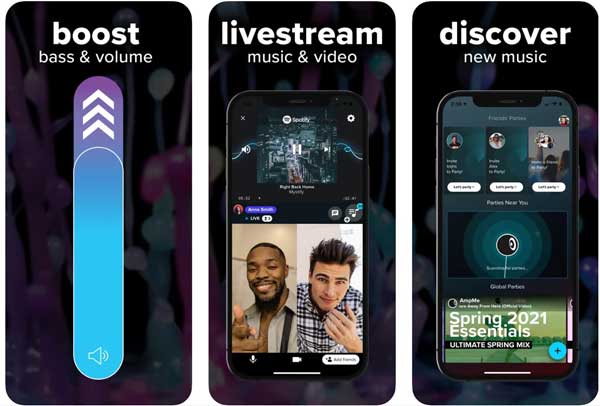 AmpMe is another way to make your iPhone louder for free. It boosts the sound of your music by sending it to Bluetooth speakers, a computer, or another phone. Plus, it can sync audio to multiple devices at the same time.

Key Features
Play music from YouTube or other apps.
Sync music to external devices.
Control volume and other options.
Record audio on iPhones.
Part 2. Ultimate Way to Fix iPhone Volume Too Low
According to our research, some users reported that the volume on their iPhones becomes low suddenly including music, ringtones, and more. That is more likely a software issue. Fortunately, Apeaksoft iOS System Recovery can help you fix this problem quickly.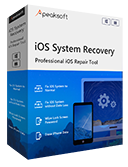 4,000,000+ Downloads
Fix software issues and make iPhone volume louder.
Keep the data on your iPhone in its original condition.
Offer multiple modes.
Support a wide range of iOS devices.
How to Make iPhone Volume Louder by Fixing Software Issue
Step 1.Connect your iPhone
Launch the best iPhone volume repairing tool once you install it on your PC. Choose iOS System Recovery to move to the main interface. There is another version for Mac. Next, plug your iPhone into your computer using a Lightning cable. Then click the Start button to move on.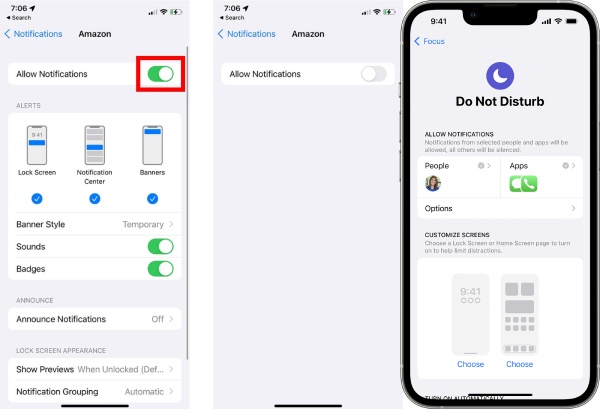 Step 2.Fix iPhone volume
The software can detect your iPhone and display the instructions. Follow it to put your device into DFU mode manually. Then check the information on your iPhone carefully. If something is wrong, pull down the list and correct it. At last, click on the Repair button to begin fixing software issues and make your iPhone louder. Wait for the process to be done and disconnect your iPhone. Now, you can listen to music on your iOS device with an appropriate volume level.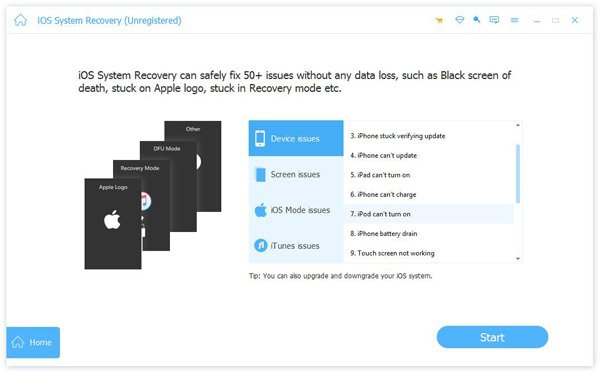 Note :If you have tried the solution above but the problem persists, you'd better take your iPhone to Apple Store to check the hardware.
Further Reading:
Part 3. FAQs on How to Make iPhone Louder
How can I increase the volume on my iPhone?
You can press the Volume Up button on the side of your iPhone. Plus, most media apps have their own internal volume controls. You can look for a speaker icon and increase the volume by dragging the slider.
Why is the volume so low on my iPhone?
Generally speaking, iPhones should be able to achieve a high enough volume level for most users. You can hold down the Volume Up button to increase volume or set it in your Settings app.
How to make AirPods louder?
To get the volume on AirPods louder, you can increase the sound on your iPhone or other Apple device associated with your headphones. Siri voice command is available too.
Is there a volume limiter on iPhone?
Yes. Turn on your iPhone and go to Settings - Sounds & Haptics - Headphone Safety. Enable Reduce Loud Sounds. You are allowed to set the limit from 75 to 100 decibels. This is designed to protect your hearing when you use headphones.
How to make iPhone alarm/ring louder?
There are 2 ways to increase the volume of the ring and alarm. First, go to settings - Sound & Haptics. Find the slider under RINGER AND ALERTS. Drag the slider right to increase the alarm/ring volume. Second. Turn off the music or video you are watching, make sure you are not listening to anything with iPhone, then press the upper button on the left side of your iPhone. You wil see the volume change on the top of the screen.
Conclusion
Following our guide, you should understand how to make your iPhone volume louder. The first thing you should do is disable the Silent mode and clean your speakers. Then try the settings to enhance the volume on your iPhone. You can also try third-party apps to boost the volume of iOS devices. Apeaksoft iOS System Recovery is the easiest way to fix a software issue that leads to your iPhone mute. More questions? Please write them down below.