When you search for a Mac cleaner tool on the internet to quickly free up Mac storage space, manage applications, optimize Mac performance, or remove viruses, you may get the CleanMyMac X recommendation. Before you install CleanMyMac on your Mac, surely you want to know all the necessary information about it.
This post gives you a full CleanMyMac review. You can learn its key features, pros, cons, and more. In addition, we recommend a great CleanMyMac alternative, Mac Cleaner for you.

CleanMyMac Review
Part 1. Detailed CleanMyMac X Review
CleanMyMac is an all-in-one Mac cleaning and optimization app. It carries a ton of services and features for optimization, security, and cleaning application. MacPaw's CleanMyMac X is designed with 30+ tools for you to manage all types of data and apps on your Mac, delete useless files, monitor the Mac's health, protect Mac, and more.
Key features of CleanMyMac
MacPaw's CleanMyMac X is primarily designed to clean Mac data and optimize various applications. Now many other useful optimization, security, and privacy tools are added to it. CleanMyMac offers 5 main functions, Cleanup, Protection, Speed, Applications, and Files.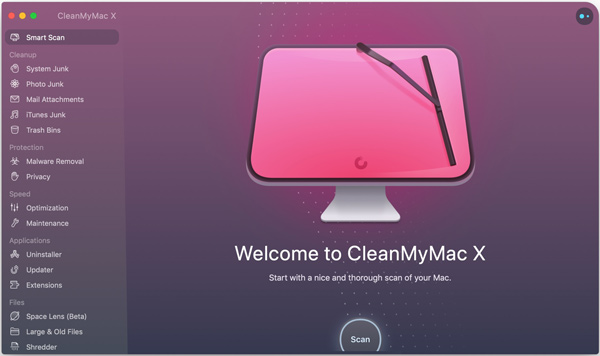 CleanMyMac can help you remove unneeded files from your Mac, such as system junk, old caches, broken downloads, email and app attachments, large files, hidden files, and others. With it, you can handily free up Mac storage and get more available space. It can also help you find and uninstall unwanted apps, extensions, and background plugins.
You can rely on its Protection feature to scan the latest viruses and adware on your Mac. It will prompt you to delete the threat when it finds one. CleanMyMac X can also erase browsing history and tracking cookies to better protect your privacy.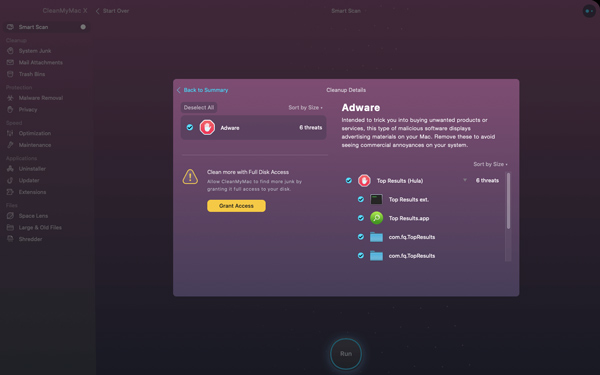 With CleanMyMac X, you can easily check your Mac health and status. It can display the current battery and processor information, network speed, memory, and more. It offers a simple way to speed up your Mac in real-time. When your Mac is working or responding slowly, you can go to the Speed tab, and then choose Optimization or Maintenance to fix background issues.
CleanMyMac X free download
You can go to the official site of MacPaw and then click on the Free Download button under the CleanMyMac X product to easily download it on your Mac.
You can scroll down the page, choose the CleanMyMac X to enter its product page, and then click on the Free Download button. Also, you can go to Mac App Store, search for CleanMyMac X, and then free install it.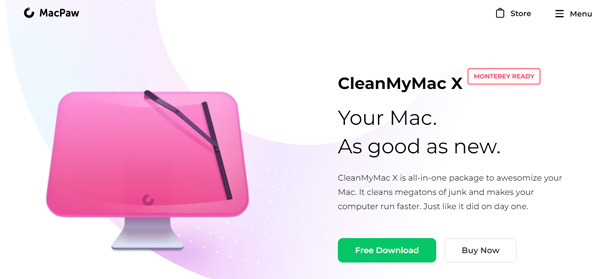 Is CleanMyMac X free to use
CleanMyMac X is free to download and use. But it is not a totally-free Mac cleaner tool. It offers a free trial version for you to access its limited features. If you want to use all its functions, you need to upgrade to a paid version.
MacPaw offers you different plans to choose from. You can go to the CleanMyMac X page and click on the Buy Now button to view these subscriptions. Also, you can directly use the in-app purchase to buy it.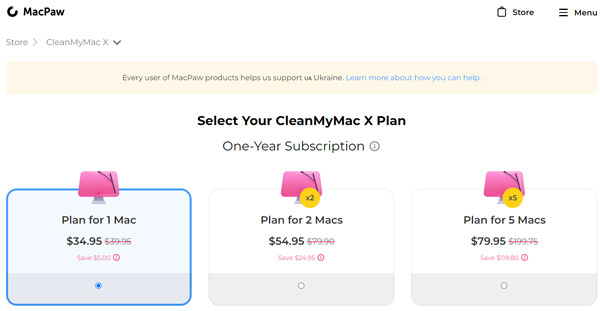 How to use CleanMyMac
CleanMyMac X is designed with a concise interface and Effective cleanup tools. As mentioned above, all these tools are listed in 5 categories. When you enter the Mac cleaner, you can select Cleanup, Protection, Speed, Applications, or Files on the left, and then use the related tool. All its features are quite easy to use.
CleanMyMac X carries a Smart Scan feature for you to quickly remove system junk, detect adware and malware, and quit unneeded system processes to clean out RAM. When you enter it, you can use it to optimize your Mac with ease.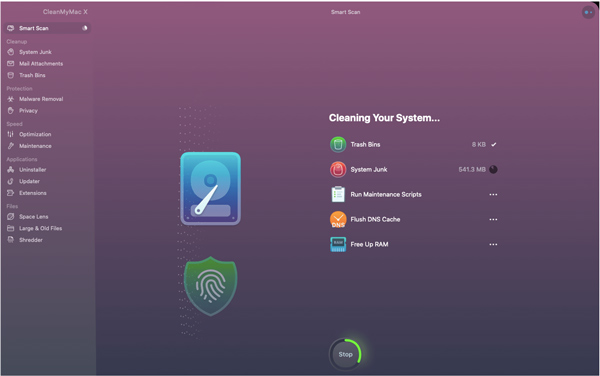 Part 2. Best CleanMyMac X Alternative to Optimize Your Mac
After the free trial of CleanMyMac X, if you are not satisfied with its features, you can try the best alternative to it, Mac Cleaner. It can work as a Mac data cleaner, a performance monitor, and a virus, malware, and adware remover to help you better use your Mac device. With this CleanMyMac X alternative, you can handily manage Mac storage space, and various apps, speed up Mac in real-time, and protect Mac from viruses, malware, adware, and other threats.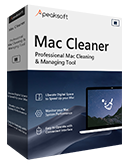 4,000,000+ Downloads
Remove unwanted files from Mac like system junk, duplicates, and others.
Uninstall unused applications and delete all their related data.
Monitor Mac status, protect data and privacy, and optimize Mac performance.
Detect and delete virus, malware, adware, and other threats on Mac.
As the best CleanMyMac X alternative, Mac Cleaner is compatible with all popular macOS versions and Mac devices. You can double-click on the download button above and follow the instructions to free install it on your Mac.
When you open this Mac Cleaner, you can access its 3 key features, Status, Cleaner, and ToolKit.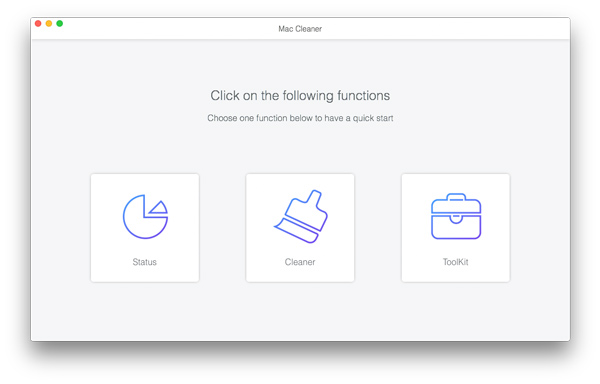 You can simply click on Status to check your current Mac status including Mac storage usage, CPU, memory, and more. With the basic Mac information, you can figure out where to start optimizing this Mac device.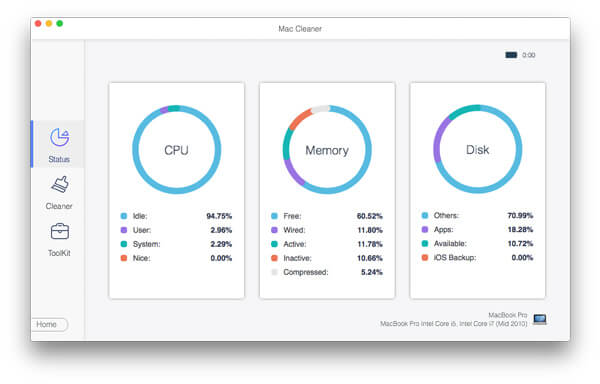 To free up Mac space, you can use its Cleaner feature. It gives 8 options for you to easily clear the associated Mac data. You can choose the specific data type, click the Scan button to list all the related files, and then selectively delete useless ones.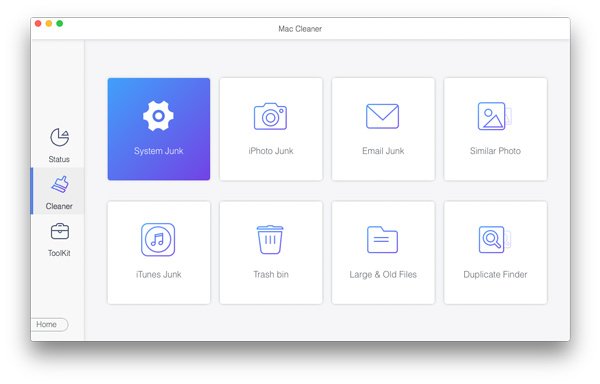 For more useful tools, you can go to ToolKit. As you can see, it offers 6 more tools for you to manage your Mac data, hide files, protect your privacy, optimize Mac's performance, uninstall unused apps like Creative Cloud, and more.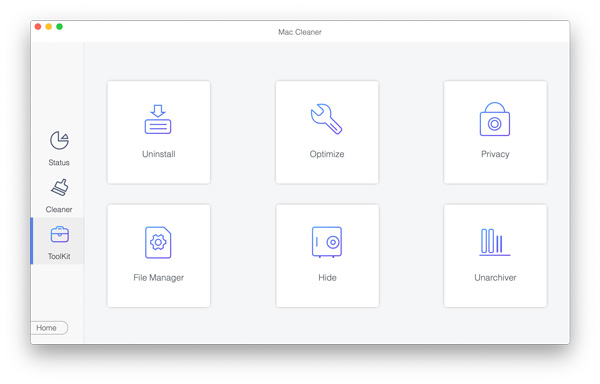 Part 3. FAQs of CleanMyMac X and Mac Data Cleaning
Question 1. Can CleanMyMac X remove duplicates on a Mac?
No. CleanMyMac does not carry a related feature to find and delete duplicates. You can't use it to remove duplicated files from your Mac.
Question 2. Is it safe to use CleanMyMac X on Mac?
Yes, it is safe to download, install, and use CleanMyMac X on a Mac device. You can free purchase it from its official site or Mac App Store.
Question 3. Is CleanMyMac X worth it?
You can't simply say whether CleanMyMac X is worthy or not. Considering that, MacPaw's CleanMyMac is not a free Mac cleaning tool, so you should have a free trial and then decide if its features worth the price.
Conclusion
CleanMyMac X is a popular Mac data cleaning tool. It allows you to easily clean up Mac files, fix different macOS issues, and optimize Mac's performance. Through the CleanMyMac review above, you can know its key features, where to download it, and how to use it.
Moreover, you are introduced to a great CleanMyMac X alternative. Before you choose to buy CleanMyMac, you should try the Mac cleaner alternative, and then make your decision.