Hundreds of files and data pile up on your Mac after years of usage, which can bring poor performance to your Mac and make it sluggish. A handy cleaner is a good tool to help optimize your Mac like OneSafe Mac Cleaner. It claims to make your computer as good as new and clean your Mac perfectly. However, it also has some flaws in it. Here you can see the honest review of OneSafe Mac Cleaner and the best alternative to it.

Onesafe Mac Cleaner Review
Part 1: Honest Review of OneSafe Mac Cleaner
You can get a free download on the official website of the OneSafe Mac Cleaner and a 30-day trial before actual purchase.
Main Features of OneSafe Mac Cleaner
1. Scan your Mac to find out the space you can regain.
2. Discover unnecessary files on your disk to free up spaces.
3. Display a list of outdated or unneeded files you can remove safely.
4. Identify most software files you want to uninstall in the pro version
5. Specify which folder in your Mac has duplicate photos, videos, or files.
Honest Review of OneSafe Mac Cleaner
PROS

Empty multiple trash bins
Find and remove outdated cache files
Remove old and unnecessary log files
Free more space by removing localized languages
Detect hidden files resulting from Safari, iTunes, iPhoto, etc.
CONS

Miss the real vulnerabilities in your Mac.
Report fake alerts that do not really exist
Stop loading while scanning for junk files.
Uninstall software can still leave some files behind.
Part 2: How to Use OneSafe Mac Cleaner
Although OneSafe Mac Cleaner has no free version, you can also try the 30-day free trial for the cleaning service. You need to pay $36 to get full access to the program and more for the pro version. After installing and launching the program, you can see 6 functions on the left side, which are Junk Scan, Large Files, Duplicates, Uninstaller, Startup, and Shredder. The following content will give a brief introduction of its three most practical ones: Junk Scan, Large Files, and Shredder.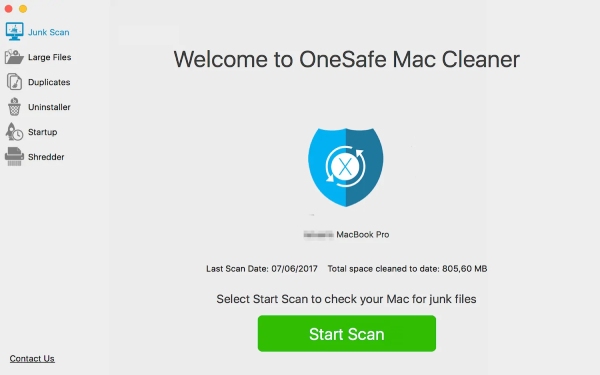 1. Junk Scan
Install and launch the OneSafe Mac Cleaner on your Mac, and if it is your first time, the software will automatically start scanning junk files. Or you can click the Start Scan button in the middle. It will scan for all the outdated cache files.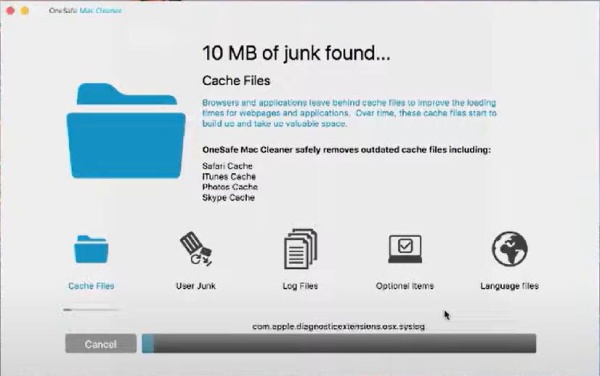 2. Large Files
Through this tool, OneSafe Mac Cleaner helps you find out huge files larger than 50MB, you can free up some spaces by removing the large old files. Move to the second row – Large Files, then click the Start Scan button. Tick the square box before the file name to choose the unwanted file and click on the Delete button to remove it.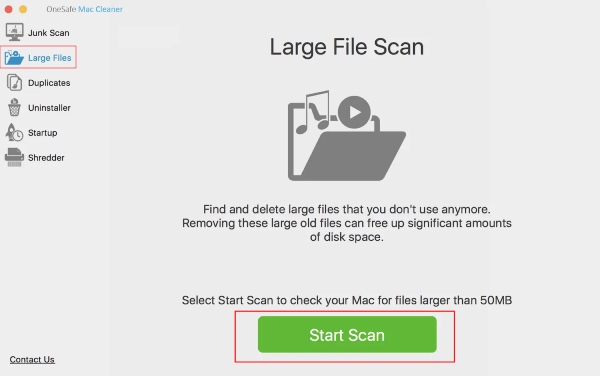 3. Shredder
OneSafe Mac Cleaner enables you to get rid of sensitive items or unwanted files, photos, and videos permanently. You need to scroll down to the last bar on the main interface and click the Add Files button under the Shredder menu. Choose files from the Finder and click the Delete button to remove them forever.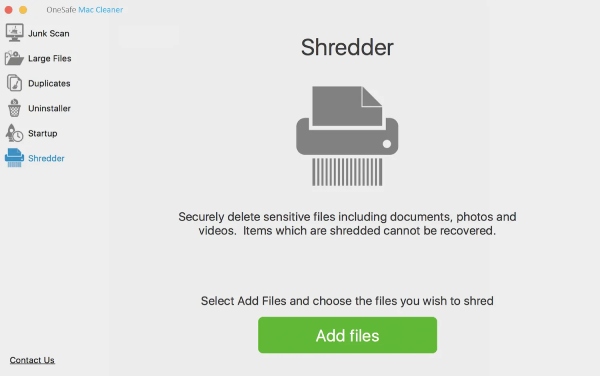 Part 3: Best Alternative to OneSafe Mac Cleaner
Since the OneSafe Mac Cleaner is not very stable and reports fake alerts sometimes, here is another option for you to replace this cleaner – Apeaksoft Mac Cleaner. This alternative can compensate for the downsides of the OneSafe Mac Cleaner and includes new features.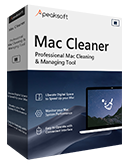 4,000,000+ Downloads
Uninstall useless apps, malware, and relevant files.
Keep your personal application hidden in the safe box.
Promote the performance of your Mac and boot it up quickly
Obtain more space on disk by deleting obsolete files, caches, cookies, etc.
How to Use the OneSafe Mac Cleaner Alternative
Step 1 Monitor Mac Status
Launch the alternative software after downloading it to your Mac. Before you start scanning and cleaning your Mac, you can click the Status button on the main interface to see the performance of your Mac as well as the items that occupy your Mac.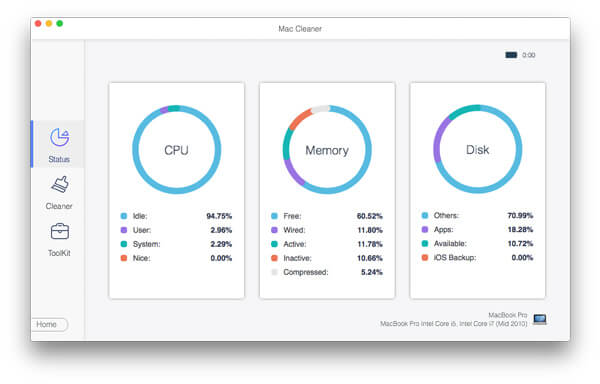 Step 2 Remove Similar Files
After checking the status, you can start clearing the stuff you don't want. Just like the OneSafe Mac Cleaner, this alternative can also recognize the same files among your folders, and it has a new feature that allows you to see how much space a similar file takes. Click the Cleaner button on the main interface and go to the last icon - Duplicate Finder. Then click the Scan button to find duplicate files.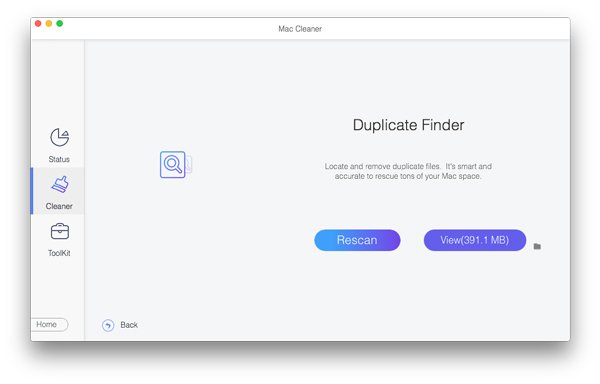 Step 3 Uninstall Mac Application
Unlike the OneSafe Mac Cleaner which will leave the relevant files behind after removing the software, this alternative enables you to uninstall unwanted software while getting rid of corresponding file folders. Click the Toolkit and go to the Uninstall tool. Then click the Scan button and tick before the unwanted software or files to choose. Last, click the Clean button below to delete them utterly.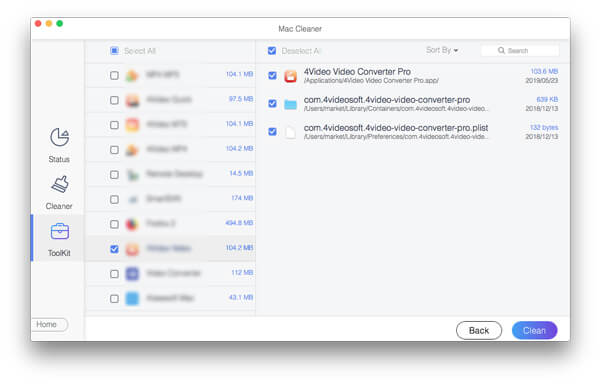 Part 4: FAQs about OneSafe Mac Cleaner
Is OneSafe Mac Cleaner safe to use?
Although the software sometimes can report fake alters, it is not malware and is safe to use. Moreover, it can make your Mac even safer by clearing all your cookies and browser footprint.
How to uninstall OneSafe Mac Cleaner?
First, open the Find on your Mac and go to the Application section. Then find the program and right click on it to choose the Move to Trash button, or just drag it to the Trash on the Dock. To remove it completely, you can also clear up the Trash bin.
Why does the OneSafe Mac Cleaner slow my Mac?
Other buyers also report this issue, if it keeps occurring, you can try to disable the software, delete it, and reinstall to your computer. If it doesn't work, you can use the cleaner to check if the slowing down results from other factors.
Conclusion
Though the OneSafe Mac Cleaner is a workable tool to clean your Mac, there are also some disadvantages that need your special attention before jumping to the purchase page. This honest OneSafe Mac Cleaner review offers you more features about the program and the best alternative so that you can better decide.