You may find that your Mac runs slower and slower than it's new, or you may need to sell or trade your Mac for something new. In this case it'd be a good idea to wipe the hard drive and reinstall the operating system to make your Mac clean like a new one as well as to protect your privacy. You must don't want any one to access your private information after you sell your Mac. To wipe the hard drive completely can avoid your personal data being recovered.

Part 1. How to Tell the Type of Your Hard Drive
Before you start to wipe your Mac hard drive, you should firstly confirm whether you have a HDD or SSD. You can find it out by the method below. Click on the Apple menu and select "About this Mac", then select the Storage option to see which type of drive is in your system.
For example, the hard drive of my Mac is a SATA Disk (HDD).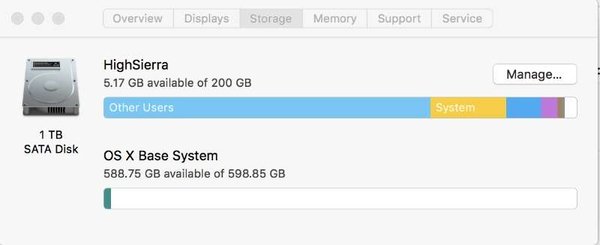 If your hard drive is a Solid State SATA Drive (SSD), it will look like this.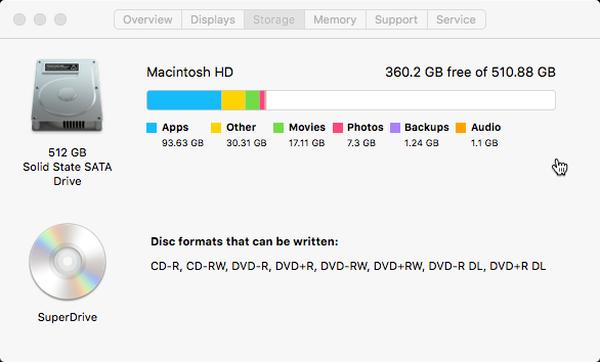 Part 2. Back up Important Data before Wiping Hard Drive
It's necessary to make a backup of all the important data in your hard drive before you completely wipe it. Even though you decide to sell your Mac, it would be a wise decision to back up your important information in case you still need them later in the future.
To make a backup of your Mac data, the built-in Time Machine backup software in Mac OS X/11 can do you a great favor.
Check how to back up your Mac with Time Machine in details.
Step 1. Open Apple Menu > System Preferences and select Time Machine icon in the System Preferences folder.
Step 2. Check Back Up Automatically and click Select Disk button in the top-middle of the window.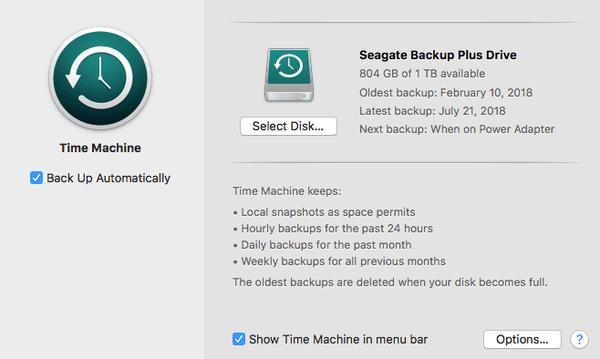 Step 3. Choose the disk you want to use to save your backup data. It would be better to plug in an external hard drive to save the copy of all the data you want to back up.
Tip: It's necessary to back up your computer regularly even if you didn't plan to wipe your hard drive, in case your Mac computer crashes suddenly or goes through other accident. And if you don't want to use Time Machine, you can also use iCloud or other cloud storage service to store all your important files online.
How to Wipe a Mac Hard Disk Drive (HDD)
Step 1: Turn off your Mac.
Step 2: Press the power button and hold down the command and R keys at the same time immediately.
Step 3: Wait until the Apple logo appears on the screen.
Step 4: Select the "Disk Utility" from the OS X Utilities list. Click Continue.
Step 5: Select the disk you want to wipe by clicking it on the sidebar. Then click the Erase button at the bottom of the window.
Please note that the Erase option can only be clickable after you boot up your Mac with command +R keys. It won't be clickable if you attempt to reformat your hard drive after starting your computer as you normally would.
Step 6: Click the Security Options button and determine how thoroughly you want to erase your hard drive with a slider bar.
There are four erasing levels ranging from the fastest to the slowest. If you choose the fastest option, it will take a short time to wipe drive but it's not secure enough, because the data may not be removed thoroughly and could be restored with a recovery application. And if you choose the slowest option, the erasing process will be much longer but it will erase the maximal amount of data for you.
You can choose the erasing level according to your need and click OK after you make the decision. Then click the Erase button to begin the hard drive wiping process.
Part 4. How to Erase a Mac SSD with Apeaksoft Mac Cleaner
Not like older Mac computers with a traditional hard disk drive, most newer MacBooks are equipped with solid state drives (SSDs), and in this case Apple's Disk Utility software does not enable you to wipe the hard drive. What's the reason? In fact, just a standard erase can make it difficult to do a Mac data recovery. Another reason is that wiping an SSD out will damage your hard drive, and over time, the reliability and longevity of your SSD will be affected. Therefore, we do not recommend you to wipe a Mac with SSD completely with method mentioned in Part 3.
However, you can make a standard erase of your Mac SSD to clean your Mac safely and monitor its system performance. In this case, Apeaksoft Mac Cleaner can do you a good favor. Mac Cleaner is an all-in-one app to erase all the junk files on your Mac and optimize your Mac.
Features:
• Erase any junk/old/large files, clutter, shred files securely on your Mac hard drive.
• Monitor Mac performance and keep it in good state by checking disk utilization, memory usage, battery status, and CPU usage.
• Speed up your Mac system with 100% security.
• Works well with MacOS Big Sur, OS X 10.15, 10.14, 10.13, 10.12, 10.11.
How to erase Mac SSD with Mac Cleaner
Step 1: Download and install this Mac Cleaner on your Mac computer.
Step 2: Launch the software and you will see a simple interface like below, you are able to check Status, Cleaner, and Toolkit in the main interface.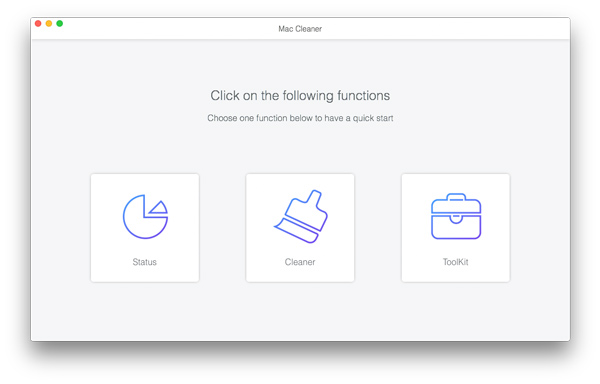 Step 3: In order to erase the hard drive, click "Cleaner" option in the main interface.
Step 4: Then click "System Junk" to erase System Cache, Application Cache, System Logs, User Logs, and Localization.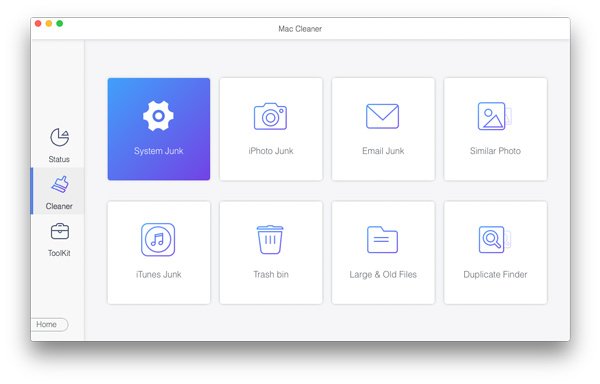 Step 5: Click "Scan" to scan the system junks on your Mac, it will take a while to finish the scanning process. After that you can click the "View" option to preview the scan results in case there are some data you don't want to erase.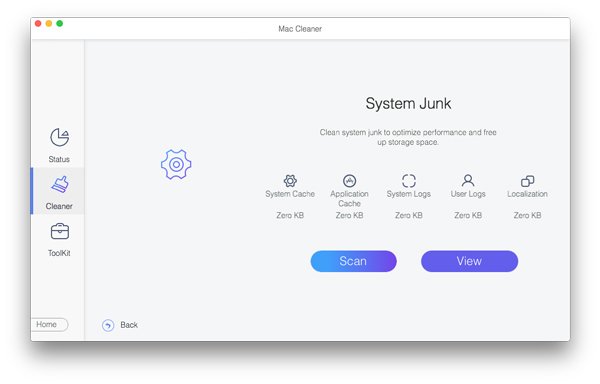 Step 6: Choose the items you want to clean, and then click the "Clean" button to erase them from your Mac SSD securely.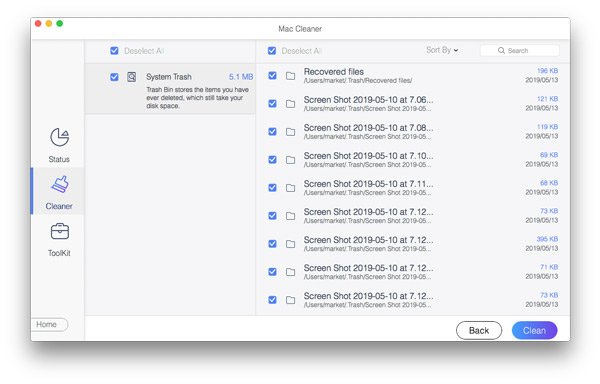 After that it will pop up a confirmation window to ask you to confirm that you want to clean the selected system junk, click "Confirm" to clean system junk on Mac.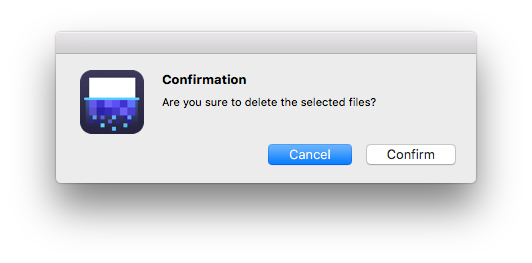 You can also clean iPhoto junk, Email junk, Similar photo, iTunes backup junk, Trash bin, Large & Old files, Duplicate files etc. with similar steps above.
Conclusion
By following this tutorial, you will know how to wipe Mac hard drive securely and completely. Just as we have explained above, it's not a good idea to wipe an SSD completely, it'd be better to clean your Mac SSD with a Mac cleaner application, since it's hard to do a data recovery on Mac SSD.