While editing a picture, you may often need to increase its image resolution. This post recommends 3 apps to increase picture resolution on your iPhone, iPad, and Android phone.

App to Increase Picture Resolution
Part 1. Online App to Make Your Photos Higher Resolution for Free
Whether you need to make your photos higher resolution on an iOS/Android device or a computer, you can rely on an online image editor. Here we introduce you to a free image resolution increasing tool, Free Image Upscaler. It highly supports all frequently-used image formats, such as JPG, JPEG, PNG, SVG, BMP, TIF, TIFF, and more. It enables you to easily improve image resolution on different devices.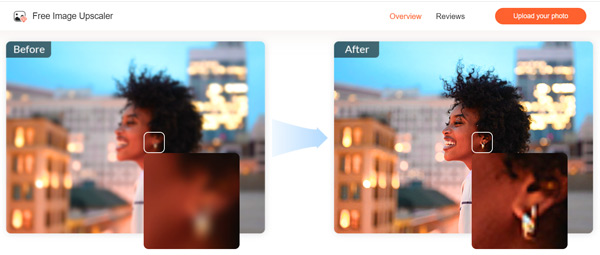 When you want to edit a picture and increase image resolution, you can enter a browser and go to the Free Image Upscaler site on your device. It requires no account sign-in or sign-up. You can directly click on the Upload your photo button to add your image file to it. It is designed with advanced AI technology and deep learning algorithms to ensure you can output outstanding results.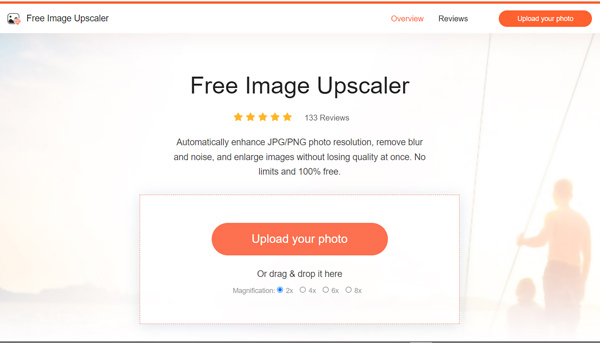 As soon as your picture is loaded, it will automatically analyze the image, improve photo resolution, reduce noise and blur, adjust colors, exposure, and white balance, highlight focus, upscale resolution, and do other operations to the optimization. Next, please select 2x, 4x, 6x, or 8x from Magnification to resize your picture and upscale the image resolution based on your need.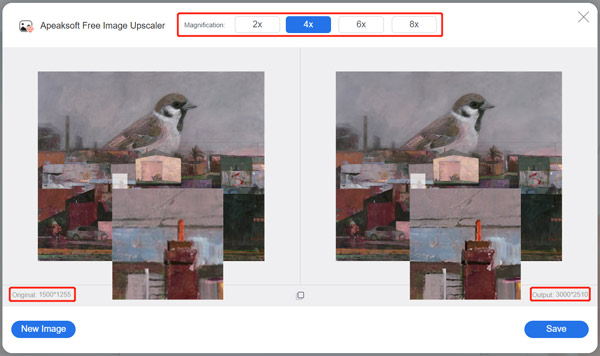 As a free online photo resolution increaser, Free Image Upscaler won't add a watermark to your edited files. As we mentioned above, besides Windows PC and Mac, you can use them on an iPhone, iPad, or Android phone.
Part 2. Apps to Increase Picture Resolution on iPhone and Android Phones
The built-in image editing features in iOS and Android don't allow you to increase or decrease the picture resolution. If you prefer to directly increase the image resolution on your mobile phone, you can find some third-party photo editor apps from App Store and Google Play Store.
Remini - AI Photo Enhancer
Remini - AI Photo Enhancer is an image editor app that is used by many people for both iOS and Android users to optimize photos and improve resolution. It is specially designed to fix old, blurry, and low-quality photos. This app offers a simple way to increase picture resolution and turn it into a high-definition image file. You can go to the App Store or Google Play Store to check more detailed features and free install it.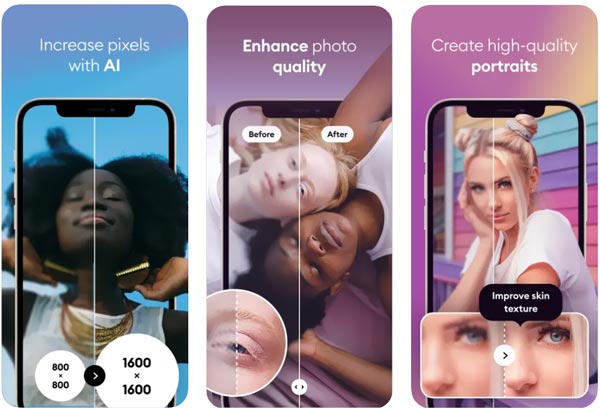 Picsart Photo Editor
Picsart Photo Editor is an easy-to-use image editor and image resolution enhancer that can help you easily increase your picture resolution. This app is also compatible with both iOS and Android devices. Besides basic editing features, it offers many trending filters and popular photo effects for you to apply. Moreover, it is equipped with other useful functions like background erasers, blur, text, stickers, and more.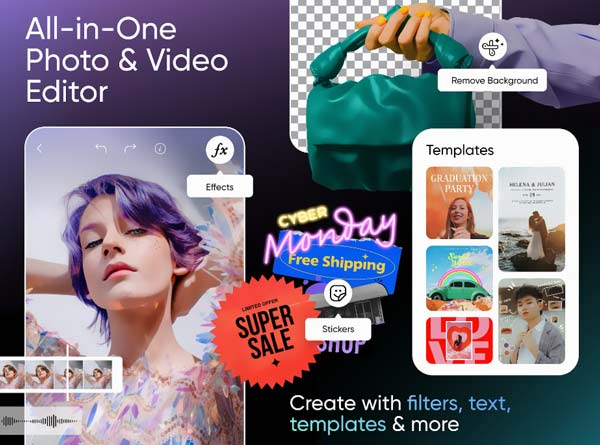 Part 3. FAQs on How to Improve Image Resolution
Question 1. How to increase photo resolution in Photoshop?
Open Photoshop and load your picture in it. Click the Image menu and then choose the Image Size option. In the pop-up window, you can increase your image resolution, adjust the pixel dimensions, and resize the picture based on your need.
Question 2. How do you free edit photos on iPhone?
The Photos app on iPhone has many basic editing features you can use to free edit your captured pictures. You can use them to crop a photo, apply different filters, rotate it, and adjust the image effects. Also, you can use a third-party photo editor app or some online tools to edit photos on your iPhone.
Question 3. How to resize a picture using Adobe Express?
You can go to the official website of Adobe Express and click Upload your photo to import your image file. Adobe allows you to quickly resize a picture for different platforms like Instagram, Facebook, Twitter, YouTube, Pinterest, Snapchat, and more. You can also manually resize the photo according to your need by clicking Custom.
Conclusion
Here in this post, you can get three apps to increase your picture resolution with ease. Surely there are many other image editors offered on the market that can help you increase the resolution of images. If you have any better app recommendations, you can share them in the comment sections below with our other readers.