"I want to add unusual sounds to a video, so I need to record an audio file and reverse the playback, is there any recommendation?" The backwards recorder applications are a funny way to record your voice or other sound and then reverse the track. Moreover, it is useful for musicians, video creatives and more. However, most voice recorders are only able to capture sound but lack of reverse editing. This article shares top 8 backwards recorders for PC, Mac, iPhone and Android.

Backwards Recorder
Part 1: Top 3 Backwards Recorder for PC/Mac
Top 1: Audacity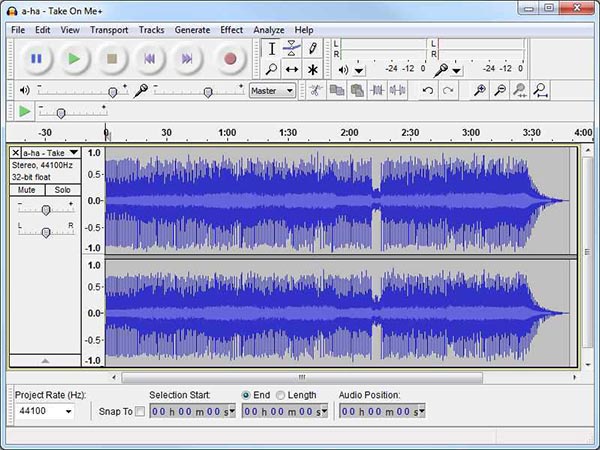 Platform: Windows, Mac
Price: Free
Audacity is an open-source audio project. It integrates both a voice recorder and audio editor. After recording, it will be added to the audio track. Then you can edit it, such as make it backwards.
PROS

1. Free to use with no any restriction.
2. Edit voice recording on audio tracks.
3. Support multiple tracks.
4. Reverse voice playback permanently.
CONS

1. This backwards recorder is hard to learn.
2. The output formats are limited.
Top 2: GarageBand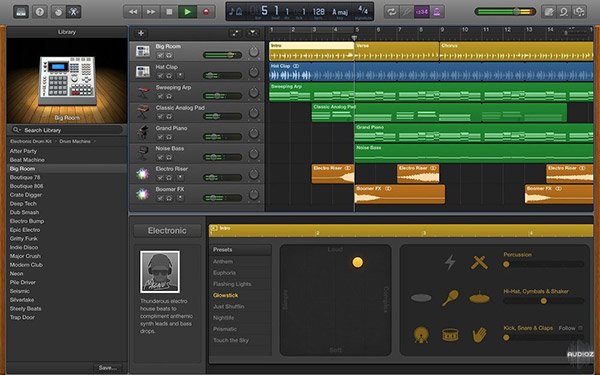 Platform: Mac OS X/11
Price: Free
GarageBand is a backwards recorder released by Apple for Mac operating system. It is free to use for Mac customers. As a powerful creation studio, you can do almost everything you want including audio recording and editing.
PROS

1. Record voice and music without requirement of equipment.
2. Support touch bar and iCloud.
3. Edit voice recording on the timeline.
CONS

1. This backwards recorder is only available to Mac.
2. The learning curve is not friendly to beginners.
Top 3: Adobe Audition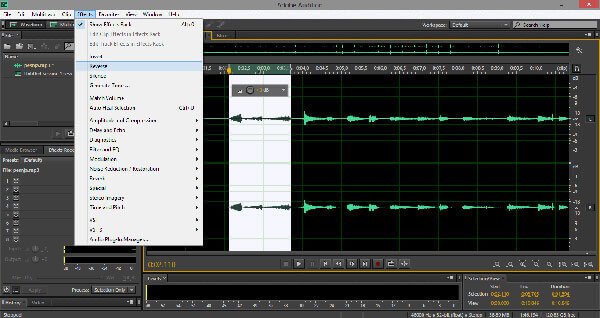 Platform: Windows and Mac
Price: $20.99 per month
As a professional audio solution, Adobe Audition provides all features that you need to record and edit voice. Similar to Audacity, Audition records voice and internal audio on tracks. So that you can reverse any clip later.
PROS

1. Record both system sound and microphone.
2. Offer excellent stereo waveform editor.
3. Include strong audio mixer like song remix app.
CONS

1. The price is expensive.
2. This backwards recorder is large and may slow down your device.
Part 2: Top 5 Backwards Recorder Apps on iPhone/Android
Top 1: Speak Backwards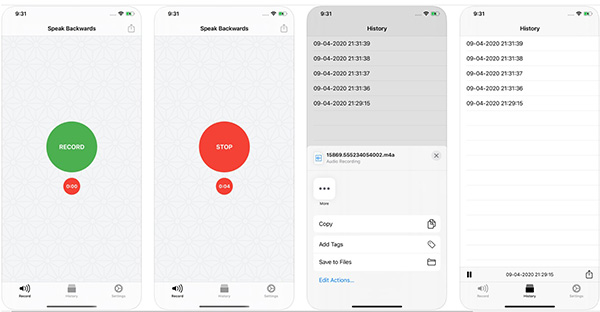 Platform: iOS 8.0 or later
Price: Free
Speak Backwards is a backwards recorder app for iPhone users to make fun using themselves or friends' voice. The reverse recording will be saved in local database, so you can share it to other apps or your friends easily.
PROS

1. Record anyone in front of your iPhone.
2. Instant playback in reverse.
3. Share the backwards recordings.
CONS

1. This backwards recorder may crash sometimes.
Top 2: Reverse Audio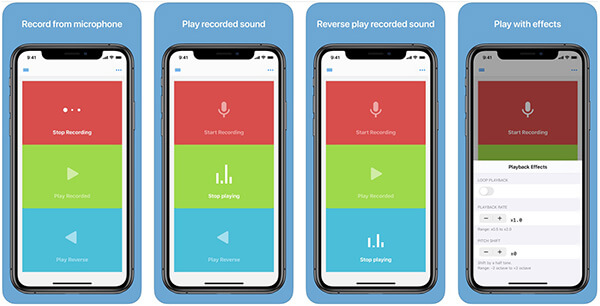 Platform: iOS 9.3 or up
Price: Free
Unlike Speak Backwards, this backwards app turns your iPhone into a funny tool. It records your voice through the internal microphone and lets you play the original file or reverse the playback.
PROS

1. Free to use with no ads.
2. Manually reverse voice recordings.
3. Change bit rate and output formats.
CONS

1. There is no way to share reverse recordings.
2. It cannot reverse an existing audio file.
Top 3: Say It Backwards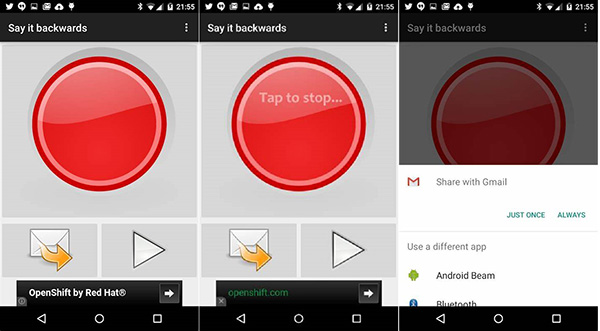 Platform: iOS and Android
Price: Free with ads and in-app purchase for Android, $0.99 for iPhone
As its name indicated, this backwards recorder app is a simple way to record a sound and play it back in reverse. It is the best option for beginners. You cannot find messy custom options or features.
PROS

1. Record and reverse voice in one tap.
2. Share reverse recordings via email and more.
3. Lightweight and easy to use.
CONS

1. It only works on simple words.
2. It is not available to the latest mobile devices.
Top 4: Reverse Talk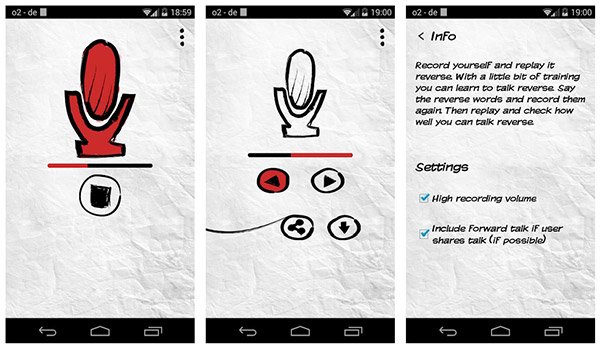 Platform: Android 4.0 and up
Price: Free with ads
If you are looking for a simple backwards recorder app for your Android phone, Reverse Talk is a good choice. The interface is clean and concise, so you won't miss what you want. Moreover, it lets you use for free.
PROS

1. Record your voice and reverse it.
2. Keep the original recordings.
3. Share reverse recordings to your friends.
CONS

1. The backwards recorder app does not have custom options.
2. The recording quality is not very good.
Top 5: Rewind: Reverse Voice Recorder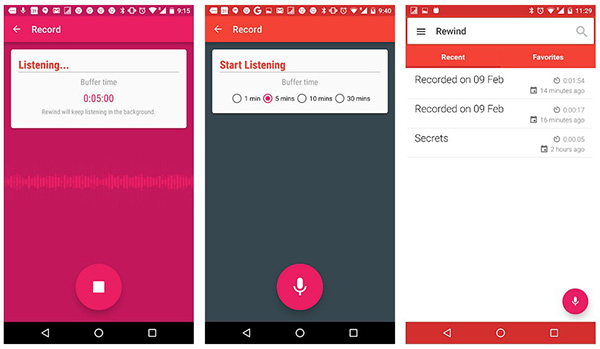 Platform: Android 4.1 or above
Price: Free with in-app purchase
In most cases, you just wish to reverse your voice occasionally. Then Rewind is a good option. It works as a normal voice memos app that has the capacity to reverse your voice recordings as you wish.
PROS

1. Record your voice and surroundings.
2. Reverse any clips in a recording.
3. Include basic custom options.
CONS

1. This backwards recorder requires payment for some features.
Further Reading
How Can You Record Your Amazon Chime Meeting
6 Best Browser Audio Recorders to Capture Audio from Browsers
How to Capture Gameplay Videos for Clash of Clans
Recommend: Best Screen Recorder

A powerful screen recorder is an important utility and almost everyone need it. Apeaksoft Screen Recorder is such a screen recorder for both Windows and Mac.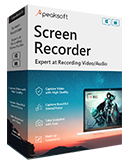 4,000,000+ Downloads
Record screen, video and audio on your screen easily.
Support webcam and microphone capture.
Screen mirror iPhone screen to your Windows PC or Mac.
Enhance video and audio quality automatically.
Provide both custom options and presets
Part 3: FAQs of Backwards Recorder
How to reverse an existing audio file?
You can reverse an audio file in an audio editor, such as Audacity or Adobe Audition. The Reverse option is usually hidden in the edit menu.
What happens if you play a record backwards?
If you play a record backwards, the end of the audio will be heard first and beginning last.
What is the sentence that is the same backwards?
The sentences or words that are the same backwards are palindrome. For example, Rise to vote sir.
Conclusion
This article has reviewed and recommended the best backwards recorder apps for iPhone and Android devices. They can help you record your voice and make it backwards automatically or manually for fun. Some of them are totally free to use, like Reverse Audio. Others require purchase in app. If you need a versatile screen recorder, try Apeaksoft Screen Recorder directly. More questions? Please write it down below this post.