Nowadays, we have more ways to keep in touch with friends and families remotely. Google Voice, for example, is an internet-based service that allows you to contact one voice number and forward calls to multiple recipients on mobile devices and online. It does include a built-in recording feature, but it is too simple. Therefore, this article identifies and shares a top list of the best Google Voice recorders to save your phone calls on mobile devices or computers.

Best Google Voice Recorders
Part 1: 3 Best Google Voice Recorders for iPhone
Top 1: TapeACall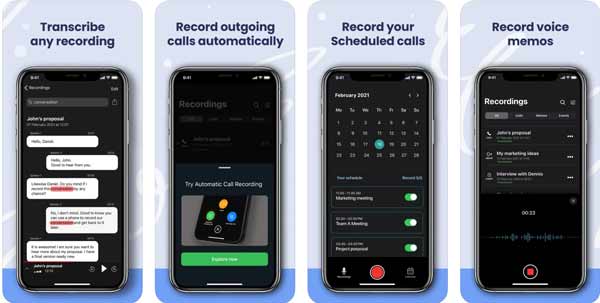 TapeACall is one of the best Google Voice recorders for iPhones with iOS 11.2 or later. You can download this app for free from App Store and record incoming or outgoing calls automatically.
PROS

Automatic record Google Voice calls.
Transcribe recording accurately.
Remind you to follow up on phone calls.
Organize and manage recordings easily.
CONS

Advanced features require a subscription account.
It is only available to certain regions.
Top 2: Rekk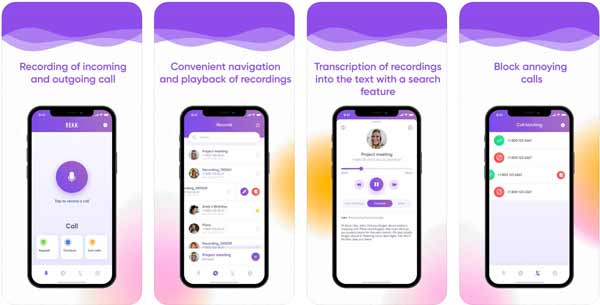 Rekk is another Google Voice recorder app for iPhone users, who have updated to iOS 14 or later. As a powerful call recorder, it enables you to record, save and convert important calls on your iPhone easily.
PROS

Support both incoming and outgoing calls.
Convert recordings to text.
Back up call recordings to Google Drive.
Share recorded calls easily.
CONS

It is only available in English.
It only supports the latest devices.
Top 3: Rev Call Recorder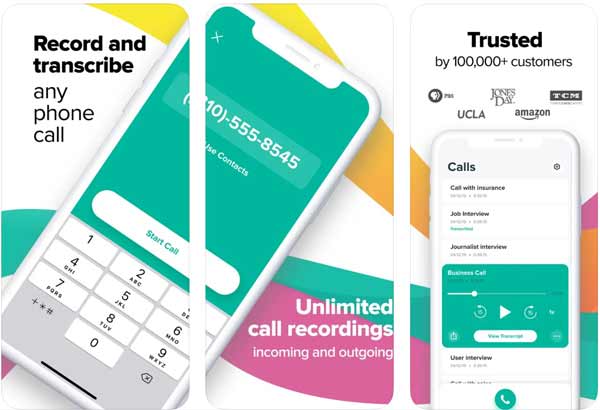 Rev Call Recorder is a free Google Voice recorder on iOS 10 and later. Though you can download it for free, there is no ads, subscription, or length limitation. You can record important calls by tapping a shortcut.
PROS

Record Google Voice for free.
Support long call recording.
Available to a wide range of devices.
No ads or other limits.
CONS

Currently, you can only register with U.S. phone numbers.
Part 2: Top 3 Google Voice Recorders on Android
Top 1: Cube ACR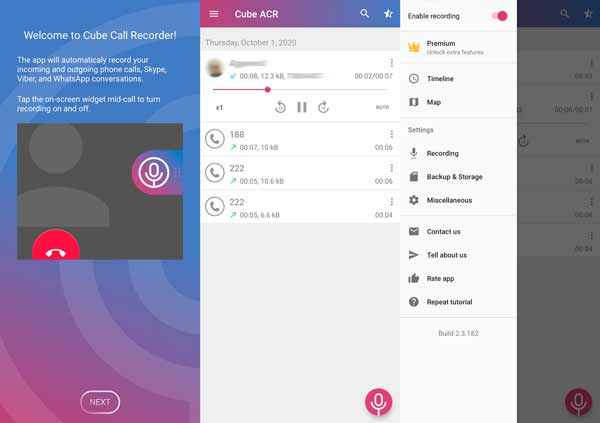 Cube ACR is an advanced Google Voice recorder for Android. It helps you record both phone calls and VoIP including incoming and outgoing calls. More importantly, it offers the best audio quality and satisfactory results.
PROS

Free to download from Google Play.
Update regularly.
Produce high-quality recordings.
Offer a professional team.
CONS

It cannot save recordings in MP3.
It cannot show the recording time.
Top 2: Automatic Call Recorder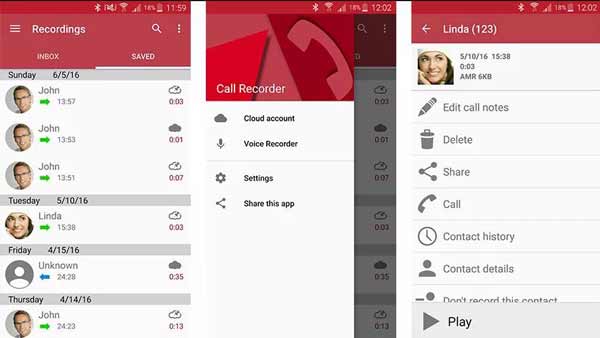 Automatic Call Recorder, one of the most popular call recorders for Android, which allows you to save any phone calls on Android including Google Voice. You can decide to record which calls and ignore others. Then you can listen to call recordings and share them easily.
PROS

Record Google Voice on Android.
Upload recordings to Google Drive.
Encrypt private calls.
Include custom options.
CONS

It is not available on certain handsets.
It lacks some features, like transcription.
Top 3: Boldbeast Call Recorder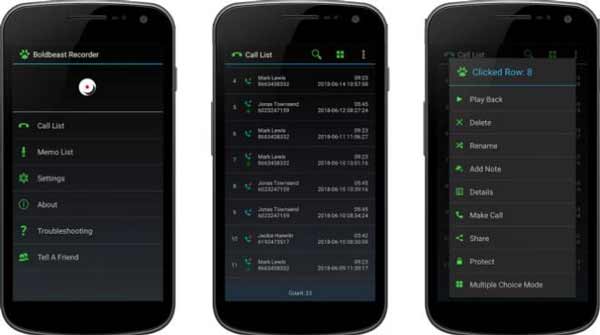 Boldbeast Call Recorder is a powerful Google Voice recorder on Android 11/10. It saves all the recorded conversations in the app for listening to or sharing later. It offers both a free and a paid version.
PROS

Record Google Voice on Android easily.
Increase the volume of the recording.
Save recordings to SD card.
Available in multiple languages.
CONS

The free version cannot record calls automatically.
Part 3: How to Record Google Voice on PCs
Google Voice is a cross-platform service. Some people also use it on PC. How to record incoming or outgoing Google Voice calls without notifying others? The answer is Apeaksoft Screen Recorder. As a Google Voice recorder for PCs and Mac, it is the best option for beginners.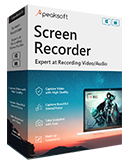 4,000,000+ Downloads
Record both yours and the recipients' voice with Google Voice.
Make schedules and automatic record calls.
Enhance the audio quality using advanced technology.
Support a wide range of audio output formats.
How to Record Google Voice on a PC
Step 1 Install Google Voice recorder
Launch the best Google Voice recorder for PC after installing it on your machine. Choose Audio Recorder to enter the main interface.

Step 2 Record Google Voice
Turn on both System Sound and Microphone for Google Voice recording. Adjust the volume of each item. Then make a call, and click the REC button.

Step 3 Preview and save the recording
When the call is done, click the Stop button to enter the preview window. Pre-listen to the recording, and click the Save button if you are satisfied.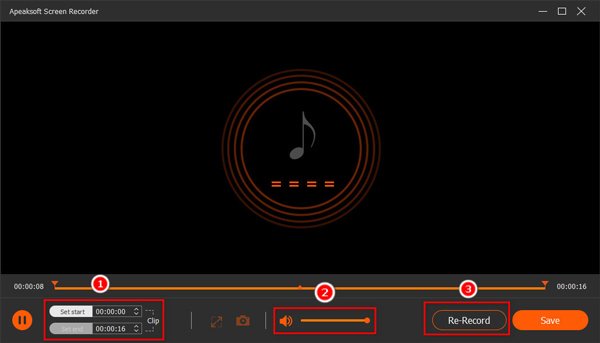 Bonus Tip: How to Record Google Voice Online
Do not like to install recording software on your disk? Don't worry, Apeaksoft Free Audio Recorder can meet your need. As an online Google Voice recorder, it does not require you to install anything on your hard drive. Plus, it is free to use without any limitations. Here are the steps below.
Step 1 Visit https://www.apeaksoft.com/free-online-audio-recorder/ in your browser. Click the Start Recording button to get the launcher.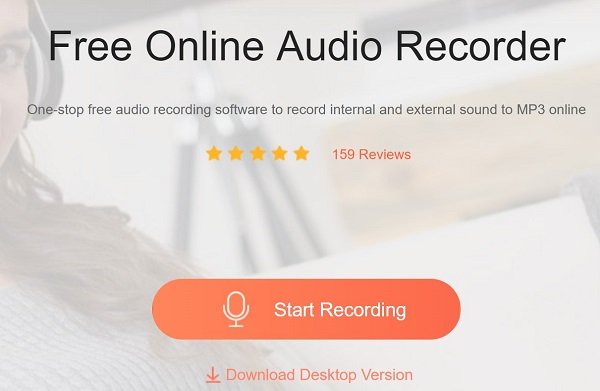 Step 2 Enable both System Audio and Microphone, and text the volume until you are satisfied. When your Google Voice call begins, click the REC button.

Step 3 Press the Stop button to stop recording. Then download the audio file.

More Reading:
[Voice Over Recording] How to Record A Voice Over
Easiest Ways to Record Discord Audio Losslessly
Part 4: FAQs about Google Voice Recorder
Does Google Voice come with the record feature?
Yes, but it can only record incoming calls. Plus, you have to set it up and press the shortcut to record it manually.
Where are my Google Voice recordings?
The built-in record feature will send your Google Voice recordings into the inbox folder.
Why I cannot record Google Voice?
The built-in record feature is only available to incoming calls. Moreover, you must set it up correctly before recording.
Conclusion
This article has reviewed the top 8 best Google Voice recorders for iPhone, Android, PC, and online. You can follow our honest review to pick an appropriate one for your device. Apeaksoft Screen Recorder, for example, is the easiest tool on PCs to save important calls. If you have better recommendations, please write them down below.