This article identifies and share you top 6 best browser audio recorders. Currently, there are so many wonderful streaming music services offering nice listening experience and the latest albums, such as Spotify, Pandora, Deezer, etc. Music enthusiasts are able to enjoy all types of songs at home or any location with a device connected to the internet. The only downside of music streaming is that you cannot enjoy it without network. That is why you need a good audio recorder for your browser.

Browser Audio Recorder
Part 1: Best Way to Record Audio from Browser
The desktop audio recorder, such as Apeaksoft Screen Recorder, also provides the most stable and reliable experience. If you mind the audio quality, it can meet your need.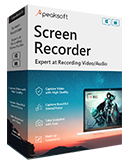 4,000,000+ Downloads
Record audio from any browser, like Chrome, Firefox, Safari, IE, etc.
Optimize audio quality automatically when recording music in browser.
Pre-listen to the audio recording with built-in media player.
Offer extensive custom options for advanced users.
How to Record Audio from Browser
Step 1 Install the best browser audio recorder
When you discover an online music file you wish to record in browser, install the best browser audio recorder to your computer. There are two versions, one for PC and the other for Mac. Then launch it and choose Audio Recorder.

Step 2 Record audio from browser
There are two options on the main window, System Sound and Microphone. To record audio from your browser, turn on System Sound and disable Microphone. Then adjust the volume until you are satisfied. Click the REC button and play the music in your browser to start recording it.

Tips :
If you want to customize options, click
Gear
icon to open the
Preferences
dialog.
Step 3 Export online audio to computer
Wait for the audio playback to be done and click the Stop button. Then the preview window will pop up. Listen to the audio recording and clip unwanted parts. Finally, hit the Save button to export the audio file to your hard drive.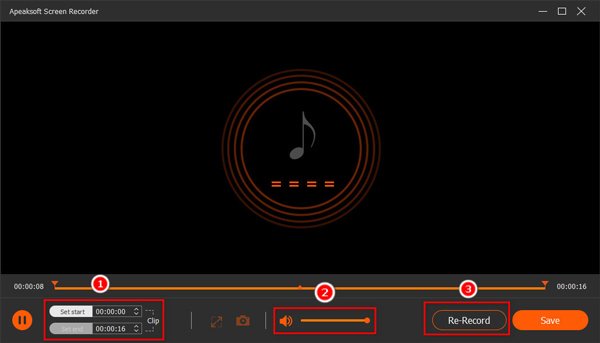 Related:
Top 8 Backwards Recorder Apps for Computer and Mobile
A Comprehensive Introduction of GeForce Experience Recording
Part 2: How to Record Browser Audio Using Extensions & Online Service
Top 1: Chrome Audio Capture
This extension captures the audio on the current tab in your Google Chrome browser. Then the recording will be saved as MP3 or WAV file. Now, it is the most popular browser audio recorder among Chrome users.
PROS

1. Free to use.
2. Record audio in Chrome.
3. Offer basic options.
CONS

1. It is only available in Chrome.
2. The length limit is 20 minutes.
For more Chrome extensions of screen recorder, you can visit it here.
Top 2: Audio Voice Recorder Pro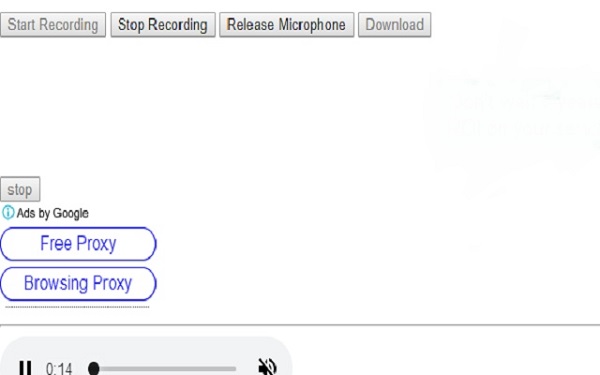 Though it is called Audio Voice Recorder Pro, this browser audio recorder extension is pretty easy to use. No matter you use what version of Chrome, it works smoothly with no lagging issue.
PROS

1. Record audio from Chrome and Firefox.
2. Capture sound from microphone.
3. No limit on length.
CONS

1. It lacks audio editing.
2. It can only save audio in MP3.
Top 3: Apeaksoft Free Online Audio Recorder
The easiest way to record audio from browser is the web apps. However, most online tools have some limit. From this point, we recommend Apeaksoft Free Online Audio Recorder.
PROS

1. Capture audio from any browser.
2. No software installation required.
3. Save browser audio in MP3 format.
CONS

1. It requires internet.
How to Record Audio from Browser Online
Step 1 Create a new tab when you find a song to record in your browser, and visit https://www.apeaksoft.com/free-online-audio-recorder/. Click Start Recording and download the launcher.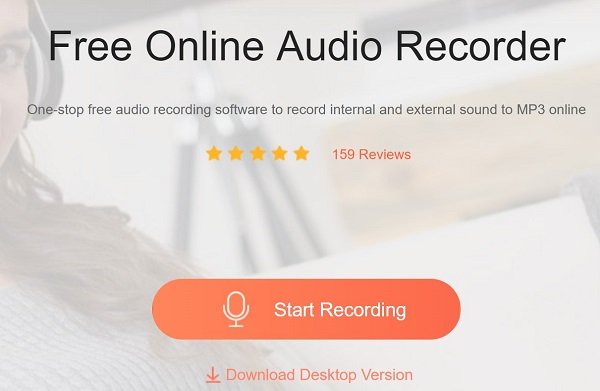 Step 2 Make sure to turn on System Audio and turn off Microphone. If you wish to add your voice to the audio recording, turn on two options.

Step 3 Click the REC button and initiate audio recording. When it is done, click Stop button and download the MP3 file.

Top 4: Audio Downloader Prime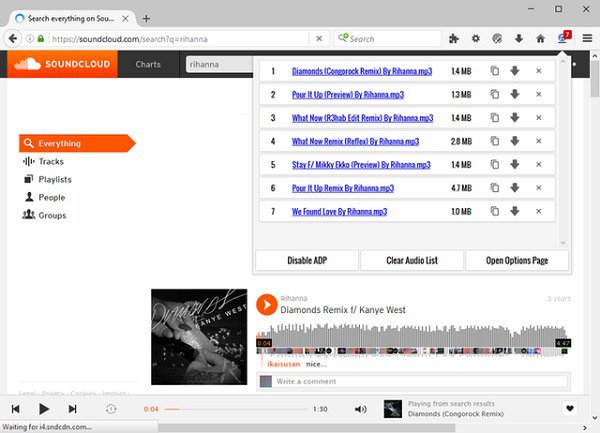 As its name indicated, this browser audio recorder is able to download audio files in Chrome and Firefox browsers. It detects all audio files once you open a webpage and add a download button on each song.
PROS

1. Available in both Chrome and Firefox.
2. Detect specific audio format in browser.
3. Keep the original quality when recording.
CONS

1. It is still in beta.
2. It is not working for some websites.
Top 5: Music Saver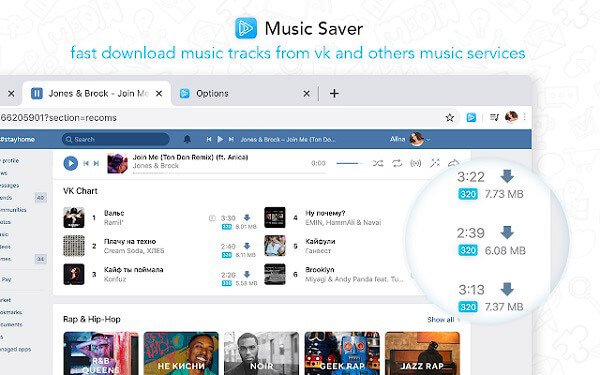 If you just wish to download music audio from your browser, such as Chrome or Firefox, Music Saver can meet your need. This browser audio recorder was released by vk.com, but it is available to most music platforms like Amazon, Spotify, etc.
PROS

1. Add download button to each song online.
2. Capture audio from browser quickly.
3. Available in over 30 languages.
CONS

1. It did not work for encrypted audio files.
People Also Ask:
Part 3: FAQs of Browser Audio Recorders
Can websites record your voice?
Maybe. According to our research, most websites can track your online footage, and some of them are able to use your microphone secretly. So, you'd better check the cookies policy and browsing history frequently.
How do I record audio in Chrome?
You have three ways to record audio in Chrome. Firstly, the audio recorder extension is the simplest solution. If you feel it is too simple, try an audio recorder desktop program. Moreover, web audio recorder app can meet your need in some cases too.
Is it legal to record audio from browser?
It depends on your purpose. For personal use, like listening to music offline, it is okay. If you use the audio recording for commercial, you'd better get the permission first.
Conclusion
This article has shared top six best browser audio recorders for Chrome, Firefox, Safari, IE and more. The browser extensions and addons can meet your basic need. Web audio recorder app is free and portable to use. If you need advanced functions, try Apeaksoft Screen Recorder directly. It is not only easy to use, but also provides extensive pro-level features. More questions? Please leave a message in the comment area below this post and we will reply it as soon as possible.