Omegle is a free online video chat site that allows you to have a conversation with strangers without signup. What makes Omegle more appealing is that you may meet someone who talks something cool or shares interesting stories that you want to keep forever. At this time, you need an Omegle video call recorder to help.
However, Omegle hasn't equipped the service for recording the video call. So it's essential to find a professional video recorder for video recordings with high equality. This tutorial will show you how to record Omegle calls based on your devices.
Part 1

: Record Omegle Video Calls on your Windows & Mac
1. Free Online Recorders for Omegle Video Calls
Apeaksoft Free Screen Recorder
Apeaksoft Free Screen Recorder is a powerful video-capturing online tool with which you can easily and quickly record your Omegle calls through simple steps. With it in hand, to record audio through the microphone and system sound would be as easy as a walk in the park. You can also record on-screen activities without any downloading and get the conversation part in the desirable time and area and get the output file in WMV or MP4 as expected.
Follow the steps below and record your Omegle video calls with ease.
Step 1Reach Apeaksoft Free Screen Recorder and prepare to change the settings before you start opening.

Step 2In the main interface, you can select the recording area and change the settings on video and audio. Make sure to turn on the Camera if you are recording a video call. And feel free to choose the audio source whether by Speaker, Microphone or both.
Then move to Omegle and click the REC button to start recording the call.
Step 3After getting the desired part, click the End icon. And you can view the recording history in the following list.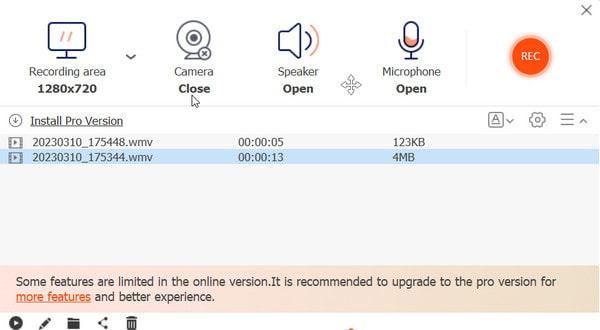 VEED. IO
You can also reach VEED.IO with its online video recording option to get your Omegle video chat recorded quickly and safely.
Step 1Open VEED.IO and choose Record option. Then choose the Screen window to record. Make sure you enable VEED to access the Omegle screen with the on-screen instructions.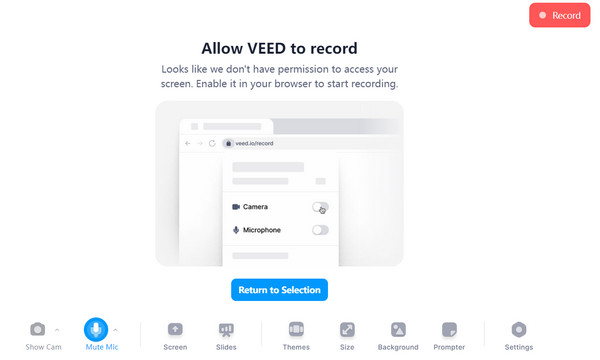 Step 2Customize the settings before you begin recording Omegle video chat. Remember to unmute the microphone and show cam if you want yourself recorded in the video chat too. Choose Omegle chatting window through Screen option. Then click Record to start.
Step 3Tap on Stop button to complete the recording. And you can preview the video effect in the following window.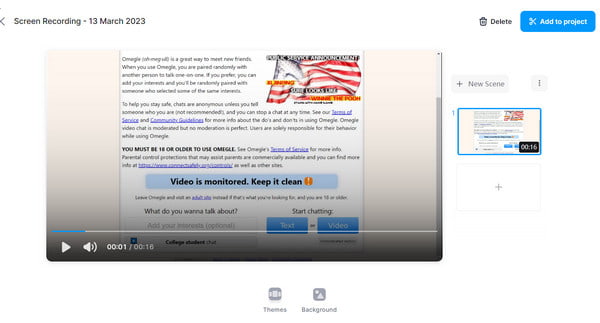 Screencast-O-Matic
Sceencast-O-Matic is one of the most popular free online recorders to record Omegle video call. More than 35000 videos are recorded by Screencast-O-Matic every day to capture webinar, online meeting, video tutorial, gameplay, etc. Look at following steps to use Screencast-O-Matic to record Omegle video call easily.
Step 1Go to the official website, and then, press the "Start Recording" button in the upper right. You do not need to download any program, and it can be an important advantage for you to choose this method.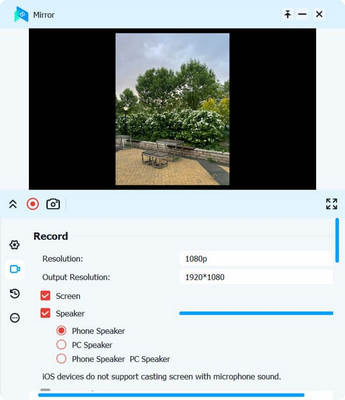 Step 2Choose the recording area. You are able to drag and move the dots to adjust the size of recording area. Then, check the system audio in the right volume. Open your browser to start a new Omegle video chat. When the conversation starts in Omegle, click on the red button to start recording.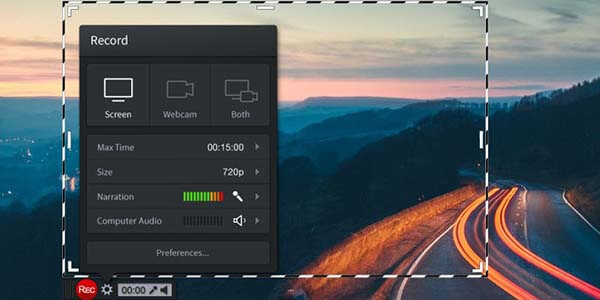 Step 3Once everything is done, click "Stop" on the recording box to get the Omegle video for the chat. Preview the files before you download the record Omegle video call into your computer.
2. A Powerful Desktop Recorder for Both Windows and Mac
Apeaksoft Screen Recorder
To save you from compatibility and functional problems of video recording on your PCs, we highly recommend you try Apeaksoft Screen Recorder. It is the best and most professional tool for recording Omegle video calls.
In addition, while you are recording Omegle video call, this screen recorder for Mac & Windows also allows you to take a screenshot at the same time. It has multiple editing features to enable you to annotate your screenshot with highlights, text box, arrow, etc.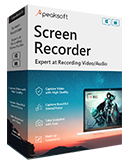 4,000,000+ Downloads
Record any video/audio and capture screen on your computer.
Set recording area with full screen or customized screen size.
Preview the recording video and save it as WMV, MOV or MP4, etc.
capture online videos, record LOL gameplay, get webcam videos, and make video tutorials and more.
Following is the tutorial about how to record Omegle video call via Apeaksoft Screen Recorder.
Step 1Download and install the latest version of Apeaksoft Screen Recorder from the official website. After that, launch the program on your computer before you start the video call in Omegle.

Step 2Choose the Video Recorder option to adjust the parameters for video recording. You can customize the recording area with Full Screen or Custom Region. To record the video chat on Omegle, please make sure you have turned on the System Sound for other speakers and Microphone and Webcam if you are also involved in the conversation.

Step 3Click the REC button to record your Omegle talk. During the process, you are welcomed to open the Toolbox icon and change the settings on borderline and shape, texts, images and more as you like. Then click the End icon and Export your works after you preview it in the following window.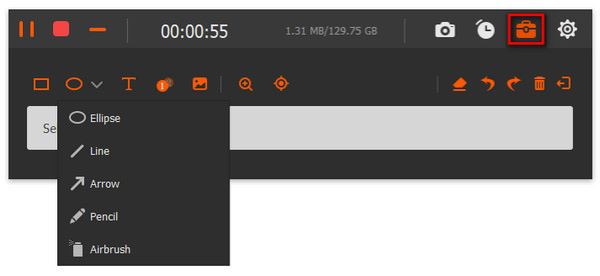 Step 4After that, you can view the video recordings on the history list and editing tools are provided on the sidebar for use if you want.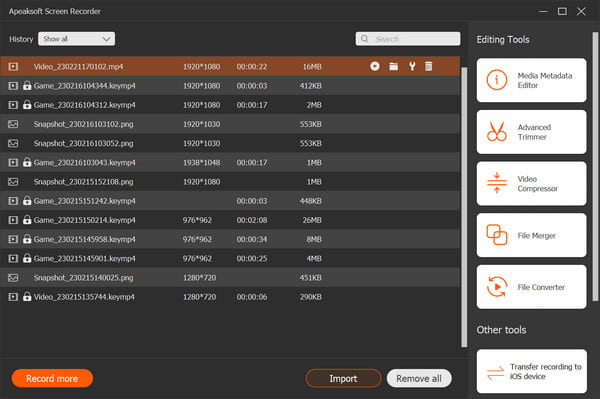 Part 2

: Complete Omegle Video Call Recording with Your Phones
1. Record Omegle Videos for Android
Built-in Screen Recorder
Undoubtedly, you can use the built-in screen recorder on your Android phone as the easiest and quickest way to record your Omegle videos. Just follow the steps below to start recording your video chat.
Step 1Swipe from the top and unfold the quick setting list. Here you can find the Screen Record section (or click the Edit icon to open) and enter it.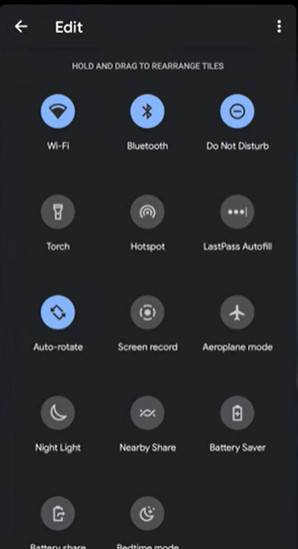 Step 2Go through the settings based on your needs. Choose Device audio, Microphone or both for Omegle Video recording. Make sure you ensure it shows taps and touches for convenience. Then click Start button to begin.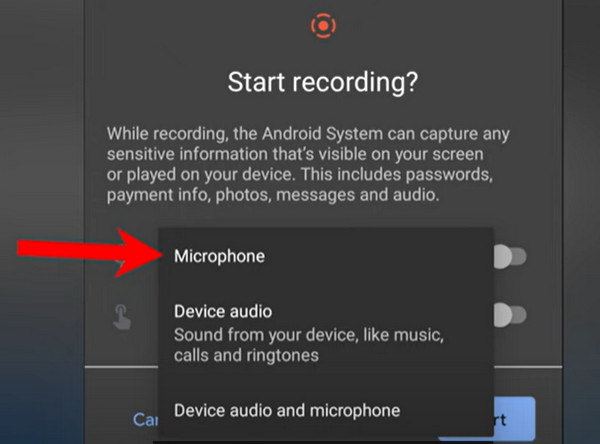 Step 3With all set, you can swipe down from the top and tap to stop the recording process.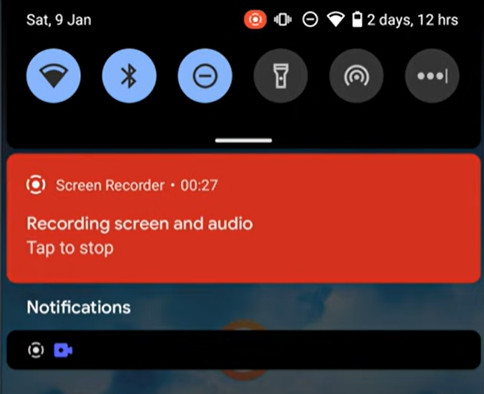 EZ Screen Recorder
EZ Screen Recorder is an effective tool for Android users to capture any video with a clear interface to follow.
Step 1Download EZ Screen Recorder on your Android devices. Click the Camera icon to open this app.
Step 2In the following options, you are allowed to record your screen through the REC button. And you can change the settings on the audio and video through the Toolbox icon if you like.
Step 3After you record the Omegle video chat on your phone, swipe down from the top and tap the functional column to stop recording.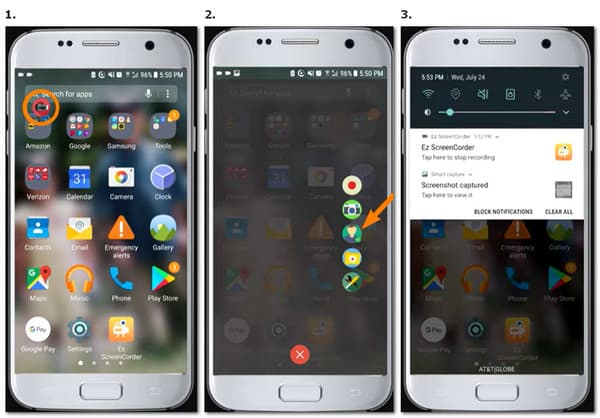 2. Capture Omegle Calls on iOS Devices
Screen Recording without Any Downloading
Through the home control on your iPhone, you can also capture Omegle calls without downloading.
Step 1Click the Settings button and enter the Control Center. Find Screen Recording option on the controls available. Tap on the plus button and add it to the included controls.
Step 2After that, you can reach Home after swiping down from the corner above on the screen. Click the Recording icon and turn to the Omegle chat for recording.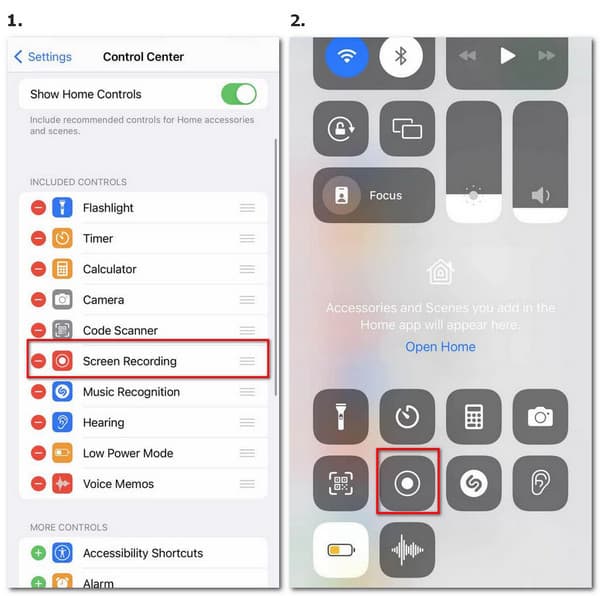 Step 3When you want to finish the recording, click the red button on the screen above and tap on Stop to end it. Then you can find your video recorded in Photos.
Record it!
You can easily record Omegle video calls on your iPhone/iPad/iPod after you download Record it! Application and follow the steps below to complete the target.
Step 1Download this app on your iPhone. After installing, open it and start recording by enabling the Record it! Capture on screen broadcast. If you don't want to get disturbed by notifications, check Do Not Disturb option to prevent it.
Step 2Switch to Omegle chatting and capture the conversation you want. After that, click the red floating bar on the screen above and choose Stop Recording button to end.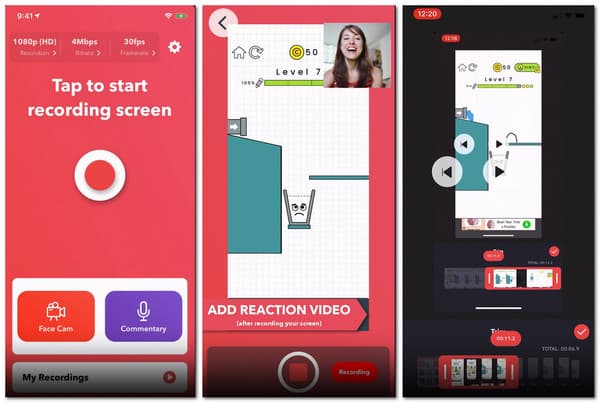 Part 3. FAQs about Recording Omegle Video Calls
Does Omegle use a camera during the conversation?
The present version of Omegle is available for both text and video chatting with other people. You can choose to turn on/off the cameras to communicate as you like during each talk.
How can I record Omegle video calls without others noticing it?
You can adopt third-party tools like Apeaksoft Screen Recorder to record Omegle video calls without any alert of the recording process. Just make sure it is acceptable and legal before recording.
Is there an Omegle video app for use?
Not yet. There is no official version of this video chat app You have to use the web browser to reach Omegle and start your conversation with others.
What do I need to do to record Omegle video calls successfully?
To get a high-quality video, you need to ensure that the software can perform normally on your PC first. Then remember to close some applications you do not need and turn off the audio source if there is much noise. Also, you had better choose a right place with full light and inform the speakers ahead of time for a smooth recording of your Omegle videos.
Conclusion
Based on the introduction above, you can get different methods available for Omegle video call recording. If you want easy operation with rich features, Apeaksoft Screen Recorder will be the best choice both for Windows and Mac. Sceencast-O-Matic online and more can also be your choices. If you have any idea about the alternative programs for recording Omegle video calls, you are welcome to share your ideas in the comments with us.