Roblox is one of the largest user-generated and most popular game platforms, where users are able to create gameplay and Imagine with friends. How to save and record screen on Roblox for the grateful moments?

Actually it is not an easy job to record gameplay of Roblox in high quality. If you get into the trouble with how to record Roblox, the article will show you the tips and tricks to capture Roblox screenshot and gameplay files in 4 different methods. Just read on the article to get the detailed information now.
Part 1

: How to record screenshot Roblox with built-in Roblox Recorder

Roblox has its built-in recorder to assist users to record screenshot of Roblox. But when you turn on gameplay and recording feature at the same time, it should be difficult to record Roblox videos in high quality. Here are the concrete steps for how to use built-in Roblox recorder.

Step 1: Open Roblox gameplay center, click the "Menu" button in the top left corner of the program before loading the game.

Step 2: Choose the "Record" button to record Roblox game. After that you can find a pop up windows for settings of the Roblox video. Click the "Record Video" to start recording Roblox videos from the device directly.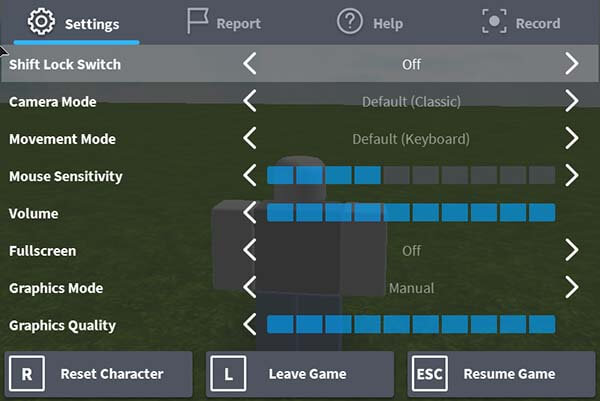 Step 3: Once you finish recording, you only need to click the button "Record" again. After that the Roblox video will be saved to Windows computer in WMV. Of course, you can share the Roblox video to YouTube within the program.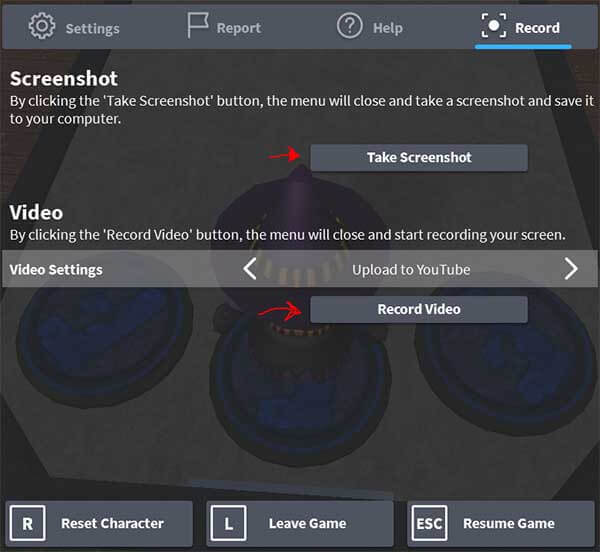 There are some restrictions to record Roblox videos with build in video recorder. It is only a simple video recorder without extra features. In order to share the tips and tricks for Roblox videos, you have to add extra mouse cursor, crop the frame video and even enhance the videos with other programs.
Part 2

: How to record Roblox gameplay with Screencast-O-Matic

If you do not want to install extra program to record Roblox video, Screencast-O-Matic is well-known software in this gameplay recording field, which not only capture all game operations of Roblox, but also record voice from game streamers. Here are the detailed steps to record your Roblox gameplay via Screencast-O-Matic online.

Step 1: Just visit the office website of the online screen recorder, which you can find a big blue "Start Recording" button to record Roblox. You might need to activate the screen recording button with Java-script.

Step 2: Choose and adjust the recording area of Roblox video before clicking the red "REC" button to start recording. After the recording work is done, you can click "Stop" to finish your recording.

Step 3: Preview the files within the program and make further edits for the program files. After that you can save your Roblox gameplay recording to your computer or share to social media website.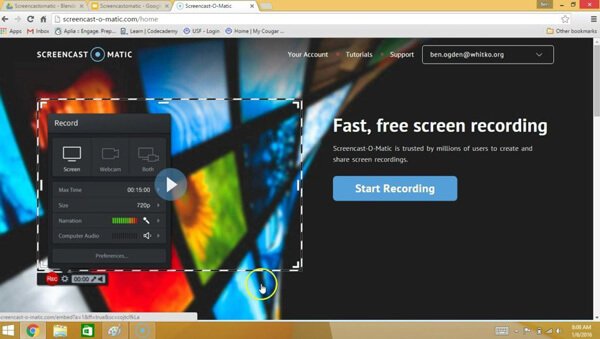 In order to record Roblox videos online, you have to activate extra java-script, which might has some malware or virus for your computer. As for the case, when you important some important Roblox video, the free online video captur Screen-O-Matic might not be a nice solution.
Part 3

: Best Roblox screen recorder with screen recorder

What should be the ultimate solution to record Roblox videos? Apeaksoft Screen Recorder is one of the most professional on-screen recording software. Besides the basic recording features to capture audio and video in high quality, you can also access to multiple editing features, such as drawing panel, add watermark, changeable cursor, convert video format and more. What is more, you can record Roblox videos as well as take Roblox screenshot within the program.

Step 1: Download and install the latest version of Apeaksoft Screen Recorder. It is a program free of malware, virus or ads; you do not have to worry about the security of the screen recorder as other online programs. Now launch the Roblox game recorder on your computer to record Roblox gameplay.

Step 2: Choose the "Video Recorder" option to record in full screen, custom region or preset region for recording Roblox gameplay videos. Apeaksoft Screen Recorder allows you to record any window you want without any other task disturbing.

Step 3: In order to add the voice or game streamers, you have to turn on the "System Sound" as well as the "Microphone". After that you have to adjust the parameters for the audio and video audio in order to get the best result for recording.

Step 4: Click the Red "REC" on the right side of this video screen recorder to begin recording. During the recording, you are able to make drawing or add annotations based on your need. After you recording Roblox videos on computer, you can preview the files to save to computer or share to social media website.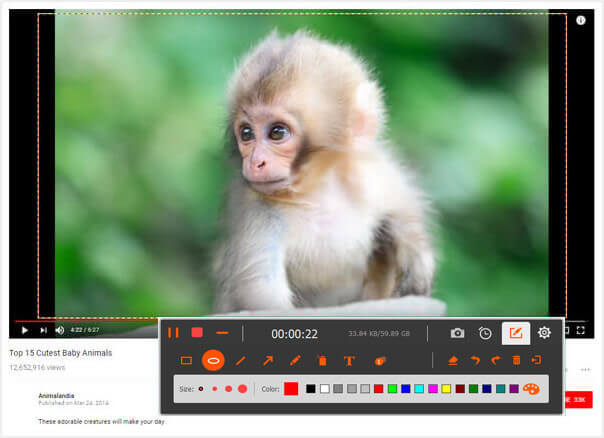 What is more, you can choose the "Snapshot" button to capture some important scenes for the gameplay of Roblox. After that you can also draw and annotate the capture with the lines, arrows, step tool, text, etc. It is very important to add the Roblox screenshot as the front page of the Roblox video. Get more Mac screen recorder tools here.
Conclusion
There are dozens of methods to record Roblox videos. The built-in Roblox Recorder should be the first choice to record Roblox with ease. Of course, you can also use the online recorder to capture videos for Roblox. In order to have some professional solution to capture Roblox videos, Apeaksoft Screen Recorder should be one of your best choices.
It not only capture video and audio file of Roblox in high quality, you can also use the excellent editing features within the program. If you have any other query about how to record Roblox gameplay, you can feel free to share more information in the comments.